10 Must-Watch Space Movies For Kids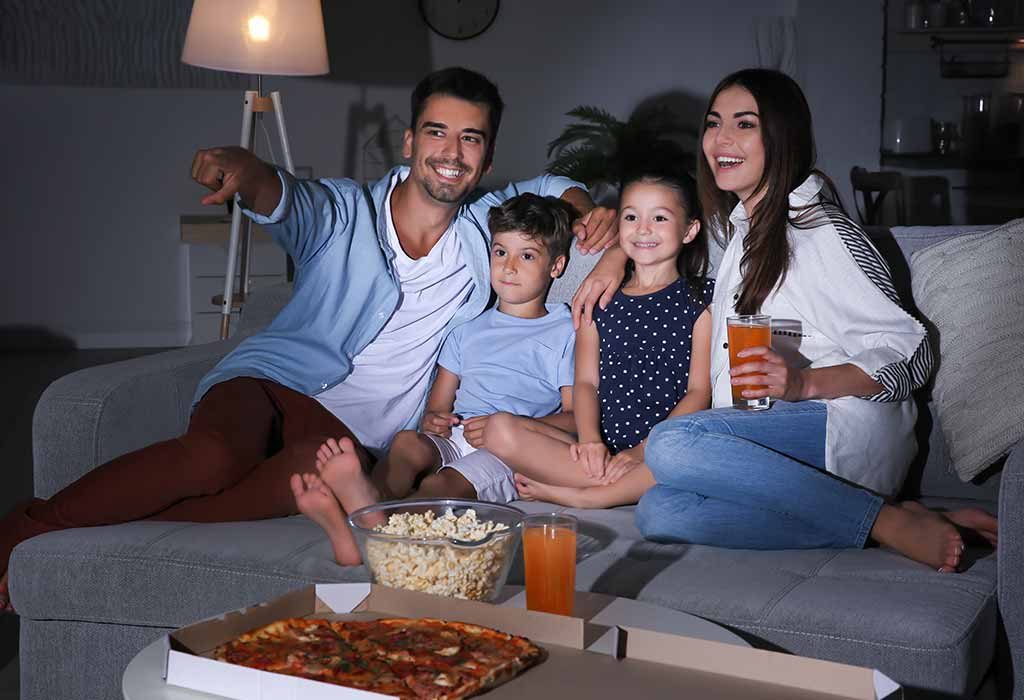 In this Article
The fascination of worlds beyond the stars is what draws kids and adults alike to space movies. Space has many mysteries locked away and makes planet Earth look like a blue dot from the universe's eye. From eye-catching visuals, documentary footage, views of the space station, and more – these must-watch space movies will give your kids a glimpse into the wonderful family of solar systems and more. Read on below and have fun this weekend.
Best Space Movies for Kids
If you're looking for the best children's space movies, you've come to the right place. We've rounded a list of cool outer space movies that not only teaches your kids about space but lets them get lost in the fun in the process. Have fun and take your time browsing through our list below.
1. Fly Me To The Moon (2009)
Fly Me To The Moon is a hilarious space adventure film that narrates the story of Nat and his friends boarding the Apollo 11 mission. If you get the DVD set, you'll get to enjoy both the 2D and 3D versions of the film.
Why It's Good
It's good because it contains scenes recording mankind's first walk over the moon. There's a lot of educational themes throughout the movie.
Age Recommended
For ages 4 and up
2. Space Chimps (2008)
Space Chimps is the story of Ham's grandson and two other chimps who travel to outer space to save a planet from turmoil. In case you didn't know, Ham was the first chimpanzee to go to outer space, and this is a top-tier kids' space movie that pays tribute to him.
Why It's Good
If you are looking for fun, entertaining, and animated kids' films about space, this movie will hit that spot. There are many thrilling adventures throughout the film, and what's not to love about chimpanzees in space?
Age Recommended
For ages 8 and up only
3. Spark: A Space Tail
Spark is the adventure of a 13-year old monkey who travels through the vast expanse of space to save an extraterrestrial kingdom from the tyranny of an evil space overlord. The movie has positive themes like friendship and good communication throughout, which makes it a good watch.
Why It's Good
Although there's a lot of clichés throughout the film, kids will get to see wormholes, space explosions, and the cool side of space.
Age Recommended
For ages 5 and up
4. Space Dogs: Adventure to the Moon
In 1960, two female dogs were sent to outer space and made a successful return to the Soviet state of Russia. This is a fun, but stunning 3D animated movie about their story and covers fictional events after that mission.
Why It's Good
It teaches kids how opposites can come together and work with each other when facing times of crisis. The film has happy endings, cartoon violence, and many fun moments.
Age Recommended
For ages 5 and up only
5. Wall-E
Wall-E is a stunning CGI feature film for kids that truly immerses you into the world of space exploration. It has machines falling in love with each other and going out on outer space adventures to save mankind.
Why It's Good
It's good because it is one of Pixar's best animated movies on space. It's one of the best educational space movies with lots of thought-provoking moments present throughout.
Age Recommended
For children between the ages of 5 and 8
6. Veggie Tales: Veggies in Space, The Fennel Frontier
Can't get your kids to eat their veggies? Maybe inspire them with fictional tales of our green heroes in outer space with this fantastic animated space movie.
Why It's Good
A few religious anecdotes are there in the film, and there are various themes covered, such as space pirates, meteor showers, and space fleets. It's comical, iconic, and downright amusing.
Age Recommended
For ages 4 and up
7. Space Buddies
If you're on the quest for astronaut movies that involve golden retrievers suiting up for space adventures, this is your film. Space buddies bring Disney's magic to the mix and feature gorgeous animation with compelling storytelling.
Why It's Good
This movie is designed to delight kids. When dogs hop onboard a rocket and launch off to space, that's when the fun begins.
Age Recommended
For ages 5 and up
8. Mickey Mouse Clubhouse: Space Adventure
Mickey Mouse Clubhouse features Mickey and his friends exploring the wonders of space. There's Goofy's antics, space rocks falling on Mickey, and lots of comical fun in the film.
Why It's Good
It's definitely a very educational movie for kids, and there are lots to learn. Concepts like identifying different objects, counting, and pre-school lessons are covered in this besides space facts.
Age Recommended
For ages 3 and up
9. Monsters vs. Aliens: Mutant Pumpkins from Outer Space
Just like the title implies, it's monsters versus aliens – with a twist of mutant pumpkins from outer space.
Why It's Good
Can this get any better than seeing mutant pumpkins blow up from eating too much candy? Oh, and the space actions is highly recommended too.
Age Recommended
For ages 6 and up
10. The Cat From Outer Space
When a cat from outer space lands on Earth and needs help returning home, humans are in for a surprise.
Why It's Good
We don't want to spoil the show for you but let's just say you'll love a talking alien cat outsmarting humans in this movie.
Age Recommended
For ages 6 and up
We hope you enjoyed our list of space movies for kids. Be sure to take your time watching these since they are loads of fun. You'll definitely have a blast and your kids will learn tons too.