20 Best Animated Movies for Kids to Add to Your Child's Watchlist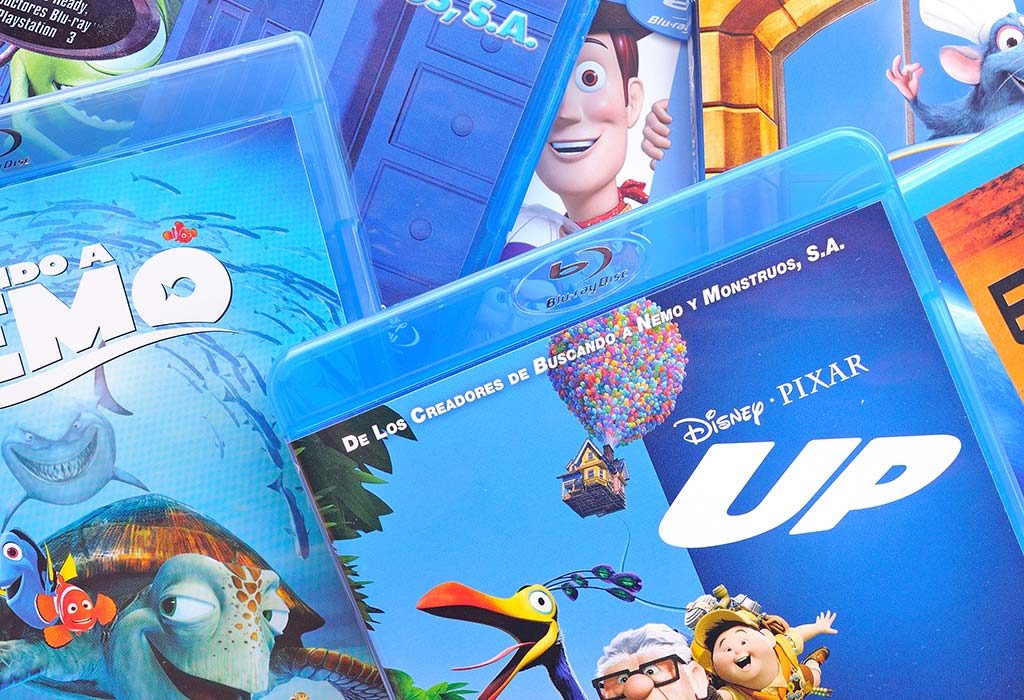 In this Article
Imagine getting cosy with your little one on the couch, cuddling under a blanket with cups of hot chocolate and a nice animated film playing. It's a great way to spend some time together when you are too tired to have conversations or play together, with the added bonus of these films being a topic of discussion when you wish to teach your children morals and lessons about life. Right from the more recent animated kids movies to the classic ones that have been enchanting children for decades, we have put together a selection to make choosing a movie easy for you.
All-time Favourite Animated Movies for Children
Here are some of the best-animated kids movies of all time:
1. Mulan
This story is about a brave young girl in China whose aged and injured father had been enlisted by the Chinese army against the Huns. Mulan fears her father will be killed; to prevent him from having to go to war, she dresses like a male and takes his place to fight for her country.
2. The Many Adventures of Winnie The Pooh
These days, it is hard to find something suitable for young audiences. Winnie the Pooh is a bumbling bear who has many adventures with his many friends like Piglet, Tigger, Rabbit, Eeyore, and Kanga. With entertaining songs and laughs, your little one is sure to enjoy.
3. The Lion King
Lion cub Simba looks forward to following in his father's paw prints and ruling over Pride Lands by leading his pride of lionesses. However, upon the death of his father, Simba runs away after being tricked by his evil uncle who wants the same thing. Upon growing up, Simba must fight to take back what is his, with the help of his faithful and unlikely friends, the meerkat Timon and Pumba the warthog, his adventures will be a delightful watch for the entire family.
4. The Aristocats
A family of Parisian cats is kidnapped by a jealous butler, and they are left to fend for themselves in the country after the butler finds out that they are to inherit the fortune he considers himself entitled to. With the help of a smooth tomcat, they undertake the adventure of their lives as they make their way home.
5. Oliver And Company
A young kitten ends up with a pack of thieving dogs owned by a homeless pickpocket. When a job gone wrong lands Oliver in the home of a young, rich, and lonely girl called Jenny (who names him Oliver), he never wants to leave. But when Jenny is kidnapped, Oliver and the pack risk their lives to get her back.
6. Spirit: Stallion Of The Cimarron
Set in the Wild West, a young stallion is captured by humans who want to tame him. Refusing to be broken, this wild mustang escapes with the help of a native of the Lakota tribe and has many adventures as he tries to find his way back to his herd.
7. Finding Nemo
When his only son Nemo is captured, the timid Marlin, a clownfish, sets out on the greatest adventure of his life that leads him all the way to Sydney to bring his son back.
8. Tangled
Young Rapunzel has never known life outside the confines of the tower she has been kept in all her life. She has been kept prisoner by the wicked Gothel who uses the power of Rapunzel's long blond hair to keep herself young. When a thief seeks to take refuge in her tower, she uses it as an opportunity to see the outside world.
9. Frozen
Newly crowned Queen Elsa accidentally uses her untamed powers and turns her kingdom into a cold, freezing land. She then flees out of fear for her life and is chased by her sister, Princess Anna, who takes the help of an ice picker, Kristoff, and his reindeer to find her and bring her home to break the spell.
10. Disney's Robin Hood
This animated spin on the merry band of outlaws takes an animalistic twist, with Robin Hood and his faithful side-kick, Little John lead a band of outlaws to steal from the greedy and give to the unfortunate, all the while battling with their enemy, Prince John, who demands unreasonable taxes upon the citizens of Sherwood Forest.
11. Lady and The Tramp
Having been spoilt her entire life, Lady is confused and put out when her owners have a baby. Through some unfortunate circumstances, Lady finds herself out on the streets but is protected by an infamous street dog called Tramp. While a romance starts to bloom, the drama that continues to unfold in Lady's household threatens their blossoming relationship.
12. Toy Story
Woody is a kind Cowboy toy who has been his boy Andy's favourite for a long time. He begins to feel threatened when Andy's parents gift him a Buzz Lightyear action figure for his birthday. The drama unfolds, and when Andy and his parents shift houses, Woody and Buzz Lightyear accidentally end up in the hands of the terrifying toy killer neighbour Sid. They must join forces to escape and return to Andy.
13. Hercules
Hercules was born the son of Zeus and Hera on Mount Olympus, making him a God. But when the God of the underworld, Hades, finds out that Hercules could be the key to his undoing, he hatches a plan to strip him of his immortality and kill him. The plan goes horribly wrong when his minions are interrupted, leaving Hercules mortal, but alive. In order to become a God, Hercules must become a true hero, but Hades keeps throwing obstacles in his path in an attempt to prevent that from happening.
14. Shrek
An Ogre named Shrek undertakes an adventure to rescue Princess Fiona from marrying the evil Farquaad, all in the name of getting back some peace in his swamp after it had been invaded by some banished and irritating fairytale characters. In the process, he is joined by Donkey as he learns Fiona's dark secret.
15. Moana
Moana, a teenage girl, sets out against her parents' wishes so that she can try to save her people. On her risky adventure, she befriends the demigod, Maui, who reluctantly guides her as they battle some dangerous monsters and find their identities along the way.
16. Brave
The Lords of the Highlands are unhappy with the impertinent Merida, who is a very skilled archer and wants to follow her own path rather than the old traditions and laws. After seeking the help of a witch, she finds herself in more trouble than before. She must now learn what real bravery is, and undo a curse before it is too late.
17. How to Train Your Dragon
A young Viking who wants to become a brave hunter of dragons ends up befriending one that is considered to be the most deadly of them all. During the course of this friendship, he learns that there is more to dragons than anyone has ever known, and he is determined to create a new future for the dragons and Vikings.
18. The Jungle Book (1967)
A young child who was raised by wolves lives a peaceful life until the man-eating tiger, Shere Khan, comes along and puts his life in danger. He now needs to leave his animalistic and peaceful life to return to a village of men where he will be safe from harm. He is guided by Bagheera, a black panther and the friendly bear, Baloo.
19. Cinderella (1950)
Cinderella is treated like a maid by her stepmother and two stepsisters. When the king throws a royal ball in the hopes of finding a bride for the prince, they forbid her from attending. With some help from the fairy godmother, she attends the ball, where she gains the love of the prince – but must leave by midnight, or everything will come undone.
20. Peter Pan (1953)
Wendy, John and Michel are visited at night by Peter Pan, a magical boy who was chasing his shadow. Peter is always accompanied by his pixie friend, Tinker Bell, and is from a place called Neverland where nobody ever grows up. He takes Wendy and her brothers on an adventure where Peter's longtime nemesis, the pirate Captain Hook decides to cause trouble – now, they need to escape and find their way home.
These animated cartoon movies for kids will not only keep your child entertained, but will also provide a means for you can to teach them life lessons, such as how to be brave like Merida, Hercules or Mulan, or that it sometimes takes an adventure to learn who you are, as in the case of Moana and others.
Also Read: Best Pet and Animal Movies for Kids