White Bean Salad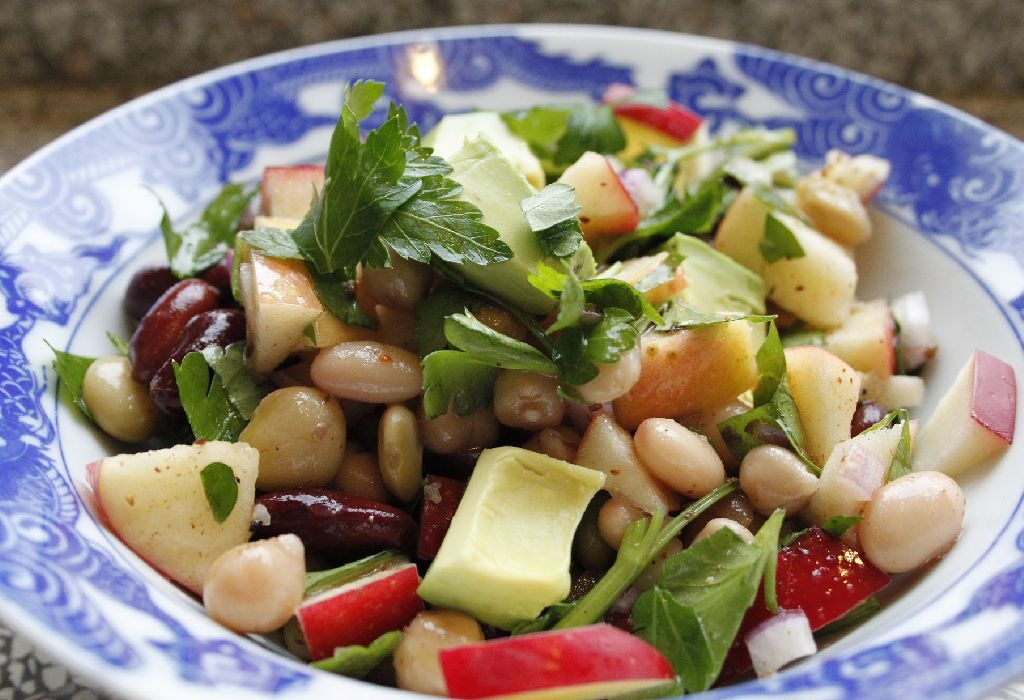 In this Article
A few of the simplest ingredients are combined together to form a simple and quick salad that can be a side dish for your lunch. This protein rich salad can become a filling lunch when sandwiched between whole wheat bread over salad greens or tucked between folded pita bread. You can also add ingredients like tuna, veggies of your choice to make it more tastier and healthier.
| | | |
| --- | --- | --- |
| Serves | Preparation Time | Cooking Time |
| 4 People | 5-10 Minutes | 5-10 Minutes |
Ingredients
2 cans of white beans or 1 cup dried white beans
1 red onion, chopped
1 tomato, chopped
2 tsp wine vinegar
2 – 3 garlic cloves, minced
1 tbsp extra virgin oilve oil
1/2 cup fresh basil
Salt to taste
Pepper to taste
Method
Step 1
Rinse and drain the canned beans. (If canned beans are not available use dry beans. Soak the beans in cold water overnight. The next day, rinse and wash the beans thoroughly. Cook them until just soft on low flame in lots of water.)
Step 2
Combine beans, pepper, salt, tomatoes, vinegar and basil in a bowl.
Step 3
Heat oil in a pan. Add minced garlic cloves and stir until fragrant.
Step 4
Add the bean mixture and mix well. Switch off the flame.
Step 5
Keep aside for 25 – 30 min before serving.
Nutritional Information
| | |
| --- | --- |
| Calories | 179 Kcal |
| Proteins | 10.1 g |
| Fat | 4.0 g |
| Carbohydrates | 41.0 g |
| Cholesterol | 0 mg |
| Sodium | 191 mg |
| Potassium | 687 mg |
?>