Unique Ways to Celebrate Your Baby's First Thanksgiving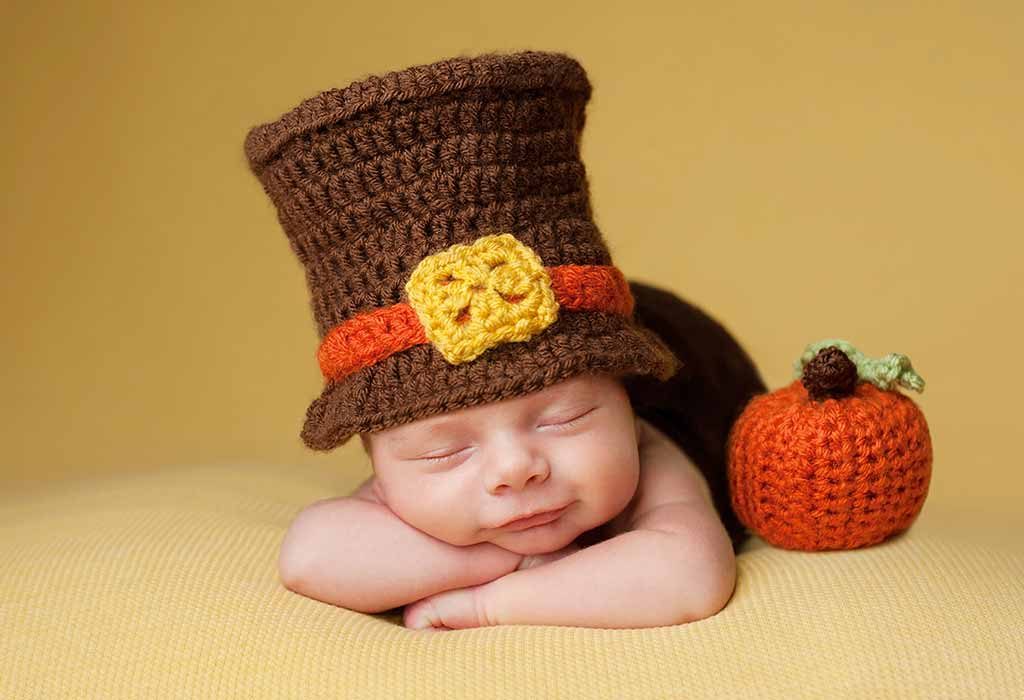 First Thanksgiving of their baby is extra special for all parents. The parents want to express their gratitude uniquely by celebrating Thanksgiving with extra festivity to make it memorable. It is also the time when the extended family and friends gather to greet the little one and shower them with blessings and gifts. Planning everything for a perfect Thanksgiving for their child is a difficult task, so for the new parents, it can be a stressful time. They have to plan everything from the guest list to gifts and alongside make sure the baby is comfortable and happy on the special occasion. However, with a little bit of planning, everything can be managed flawlessly. So plan your baby's first Thanksgiving and make the special day unique and memorable.
How to Prepare for Baby's 1st Thanksgiving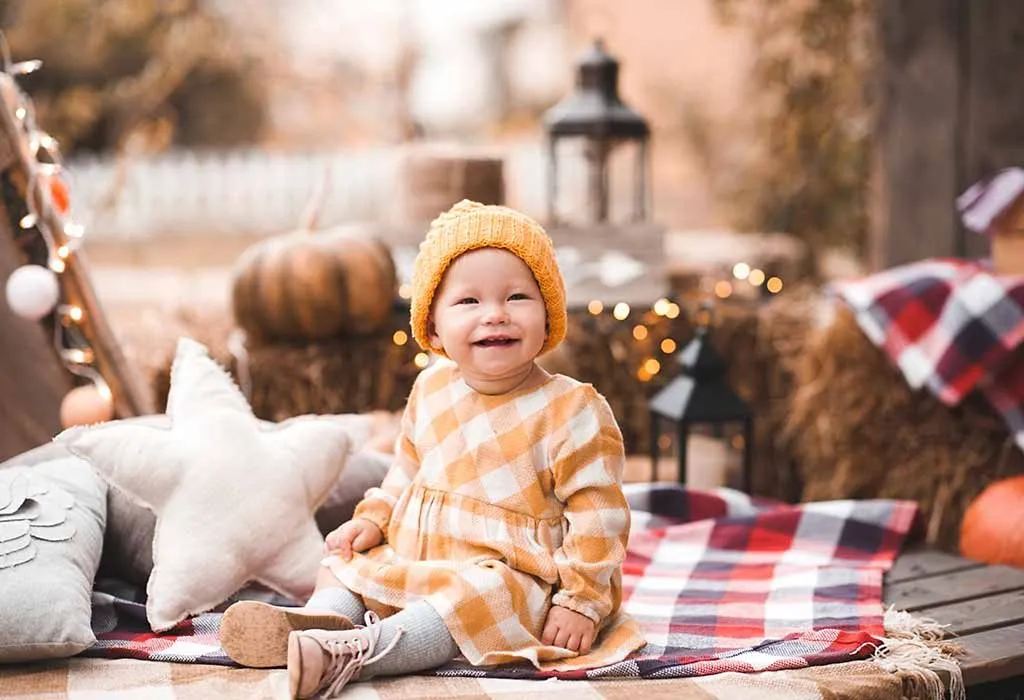 The birth of the baby is in itself special occasion for all parents. All the festivals in the year of the baby's birth become extra special for the whole family. Each festival is special this year. So it's no wonder that parents are extra enthusiastic for their newborn first thanksgiving. Though to make the baby's first Thanksgiving enjoyable and memorable, planning is key. There are plenty of things to be planned from baby's clothes to food and from gifts to whom to invite. Some ideas on how to prepare for baby's first Thanksgiving:
1. Make the Plan With the Family
Thanksgiving is celebrated to show gratitude to God for the blessing in form of a loving family. So it's essential to celebrate it with the family from both parents' sides. To ensure every family on the guest list is available for the party, inform them of the plan beforehand. This will give them time to plan their travel and holiday.
2. Pack the Baby's Things
Thanksgiving Day will become hectic and busy with all the preparations and spending time with the family. Babies are messy and will require frequent change of clothes or a certain toy. So finding their clothes or toys in a crowded house becomes difficult. So it's best to pack all the baby essentials in a bag or keep in an easily accessible place together. This will make sure the parents need not search for small things like warmer, thermals or toys everywhere. They just need to open the bag or cupboard and take the thing out without any time wasted in searching for it. Keeping all the things together saves time and energy of the parents.
3. Finalise the Decoration/Food/Activities/Games/Gifts Beforehand
It's always best to plan everything from decoration to food and from gifts to games. Last-minute preparation creates panic and unnecessary tension. So once you have finalised the guest list, decide the other things such as decorations, food, gifts, etc. in advance. This will give you ample time to get things or change the things if required. Preparation will spare you from running to arrange things and instead you'll be relaxed to enjoy the happy occasion.
4. Ask a Relative to Take Care of Your Baby
Being a new parent is 24 hours' work, leaving no time for you to relax and enjoy. So to enjoy your baby's first Thanksgiving, you should also have some time when you are not taking care of the baby. So ask a relative or two to step in and take care of your baby along with you.
Tips and Ideas to Celebrate Baby's First Thanksgiving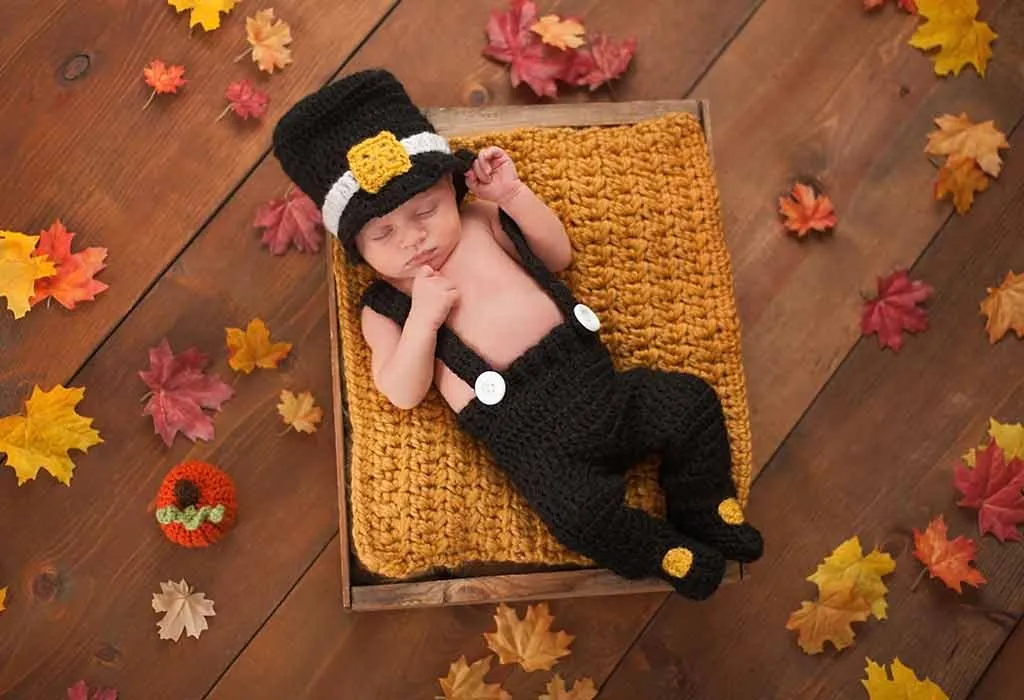 Few tips and ideas to make your baby's first thanksgiving special and memorable:
Outfit Ideas
Your baby is the star of the Thanksgiving celebration. Therefore, the star should be dressed in an outfit fit for the star. The family and friends will be there to meet the little one only. So, your baby has to look adorable and dressed up to the occasion. Few tips and ideas for baby's first thanksgiving outfit are:
The obvious pilgrim outfit will make your baby look cute with everyone oohing and awing over the cutest pilgrim. The pilgrim outfit of a black creeper with a decorated belt and soft felt hat will also be comfortable for the baby.
In case you want the baby to be comfortable in his/her usual clothes and don't want to go for the themed outfit, then just get a pilgrim baby hat or turkey baby hat. The baby hats are soft and cute, so comfortable for your baby to wear.
You can also get a customised onesie made for your little one. The customised onesie will be in a soft fabric with your preferred slogan perfect for the occasion.
A cute Thanksgiving bodysuit in navy blue is the perfect outfit for your baby boy's first thanksgiving. It is comfortable and the colour is ideal for a baby boy.
Whatever outfit you choose for your baby, make sure it is warm and comfortable for the baby. Also, the baby should be wearing as many layers as you are wearing to stay warm.
Activities and Games Ideas
Any family get-together or party is incomplete without some fun-filled activities and games. Some games and activities to make your baby's first Thanksgiving memorable are:
1. Football Game
If you have a backyard or garden, then playing football or any other outdoor game with family is the perfect Thanksgiving afternoon activity.
2. Make Pumpkin Craft
Let your family members' bring out their creativity in pumpkin craft. You can give them craft supplies to make different pumpkin-themed crafts. Later these crafts can be given as gifts or displayed in your home as memories of your baby's first Thanksgiving.
3. Create a 'Thankful' Tree
Thanksgiving is all about being grateful for you have received in life. What better way to express gratitude than a 'Thankful' tree. For this simple activity take a big board and draw a tree on it. Give your guests a chit of paper for them to write their 'Thankful' thoughts. You can pin or paste these chits on the tree to complete your 'Thankful' tree.
4. Thanksgiving Treasure Hunt
People of all ages enjoy treasure hunt, so hide different cute little things in your home. Give your guests some clues to find the hidden treasures. Your guests will spend hours playing this engaging game.
Travel Ideas
Travelling with your little one can be a bit difficult especially during Thanksgiving crowd. So in case you are travelling with your little one for their first Thanksgiving holiday, find below a few tips to make your travel comfortable.
Carry all the essentials of your baby in the diaper or a tote bag. In case you are flying to your destination, don't check this bag. Carry it with you. This will ensure you have all the essentials of your baby at all times.
When travelling takes a few home items which your baby is familiar too with you such as the blanket or the toy on the crib. These items will help you to calm your baby when they feel overstimulated with the change in place or routine.
Maintain the same schedule for your baby. Babies don't understand special occasions. So any change in their napping or feeding routine makes them uneasy. By maintaining the same routine you provide them with the security to adjust to new places.
Your baby is young, so they might feel overwhelmed surrounded by many relatives or posing for numerous pictures. Everyone in your family might want to hold the baby or get their pictures clicked with the baby, but you need to understand your baby's boundaries. So know when enough is enough and politely ask your family to not overwhelm the baby.
Food Ideas
Any celebration is incomplete without special food. Your baby's first Thanksgiving would be incomplete without them tasting the festival food. Some food tips and ideas for your baby's first Thanksgiving:
In case your baby is still young to eat solid food, puree the seasonal foods such as pumpkin, sweet potato, peas, etc. to feed them.
Avoid salt and seasoning in the baby's food. They may be able to taste pureed food but not old enough to eat salt and spices.
Mash the food item you want to feed your baby beforehand. This way they can enjoy the food with the family.
In case your baby is still young for solid food, don't fret. Just their being there with the family is good enough to make the Thanksgiving feast special.
Consult the baby's doctor beforehand if feeding solid food to the baby for the first time.
Other Things You Can Try for Your Child's 1st Thanksgiving
Some other tips and ideas to make your baby's first Thanksgiving special:
1. Start a family Thanksgiving Tradition
To make the baby's first thanksgiving unique start a family tradition. It could be anything from watching a Thanksgiving movie or parade to making a special dish for Thanksgiving. Choose anything which bonds the whole family and creates memories.
2. Give Back to Society
Thanksgiving is the time to show gratitude for what you have. So what better way than to give back to society in some way. It can be volunteering at any retirement home or orphanage. You can also give gifts or Thanksgiving meals at any NGO.
3. Make a Personalised Gift for Baby by Yourself
Making a special gift for your baby by yourself to make your infant first Thanksgiving extra special. It can be anything from a card to a hand-knitted warmer or a collage of baby's pictures or an onesie with baby's name.
4. Record Memories
Your baby's first Thanksgiving should be recorded to be shown to the baby when they grow up. Take pictures or record video of your baby during different activities with family members'. Though do remember to not to tire the baby or overdo the pictures.
Your baby's first Thanksgiving is a joyous event for the whole family. Be it a simple meal with the family or a party for the extended family, anything would be special which involves the whole family. So celebrate your infant's first Thanksgiving in your own unique way and make it memorable.