10 Fun Chalk Art, Games, and Activities for Kids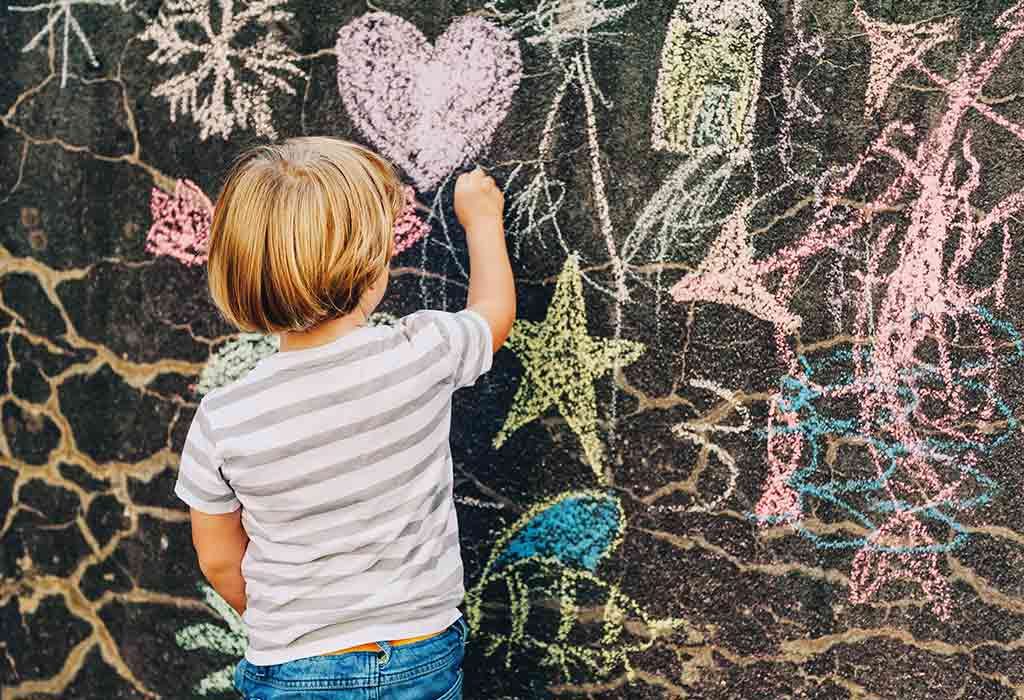 There is nothing that quite stirs the imagination of creative kids than sidewalk chalk! A wide and open area of concrete and a box of chalks can get kids into the mode where art, stories, and creativity coincide. The possibilities of using chalk are endless. For example, playground chalk games, or chalk art for kids, can be both fun and educational. The sky is the limit when it comes to playing with chalk!
Benefits of Chalk Art for Children
Chalk crafts for kids come with its set of benefits. From exercising their arms and honing their coordination skills, to bringing life to their creativity and improving concentration, chalk art and games are great ways to build various sets of skills for kids.
Using real tools like a hammer or grater for smashing or scraping chalk helps in building hand-eye coordination. It also increases arm strength for writing and other activities.
Smashing chalk for activities helps children understand that it is important to know what can be smashed, and when. Children should understand that there are safe opportunities to do this, and identify them before indulging in it.
Drawing with chalk, smashing it, and grating it can be a great way to channel frustrated emotions.
Dust from chalk can be swept up and used in paint and potions. Nothing goes to waste with chalk.
Chalk activities for toddlers and kids are an easy way of relieving boredom and incorporating some fun, as they are simple and easy to do.
Top 5 Chalk Art and Craft Ideas for Kids
Art and craft ideas for toddlers and kids are all about exploring new materials, textures, and ideas. There is a lot you can do with chalk with respect to art and craft activities. Beyond drawing a hop-scotch board, there are dozens of activities for kids with chalk. From tracing shadows to making outlines of a body, one can really explore the world with chalk. Check out below some out-of-the-box DIY ideas to make art and craft with chalk. These kinds of chalk art for kids are some fun ways to engage them on a rainy evening or a hot summer day!
1. Painting with Chalk and Art
A simple water and chalk activity, kids will be entertained for hours as they explore and discover how chalk reacts with water. Simple to put together, it is a good activity for fine motor practice, sensory play, and creativity.
Materials Needed
Black paper
Chalks of different colours (large pieces are good for tiny hands)
Jar of water
Paintbrush or sponge
Instructions
Spread water all over the black paper using a paintbrush or sponge. Kids will love the wetness of the paper and how it sticks to the table.
It's time to start colouring with the chalk! As the chalk glides through the wet paper, kids will love the bright colours and the thick texture of the chalk. They may even try to dip the chalk in the water to explore and discover what happens.
2. Rainbow Chalk Handprints
With some coloured chalk, you can turn your sidewalk or even backyard walls into a colourful graffiti canvas with this idea. It is one of the best preschool chalk activities out there!
Materials Needed
Chalk of different colours (especially the colours of the rainbow)
A large space or area to colour
Black paper or blackboard
Instructions
Use the chalks, and get kids to rub them nicely on the open space. Get them to rub them in the shape of a big, fat rainbow.
Next, ask the kids to firmly press their hands on the space that has been coloured.
Now, get them to make their handprint on a blackboard, black paper, or even a light coloured wall, to get rainbow-coloured prints of their little hands!
3. Chalk Ice
A perfect activity for a hot summer day, frozen chalk is great for art, science, and a wonderful sensory experience for kids.
Materials
Ice cube moulds
Chalk of different colours
Cornstarch
Food colouring
Instructions
Smash the chalk. Get the kids to do this, as it is a lot of fun!
Mix the chalk with some cornstarch and some food colouring.
Fill in the ice moulds with this mixture, and freeze it.
After they freeze, give the kids the ice cubes. They can make 3D sculptures, use them as stamps, or draw with them.
This can also become a great colour mixing experiment, as the cornstarch makes the mixture thick!
4. Chalk Rocks
A slightly tougher activity, this one involves kids following instructions. So, it is advisable to do this with slightly older children.
Materials
Plaster of Paris (2 cups at a time)
Disposable utensils and dishes
Water
A funnel
Balloons
Food colouring
Water to wash off the plaster bits that will stick to your skin (keep this close to you)
Instructions
Mix the Plaster of Paris and water in the container as per the instructions.
Next, add food colouring, and mix quickly. The consistency should be similar to the pancake batter.
Once done, put a balloon around the mouth of the funnel.
Try to pour the plaster into the balloon. Keep banging the side of the funnel to make sure the plaster falls in.
Tie up the balloon, and get the kids to squish it until warm. Keep squeezing it to form the shape you want.
Wait for 24 hours, and then cut the balloon to get your chalk rocks!.
5. Chalk Pinwheels
Chalk markers are lovely and make for great art accessories with their bright colours. They are perfect to makes these pinwheels.
Materials
Chalk markers
Black card stock or card paper
Hot glue gun
Paper straws
Buttons
Scissors
Pipe cleaners
Instructions
Cut the card stock paper into a perfect square so that sides are even. Have the kids make patterns or designs on the paper with the chalk markers.
Cut down slits on from each corner of the card stock paper, and punch holes in every alternate corner. Punch one in the centre, too.
An adult could help fold the corners to the centre of the paper with the holes in the middle, and glue them together.
Once the glue has dried, a large button could be attached through the hole. Thread a pipe cleaner through the hole and bring it together.
Once done, glue a paper straw to the pipe cleaner!
5 Best Kid-Friendly Chalk Activities and Games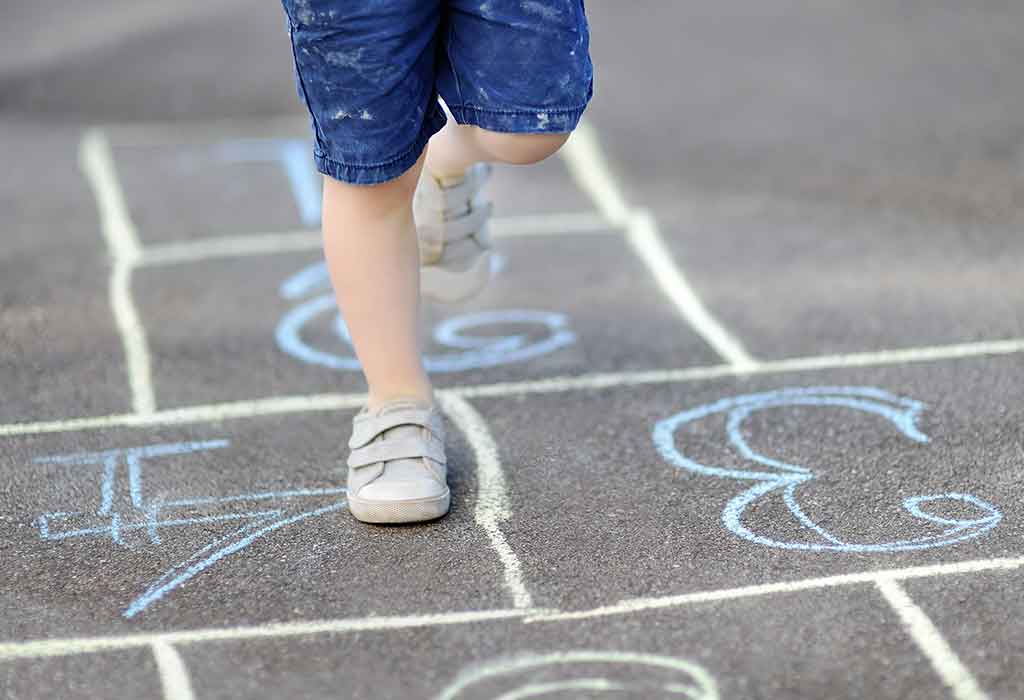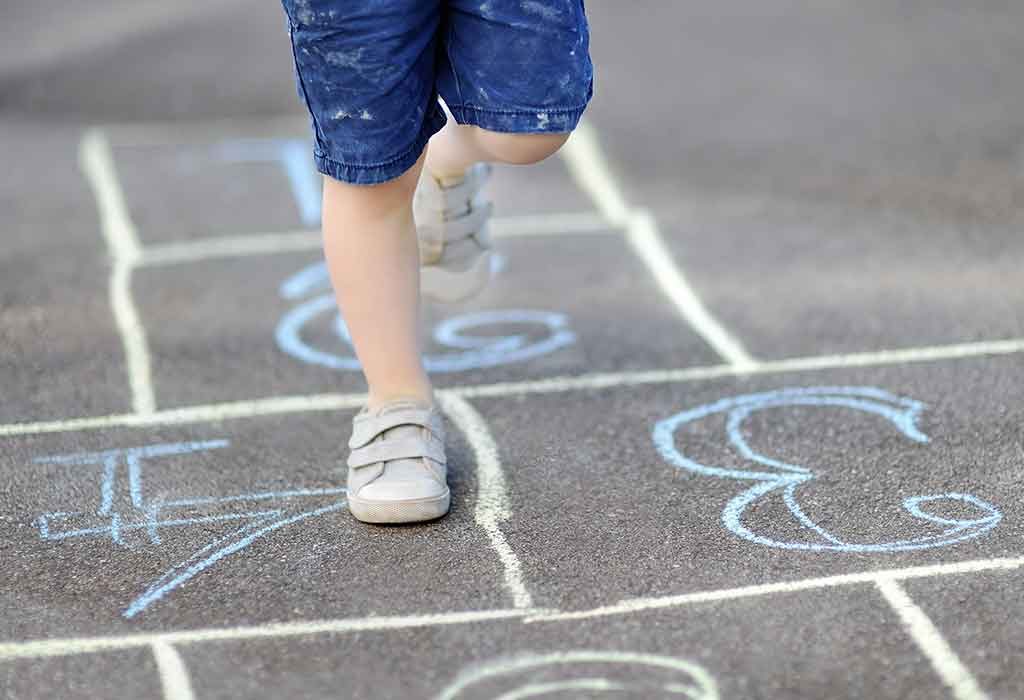 One need not be limited to just art and craft when it comes to engaging kids with chalk. There are several games and activities that can be played with chalk. If hopscotch teaches numbers to kids, there are several other concepts that your kids can master through such play. Chalk games for kids are a fun and practical way for them to learn things. Take a look at these playground chalk games that you can organise to engage your kids through the day!
1. Sidewalk Chalk Outdoor Math Game
This is a wonderful game to sharpen calculation skills without using traditional tools like pens or pencils. It is ideal for kids with ADHD and concentration issues, as it turns learning into a fun, physical activity.
Materials Needed
Chalk (different colours)
Large foam dice
Instructions
Draw long wiggly lines parallel along your driveway or pavement.
Then, draw horizontal lines about two feet apart running between these lines. Your drawing should basically look like a squiggly ladder!
Fill the spaces with simple mathematic sums. You could either have addition problems all through, or alternate between addition, subtraction, multiplication, or division.
Kids will have to roll the dice to find a space. They walk to the space like a board game, read the question, and give you the answer.
You could also fill the spaces with numbers, and get kids to learn how to count.
2. Shape Game
This is a wonderful way to get kids to identify and learn shapes. For older ones, you can even teach about 3D shapes.
Materials
Chalk of different colours
Open space to draw
Instructions
Draw different shapes (circle, triangle, square, rectangle, pentagon, etc.) alternatively.
Get your kids to step on the shape that you call out.
As a variation, you can ask the kids to identify one shape, such as all the squares, and time them.
You could also draw 3D shapes for older kids, and get them to step on the shapes you name.
3. Clock Game
This game is a fun way to teach children how to tell time. Abandon those piles of worksheets and pictures of clocks! With a large space, you can get kids to draw the time, and wipe out their errors.
Materials
Open space
Chalk (different colours)
Instructions
Draw a circle that is large enough to mark the hours on the clock.
Add smaller lines to denote the minutes.
Get the kids to draw the hour hand and minute hand. If your kid is older, then they could draw the time.
For younger kids, you could draw smaller clocks with different times on them, and have them identify what time is denoted.
4. Alphabet and Word Game
This is a great way to learn alphabets and words. With the help of some chalk, you can get your preschoolers to learn the alphabet, and slightly older kids to learn four-letter or sight words.
Materials
Instructions
Start by drawing a large 6×6 grid with 36 squares.
Start by writing the alphabets in each space. Do not write the alphabets in sequence.
You could throw a dice, and get your kids to step on the square by counting vertically or horizontally. Once they land on the square, they need to identify the alphabet.
You could also mention the alphabet, and get your child to find the alphabet and step on it.
You could also make a smaller grid with larger spaces, and fill them with sight words.
5. Hop and Trace
A great game to learn alphabets and numbers, you can get your kid to learn and also engage in some physical activity!
Materials
Chalk of different colours
An open space
Instructions
Write down letters or numbers at intervals all over the driveway or sidewalk.
Now, get your child to walk on a trail, and give out some instructions. For example, ask them to find the letter "A", and then jump three times, or jog in place, on the letter.
This is also a great game for kids to learn to listen and follow instructions.
Tips to Clean Up Chalk Art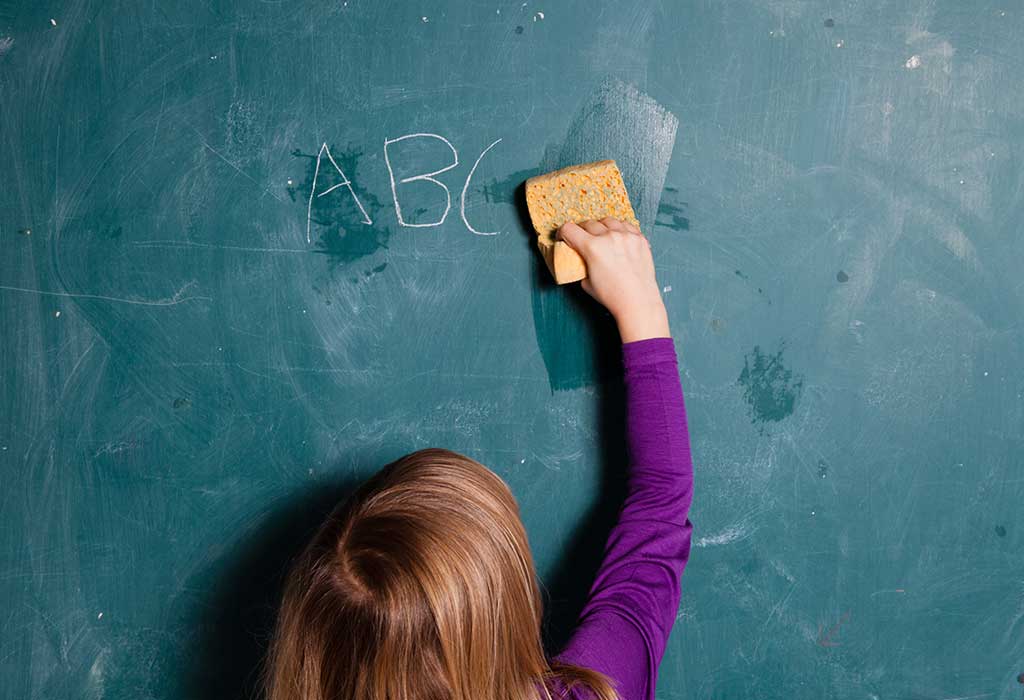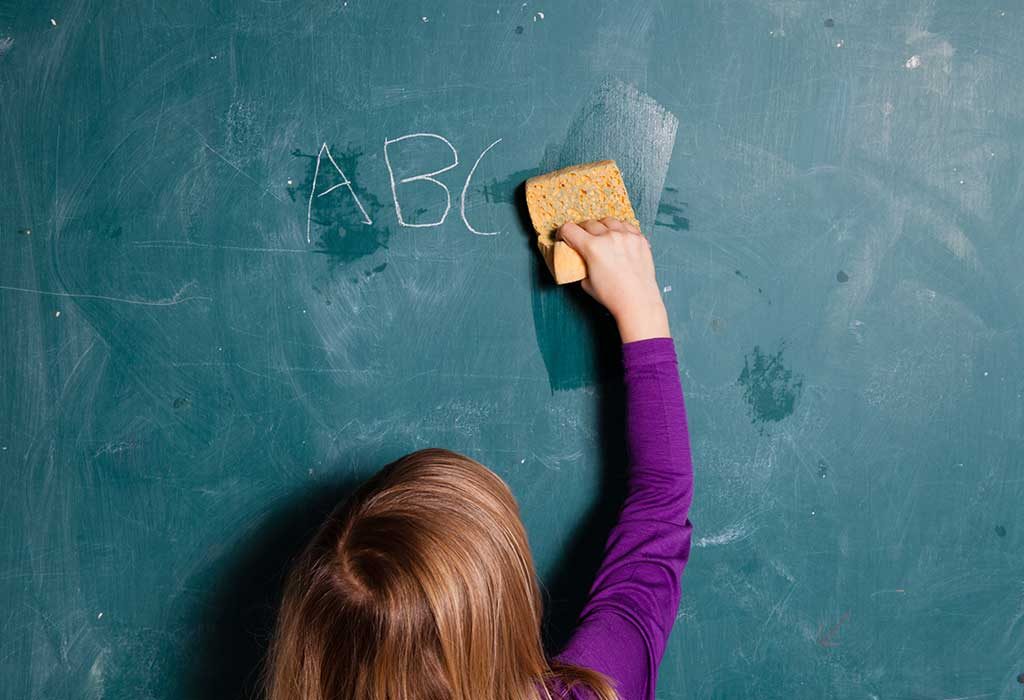 Chalk activities for toddlers and kids are fun, but cleaning up afterwards can be a bit of a bother to the parents! If you are lucky to have rain, then that can suffice to wash away the remains. But, if not, then find below some tips and suggestions to help you deal with the cleaning up of chalk artwork or games!
If you have a chalkboard wall, all you need is dish soap added to a bucket of water. Use a soft cloth or washcloth to wipe it all out.
If you have used liquid chalk, magic erasers are great to clean those tough and stubborn stains. A baby wipe or an ammonia-based solution will also help.
Cleaning chalk from concrete is easy by using a garden hose to spray it down. You can use a stiff-bristled brush to wipe it clean, and for stubborn stains, you could use some dish soap or mild liquid detergent and a sponge.
Chalk art will definitely leave some stains on clothing. Blot the area with some alcohol, and wash the cloth in hot water with laundry detergent. Repeat the process until the chalk stains have disappeared.
Now that you know how chalk can be a wonderful idea to engage your kids, and also know the insider know-how about cleaning the mess afterwards, get ready to spend some fun-filled time with these easy chalk ideas, which are definitely effective and wonderful for your kids and you!
Also Read:
Interesting Reading Games and Activities for Kids
Writing Games and Activities for Children
Group Games and Activities for Children