9 Tips for Dressing Your Baby as Lord Krishna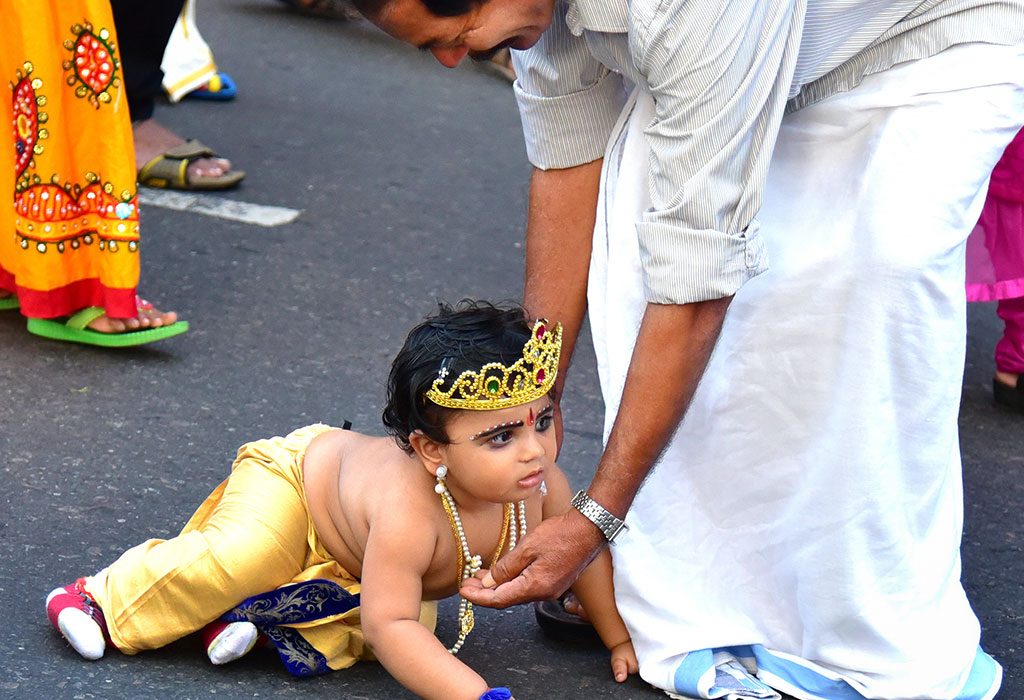 Krishna Janmashtami is a Hindu festival that celebrates the birth of Lord Krishna. It is widely celebrated in North India, but several other states also have people celebrating it with equal enthusiasm. Parents even love to dress up their babies as Lord Krishna for the occasion. If you are also thinking of dressing up your baby as Lord Krishna, you will find this article very helpful. Read on for some costume ideas and useful tips for dressing your little one as Krishna.
Things You Need to Put Together a Krishna Costume for Your Baby
Before dressing your baby in a Krishna costume, take note of the following points. These are the elements required to put up a Krishna outfit together.
1. Dhoti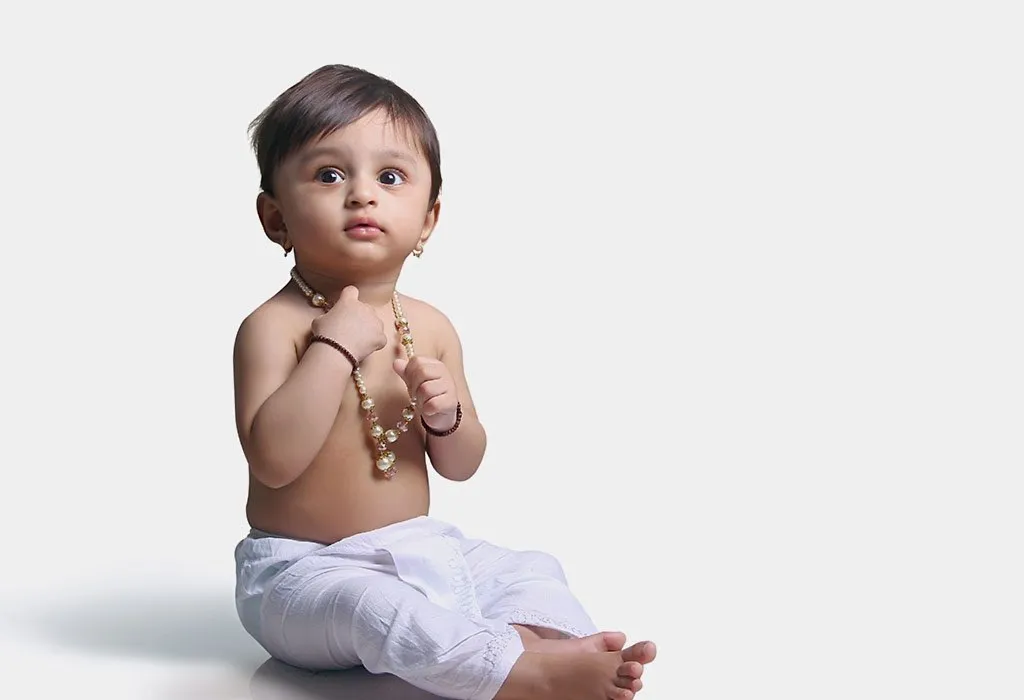 Dhoti is a traditional Indian outfit for men. Although men wear it occasionally in urban areas, it is a common part of the clothing in most rural parts of India. It is also an important aspect of the Krishna Dress. A cotton or silk dhoti in your preferred colour will ensure your child is comfortable, especially if you are planning for a photo shoot.
2. Crown
The crown or the 'mukut' is another important part of Krishna's look. Crowns are easily available in the market. Do not compromise on the quality, as a cheap quality crown may harm your baby's delicate skin. If you have a creative streak, you can even make one at home.
3. Peacock Feather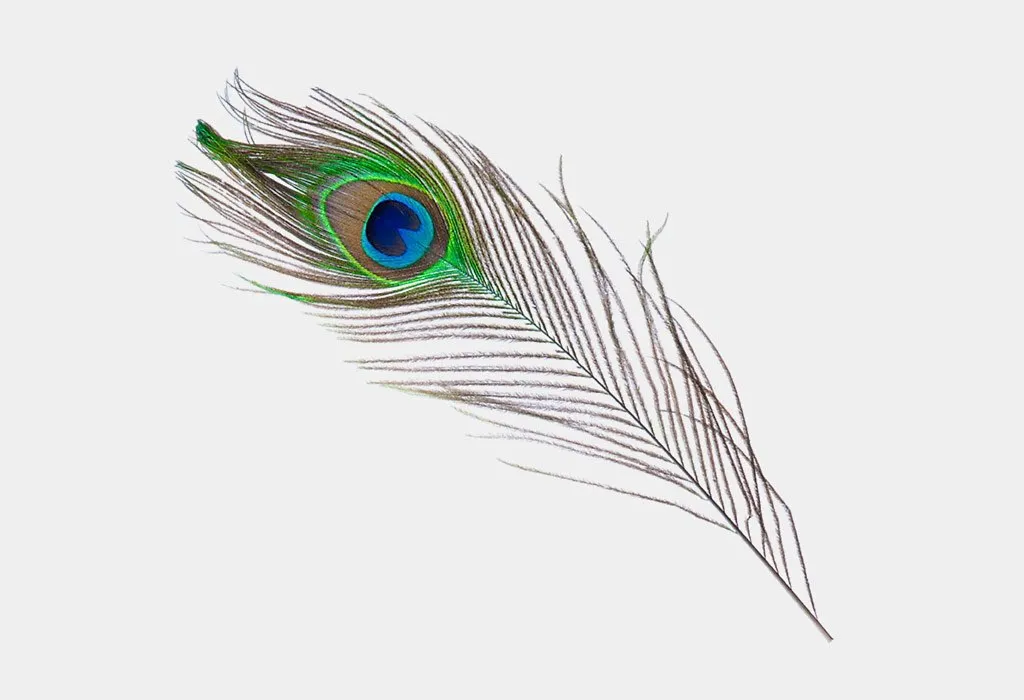 A peacock feather is synonymous with Lord Krishna, and thus, is a very important accessory for kids who want to dress up as Krishna. It is believed that Krishna once danced with the peacocks when he played one of his divine tunes on his flute, which is the next important element of the Krishna dress.
4. Flute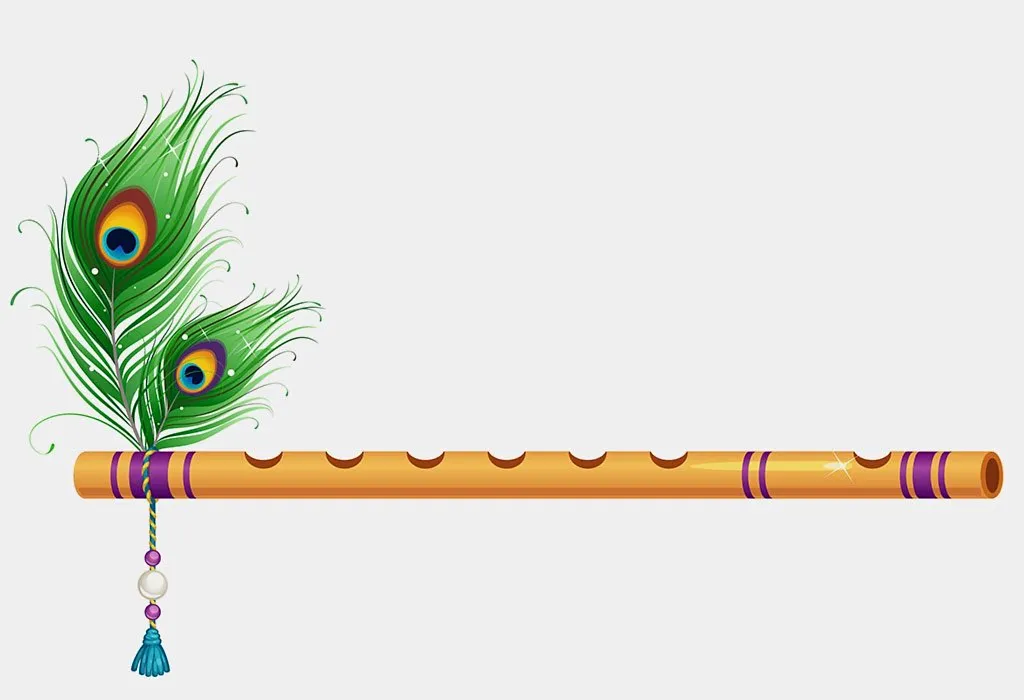 Lord Krishna is also called 'Murlidhar', which means the one who adorns a 'Murli' or a flute. Krishna is believed to have played numerous enchanting tunes and enthralled everyone around with his flute.
5. Butter Pot
Lord Krishna loved 'maakhan' or butter. There are several stories about him stealing milk, butter and curd from the houses of the Gopikas in Vraj, and therefore, butter is also a common offering to Lord Krishna.
6. Jewellery
Another important aspect of the Krishna costume is jewellery. Without jewellery, the Lord Krishna dress would be incomplete. Krishna is usually adorned in precious and semi-precious ornaments, such as necklaces, bracelets, anklets, etc.
7. Make-Up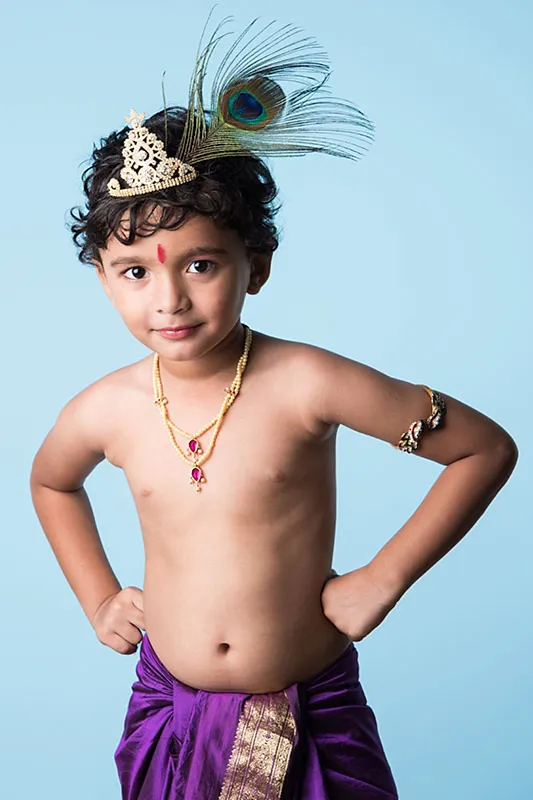 The next essential part of the Krishna look is the 'tilak', which is applied on the forehead. It has a spiritual significance and also brings the look together. Putting any other make-up on your baby is a complete 'No' as it may harm his delicate skin. Also, do not put kohl or liner in your baby's eyes.
8. Sandals or Barefoot
When it comes to completing your baby's charming Krishna ensemble, the choice between soft sandals or going barefoot can be a delightful consideration. Based on what your baby feels cozy in, you can either go for gentle sandals or let them be without shoes to finish the adorable outfit.
Now that you know what elements together make a Krishna dress, you can make a stunning Krishna outfit easily at home. The DIY ideas given below will also make the task extremely enjoyable for you.
How to Make Krishna Dress at Home?
Making a Krishna dress for your little one can be a fun activity for the entire family. Read on to know how you could make each element of the Krishna costume at home.
1. Dhoti
Draping a dhoti might seem like a challenge, but it is fairly easy. If you already have a mundu or a dhoti, you can fold it in half and use it or cut a silk or cotton dupatta or saree to make one for your child.
Things You Will Need:
Silk or a cotton dupatta/saree or a Mundu.
Method:
Take a dupatta or a mundu and fold it lengthwise. You can choose to cut the fabric lengthwise, too, to if you think the additional layer will make your child uncomfortable.
Wrap it around the child's waist like you would tie a sarong, keeping about 1/4th of the fabric on one side and the remaining (the longest side) on the other.
Tie the knot in the centre.
Then, take the lower front corner of the short end of the fabric, and from between the legs, drape one leg and take the end behind from under the fabric. Tug it gently so that it fits properly and tuck it in the centre over the fabric.
Then, take the longest end of the fabric and hold its width with both your hands. Now, make pleats and bring the two corners neatly together. Tuck it in the centre where the knot is tied.
You will have a loose opening of the fabric length after tucking in. Gently pull it out and make pleats. Tuck these pleats in next to the centre (the side would depend on the side the fabric was)
Any excess material can be wrapped around the waist to give it a finished look.
2. Flute
If you cannot buy a flute for your baby, make one with some paper.
Things You Will Need:
Newspaper
Glue
Scissors
Paint
Embellishments such as lace, tassels, etc.
Method:
Take a newspaper and roll it till you get the desired thickness.
Glue the loose ends of the paper properly. Let it dry.
Then, cut a conical shape or a blunt point on one end of the roll. Glue any loose edges and leave it to dry.
Decorate the flute with a golden paper, some ribbons, tassels, etc.
3. Butter Pot
You can choose to decorate a clay pot you have at home and fill in some cotton for the butter or make one with some paper.
Things You Will Need:
Large-sized balloon
Lots of paper (preferably newspaper)
Glue
Water
A pair of scissors
Plastic or a wooden bangle
A string of thread.
Method:
Blow the balloon till it inflates to medium size.
Tie the opening and push it inside the balloon till you reach the bottom of it.
With another hand, hold the pushed end at the bottom and secure it with a thread.
You should get a pot-like shape instead of a usual oblong. Mix some water and glue in a bowl.
Shred the newspaper into small pieces. Dip each piece and stick it all over the balloon. Ensure each piece overlaps with the other pieces surrounding it. Cover the entire balloon this way, leaving a circle at the top centre. This will be the mouth of the pot.
Keep sticking the newspaper pieces till you have a nice thick layer of paper over the balloon. Leave it to dry.
Take another sheet of newspaper and dip it in the water and glue solution. Cover the entire bangle till you get a rim of your preferred thickness. Keep it aside to dry with the pot.
Once the pot and the ring are completely dry and hard to touch, burst the balloon and remove it.
Draw a circle (a little smaller than the size of the circular paper ring) at the opening of the paper pot and cut the rough edges.
Glue the ring on the opening. Leave it to dry.
Fill the pot with some cotton.
There you have it; your butter pot is ready.
4. Jewellery
Since your child could get cranky if you make him wear metal ornaments, go for paper, threads and beads to make some fancy but comfortable ornaments for your little one's Krishna costume.
Things You Will Need:
Gold-Coloured Paper
A soft but thick thread or soft yarn
Some beads (optional; do not use beads for infants and toddlers)
Glue
Scissors
Method:
Cut triangles and circles from the gold-coloured paper.
Cut one string or soft yarn for the necklace, two for the bracelets and two for the anklets. Measure them before cutting them. Ensure you have enough to tie the ornaments.
Glue the triangles and circles on each string and the order you like and leave them to dry.
Once they are ready, tie the strings around the neck, the ankles and the wrists. Ensure your child is comfortable in the jewellery.
5. Crown
Things You Will Need:
A yellow chart paper
Glue
Scissors
Sketch pens
Embellishments
Thread/Measuring Tape
Pencil
Method:
Cut a 2-inch thick strip from the yellow chart paper.
Measure the circumference of your child's head.
Cut the strip in that length.
Now, use a pencil to outline the top of the crown. Give it a shape you desire.
Cut along the outline.
Glue the ends of the strip.
Decorate the crown with your favourite colours and embellishments.
6. Peacock Feather
If you do not have a peacock feather, try this DIY feather to complete the look.
Things You Will Need:
Chart Paper
Iridescent blue, light blue, a bright shade of green, copper, and turquoise paint
Scissors
Pencil
Paintbrush
Method:
Draw a feather outline on the chart paper. You can even take a printout.
Paint the feather; It's alright if it is not perfect.
Then, cut along the outline leaving the bottom thick to enable you to glue it to the crown or tuck it in a ponytail.
There you have it; your peacock feather is ready.
With the DIY ideas and some elements, it can be quite simple to put a Krishna dress together. If you want some more ideas, here they are. These Krishna costume ideas for baby will make this Janmashtami one of the most memorable events.
Krishna Costume Ideas for Baby
Krishna is adorned in several ways. Whether it is a regal look or a humble one, no Krishna costume idea will disappoint. Here are some you can consider to put up a Krishna dress for your tiny tot.
1. Pristine White Minimalistic Krishna Costume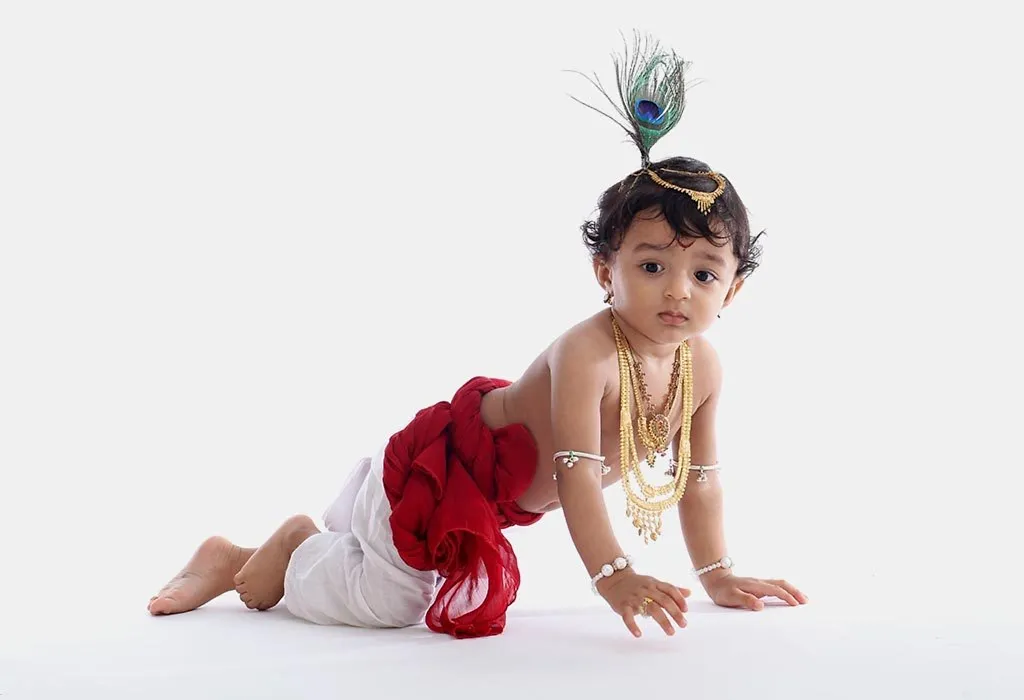 This idea needs just a white coloured dhoti and some accessories, such as gold-coloured necklaces, pearl-coloured bracelets, armlets, a red or a maroon dupatta, and a peacock feather.
Dress your little one in the white dhoti. Then, take the dupatta and roll it loosely before you wrap it around your baby's waist. Tie a knot to secure the dupatta on your little one's waist. Use one of the necklaces as the crown and secure it with a hairpin. Tuck in the peacock feather and you are good to go.
2. The Maakhan Chor Costume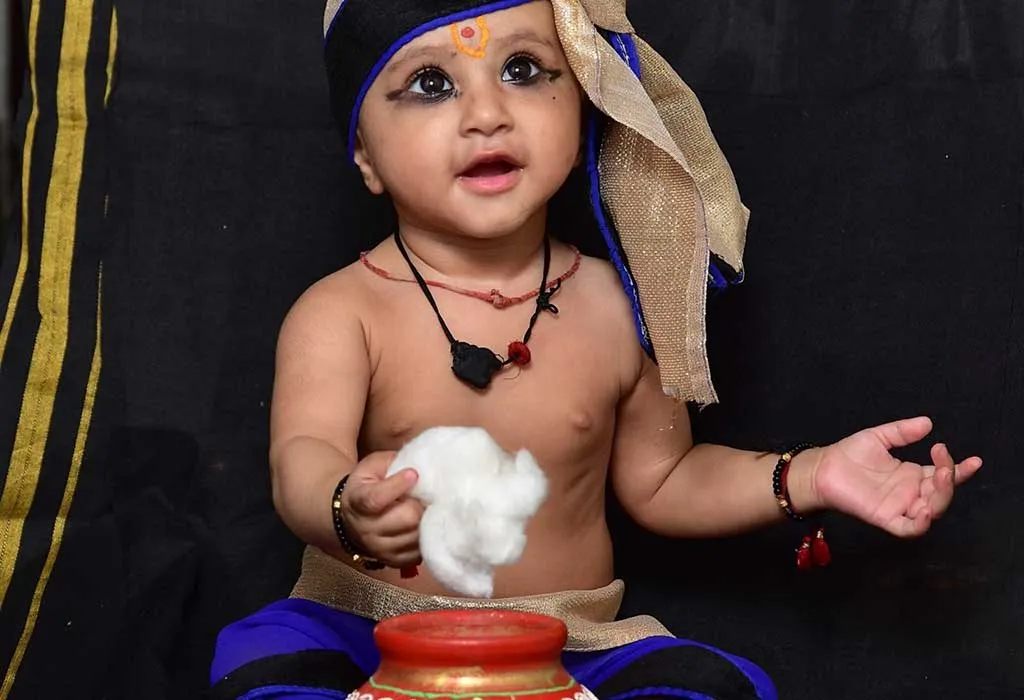 While we've recommended blue and gold in this idea, you can play around with the colours of your choice. You will need a dhoti in your little one's size, some accessories, such as a pair of bracelets, anklets, a black thread and a dull gold coloured scarf.
After dressing your baby in the dhoti, loosely scrunch or gather together the scarf lengthwise. Then, wrap it around your baby's head and tie a gentle knot. Tuck a peacock feather in it. Then tie the black thread around the waist or the neck and put some baby-safe kajal to complete the look.
3. Bright Yellow Krishna Costume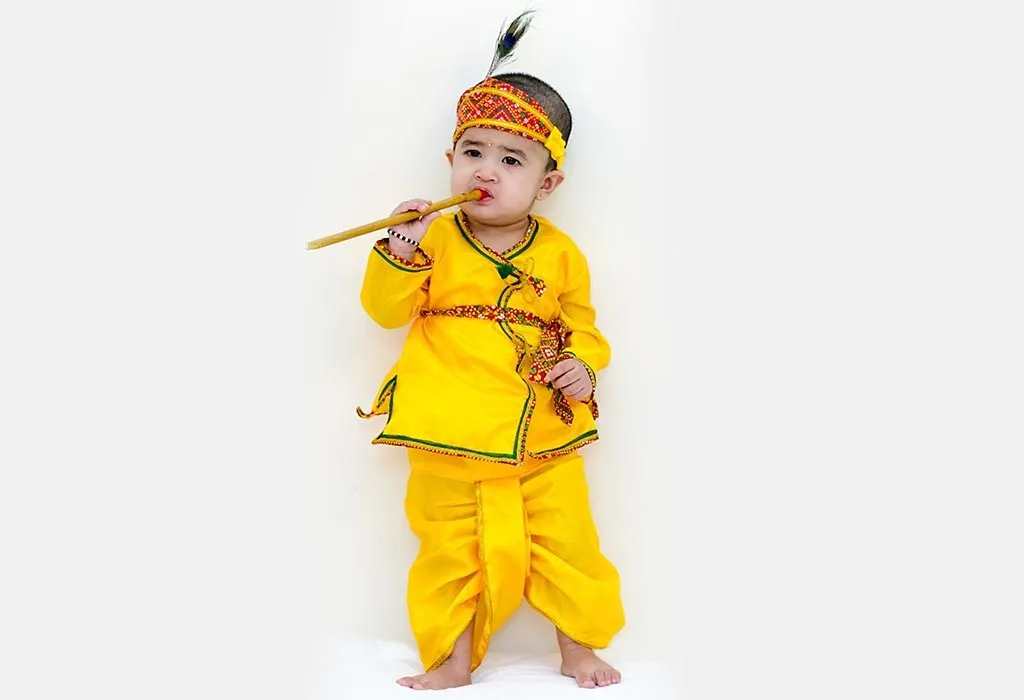 For this Krishna costume idea, you will need a yellow coloured dhoti and kurta (kurta is optional), some gold paper ornaments, a yellow/gold comfortable fitting crown or a yellow coloured, traditional-print bandana, and a peacock feather. This look won't need much; just give your little one a flute and put a tilak.
4. Krishna Angrakha and Dhoti Costume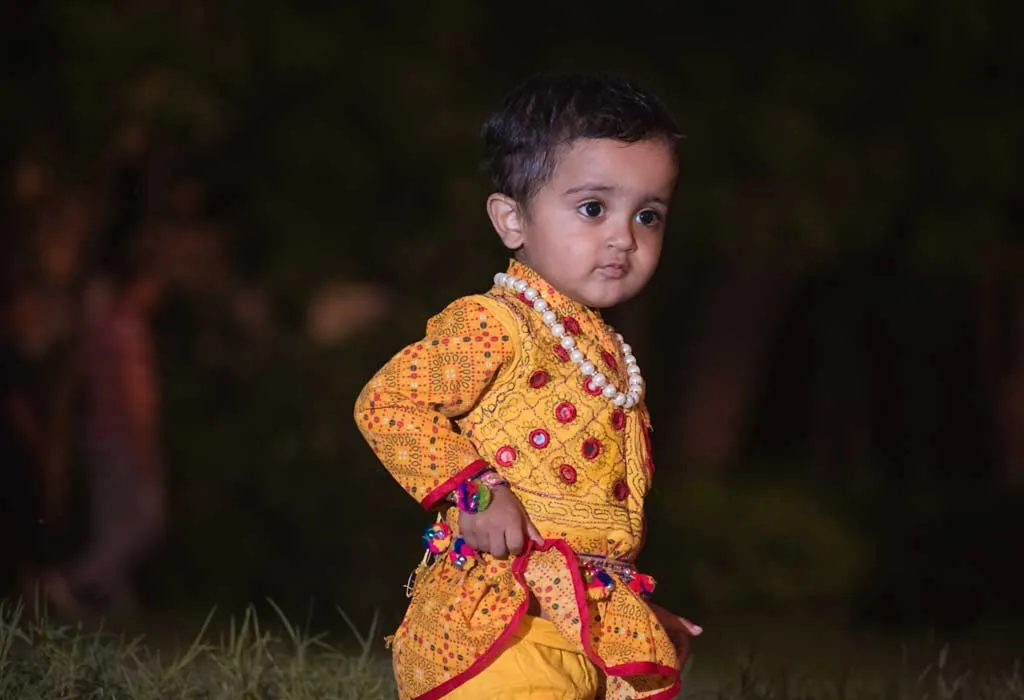 Dressing up your little bundle of joy in a Krishna Costume is the best way to see Lord Krishna in your child. All you need is an angrakha shirt, preferably in white or orange, and a yellow colour dhoti to go with it. If it's your baby's first Janmashtmi, you can get the angrakha customised with baby Krishna's image on it. Add in some accessories like a mukut and pearl mala too.
These are just a few Krishna costume ideas you could use to make one for your little bundle of joy. You may experiment with other colours, too, and give accessories that help create the entire look. Don't forget the hair and the footwear though. If your child has long tresses, tie them in a comfortable but neat ponytail before you put the crown on and the feather on. Many choose to go bare feet, but you could also get a pair of juttis in the colour-scheme you choose for your little one to wear.
But, that's not all. You might need to take care of a few more things before you dress your child in a Krishna costume. Let's take a look at some useful tips to ensure your baby is comfortable and has an equal amount of fun being the 'Krishna' in the house.
Tips to Keep in Mind Before Dressing Up Your Baby as Lord Krishna
Before you begin dressing up your little one as Lord Krishna, you may like to keep the following tips in mind:
Feed your baby, make sure his tummy is full and he is not hungry.
Before dressing him up, ensure that he has slept enough. If he doesn't get enough sleep, he will be cranky during the day.
Do not go overboard with accessories; make him wear comfortable accessories.
If your baby gets irritated because of a certain piece of jewellery, take it off.
Adopt the mantra 'less is more', keep the dress and jewellery hassle-free and simple. Make sure the jewellery has no sharp edges, and it is child-friendly.
Do not paint your baby's skin as it may cause harm.
Make sure the costume that you choose for your baby is made of good fabric (preferably cotton or silk).
Choose a hairstyle that complements the look without causing any discomfort or hindrance to your baby's movements.
If your baby wears diapers, opt for a costume that allows easy access for diaper changes. This will save you from having to fully undress your baby each time.
These were some basic things that you need to remember to dress up your baby as 'Lord Krishna'. Festivals are a great time to dress up your kids. All you have to keep in mind is that your baby should feel happy and comfortable. There is no point in putting in so much effort and energy if your baby gets irritated. The idea is to have fun with your baby and enjoy the festive fervour, therefore keep it simple and hassle-free for your baby.
Also Read: Fancy Dress Costume Ideas for Kids