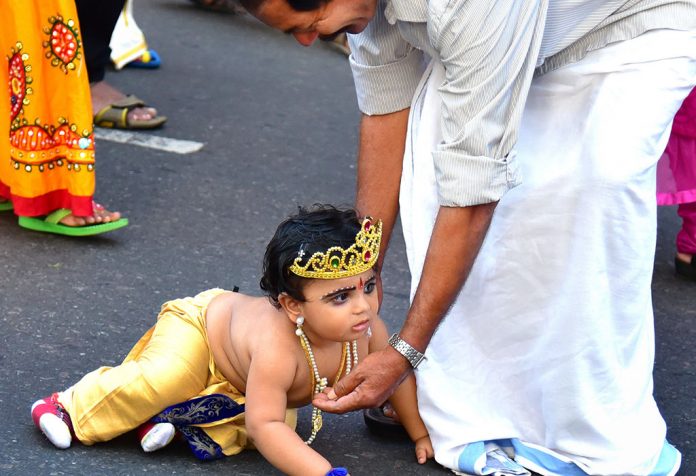 Krishna Janmashtami is a Hindu festival that celebrates the birth of Lord Krishna. The birth of Lord Krishna is widely celebrated in North India. Parents even love to dress up their babies as Lord Krishna for the occasion. If you are also thinking of dressing up your baby as Lord Krishna, here are some tips you need to keep in mind.
Tips to Keep in Mind Before Dressing Up Your Baby as Lord Krishna
Before you begin dressing up your little one as Lord Krishna, you may like to keep the following tips in mind:
Feed your baby, make sure his tummy is full and he is not hungry.
Before dressing him up, ensure that he has slept enough. If he doesn't get enough sleep he will be cranky during the day.
Do not go overboard with accessories; make him wear comfortable accessories.
If your baby is getting irritated because of a certain piece of jewellery, take it off.
Adopt the mantra 'less is more', keep the dress and jewellery hassle free and simple. Make sure the jewellery has no sharp edges, and it is child-friendly.
Do not paint your baby's skin as it may cause harm to your baby's sensitive skin.
Make sure the costume that you choose for your baby is made of good fabric ( preferably cotton or silk).
How to Dress Up Your Baby as Krishna
While dressing your baby in Krishna dress, take note of these following points:
1. Crown
Along with the dress, 'mukut' or the crown forms a major part of Krishna's look. Crowns are easily available in the market. Do not compromise on the quality, as a cheap quality crown may harm your baby's delicate skin. If you have a creative streak in you, then you can even make a 'mukut' at your home. All you need is a soft cardboard and sparkling golden paper.
2. Dhoti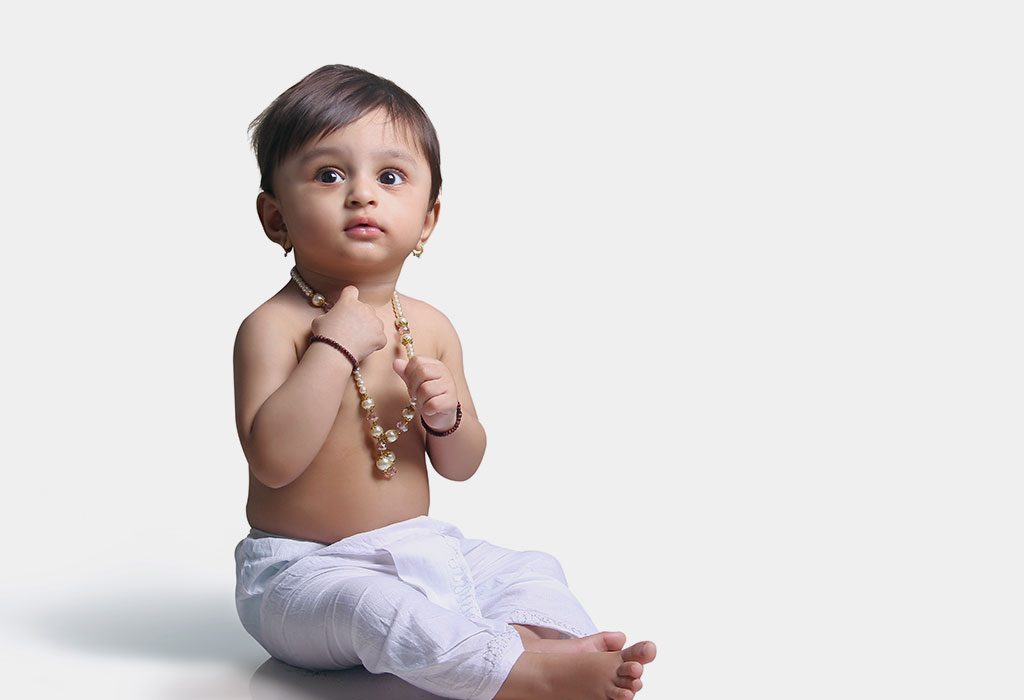 Get a dhoti in cotton or silk fabric for your baby as both these fabrics are soft and will be comfortable for your baby. You can also cut your silk dupatta or saree to make a dhoti for your baby. It is a good option if you can secure it nicely on your baby. Alternatively, you can procure readymade dhoti from the market; these are ready-to-wear and available in many vibrant colours.
3. Bare or Not
Ideally, you should not make your baby wear any kind of top or tee-shirt, but if you are not comfortable with keeping your baby's chest bare, then you can make him wear a top with the dhoti. You can either buy a matching top or go for contrasting colours.
4. Peacock Feather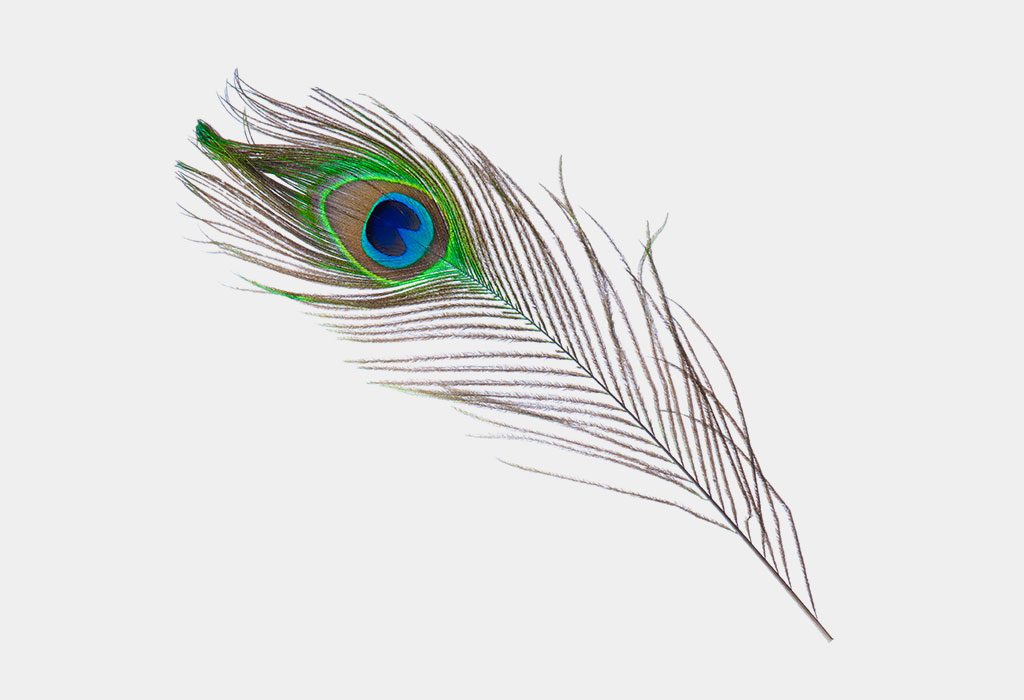 A peacock feather is synonymous with Lord Krishna and thus a very important accessory for kids who want to dress up as Krishna. You can stick or staple the feather of the crown. If it does not stick to the crown, you can tie up your baby's hair in a small ponytail and tuck the feather in it.
5. Butter Pot
Lord Krishna loved 'maakhan' or butter. So, without a butter pot, his whole dress up will be incomplete. Place a butter pot near him. Decorating the pot with bright velvet paper and some mirrors. You can put some cotton inside to give an illusion of butter. It will be good to use this accessory in case your baby takes part in some fancy dress competition.
6. Flute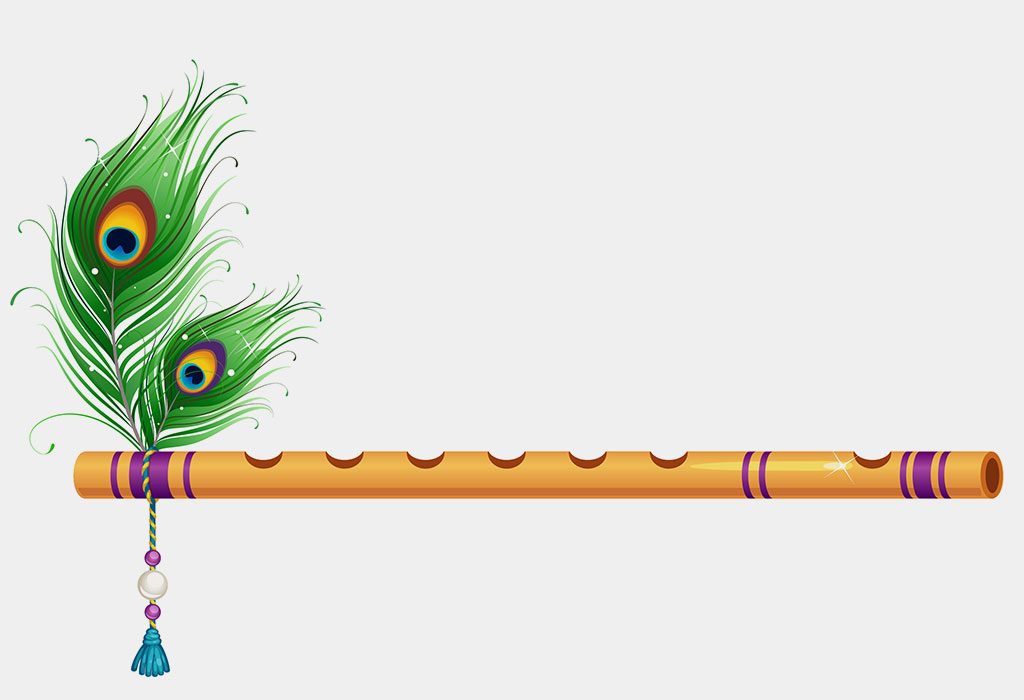 Lord Krishna is also called 'Murlidhar', which means the one who adorns a 'Murli' or a flute. You can get a wooden or plastic flute for your baby. Do not buy a heavy metal flute as your baby may harm himself. You can decorate the flute with a golden paper. If your baby is not interested in holding the flute, you can tie few 'ghungrus' around the flute as babies get attracted to the objects that make a sound.
7. Jewellery
Without jewellery, 'Lord Krishna dress up' would be incomplete. But if you make your baby wear too many accessories, he may get cranky. Therefore, you should stick to bare minimum jewellery. You can make your baby wear a beaded chain or an anklet. You can also make your baby wear flower jewellery too (artificial flowers).
8. Make-Up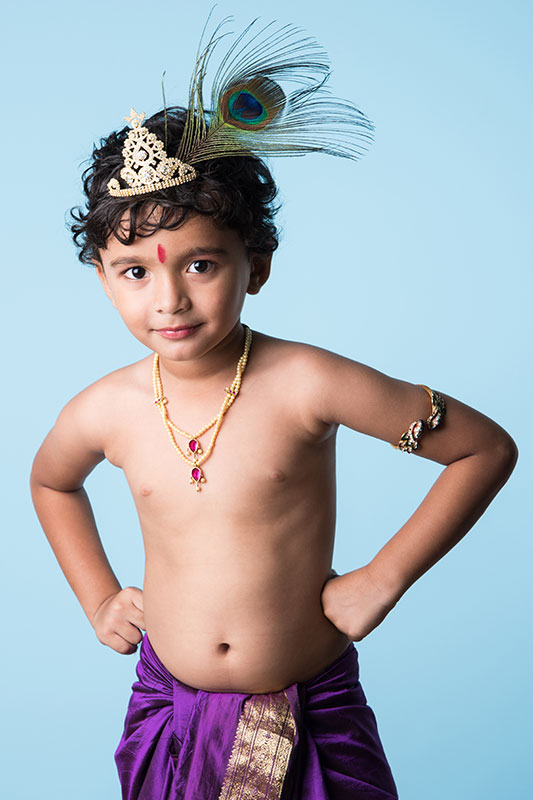 In case you are tempted to put make-up on your little one, it is suggested that you put a 'Tilak' on your baby's forehead. Putting make-up on your baby is a complete 'No' for babies and kids as it may harm their delicate skin. Also, do not put kohl or liner in your baby's eyes.
These were some basic things that you need to remember to dress up your baby as 'Lord Krishna'. Festivals are a great time to dress up your kids. All you have to keep in mind is that your baby should feel happy and comfortable. There is no point in putting in so much effort and energy if your baby gets irritated. The idea is to have fun with your baby and enjoy the festive fervour, therefore keep it simple and hassle-free for your baby.
Also Read: Fancy Dress Costume Ideas for Kids