How to Make DIY (Homemade) Baby Wipes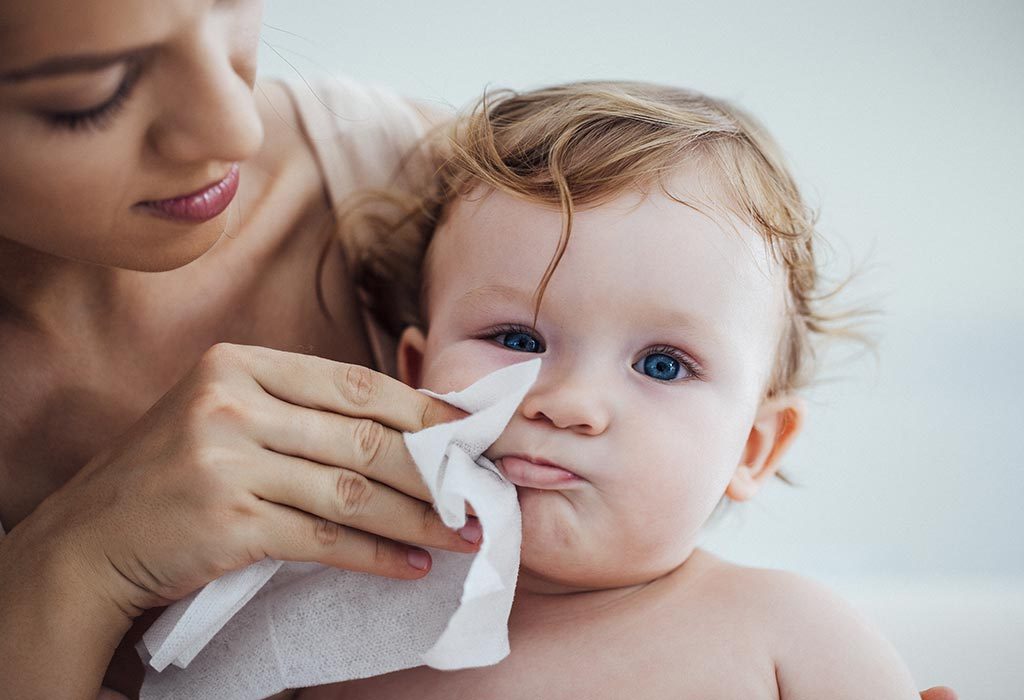 Your baby's health and hygiene hold prime importance, and baby wipes help you achieve that to a great extent. However, buying wipes from the market for everyday use can burn a big hole in your pockets. Therefore, you can try various homemade options for making baby wipes for your little one. The following article shows you how to make DIY or homemade baby wipes for your baby.
Why Make Homemade Baby Wipes?
Since there are many readily available options in the market for baby wipes, why take the effort of making them? Here's why…
1. Homemade Baby Wipes Are Less Costly
There is no denying that baby wipes are necessary, and one can make no compromises regarding hygiene. That being said, the amount of money you spend on wipes may startle you. However, the wipes you make at home using natural ingredients will be way cheaper than those you procure from the market.
2. Homemade Wipes are A Safer Option
The wipes you make at home using natural and pure ingredients are a safer option for your baby. This is because the baby wipes available in the market sometimes have ingredients and chemicals that may not be safe to use for the little one. These chemicals may be harmful and may also lead to various health complications. Using homemade wipes ensures that your baby is not exposed to any harmful chemicals.
How to Make Organic (Reusable) Cloth Wipes for Babies?
If you have made up your mind to make these DIY baby wipes, then the first option you can consider is making cloth wipes for your child. The best part about making cloth wipes is that they are reusable, which means you can wash and reuse them. However, these are not quite similar to the paper wipes that you may be using. This is because cloth wipes are required to be used with a wipe solution. Here's how you can make homemade cloth baby wipes:
What You Will Need
Soft cotton flannel (which is chemical-free and washable)
Sewing machine (you may stitch with hand too)
A spray bottle
2 spoons each of baby shampoo and baby oil (you may use baby wash also)
2 cups water
How to Make
Cut the cloth in the desired size.
Place two pieces on each other and secure by stitching all the ends.
Put all the wet ingredients in a spray bottle and shake well.
Whenever required, take some homemade wipe solution on the cloth wipe and use it.
You may also use old cotton blankets or cotton shirts to make baby wipes.
How to Apply and Store
It is important to remember that when you are using natural ingredients and no preservatives to make wipe solution, they tend to have a short shelf life. It would be best if you stored these wipes in a plastic container or bag. As and when the need arises, take out a cloth wipe and spray some solution for cleaning your baby.
How to Make Disposable Paper Towel Baby Wipes?
If you find making and using cloth wipes too much of a task, you can opt to make paper towel baby wipes. These wipes are very easy to make and convenient to use. Here's how you can make them:
What You Will Need
A good quality paper towel roll
A sharp knife
150 ml water
15-20 ml baby wash or baby shampoo
15-20 ml baby oil
measuring cup
big bowl
How to Make
Cut the paper roll into half by using a sharp knife.
Mix water, baby wash, and baby oil in a measuring cup.
Put the solution in a big bowl and immerse paper roll in it. Let it soak for 10-15 minutes. Now repeat the same from the other side as well.
Once completely soaked, remove the cardboard roll from inside.
Your wipes are ready to use.
How to Apply and Store
You can store these wipes in any clean plastic bag or homemade baby wipe container. Whenever you require a wipe, gently pull one out a wipe and clean your baby.
You can easily use these wipes for a week or two. However, refrain from storing it for long periods as there are no preservatives used to make them long-lasting.
How to Make DIY Baby Wipes Solution?
You can easily make the baby wipes solution by using various natural ingredients in your home. These are not only easy to make but extremely safe for your baby's gentle skin.
What Ingredients Can Be Used for Making the Solution?
Here are some of the commonly used ingredients and recipes for making DIY baby wipes:
Oil: Oil is one of the best ingredients for making baby wipes as it not only makes your baby's skin soft and supple but also ideal for wiping your baby's skin smoothly.
Soap: Soap is a good cleaning agent and is great for cleaning the urine and poop traces from your baby's genitals.
Essential Oil: Essential oil is a good option for baby wipes as it comes with added benefits. You can use lavender oil for soothing and calming benefits and tea tree for its antibacterial properties.
Water: Water is an essential ingredient for making baby wipes. It helps in mixing all the ingredients and also makes it easier for them to spread evenly.
These are some of the ingredients that you can use to make baby wipes. You can apply these to the recipes mentioned below.
Recipes
If you are wondering how to use the above-mentioned ingredients in making wipes effective, worry no more as here we have a few easy to make homemade baby wipes recipes for you:
i) Antibacterial Baby Wipe Solution
Your baby poops and pees a lot in the initial months after birth and thus his genitals become the apt place for various kinds of bacteria to grow and survive. This antibacterial baby wipe solution will help in keeping bacterial infections at bay. Here's what you need:
2-3 drops of tea tree oil
2-3 drops of lavender oil
1 teaspoon vinegar (white)
1 tablespoon calendula oil
40-50 ml pure aloe vera gel
100 ml water
Skip vinegar in case your baby has a skin allergy or a skin rash. Some babies are allergic to tea tree oil too…
ii) Easy Baby Wipe Solution
This one is really easy and simple to make. Here's what you require:
100 ml water
10-20 ml baby oil
10-20 ml baby wash
These are ideal homemade wipes for sensitive skin and you may add any essential oil for added benefits.
iii) Almond and Chamomile Solution
You can use these homemade baby wipes for diaper rash as they are very soft on your baby's skin. Here's what you will need:
250 ml hot water
15-20 ml almond oil
2 chamomile tea bags
Put the tea bags in hot water and let them diffuse. Remove after a few minutes and add almond oil. These homemade wipes without baby oil are safe and smooth for your baby's skin. If your baby has extra sensitive skin, then DIY baby wipes made of coconut oil can be used.
There is no doubt that homemade baby wipes are very good for your baby; however, your baby may develop an allergic reaction due to the presence of certain ingredients. Therefore, keep your baby's allergy in mind before using any ingredients for making wipes. Homemade wipes have a concise shelf life, therefore, keep discarding the unused old ones and remember to make new ones for your baby every two to three weeks. If you notice your baby developing an allergy or rash due to the use of homemade baby wipes, you should seek immediate medical help.
Also Read:
How to Use Cloth Diapers for Infants
How Diapers Can be Used Safely for Newborns and Babies
How Many Diapers Will Your Baby Need
Disposable Diapers vs Cloth Diapers