Using Diapers Safely for Newborns and Babies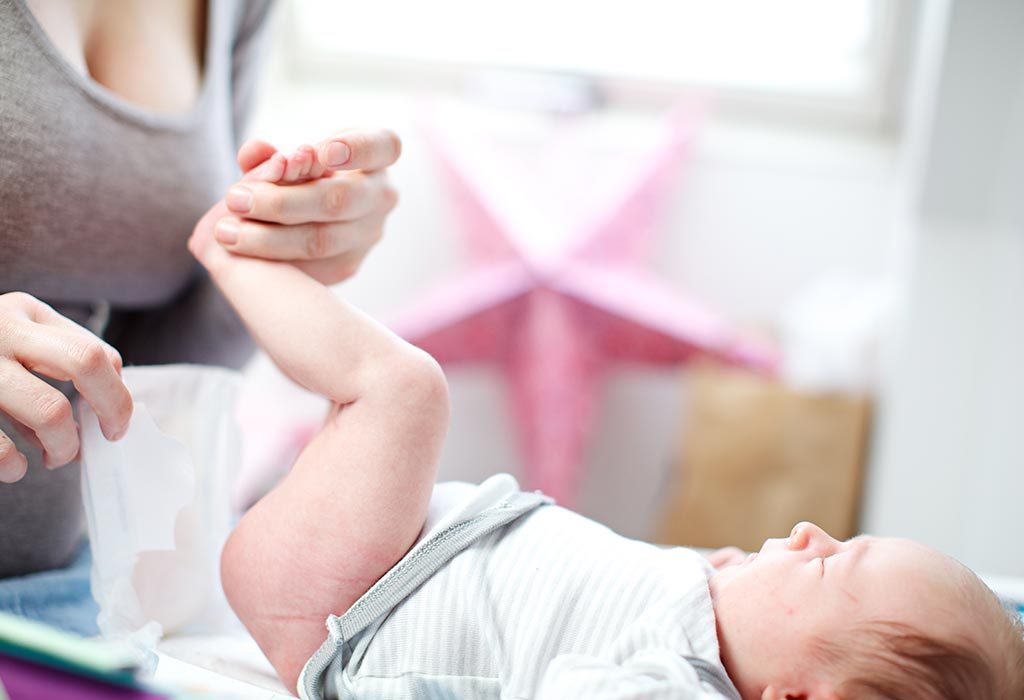 As your little bundle of joy arrives in the world, one thing is sure that your days and nights will be extremely busy. All your tasks will revolve around your baby. You will do everything to make sure your little one is happy and healthy. For the first few months, your baby will only drink breast milk, urinate and poop. And, this will increase your duties in turn, especially when it comes to keeping him dry, clean and comfortable. This task in itself is very cumbersome as you will be doing this over and over again for quite some time. That is why, nowadays, parents have resorted to disposable diapers to keep their babies dry and comfortable. But, how safe are these diapers for newborns? We have put some information together on this topic and hope to help you keep your worries away. Read on to know more.
Are Diapers Safe for Infants?
There are mixed opinions about the use of diapers. The elderly are against using them, and they tend to think that mothers use it for their convenience and avoid the hassles of frequent cleaning and washing. They are also of the opinion that baby diapers cause rashes and infections, and so its excessive use is not a healthy practice. However, young mothers argue that diapers are designed with utmost care. So, they are generally safe to use.
What Are Diapers Made of?
There are two types of diapers available in the market, cloth diapers and disposable diapers. Cloth diapers are typically the ones that are made of soft fabric. You can wash, dry and reuse them. And, disposable diapers are made of different material and have the following components.
1. Sodium Polyacrylate
It is a polymer which is placed in the core of the diaper and packed with layers of other material. It is used as an absorbent. These particles act as tiny sponges that retain many times their weight in water.
2. Dye
Some diapers have wetness indicators which are made with dyes to help parents know when to change the diaper.
3. Cotton/Microfibre/Plastic Fibres
Material like cotton, hemp, plastic fibre, and microfibre is used in cloth/reusable diapers. Layers of these materials are used to cover the absorbent to ensure there are no leakages.
4. Wood Pulp
Wood pulp is used in diapers to give some cushioning. Wood pulp also works as an absorbent.
Now that you are aware of the components of diapers, it is advisable to choose the diapers for your baby wisely. Here are some types of diapers you can choose from.
Types of Diapers
Pull-up Diapers – Pull-up diapers look like underwear and need to be pulled up to the waist. These diapers have a soft elastic that holds on to the baby's waist.
Disposable Underwear – These are available in various sizes and can be worn by older babies who still wet their bed.
All-in-one Diapers – These have an outer cover which is made of waterproof material, with a diaper sewn on the inside.
Pocket Diapers – These have pockets where you insert a disposable or a reusable cloth diaper.
Fitted Diapers – As the name suggests, these are fitted and have a narrow crotch area and a wider waist area. Some of these diapers come with fasteners too.
Although these diapers will make your life easy, you will need to be alert as your baby might develop an allergic reaction, especially because of the disposable diapers. Here are some more side effects diapers could have on your baby. If you observe any of these side effects, stop using diapers and seek medical advice immediately.
Side Effects of Disposable Diapers
Following are the side effects of diaper for baby girl and boy.
If the polymer sodium polyacrylate is mixed with acrylic acid, your baby could experience skin irritation around the diaper area.
Dyes can cause skin rashes in some babies.
Some diapers have volatile organic compounds that include chemicals like toluene and xylene that can also cause skin irritation.
When wood pulp is bleached, dioxins are produced. Remnants of dioxin in the diaper can cause medical issues.
These diapers need to be changed at regular intervals, as when remaining for a long time can cause skin rashes and infection.
Precautions to Take Before Using Diapers for Babies
Diapers are in direct contact with a baby's skin, so it is advisable to take precautions opting for diapers.
Following are some precautions you must take to avoid side effects due to diapers.
Check the baby's skin to ensure that there are no rashes. Some babies have very sensitive skin and develop rashes immediately.
Specially designed overnight disposable diapers can be used at night.
Avoid heavier diapers during the daytime. Use gel-based diapers or diapers with skin creams or cloth diapers.
Change diapers once every two to three hours to avoid rashes and infections. When babies pass stool, ensure that you change the diaper immediately.
After removing the diaper, don't make your baby wear another diaper immediately. Allow the skin to breathe for a while.
Clean your baby's skin with baby wipes or a soft, damp cloth after removing the diaper. You can use baby lotion, coconut oil, moisturisers, too. All these products help in maintaining good hygiene. Powders should not be used.
FAQs
1. How Do You Know If It's Time to Move Up in Diaper Size?
Every diaper manufacturing company have a diaper size chart according to the baby's age. So you can easily check the size chart and decide which diaper will fit your baby. Also, the following signs can be used to identify that your baby needs a new diaper size:
The diapers not fully covering the baby's bottom

The baby is showing signs of distress

There are red marks on your baby's thighs and waist area.
2. What Size Diapers Do Babies Wear for a Long Time?
Generally, the baby stays in size three diapers the longest.
The initial phase of motherhood is hectic because you strive to give the best to your baby. While diapers can make things easier, using diapers for longer periods generates heat. So, changing diapers frequently is the key to ensure that your baby is dry, comfortable, and healthy.
References/Resources:
1. Charru Jamwal, Dr.Priyanka Chaudhary, Dr.Rajwant Kour Randhawa; Effect of Disposable Diapers on the Health of the Baby and on the Environment; researchgate.net; https://www.researchgate.net/publication/358234124_Effect_of_Disposable_Diapers_on_the_Health_of_the_Baby_and_on_the_Environment; May 2021
2. Why is my baby always getting diaper rashes?; healthychildren.org; https://www.healthychildren.org/English/tips-tools/ask-the-pediatrician/Pages/Why-is-my-baby-always-getting-diaper-rashes.aspx
3. EWG's Healthy Living: Quick Tips to Safer Diapers; ewg.org; https://www.ewg.org/research/guide-safer-diapers
4. Diapers: Disposable or Cloth?; healthychildren.org; https://www.healthychildren.org/English/ages-stages/baby/diapers-clothing/Pages/Diapers-Disposable-or-Cloth.aspx
5. Dental Care, Diapers, and Clothing; iapindia.org; https://iapindia.org/pdf/200921-Guideline-for-Dental-Care-Diapers-and-Clothing.pdf
Also Read: