Tips and Ideas to Design a Twin Nursery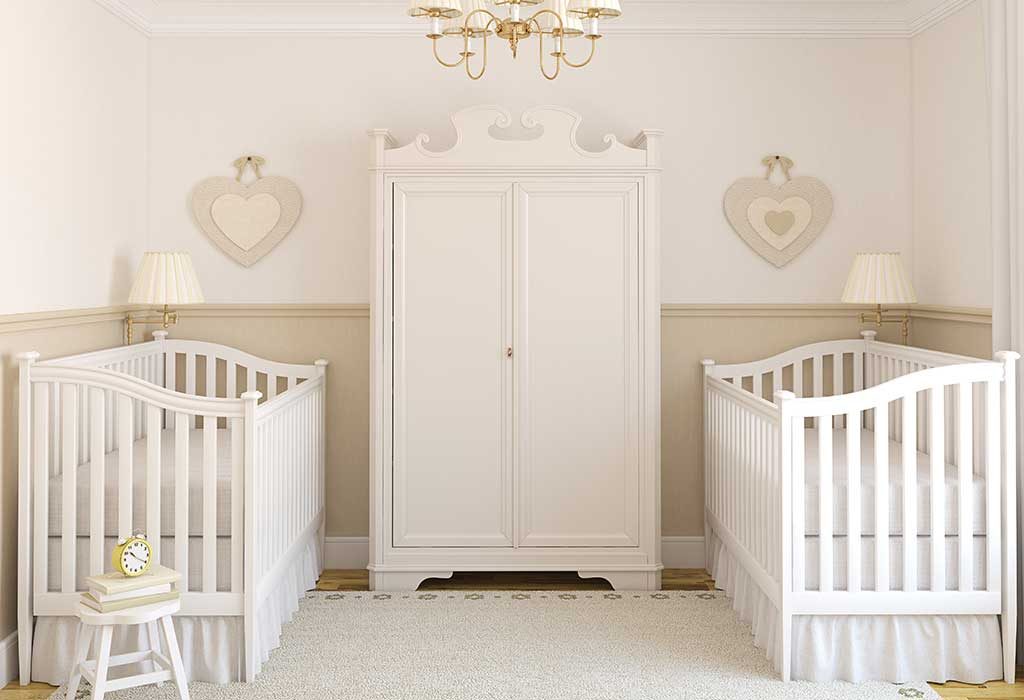 Designing the perfect nursery for a little one can be intimidating, but the thought of creating a spacious room for two kids at the same time might make you stressed. Creating a room for two kids is a completely different game, and you would have to plan and make decisions that are twice as hard. Squeezing two little ones into the same room may seem a bit tough, but with a few simple and creative ideas, you will be able to transform your nursery into a functional yet beautiful space for two!
Things to Keep in Mind While Designing a Nursery for Two
Here are a few tips that will help you create the perfect nursery for your two little children.
1. Start early.
Compared to a single kid, twins tend to arrive a bit early, and once they have arrived, you will not have time to finish your nursery – you will not have time to even think about finishing your nursery! Moreover, when you are in the last few weeks of your pregnancy, and are nearing your date, you will not be able to do basic chores. Therefore, it is best to plan and finish your nursery as early as possible, and finish the nursery before the third trimester begins.
2. Don't double up.
When you are expecting twins, you may feel tempted to purchase two of everything for them. However, doubling up on things is not necessary. Though you are going to have two babies, you only have one pair of hands, and you will not be able to change both the babies at the same time. Using two different dressers to keep all their clothes is also a waste of energy and time. Therefore, it is best to go for a single changing table combo and dresser, and use drawer separators to help keep your babies' things organized.
3. Choose the perfect crib.
Though doubling up on other objects may not be the best idea, doubling up on cribs might be a bit more convenient. Twins can actually share a crib, but it is best to separate them once they start bumping and rolling into each other. Look for cribs that have simple, clean lines and low, even sides. It is best to skip the larger convertible cribs, since choosing the small ones will help give the nursery a natural look, and will provide more space.
4. Crib placement is important.
Finding enough space for two cribs in the room can be pretty tough, but you should also be pretty picky about the placement of your cribs. Never place the cribs directly beside or in front of the window, since the afternoon sun can heat the little ones and cause problems. Kids may also fall through the open window when they start walking. And, keep things like heavy window accessories or blind cords out of reach.
When your twins start growing older, sleep time would become playtime, and they may even try to climb into the other's crib. Though you may not always be able to have enough space between the cribs, a certain degree of separation will ensure restful and safer nights.
5. Add a personal touch.
Though your twins may look alike, they can – and will – still have their own unique style. Therefore, there is no need for getting matching sets of everything. You can get matching items for big things like cribs, but when it comes to dresses and accessories, you can add a personalized touch to each of your infants. If you are having a boy and a girl, then you can give your nursery a neutral shade with different color themes for each baby.
6. Keep the room simple.
It is best to go for a minimalistic approach when you decorate your nursery. When you have two babies in the room at the same time, things will get really busy. Therefore, for a cleaner and uncluttered option, it is best to keep your twin nursery décor simple. Do not overdo accessories, and keep toys to a minimum in the room.
7. Include extra seating.
If there is extra space in your nursery, you should consider including an extra chair in the room. When both of your babies are demanding attention, you will be relieved to get extra help. Adding a little seat or an extra armchair will ensure seating for any relatives and friends who are willing to help you.
8. Safety first.
When it comes to twins, the danger is double since they have a little partner-in-crime to help them take more risks and come up with schemes. Therefore, childproofing is an absolute must to keep the daring duo safe. Be aware of simple nursery accidents, and take the time to baby-proof your nursery to avoid those accidents.
6 Best Twin Nursery Design Ideas
Check out these beautiful twin boy and girl nursery ideas!
1. Twin Girl Nursery
With beautiful floral accessories and lacy flounces, a vintage-inspired space embellished with gold and pink accents would be perfect for your pair of little angels. The crown jewel of the room could be rose-gold cribs, which, despite their footprint, would make a beautiful statement.
2. Twin Boy Nursery
A small and comfortable room with a monochrome color scheme would be perfect for your little twin boys. The black and white theme is a wonderful choice for parents who wish to try something new instead of going for the traditional blue twin boy room ideas.
3. Gender-Neutral Nursery
For twin nurseries, a neutral color palette is the smartest choice, especially for parents who are expecting a girl and a boy. Getting the right theme from a neutral color palette can be tricky, but when it is done right, it can turn the room into a beautiful, complex, and rich space. This will allow the more subtle and elegant design elements to take center stage by edging out bright colors. With simple neutral colors and patterns, you will surely be able to create a classy space.
4. Pop of Color
If you liked the idea of a gender-neutral baby room, but wish to add a bit more color to the room, you could try painting the ceiling, or go for statement patterns on the walls! Opulent rooms with ivory and gold cribs and large damask print wallpapers will surely bring in an Old Hollywood feel, especially if the room is accented with crystal in the accessories and lighting.
5. Geometric Design
A perfectly balanced space is always deeply satisfying, and you can incorporate this balance into your twin babies' bedroom. With soothing geometric shapes, soft neutrals, and perfect symmetry, the room will feel very dreamy, and be perfect for girls, boys, or both. This is a wonderful twin nursery idea for small rooms!
6. Bright and Colorful Design
If neutral colors are just not your style, then you could for a color-centric nursery for your twin babies. A South African-inspired theme would be perfect to bring in the colors of life, and would help vibrant hues pop off your single-colored walls. You can infuse the nursery with warmth and energy, while the primary palette keeps everything gender-neutral.
With these creative tips and beautiful design ideas, you will surely be able to come up with the perfect nursery to welcome home your pair of angels!
Also Read:
Amazing Gender-Neutral Nursery Ideas
Pink Nursery Ideas for Baby's Room
Cute Nursery Theme Ideas for Your Baby Girl's Room