Water Play for Babies and Toddlers – Benefits and Fun Activities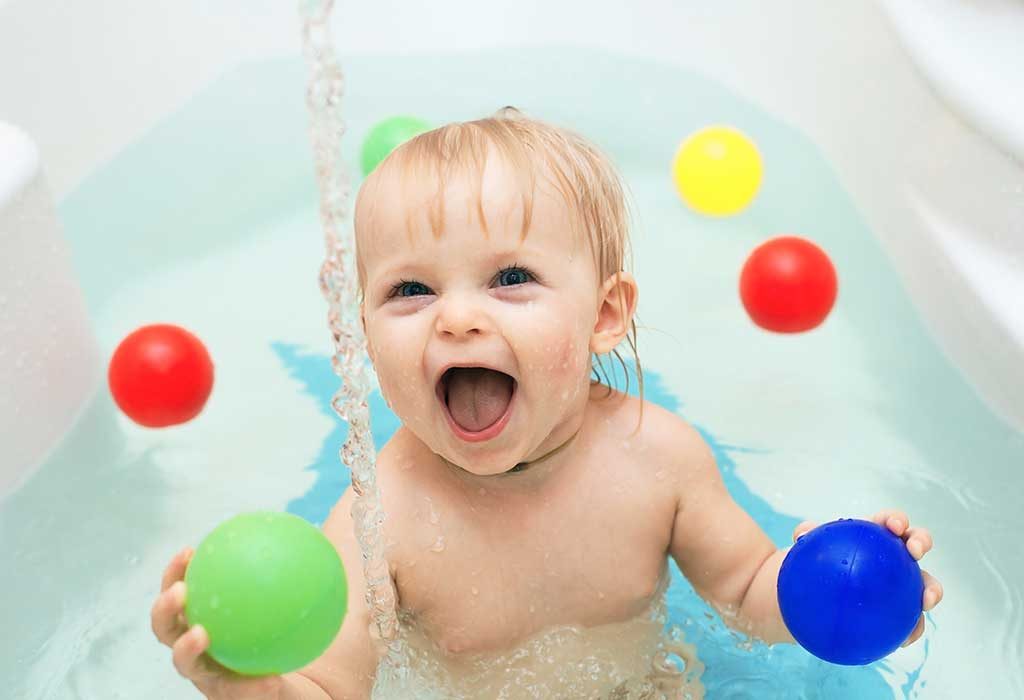 Water is an important part of our life. The fact that we cannot survive without water makes it fair to call it the elixir of life. Having said that, water can be a lot of fun too. Incorporating water play into your child's activities is a great way to have fun.
Why is Water Play Important for Infants and Toddlers?
Here are a few reasons as to why water play is important for your little one:
Playing with water helps develop your child's fine and gross motor skills.
Splashing about in water, swimming, and pouring, has a huge impact on your child's hand-eye coordination.
Playing with water can have a relaxing and therapeutic effect on your little one.
Children who play with water show an increase in the level of concentration as well.
Water sensory play for babies can have a positive impact on the sensory function of your child.
Easy Water Play Activities for Babies and Toddlers
Here are a few water play activities for both babies and toddlers –
1. Bath time for the toys!
Because everyone has to have a bath.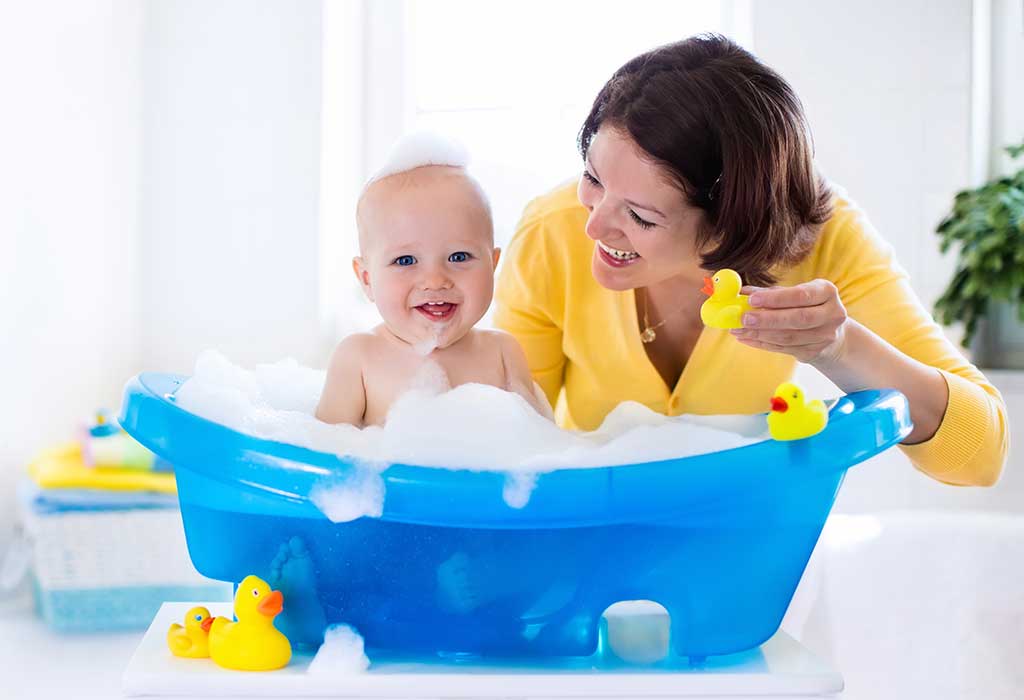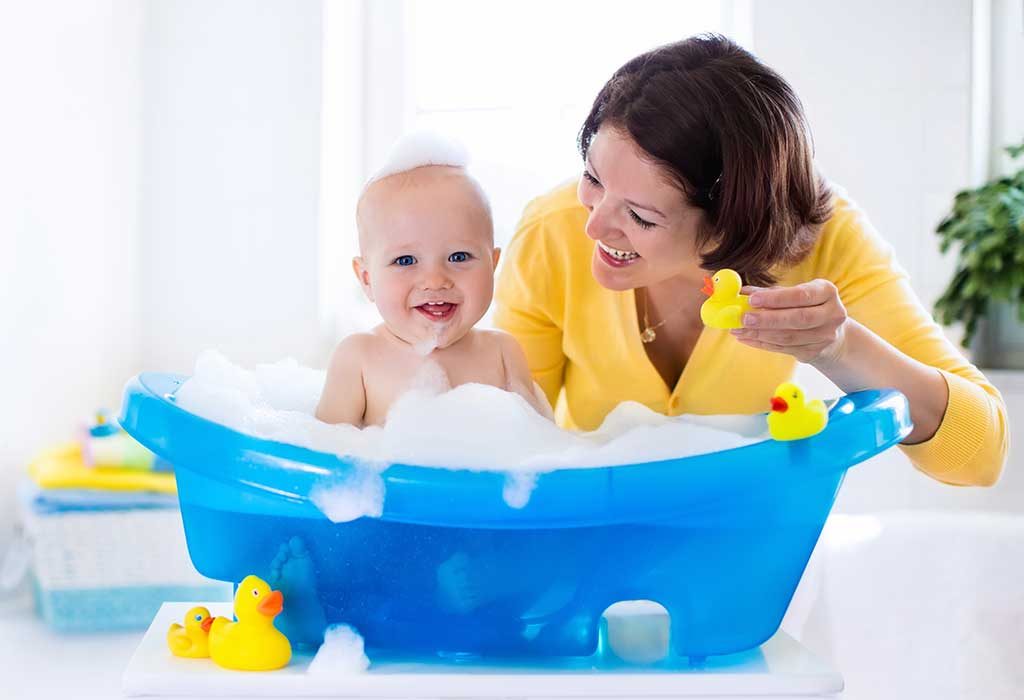 What You Will Need
A bunch of dirty toys, a bucket or tub of water, a scrub, a bar of soap or gel
How to Play
This water activity is tons of fun because it includes water and all of your baby's favourite toys. Fill in a bucket with clean water, and get all the toys that need to be washed. You can then ask your little one to go ahead and wash these toys with a bar of soap or gel. Make sure you do not include toys that are electrically-powered or the kind of stuffed toys where the colours run. The kind of toys for this particular activity are the plastic ones. This makes for great indoor water activity, but you can get your child to play this outdoors with a kiddie pool as well.
2. Have a ball of a time!
Kids love to play with balls. How about throwing in some into the water?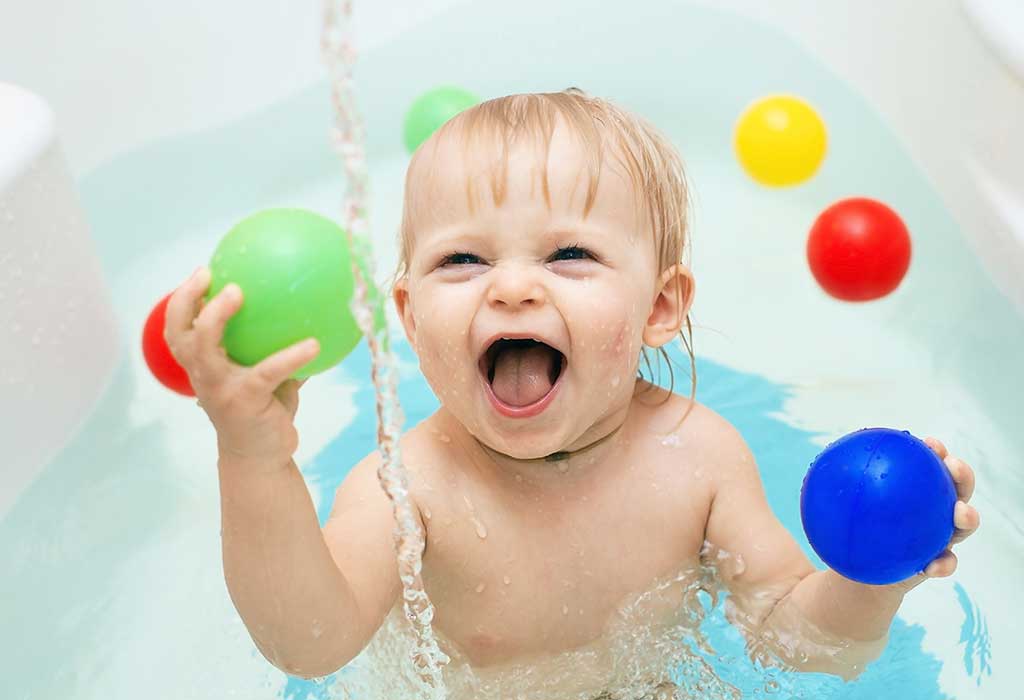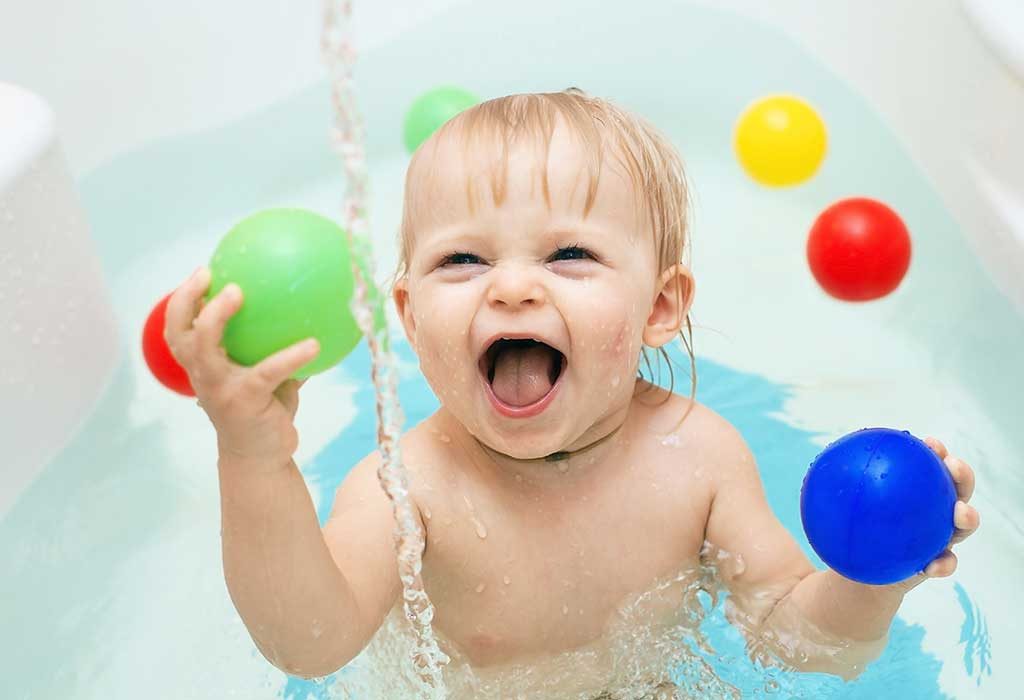 What You Will Need
A tub of water, a few colourful balls
How to Play
You need a huge tub of water and a few colourful balls. If the tub is big enough, you can get in as well! Try getting a kiddie pool for this purpose. Your little one can play with these colourful balls and splash about in the water.
3. Row, row, row a boat!
Let's make our favourite rhyme a reality!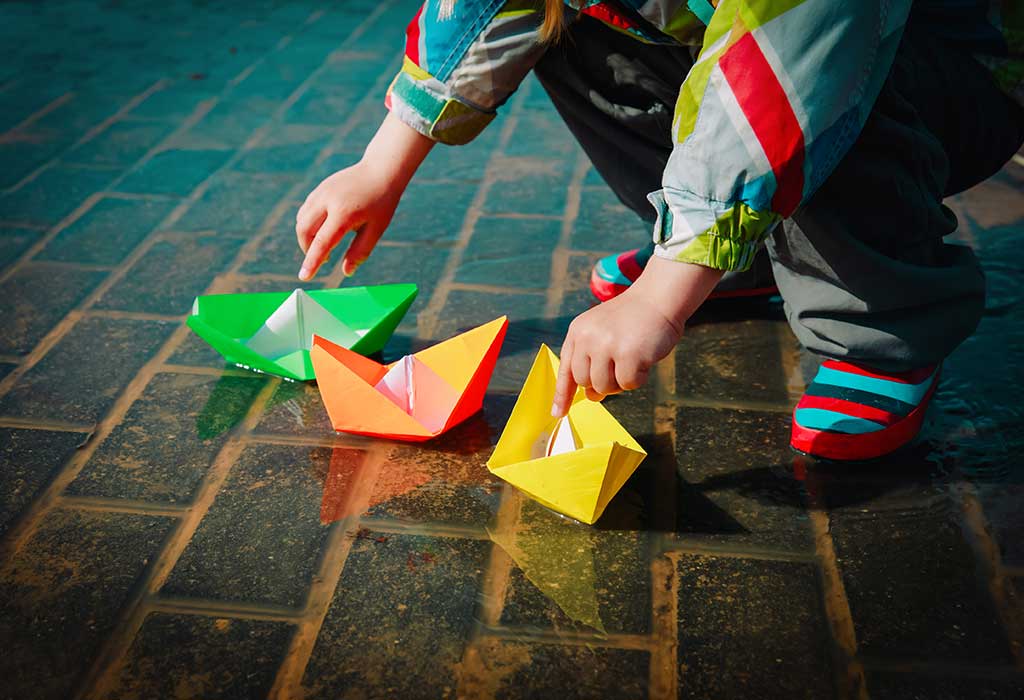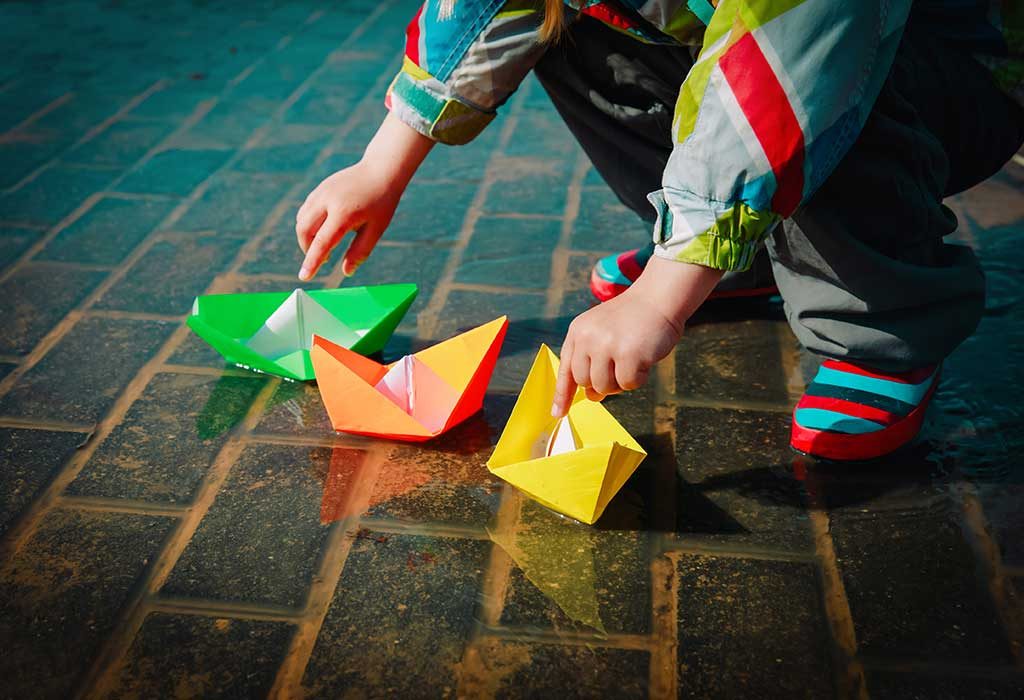 What You Will Need
Small paper boats or toy plastic boats, a bucket of water or a kiddie pool
How to Play
First, make tiny paper boats. You can use coloured paper for this as well. If you have toy boats, then you can use this as well. Fill in a little pool or tub with water, and your kid will be all set to unleash his or her inner pirate.
4. Kiddie's Very Own Waterfall
Who said your little one couldn't have his or her very own waterfall?
What You Will Need
Three small buckets of water, paints or food colour, a jug
How to Play
Add some paint or food colour into the buckets of water. Give your little one a jug and let him or her scoop the water in the jug and pour it back into the bucket. This is, in fact, a pretty therapeutic activity, one that your child will love.
5. Lots of Colours and Smiles
Adding in more colour and joy.
What You Will Need
A few mugs of water, paints, brushes, a chart paper or two
How to Play
This is a messy activity, but a fun one nevertheless. All it requires is a few mugs or bowls of water, paints, and a few charts. Your child can mix the paint in the water, and watch how beautiful coloured water is. Using this coloured water, your little one can splash it over and have fun with it on the chart papers as well.
6. Learning to Sort Colours
Colours make the world a better place. Your child will love this one.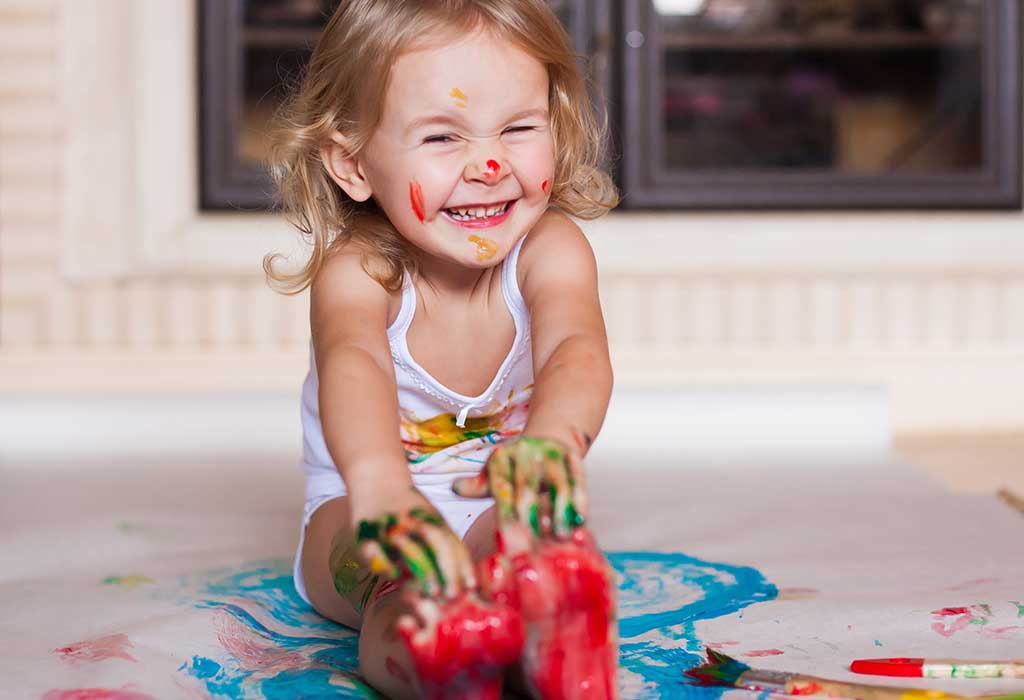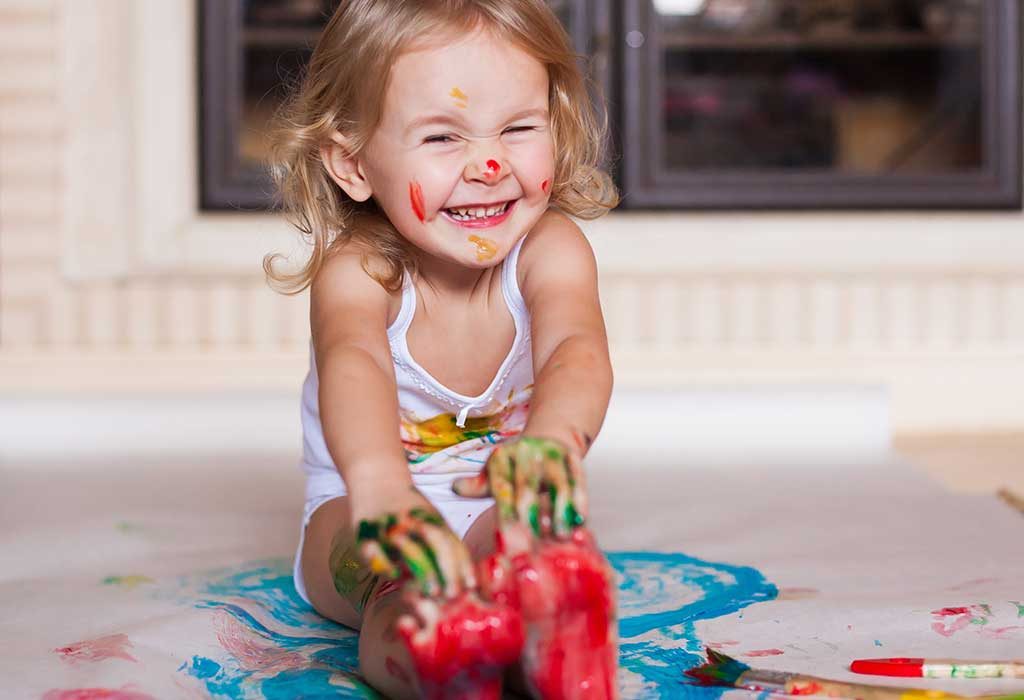 What You Will Need
A few bowls of water, six different colours of paint, six small balls that are the same colour of the paints
How to
First, fill each of the bowls with water. Then, to each bowl, add a different colour of paint. Let's assume the colours red, blue, green, yellow, pink, and orange. Keep the bowls in a line. Now, ask your child to throw in the balls that are of the same colour, into the coloured water.
7. Time to Do the Laundry
Let your little one help with some chores.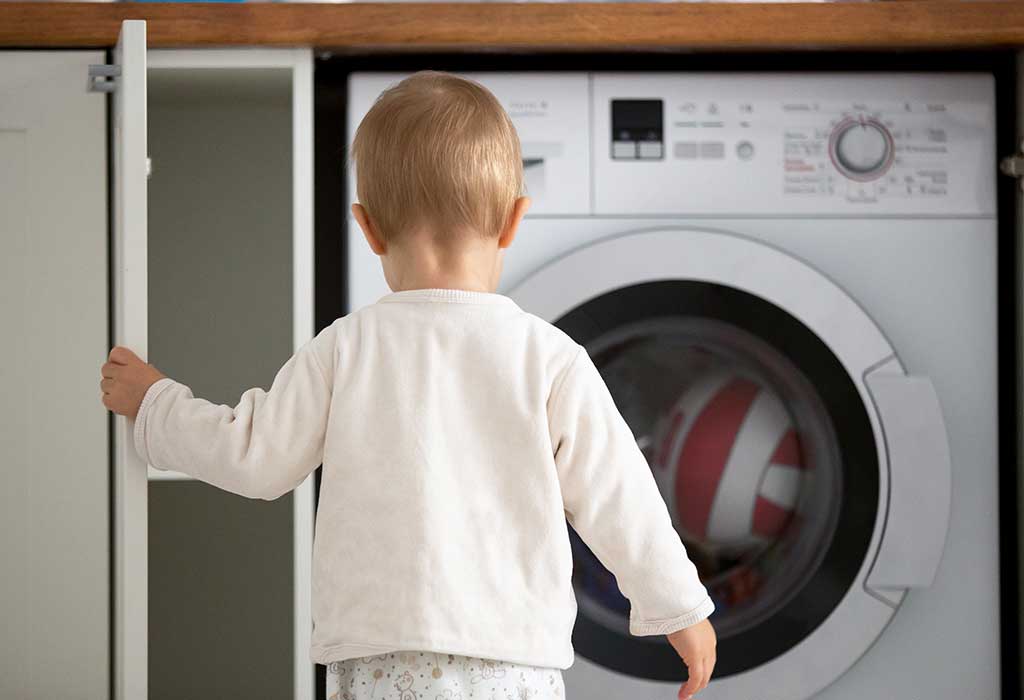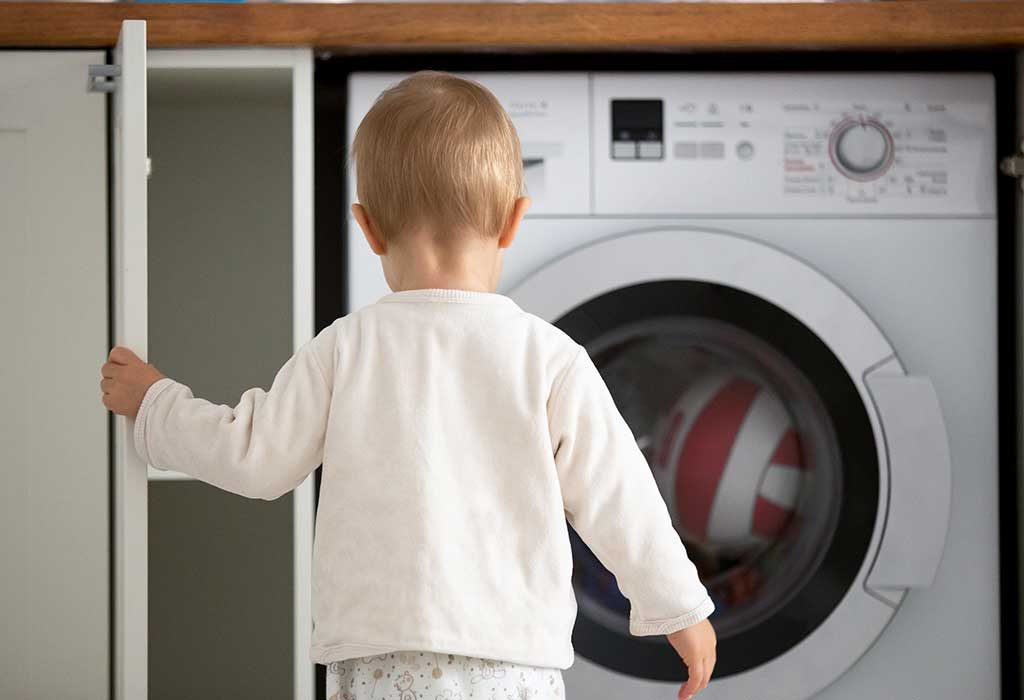 What You Will Need
Old clothes, or the clothes of your baby's toys
How to Play
While we as adults hate laundry day, kids like nothing more than to splash about in the water, imitating their mommas and pretending to wash their clothes. This time, let your child have some laundry fun as well. Give your child a bucket of water, a scrub, and some clothes. Make sure the child uses extremely mild detergent, so he or she does not get a rash, and the detergent is not too harsh on the skin.
8. Good Old Splashin'
Summer heat too much? This game is perfect.
What You Will Need
A big kiddie pool or large tub, bubble bath gel, a few bath toys
How to Play
If you are thinking of some outdoor water play, then this activity is the best. Fill in a huge tub or kiddie pool with some fresh water. Add in the bubble bath gel and a few bath toys, and let your little one have an amazing time splashing around in the water. This activity is best suited for the hot summer days.
Precautionary Tips for Safe Water Play
While all of these games and activities are fun, ensure that your child is supervised at all times. Here are a few precautionary tips for safe water play:
Make sure you and your child wear proper safety devices. For example, even if your child is in a kid's pool that is shallow, make sure that your child wears a good flotation device, just to be sure that nothing goes wrong.
The water should be lukewarm at all times. If it is too cold, your child might fall sick, even on summer days.
Use swimming diapers so that your child does not mess up the kiddie pool.
Children have the habit of eating everything they see, so you need to keep an eye on your child especially since most of these activities include paints.
Go ahead and have a great time with your little one. Water play activities are a lot of fun and great for the development of your child. Just make sure you follow the precautionary measures, and you're good to go.
Also Read:
Activities for Baby Using Household Items
Outdoor Play Ideas for Infants
Activities for 2-Year-Old Kids