Toys For Your Newborn – All You Need To Know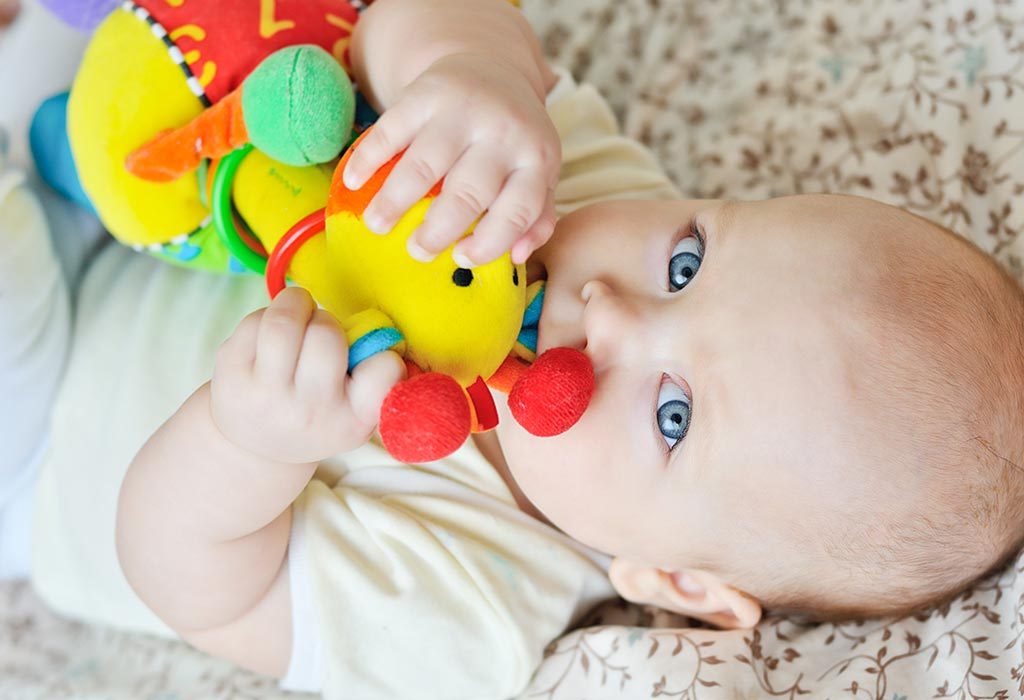 Much before your little one's arrival the toys start arriving and lo and behold your bedroom transforms overnight into a fairytale nursery! You are all set to welcome the newest addition to the family. While your little angel will not be able to start playing immediately with most of these toys, these soft, glowy, squeaky toys will begin to play a big role in the overall development of your baby.
Newborn babies spend most of their initial weeks sleeping. Waking hours are mostly spent gazing at the mother's face or listening to her sweet voice. In a couple of months when your baby becomes a little more alert, you can start interacting more by playing simple games and introducing some toys.
A newborn's vision is fuzzy initially and can focus only till a distance of 8-12 inches. So it's best to introduce your darling to toys which titillate the sense of hearing and are placed close to her vision.
Choose the Right Toys for Your Newborn Baby
You should find the following toys most suitable as the first toys for your little angel:
1. Baby Rattles
Babies are born with grasping reflex. Brightly coloured, lightweight rattles not only make for a great musical pastime but also help in developing co-ordination. Socks and wrist rattles are a great source of safe musical entertainment.
2. Cot Mobiles
Musical mobiles hung within your baby's vision range which turn or sway and play a tune are great for entertaining your baby. Take care to hang them well out of reach of your baby and watch how he's able to fix his attention gradually.
3. Soft Toys
While your little one's grasp is not yet strong enough to hold onto toys, you can still use soft toys made of plush fabric. As your baby discovers different textures you can also discover her preferences for which toys she likes more.
4. Musical/Sensory Toys
Chiming toys, squeaky toys and music boxes which tweet or coo when pressed set the perfect tone for some fun time with your baby. Your baby can starts discovering different sounds as well as the phenomenon of cause and effect. Make sure you avoid sounds which are shrill and sudden and can startle your baby.
5. Soft Books
Brightly coloured books are a perfect way to start bonding emotionally with your baby. They will enjoy looking at the big bright pictures. Plus, hearing you read out helps them learn rhythm, language and speech in the future.
6. Baby Mirrors
Unbreakable baby mirrors can be fascinating for babies as they learn to discover themselves. Soon your baby might start a smiling friendship with her own reflection in the mirror!
7. Playmats
These are invaluable once your baby learns to turn on her sides or tummy. These soft textured mats come fitted with toys, squeakers, mirrors, rattles, etc. and are also portable. An absolute must have for your baby!
Safety Precautions You Must Observe with Newborn Toys
To enjoy hazard free, blissful playtime with your newborn, the following precautions should always be maintained:
Toys should be non-toxic, safe, durable, age specific and conform to quality standards.
Fabric toys should be kept away from fire.
All labels, ribbons and tags should be removed prior to playing.
All toys should be removed from baby's sleep area prior to bedtime.
Toys with long hair or fibres are a strict no for newborns.
Never leave your baby unsupervised even if older children around.
Cot mobiles should be strictly out of reach of your baby.
A baby at home allows you to relive your childhood again. So, become a baby again with all those toys and enjoy your playtime with your little one!