Getting a Baby Gym For Your Newborn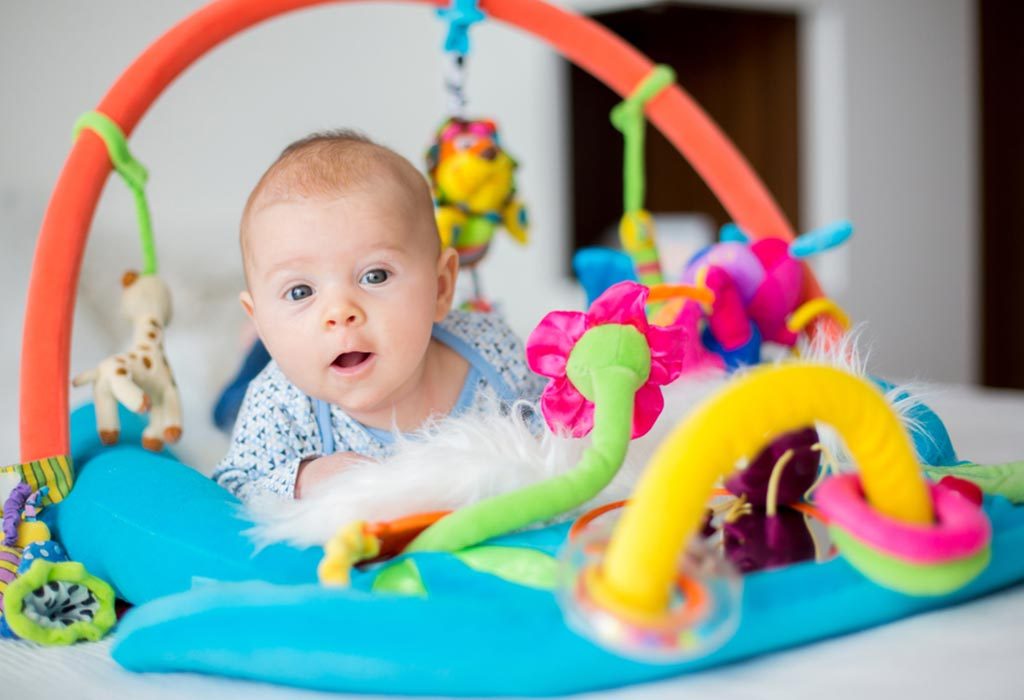 In this Article
Baby Playing Gyms are among the most versatile products for babies in the market today. They can not only be used in different ways, but they also have various important developmental advantages for babies.
A baby play gym is a soft mat which has two arches that support the toys that dangle over the head. Some of them have music, lights, baby safe mirrors, tummy pillows, kick activated pianos, and various textured materials while others offer a safe and simple space for the baby to look and play. These baby products may be used from the very first day till the time he starts crawling.
There are different types of gyms available in the market like gyms with lights and melodies, activities gym, nauticual gym, piano gym, etc.
Benefits of Baby Gyms
Baby gyms are quite beneficial. Here are some of the main benefits of baby gyms and mats:
1. Developing the cause and effect relationship
Baby gyms help the child develop a sense of cause and effect relationship. There are certain toys attached with the gym and mats. When the baby touches the toys, they will move, or make a sound or fall. This helps the child in developing the cause and effect relationship as well as understand his role in the scheme of things.
2. Development of cognitive skills
Baby gyms are especially designed for being educational and for encouraging the development of the baby. Most of them have hanging toys which babies can grasp and pull while playing. Some of them also have fasteners and flaps which the child will learn to manage as he grows. A lot of gyms have colourful, spinning toys which need to be turned for creating a reward effect.
3. Gross motor development
This is the most obvious benefit of baby gyms. They encourage your baby to use the muscles of their legs, arms, neck and back. Baby gyms have a lot of space for playing which is good for the growth of the body. This also keeps the baby active and helps him engage in physical activities.
Safety of Baby Gyms
Baby gyms are absolutely safe for the kids as they are tested especially for safety. Most of the gyms are made keeping infants in mind and thus their level of safety is very high. They also have educational toys which are big enough to restrict the baby from swallowing them. The stitches are also reinforced to ensure that the pieces of the mat are durable and do not wear down with slobbering, chewing and pulling.
Baby gyms and play mats are multipurpose and babies can play, sleep and eat on them. They are made of fabric which does not cause any harm to the sensitive skin of the child. You can leave your baby on them for hours together and they would not cause any harm. Get your baby his play gym and see the wonders it does to your child!