Single Mom, Planning a Winter Getaway? This Guide will Help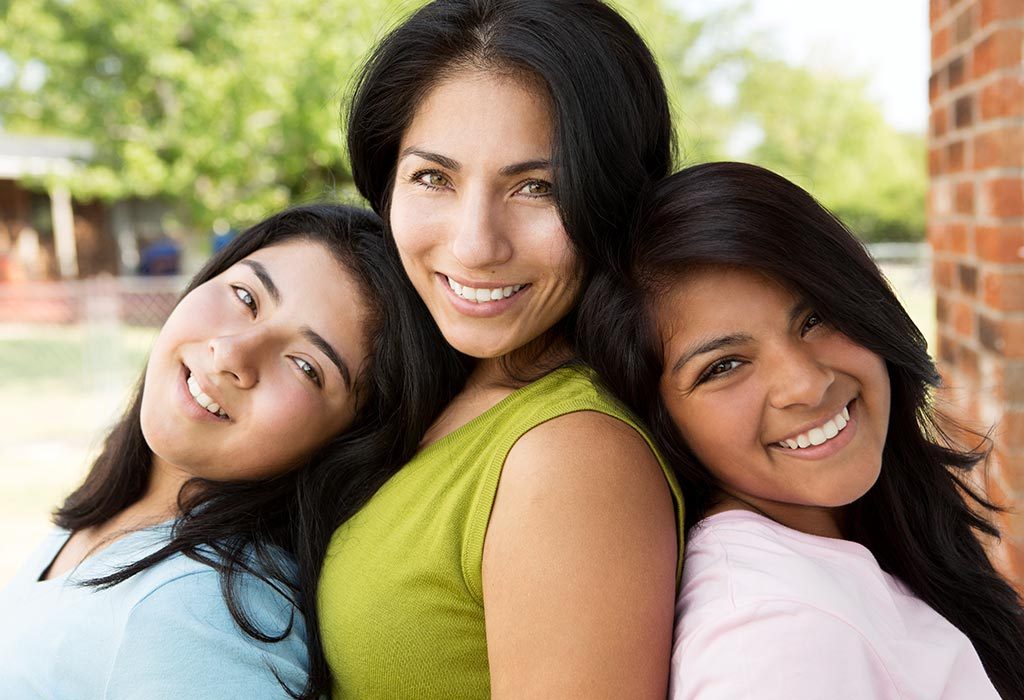 In this Article
Winters are a great time to be travelling. The weather is neither too warm to leave you feeling tired nor is 'rain' going to confine you to your room! Plus, let's admit it – there is something very comforting about winter fashion. It literally warms the heart and makes you feel cosy!
However, being a single-mother planning a vacation can be challenging, to say the very least. There are a lot of things you need to take care of – especially if you are going to be the only adult on the trip. Things become even more challenging if you have more than one child. However, if there is one thing we truly believe in, it is the innate strength of women. There is nothing a determined woman can't achieve, and we are here to help you get there.
So here is a single mom's guide to planning the perfect winter getaway. Let's get down to business!
Tips for Single Moms to Plan a Winter Getaway
We've covered every angle of planning a trip – right from pick a destination, to planning activities once you get there. So let's start from the beginning.
Choosing a Destination
If you already have a place in mind, that's great. If not, read on.
It is best to pick a destination that is not too 'off the grid'. Pick a place that has a little bit of a 'comfort' angle to it; something that has enough familiarity to make you feel confident about managing things on your own. Best thing to do – ask the kids where they'd like to go!
Go for a destination that you can reach in one go, without having to change trains or board connecting flights. This just makes your as well as the kids' life easier.
Getting to Your Destination
There are multiple options here. But the key thing to remember is: keep it simple.
Consider flying down. It will be a bit more expensive, but it will save you a lot of time. This is especially true for moms who have young kids. Children tend to get restless on long journeys. So keep the travelling to a minimum.
Make sure you carry enough entertainment and snacks – two of the easiest and best ways to keep kids engaged during travel.
Get all your documents in order, at least 3 weeks before the date of travel.
Finally, carry all requisite medicines in case of emergencies.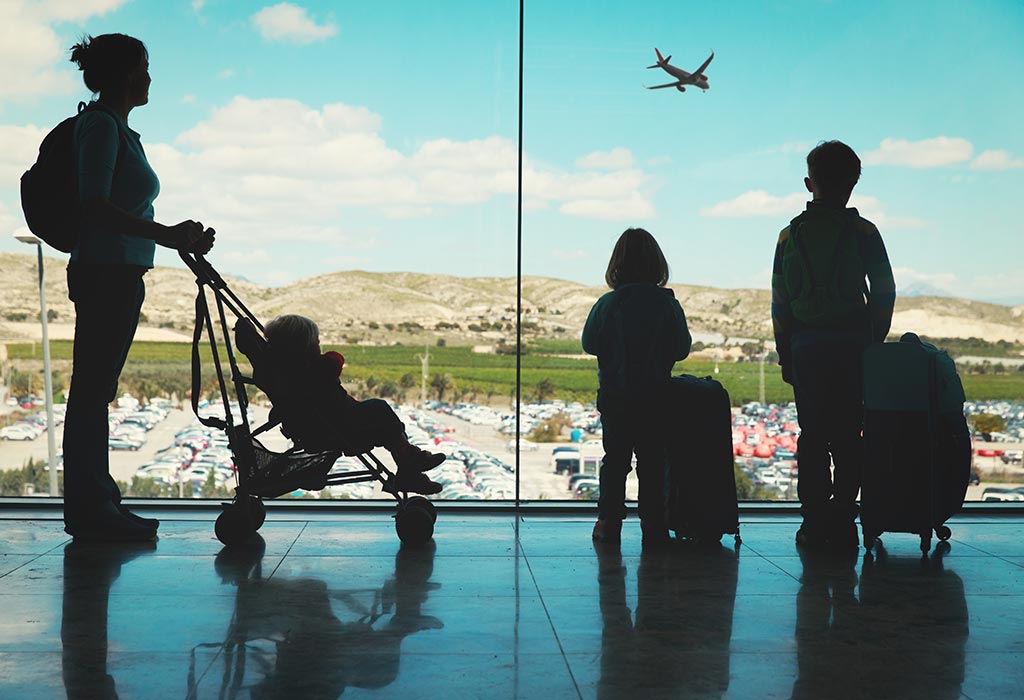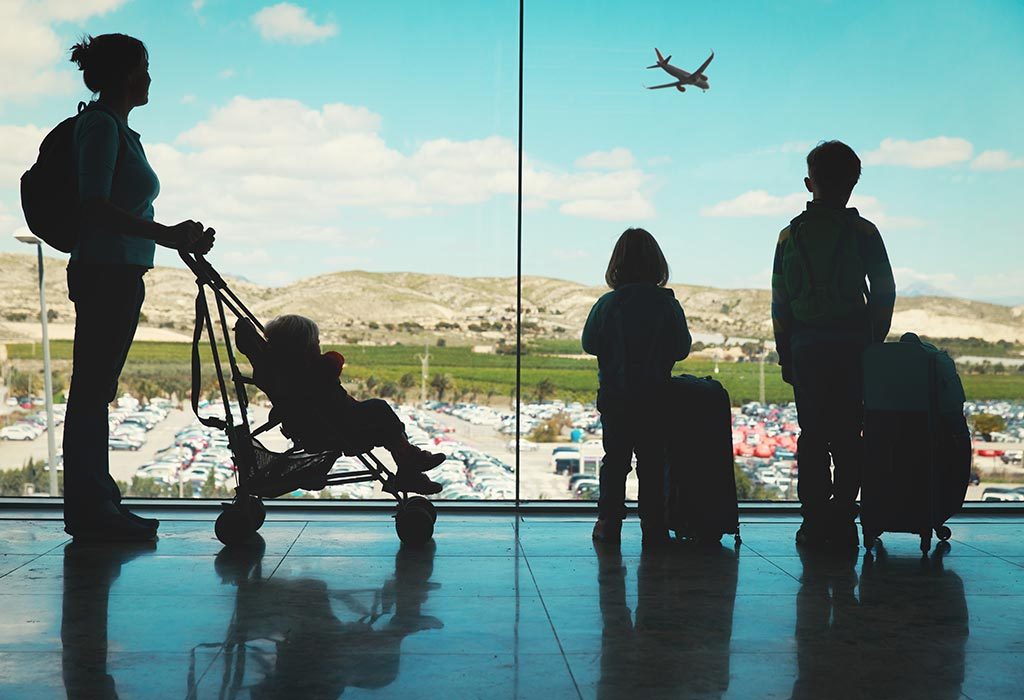 Hotel Bookings
Depending on your itinerary, you could be spending from very little to a lot of time in the hotel room. Have you given this due thought?
Look for hotels that have the following ammenities:

A pick-up and drop facility: to get you from the airport/train station to the hotel
A children's program: a lot of hotels and resorts offer day-time activities for children, typically upwards of 3 years of age. Engage them so you can relax at least for an afternoon.
Complimentary kids' services: these include an on-demand babysitter, and other baby and child equipment such as a stroller, or crib, or a kids bicycle, etc.
A tariff that accommodates children: this one is especially important if you are the only adult on the trip – you do not want to be paying for a room that accommodates two adults, just because that is the only kind of tariff the hotel has. Inquire beforehand.

At the time of booking, it is advisable that you tell the hotel that you are a single parent that's travelling only with kids. Most properties would be more accomodating of your requirements if you tell them in advance. They may also be more encouraged to throw in offers for you!
Try and find if they have a cab-service or car-rentals. It is better to trust one arranged for by your hotel than to go looking for one on your own.
Things to Do
It is best to have enough activities as well as free time in your itinerary.
DO NOT plan the trip down to every minute detail! Leave some room for spontaineity as well as lazing around!
Spend more money on making the trip easy and convenient than you do on shopping. You want to return from the trip feeling positive and refreshed, not dull and drained!
Don't just pick 'educational and informative' spots to visit and things to do, also plan entertaining and fun activities.
Staying indoors and catching a movie, or playing dumb charades is fun too, and still counts as a vacation. Don't push yourself to be constantly 'doing something'.
Be less of a 'mom' and more of a 'guardian or friend' to your children. Let them have the extra dessert, splash in the kids' pool, and jump on the bed (of course, within limits of safety and decency – you don't want to wreck the property!). Let them unwind, and you unwind too! Don't be overprotective, and take a chill pill!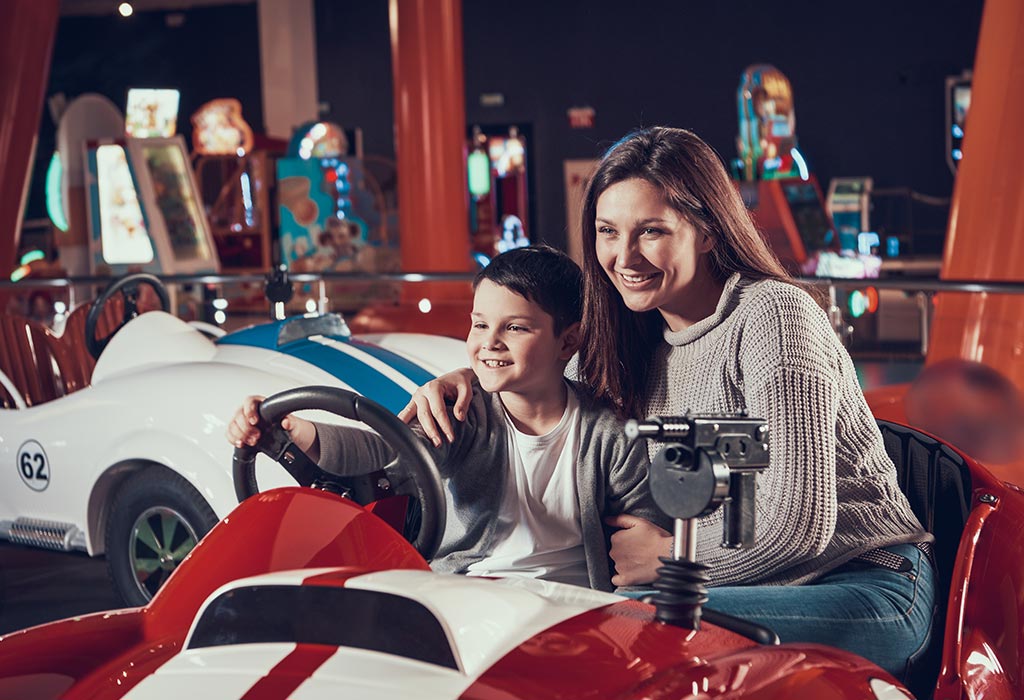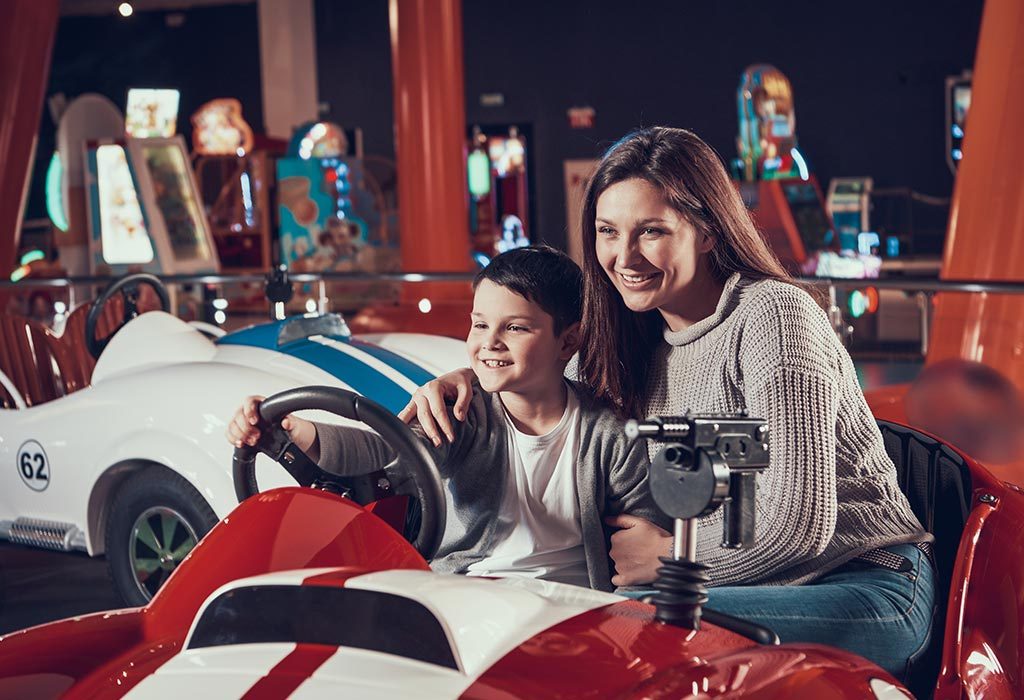 Safety Concerns
Awaken the tigress within!
At all times during your trip, keep someone back home informed about your whereabouts. Share contact details, cab numbers, location, etc. and never go out of touch.
Make sure 'connectivity' is sorted. If required, buy a local SIM-card, or a portable internet connection.
Download a GPS tracking app (like Footprints, Find My Kids, etc.) on your and your child's phone.
Have all your kids memorise emergency contacts.
Have your child's paediatrician on speed dial.
Make sure you are carrying a well-stocked first-aid kit.
Luggage and Food Concerns
Lugging aronud heavy luggage can be such a pain (literally!). Make life easy and simple for all.
Carry outfits that you can easily mix and match.
Don't insist on carrying everything. You can even buy some things once you get there.
Pack something that will give your kids comfort when they get cranky or become homesick – a favourite blanket, scarf, or stuffed toy might do the trick.
Let your wardrobe be fashionable and practical both – one need not be a reason to compromise on the other!
Avoid eating out every day.
Request for a mini-fridge in the room.
Carry your kids' comfort food and snacks.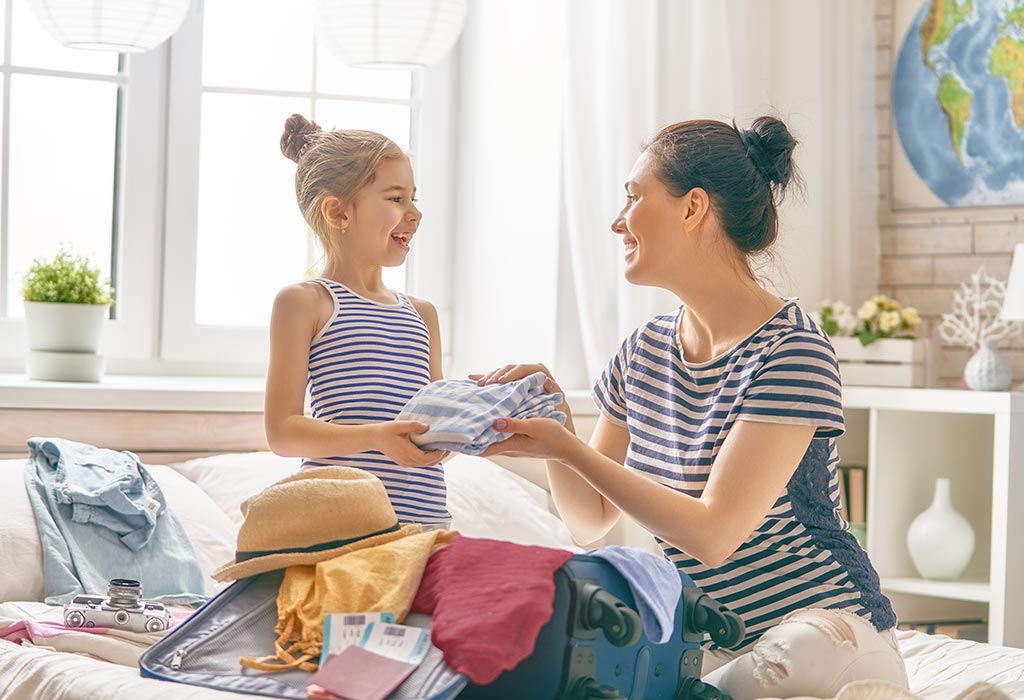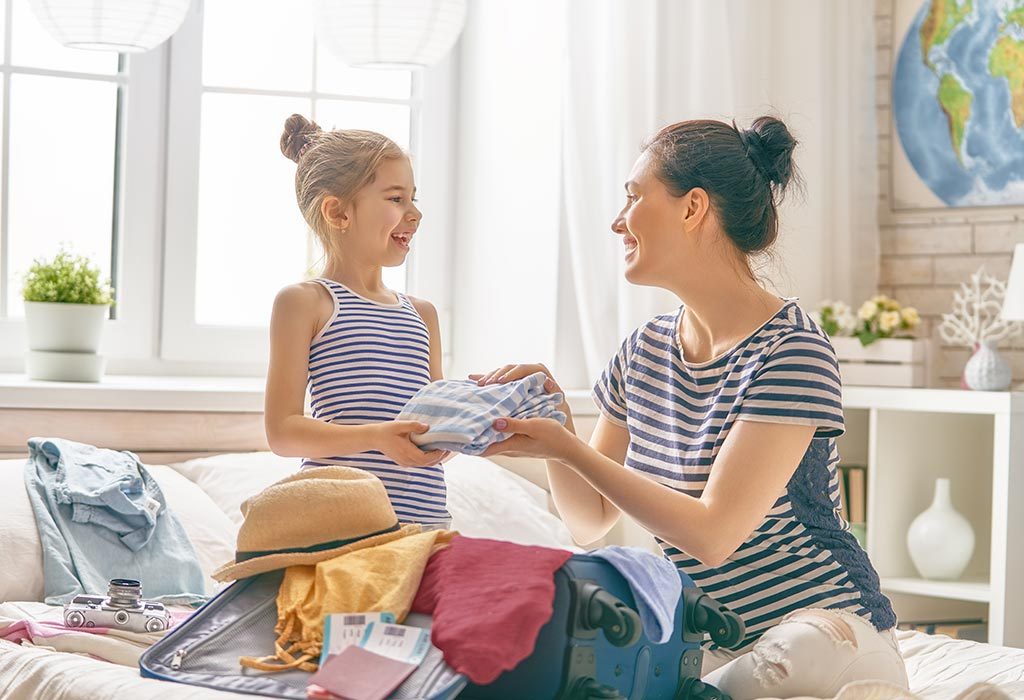 International Travel
If you're planning an international trip with your children, there are a few extra things you need to bear in mind.
It is best to pick a destination where you have at least one local contact. If not, consider travelling with other single parents, or in a group.
Get permission sorted. This is especially important in case you and your partner have joint-custody of your child.
Make sure you get immunisation sorted.
Have enough local currency.
Consider getting travel insurance. Also, insure whatever valuable goods you may be carrying.
Remember these things for the flight:

Book at least one window-seat.
Go for web-check-in to avoid long queues.
Get there early, and board early.
Flight-attendants will be more than willing to help out a mother in a fix; do not feel embarassed to ask for help!
As a concluding thought, consider talking to other single parents you may know. Experience will always have more tips to guide you than Knowledge alone will. Have a safe and fun trip!
Also Read:
Effective Tips on How to Travel with Highly Active Kids
How to Enjoy Travel during Rain
Warm Places to Visit in India with Children