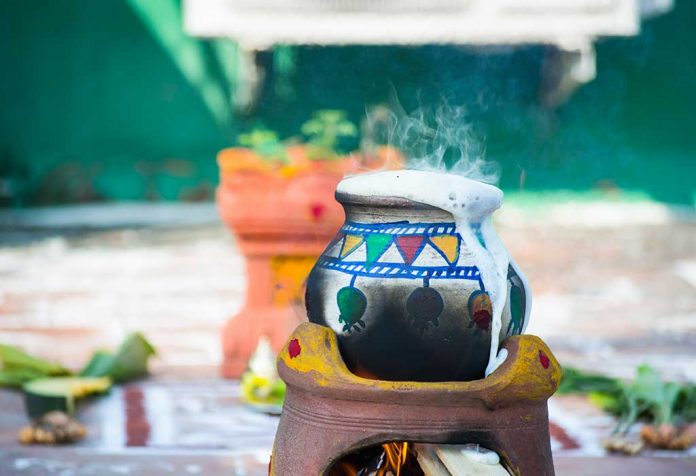 Last Updated on
Pongal is the harvest festival celebrated with great pomp in the southern state of Tamil Nadu. This festival marks the end of the winter solstice and is dedicated to the Hindu sun god Surya.
The well-known dish Pongal – synonymous with the festival, is prepared in a traditional earthen pot using rice from the new harvest, jaggery, dal and milk. This mix is allowed to boil and overflow, thus lending it its name 'Pongal' which means to 'overflow' thereby signifying prosperity.
5 Pongal Dishes to Gorge on, This Festive Season
What's a festival without a lavish spread of mouth-watering dishes? Presenting a list of 5 traditional Pongal recipes you can try preparing, along with the main statement dish.
1. Ven or Khara Pongal
This savoury version of the traditional Pongal can also be served as a healthy breakfast option. Pin this Khara Pongal recipe up, as the dish is a myriad of flavours and can be whipped up in 30 minutes.
Prep Time: 5 minutes
Cooking Time: 30 minutes
Servings: 4
Ingredients:
Rice – 1 cup
Moong dal – 1/2 cup
Ghee – 2 tbsp
Water – 6 cups
Haldi – 1/2 tsp
Pepper powder – 1 tsp
Jeera powder – 1/2 tsp
A pinch of hing
Ginger – 1 inch (finely chopped)
Curry leaves – 1 sprig
Green chilli – 1
Cashew nuts – 10-15
Salt to taste
How to Make:
Wash the dal and rice and leave them aside to drain.
Pour 1 tablespoon ghee in a pressure cooker and add the rice and dal. Saute for 2-3 minutes.
Add the water and salt, and pressure cook for 3 whistles.
For the tempering, in a separate pan, add the remaining ghee, hing, haldi, pepper powder, jeera powder, curry leaves, ginger, green chilli, and cashew nuts. Fry these for 1 minute.
Pour this tempering over the cooked pongal, and let it further cook for 2-3 minutes.
Serve with sambhar and coconut chutney.
2. Sakkarai Pongal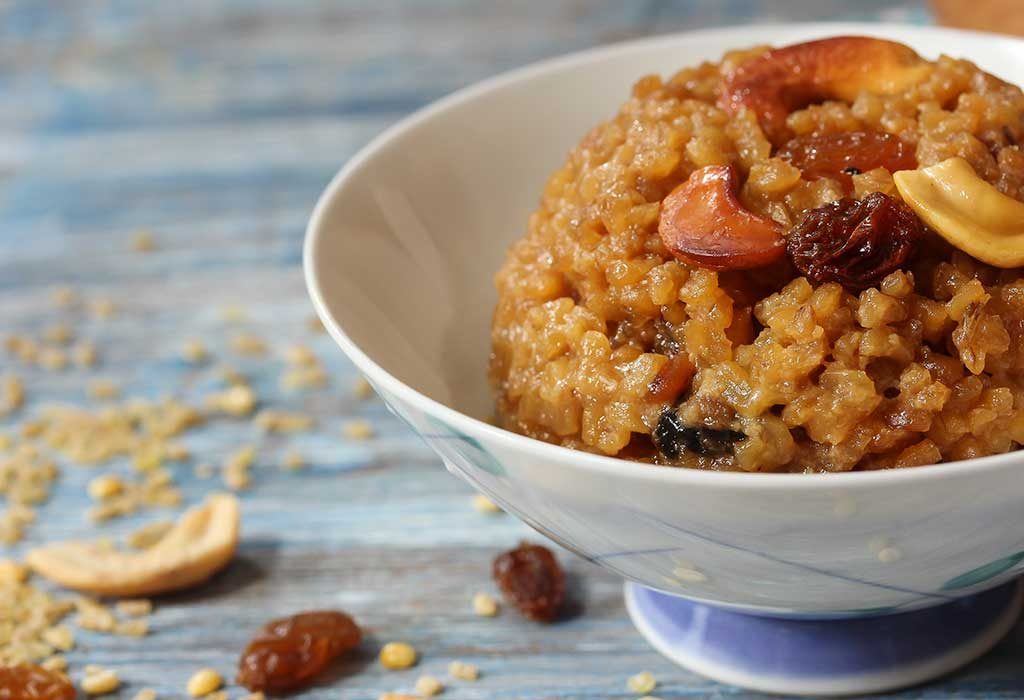 This sweet dish is an absolute hit, especially among the kids. Give it a shot, and don't be surprised when they come back asking for a second helping!
Prep Time: 10 minutes
Cooking Time: 45 minutes
Servings: 4
Ingredients:
Rice – 1/2 cup
Moong dal – 1/2 cup
Edible camphor (optional) – 1 pinch
Cardamom powder – 1/8 tsp
Ghee – 2-3 tbsp
Raisins – 1 tbsp
Cashew nuts (broken) – 10-12
Cloves (optional) – 2
Sliced coconut pieces (optional) – 2
Grated jaggery – 1/2 cup
Water – 2 1/2 cups
How to Make:
Wash the rice and dal and leave them aside to drain.
Take the rice, dal and the jaggery in a pressure cooker and add the water. Cook for either 2 whistles, or till soft.
Once the pressure releases, open the cover and lightly mash the rice and dal.
Add the cardamom powder and cook on a medium flame. Once the mixture starts bubbling, turn off the gas.
In a separate pan, add the ghee and heat it on a medium flame.
Fry the coconut pieces till they turn slightly golden. Transfer them to a plate.
Fry the cashew nuts and cloves in the same ghee till they turn golden.
Add the raisins and fry till they turn plump.
Switch off the stove and add a pinch of the edible camphor.
Pour this tempering on the pongal, and your dish is now ready.
3. Murukku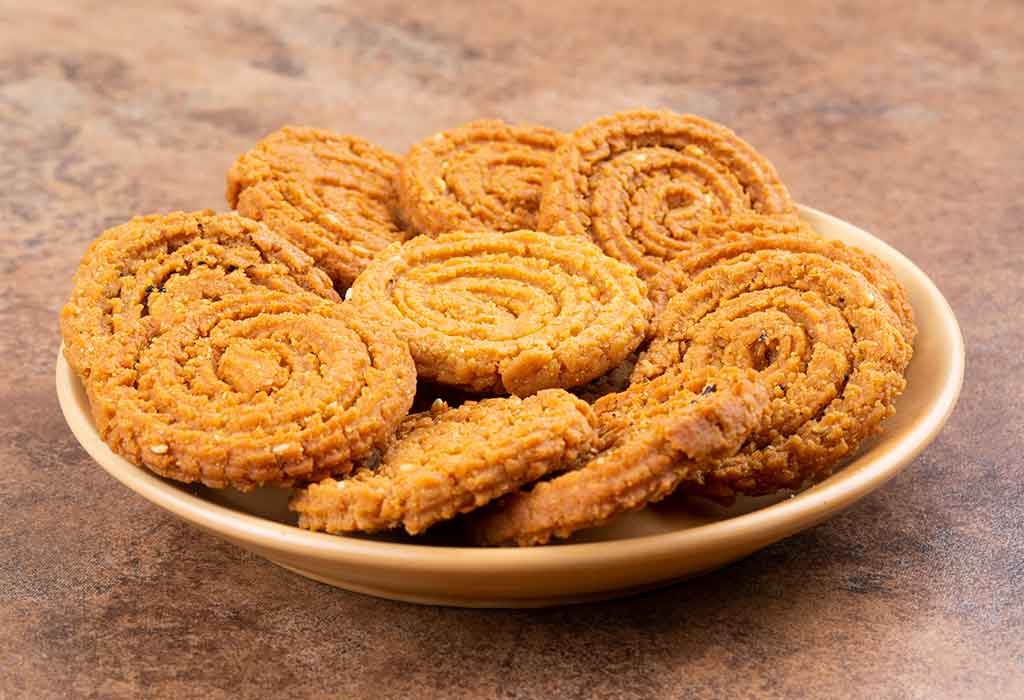 This Pongal dish is a must-have on your festive platter, and also the first one to be polished off in seconds! Murukku also serves as a great tea-time accompaniment as they are light and crispy.
Prep Time: 10 minutes
Cooking Time: 25 minutes
Servings: 12 murukkus
Ingredients:
Rice flour – 1 cup
Urad dal (roasted and powdered) – 1/4 cup
Salt – 1/2 tsp
Oil (for the dough) – 1 tbsp
Water (for kneading) – as required
Hing – 1 pinch
Oil for deep frying
How to Make:
Take all the dry ingredients in a bowl. Add 1 tablespoon oil, and add water for kneading. Add little at a time, so that the batter doesn't become too thin.
Keep the dough for resting for about 1 hour.
In a kadai, heat the oil for deep-frying. Check if it has been heated enough, by dropping in a small dough ball. If it rises to the top immediately, it has reached the perfect temperature.
Grease your murukku moulds/press with a little oil before filling in the dough.
Press the mould to make spirals, straight into the hot oil, while ensuring the kadai is on a medium flame. Cook till the murukkus turn light brown on both sides.
Let it cool and store in an airtight container.
4. Medhu Vada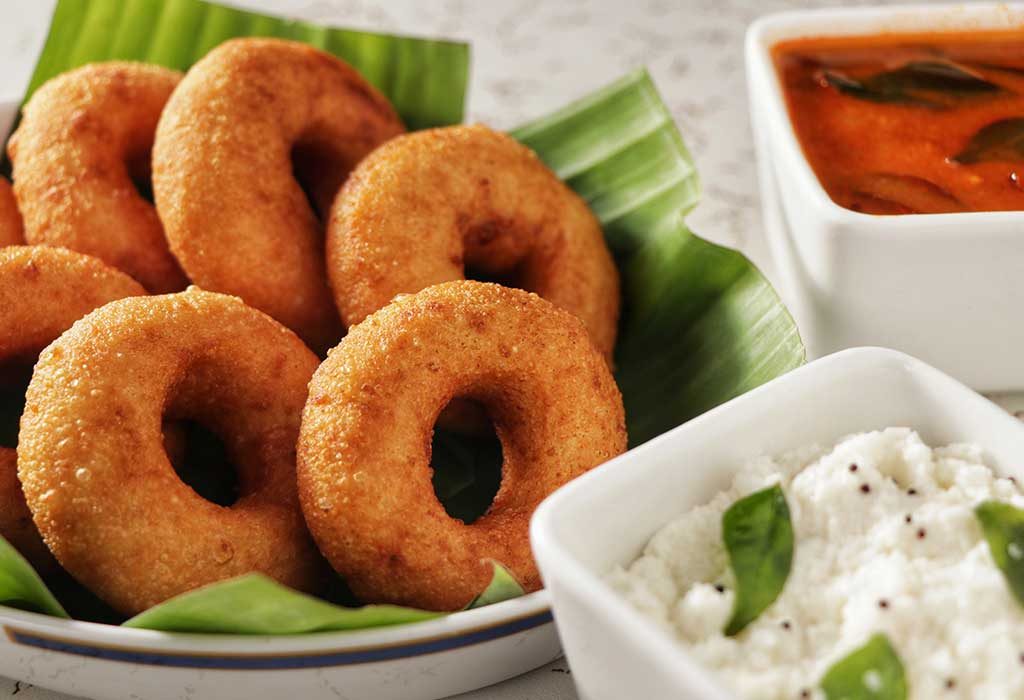 Best, when served with coconut chutney, Medu Vadas can be enjoyed all through the day! Get ready to prepare extra vadas though, as no one will eat just one!
Prep Time: 5 minutes
Cooking Time: 40 minutes
Servings: 2
Ingredients:
Dhuli urad (soaked for 6 hours) – 1 cup
Hing – 1/4 tsp
Salt – 1 tsp
Pepper powder – 1/4 tsp
Chopped coriander leaves – 1 tbsp
Finely chopped green chillies – 1/2 tsp
Finely chopped ginger – 1 tsp
Oil for deep frying
How to Make:
Wash the dal thoroughly, drain the water, and grind it to a smooth paste.
Add black pepper, salt and hing to this paste and mix well till it gets light and fluffy.
Add the coriander leaves, green chilli pieces and ginger to this mix.
Keep the pan ready for deep-frying. You can test the oil by dropping in a little of the batter. If it rises to the top quickly, the oil is hot enough.
Mould the mixture into flat rounds with a hole in the centre, and fry, first on high heat, and gradually lower the flame. Fry till it turns brown and is thoroughly cooked.
Remove the vadas from the pan, and drain the excess oil on a kitchen towel.
Serve with coconut chutney or sambhar.
5. Paal Payasam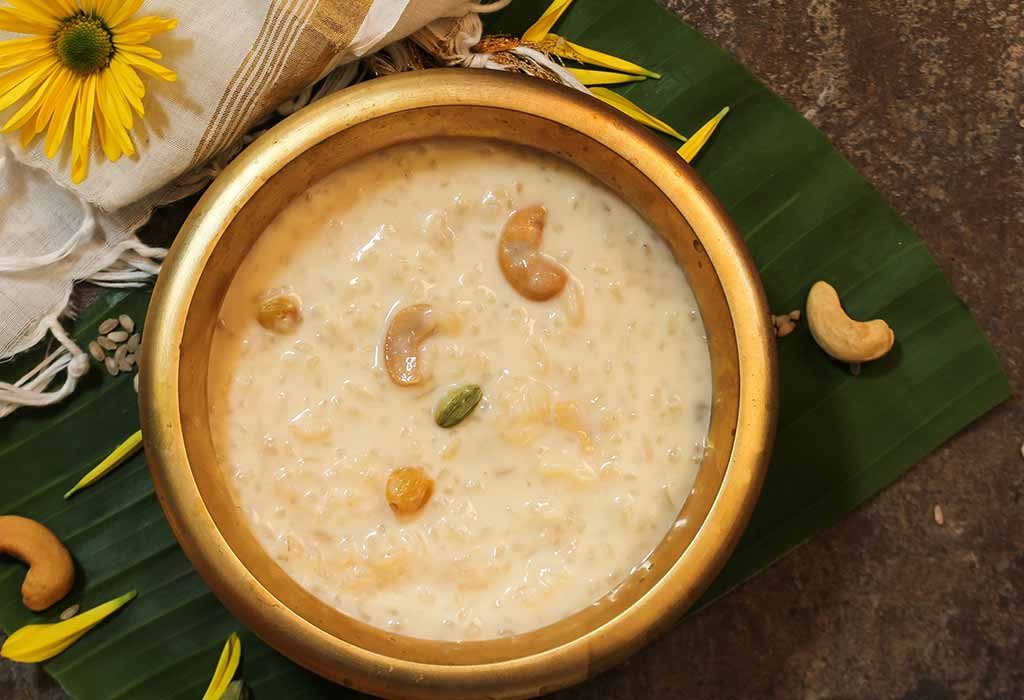 The simplest of all the dishes with just 4 Pongal ingredients that are readily available in all households. Don't let its simplicity fool you, though. What it lacks in the number of ingredients, it makes up for in richness and flavour!
Prep Time: 10 minutes
Cooking Time: 50 minutes
Servings: 3-4
Ingredients:
Basmati rice – 3 tbsp
Full-fat milk – 1 litre
Sugar – 4 tbsp
Ghee – 1 tbsp
How to Make:
Heat the ghee in a thick bottomed pan.
Add the rice and sauté for about half a minute on a low flame, till it emits a nice fragrant aroma. Do not allow the rice to get burnt.
Now add the milk and bring it to a boil on a low-medium flame. Stir continuously so that the milk at the bottom doesn't get burnt.
After the milk has started boiling, continue to stir till the rice gets cooked.
After the rice is cooked, you can mash it with the spoon while stirring.
Now add sugar and stir till dissolved.
Let it cook for 8-10 minutes more, till the milk reduces, and the payasam thickens.
Serve payasam, plain or garnished with chopped almonds or saffron.
So what are you waiting for? Give these recipes a try, and don't forget to share them with your friends and families, of course not before keeping aside a few for yourself!
Also Read: Pongal Festival- History, Significance and Importance