Lohri Festival – History, How to Celebrate, and Wishes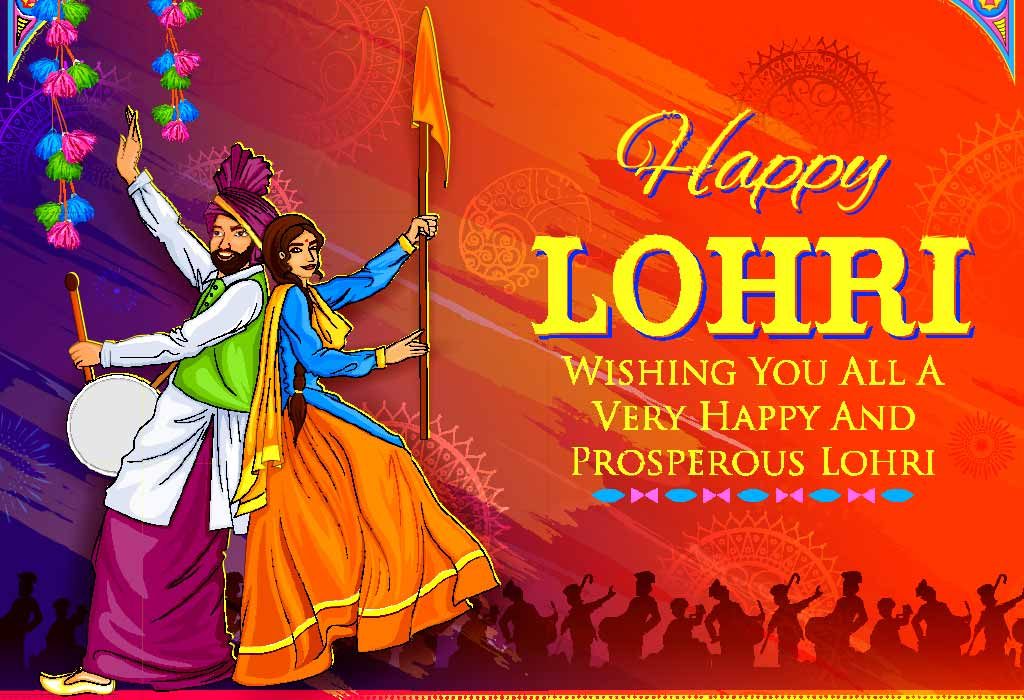 Lohri is a popular harvest festival which is celebrated with much fervour and enthusiasm. Lohri falls on January 13 every year and is primarily celebrated by the Sikhs and Hindus all over the country. The celebration involves lighting a bonfire, singing folk songs and dancing (particularly bhangra and gidda), and enjoying the classic delicacies – makke di roti with sarson da saag, gajak, til rice (sweet rice made with sesame seeds and jaggery). But there's so much more to this harvest festival than eating gajak or singing songs! Read on to learn about the history of Lohri, how to celebrate it, and more!
What Is Lohri?
Lohri is a festival that marks the harvest season in Punjab. As per the Gregorian calendar, it falls on January 13 every year, a day before Makar Sankranti (which is another popular Hindu festival). Lohri marks the end of the winter season and the beginning of the longer days. Lohri is celebrated to welcome the sun deity (surya) into the northern hemisphere. However, it is traditionally associated with the harvest of rabi crops.
Why Do We Celebrate Lohri?
Lohri is a festival synonymous with the lighting of the bonfire, eating traditional food, and singing and dancing, but it is celebrated to thank the sun deity and mother earth for a good harvest.
Friends, family, relatives, and neighbours come together, exchange sweets, sing and dance, and have fun. The main attraction of this festival is a huge bonfire, which is lit, and men and women gather around it and sing and perform bhangra and gidda. There are many customs and rituals associated with Lohri; on this day, people gather around the bonfire and offer oblations to the fire as a means to thank God. They offer sesame seeds, jaggery, revari, popcorn, maize seeds as prasad by putting them in the fire while circumambulating the bonfire. They also pray for good health and prosperity.
History of Lohri
Now you know the significance of Lohri festival, but we know you must be curious to learn about the history of the festival. Well, there are enough and more stories (legends, to be precise) associated with Lohri, but the most popular folklore associated with Lohri is of Dulla Bhatti. As per legends, Dulla Bhatti was a man who had lived in Punjab during the reign of Mughal Emperor Akbar. Dulla Bhatti used to steal from the rich people and help the needy (yes, just like Robin Hood!). Legend has it that he even rescued a girl from the hands of kidnappers and took care of her as his daughter. On her wedding day, he even performed the rituals in the absence of a priest. People loved and respected him, and started singing the folk song, 'Dulla Bhatti Ho' in his praise every year on the occasion of Lohri. This is just one tale, but we are sure you will find many other interesting stories associated with this festival!
First Lohri
Lohri is one of the most important festivals of India and the preparations for it begin a few days before the festival. But when it's the first Lohri of a new member in the family, the preparations and celebrations need to be grand. Whether it's a new bride or a newborn in the family, the family members make sure that they make their first Lohri memorable.
First Lohri Celebration of a New Bride
The first Lohri of a new bride in the family is considered very special. The newly married woman wears a new, bright attire on the occasion of Lohri. She also wears bangles and applies henna (mehendi) on her hands. The new bride also receives a lot of gifts, clothes and jewellery, from her in-laws and friends and family.
First Lohri Celebration of a Newborn
A baby brings happiness, love, and warmth to a family, so naturally, his firsts have to be special and memorable! If it's the first Lohri of a baby in the family, the new parents and others in the family make sure to make his first Lohri unforgettable. The baby and his mother are dressed in their best for the festival; the new mother is then asked to sit down, holding the baby in her arms. Friends and family members then give fruits, sweets, clothes, jewellery, and more as gifts to the mother and the baby.
Tips to Celebrate Lohri With Your Family
If you want to know how you can celebrate Lohri with your family, we have just the tips you need!
First things first: start with teaching your kids about the significance of the Lohri festival. Tell them the history of the festival and how they can celebrate it. And teach them to thank God for everything they have in life.

Cleaning and decorating the house is important during festivals, so clean your house before you start with decoration. Let everyone in your family help you with cleaning, and it won't seem like a chore (in fact, it will be fun!).

Take your kids shopping with you and buy new clothes for them and for yourself.

Make sweets and snacks at home and ask your kids to help you in the process. They will enjoy the sweets and snacks, even more, when they make it on their own. You can even buy revari, gajak, and peanuts, other sweets for the festival.

Deck up your home with flowers and lights and ask everyone in your family to help with decorations.

Prepare a bonfire in the front yard of your house or on the terrace.

In the evening, gather around the bonfire with your friends and family and make offerings to God by putting the sesame seeds, popcorn, revari, etc. in the fire.

Sing folk songs and perform bhangra and gidda with your family.

Cook traditional meals and enjoy the food with your friends and family members.
Last but not least, wish everyone in your family a very Happy Lohri!
Lohri Wishes for Your Friends and Family
Here are some heartwarming Lohri wishes and Lohri quotes that you can send to your friends and family members to wish them a Happy Lohri!
1. I wish this harvest season brings happiness and prosperity in your life. Happy Lohri
2. Sing some folk songs and dance to the tunes of dhol – Lohri is here – enjoy it to the most! Happy Lohri!
3. On this joyous festival, I am sending warm wishes to you and your family. Enjoy this day – Happy Lohri!
4. May this auspicious festival bring peace and prosperity to your life. May you get everything you asked for. Happy Lohri!
5. Wishing you the sweetness of revari and the warmth of a bonfire. Happy Lohri, my friend!
6. One must sow the seed to reap the harvest. The festival of Lohri is here, reminding us that one must give to get. Remember this always and enjoy Lohri to the fullest! Happy Lohri!
7. Before the reward, there must be labour and after reward, gratitude. On the festival of Lohri, take a moment to thank God for the wonderful rewards. Happy Lohri!
8. May the festival of Lohri bring love, happiness, and prosperity to your life. Happy Lohri!
9. Wishing you and your family a very Happy Lohri!
10. On this occasion, offer revari and gur to everyone and spread love and cheer. Happy Lohri!
11. May the Lohri fire burn away all your sorrows and bring prosperity and happiness to your life. Happy Lohri to you and your family!
12. Let's be sweet as revaris, courageous as fire, and funny and crackling as popcorns on the occasion of Lohri. Wishing you and your family Happy Lohri!
13. We wish on this pious day of Lohri, you reconnect with your friends and family and celebrate the festival with joy. Happy Lohri dear!
14. May this festival of warmth bring success to you and your loved ones. Happy Lohri.
Now you know why Lohri is celebrated (and how it is celebrated), celebrate it with your loved ones. Light the bonfire and sing and dance around it, and most importantly thank the lord for the winter crops. Happy Lohri!