Stylish Kid-Friendly Bathroom Decor Ideas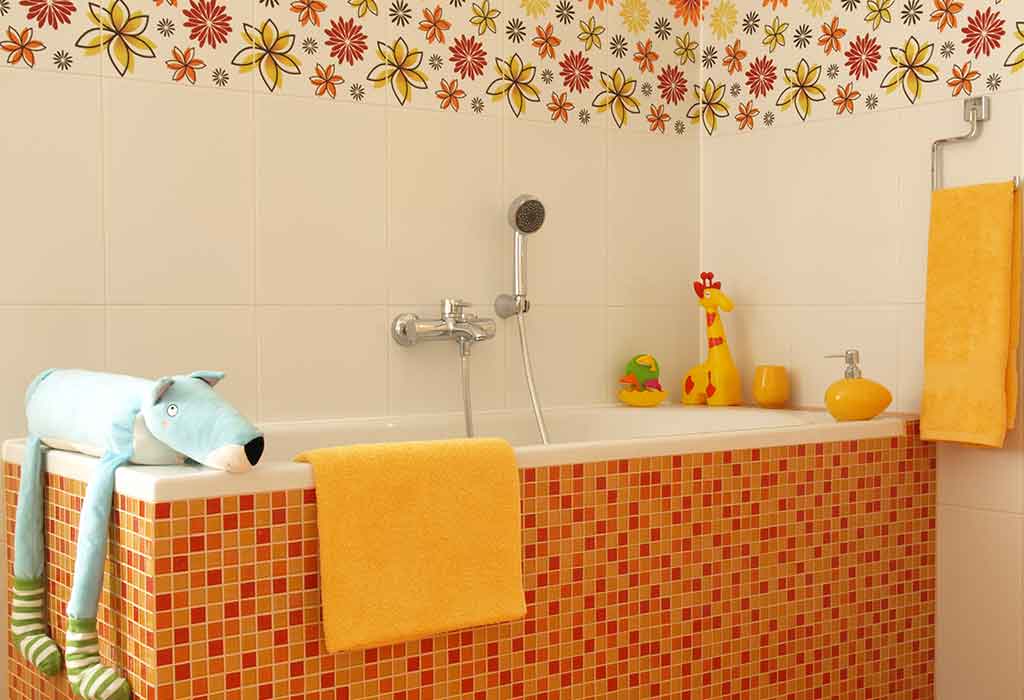 In this Article
Designing and decorating a kid's bathroom is quite a fun activity and definitely one that needs your full creativity and imagination. You can use this project to test your designing skills, and if you hit the bullseye, you are guaranteed to impress the audience. However, we recommend that you talk to your child and understand their preferences before beginning the project. After all, it is your children who will be using this space the most. Thus it is vital to keep a tab on their preferences.
Colorful and Creative Ideas for Kids Bathroom
Are you on the lookout for creative designs for your kids' bathroom? Well, we are sure that you must be tired of typing keywords like "kids bathroom ideas" or "kids bathroom themes." We are here to help you out with some of the best ideas and suggestions. Read on to see some kid's bathroom ideas that strike a balance between fun and creativity for your kid when they use the bathroom.
1. Purchase a Creative Wallpaper
One of the easiest tricks to make a kid-friendly bathroom is to cover the bathroom walls with wallpaper. You could opt for cartoons, doodles, little dragons, dinosaurs, or pretty princesses. Based on your requirements, you can choose from a host of options and choices. Do involve your child while selecting the wallpaper and ask them to choose a favorite. This idea is a great way to get a beautiful bathroom with the least investment.
2. Color Pop
A kid's bathroom decor should always include color. You may have observed that the toys kids play with, books, and TV shows they watch are always colorful. It is because children are more comfortable in a color-rich environment. Depending on your kid's preference, the colors can be mild or lloud, but do not give mature and pastel palettes to the bathroom just because you feel comfortable.
3. Go Double
If you have more than one child using the bathroom, your best bet is to install two stations in the bathroom. Doing so will prevent chaos and fights and will also save a lot of time.
4. Creative Lights
Installing mature and ornamental lights gives the signal that adults can use the bathroom as well. So, if you are looking to make a kids-only bathroom, opt for funky lighting and prevent yourself from going overboard with kids décor.
5. Step-Stools
Investing in a step stool is another excellent way to make a bathroom kid-friendly. Your kids eventually grow, and adults may also use the bathroom. In such a scenario, a low-standing sink is not at all practical. Step stools can help in such a setting. Swap the boring, chunky plastic one with a well-designed and sleek step-stool, enabling your children to use it as they grow over the years.
6. Pull-Out Steps
If you do not want to include the step-stool, you can go for the pull-out step for children. The bottom drawer of your bathroom sink behaves like a secret step for the children. By putting a strong lid on a functional drawer, you can also increase functionality and storage space.
7. Trendy Finds
Most kids hate getting ready, especially in the mornings. Plain bathroom walls will not work in such a scenario. You can prevent this by decorating the bathroom with funky, bright accessories. Think outside the box as to how you can place accessories in the bathroom to encourage your child to use the space.
8. Ensure Safety
Safety is crucial when you design a kid's bathroom. However, safety does not have to always translate to boring. Practical items can work exceptionally well with decorative ones. Ensure that the bathroom tap does not scald (set the temperature of your water heater to no more than 120 degrees), stick on non-slip pads in fun shapes and colors. Ensure that the window glass is tempered, and then you could dress it with a lovely curtain. Let the kids put toys into the bath and keep a large basket that can hold those toys safely and keep them from turning into hazards.
9. Pink Bathroom for Girls
Pink is the safest choice when looking at bathroom décor for your little girl. Not only is this idea budget-friendly, but you can also remodel the bathroom easily after a few years. The pink color theme is a prominent highlight for your princess's bathroom.
10. Bold Countertops
If you have a boy, then bold countertops are one of the best suggestions! All you need to do is choose the navy-blue theme for creating sailor and nautical vibes for your prince.
11. Replace the Shower Curtain
If redecorating your kid's bathroom gives you unwanted stress, then replacing the shower curtain is a simple trick that will work wonders. By replacing your shower curtain, you can completely alter the look of the bathroom. You can purchase various designs and patterns in a wide range of color alternatives.
12. Black and White Kids Bathroom
If you are looking at different kid's bathrooms themes, then a black-and-white countertop with black/grey cabinets coupled with black-and-white marble flooring can give a very different look to your child's bathroom. It looks whimsical, creative and the best part is that it is convenient to maintain and clean.
13. Motifs
Themed bathrooms can be an exciting and fun way to make the room uniquely their own. You could incorporate their favorite basketball team or choose the logo from their favorite band or TV show. You can also install a motif that can go the distance with your child as they grow. Kids' bathroom sets are usually tied to themes, so you could take them along to the store to see which one they like.
14. Locker Room
We all know the smell that a bathroom can have due to unwashed clothes, waste, and so on; especially if you have athletes in the family, the smell can be extra-strong. Invest in a hamper that can hold and hide all the dirt-stained clothes. Be sure that your hamper includes a lid to lock in the stench. You could also install locker storage that always has fresh kids' bath towels within their reach.
15. Funky Sink
As mentioned already, you do not have to change everything for a great kids' bathroom. Sometimes, just working with certain corners does the trick. For example, you could get a bright yellow/pink sink for the girl or a bright green color for a boy. This easy trick works like magic to completely revamp your child's bathroom.
Designing and decorating a kid's bathroom can be as creative and fun as you want it to be. Kids will be kids, and things related to them should always be fun-filled. These bathroom designs for children can help you design a bathroom for both boys and girls with equal creativity!
Also Read:
Creative Room Decoration Ideas for Kids
Innovative Room Decorating Ideas for Girls
Simple Tips to Keep Toddlers Room Clean and Organized