Raksha Bandhan Essay in English for Kids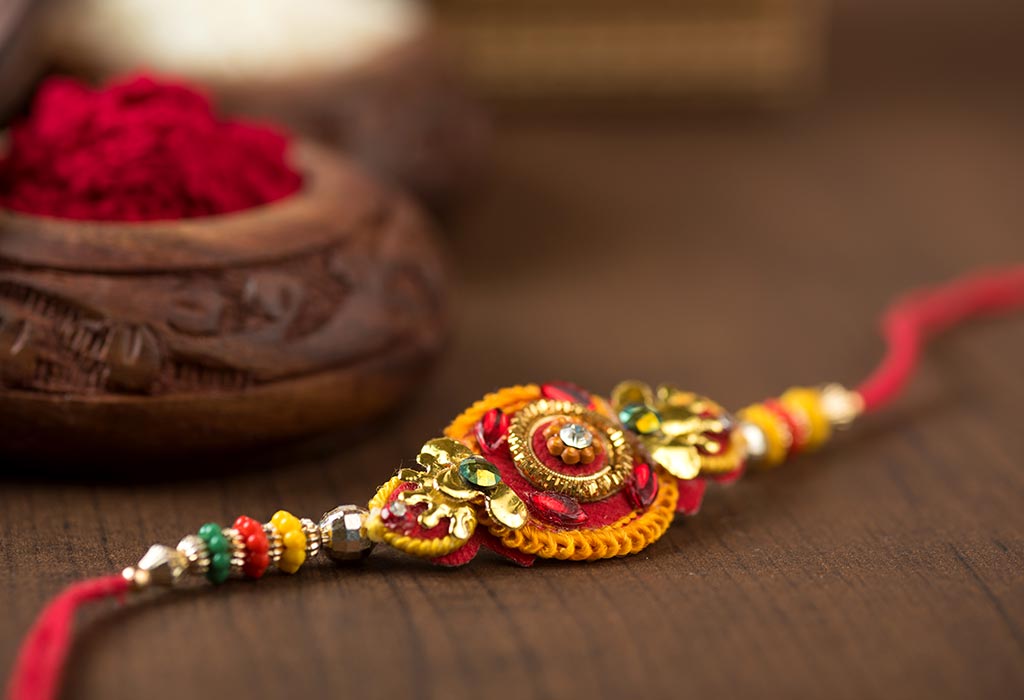 Raksha Bandhan, the Indian festival celebrating the bond between a brother and his sister, falls on 22nd August this year. It is an occasion to which many households across India look forward. While the grownups make arrangements for family reunions and get working on Raksha Bandhan-special fares, the kids have their own celebrations – making rakhis, handmade cards, preparing gifts for their sisters, and helping with all the decorations and preparations.
Schools, too, celebrate this festival by holding rakhi-making competitions or essay writing for the kids. If your child has been asked to write a Raksha Bandhan essay at his school, he may be reluctant to write it on his own and may need your help. But don't worry! These Raksha Bandhan essay samples will motivate your little one to write a sweet and thoughtful essay about this festival!
Raksha Bandhan Essay – 10 Lines for Kids
Here are ten lines on the topic that can be used to frame the essay while writing it.
1. Raksha Bandhan is one of the many festivals celebrated in India.
2. This festival celebrates the bond between a brother and his sister.
3. Raksha Bandhan is celebrated on Shravan Purnima.
4. On this day, the sister ties a special thread or rakhi on her brother's wrist.
5. The brother, in turn, promises to protect his sister.
6. The sister also prays for her brother's good health, safety, and bright future.
7. On this day, special dishes are prepared at home.
8. Raksha Bandhan is also celebrated between cousins and other family members to express love and affection.
9. Many sisters, who stay far away from their brothers, send them rakhis by post to celebrate this festival.
10. The famous story of Rani Karnavati of Chittor and Emperor Humayun signifies the importance of this festival.
Short Essay on Raksha Bandhan (250 Words)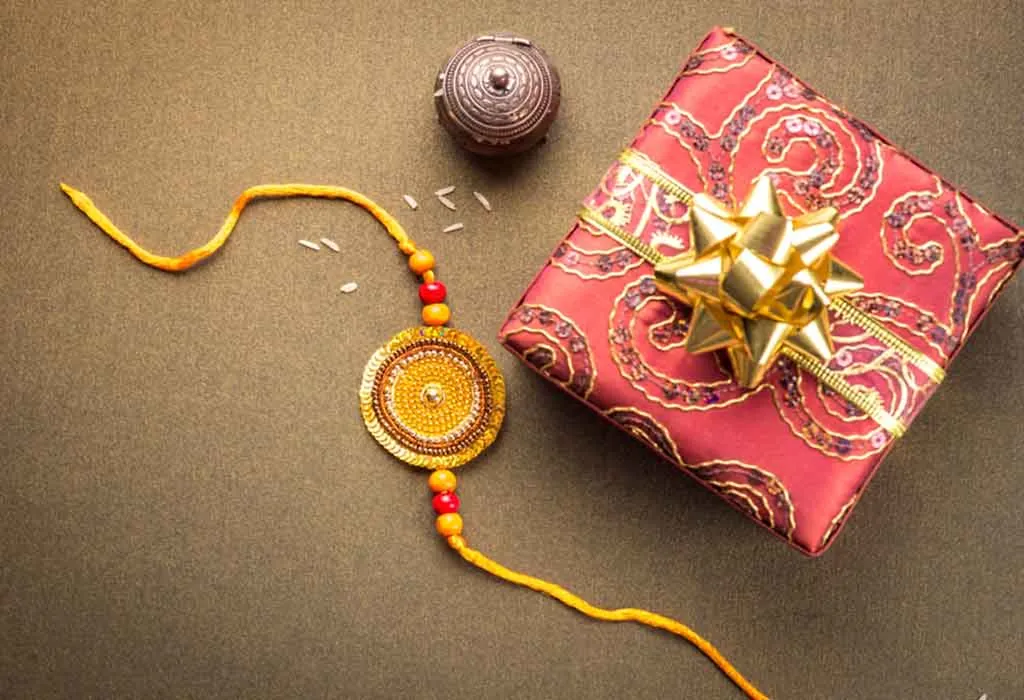 Raksha Bandhan is a popular festival celebrated in India. According to the lunar calendar, this festival is observed in July or August on the full moon day. On this special occasion, sisters tie a sacred thread or rakhi on their brother's wrist. This is done to wish them good health and long life. The brothers, then, bless their sisters and promise to protect them and care for them throughout their lives. The sisters are showered with a lot of love and pampering in the form of gifts, chocolates, dresses, money, and more.
A rakhi symbolises the love and harmony present between siblings, but according to Hindu mythology, we understand that this ceremony was not only performed by brothers and sisters. In the legendary myth of Lord Indra Dev and his wife Sachi, Lord Indra went on to fight a fierce battle with the strong demonic king Bali. The fight didn't seem to come to an end, and Sachi was in fear of the threat to Lord Indra's life. So, she tied a sacred bracelet, given to her by Lord Vishnu, around her husband's wrist. Thus, in ancient times, the tying of the sacred thread had become a tradition for married couples. Today, it has extended from siblings to every kind of relationship.
During the British rule in India, this pious festival was celebrated to promote unity and friendship among different communities affected by foreign rule intervention. Today, Raksha Bandhan is observed with abundant enthusiasm by people belonging to different communities.
Long Essays on Rakhsha Bandhan (500 Words)
This Raksha Bandhan essay contains, in about 500 words, all the important information that one needs to know about the festival.
The festival of Raksha Bandhan is a joyful and enthusiastic festival that is celebrated all over India. It is observed between brothers and sisters, who need not be related by blood. Sisters can tie a rakhi for their cousins as well.
Every sibling eagerly waits for the arrival of Raksha Bandhan. It does not occur on a particular day each year; instead, it is observed according to the traditional Indian calendar. Roughly, it is celebrated somewhere in the first week of August. This year, the festival of Rakhsha Bandhan will fall on 22nd August.
It is said that the Nobel laureate Rabindranath Tagore tied a rakhi on a fellow countryman's wrist. He performed this gesture to promote equality and brotherhood among the citizens of India. Since that time, this festival is celebrated with great emotion and spirit by the people of India. The festival is widely celebrated across the country and by every age group, be it kids or adults. Everyone celebrates the festival and ties rakhis on their brothers' wrists.
Raksha Bandhan means a bond of love and protection. The word 'Raksha Bandhan' has a very powerful meaning. 'Raksha' means protection and 'Bandhan' means the bond of a relationship. Thus, on the occasion of this festival, sisters tie rakhis on their brothers' wrists, praying for their good health and well-being. Consequently, the brother promises to love his sister forever and protect her from every danger. At the very centre, it is a ritual based on the pillars of love, protection, and brotherhood.
The bond between brothers and sisters is unique and bittersweet. They may fight at one moment, but they end up solving their quarrel the very next moment. Theirs is one of the purest and most genuine bonds to exist. Siblings play a very important role in our lives. They have seen us grow over the years. They know our strongest and weakest points. They also sometimes understand us better than we do ourselves! They have always been around to protect us, support us, and help us during tough times. Rakhsha Bandhan is a small way to celebrate that bond and promise for a bright and shining future.
Apart from the traditional aspects of the ritual, it is also a delightful ritual to celebrate. On the sacred occasion of Raksha Bandhan, close family and relatives come together. They dress up in new clothes, and sisters tie a thread or rakhi on their brothers' wrists, symbolising a strong bond. The sisters are then showered with love, gifts, and respect. The brothers usually give them small gifts, like chocolates, other food items, or money.
Apart from personal celebrations in homes, public celebrations also take place in the form of community functions and fairs. The preparations for the festival begin a week prior, and siblings flock to the market; the sisters purchase rakhis, and the brothers buy gifts. Thus, Raksha Bandhan is a significant festival that is observed with much enthusiasm.
Short Essay on Raksha Bandhan (100 Words)
Raksha Bandhan is an Indian festival which is celebrated in the month of July-August on full moon day. The festival celebrates the brother-sister bond, and the love siblings share. On the day of Raksha Bandhan, sisters tie a sacred thread on their brother's wrist, who promises to protect them from all dangers. Before the big festival, the markets are decorated, and a huge variety of colourful and beautiful rakhis are available for people to purchase. Unique toys and light rakhis are also available for small children. Today, even sisters tie rakhi to each other, but the essence of the festival remains the same.
One of the most significant benefits of essay writing is that your child will learn to express his thoughts and ideas clearly and eloquently. He will also develop his unique writing style, which is a valuable skill. We hope these essay samples will be of great help to your child as he sets out to write his Raksha Bandhan essay!
Also Read:
Raksha Bandhan Gift Ideas for Children
The Story Behind Raksha Bandhan Celebration
Raksha Bandhan Messages, Quotes and Wishes