Parsi New Year 2022- History , Wishes , Recipes And Celebrations During Pateti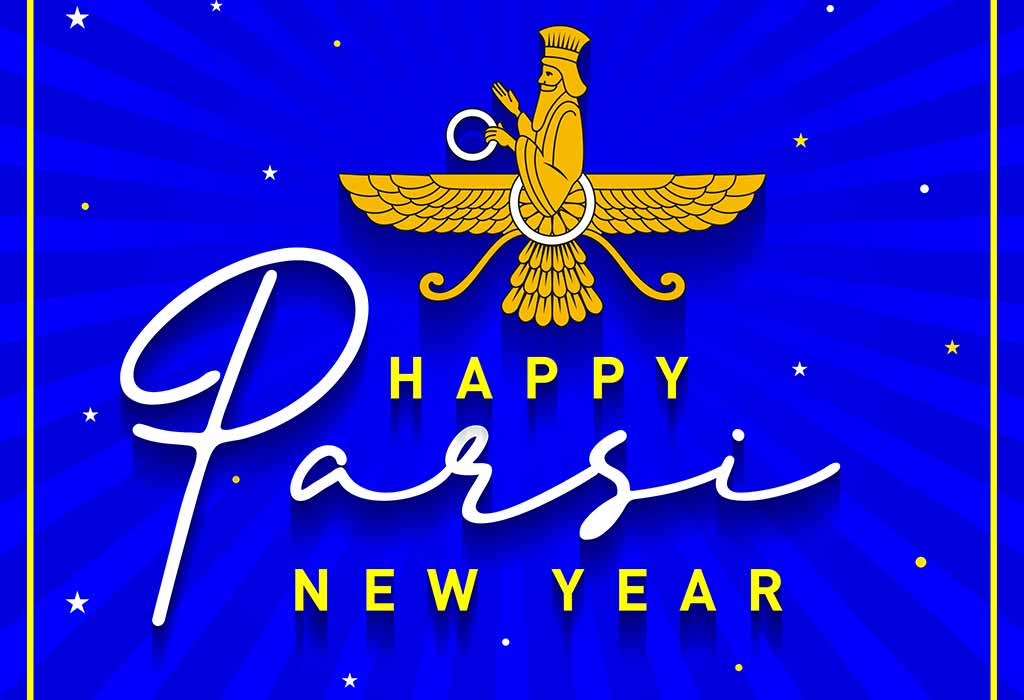 Did you know that there are over 75 calendars in the world? Each of these calendars has its own significance and importance, and not to forget, its own New Year! In this article, we'll talk about Pateti, or Parsi New Year, which is celebrated by the Parsi community in India in the month of July-August. This day is not to be confused with Navroz, which is celebrated in March, but it is commemorated for the same reason, which we will discuss below. Pateti is also known as the day of penitence. For many Parsis, it is the day of introspection. But, like any other festival, it is celebrated with quite a lot of enthusiasm. Continue reading to know more about Parsi New Year!
When Is Parsi New Year?
Pateti or Parsi New Year is celebrated in July-August of the Gregorian calendar. This timeline is based on the Shahenshahi calendar, also known as the imperial calendar. This year, Parsi New Year or Pateti will be celebrated on the 16th of August in 2022.
History of Pateti or Parsi New Year
Pateti or Parsi New Year marks the establishment of the Persian Calendar by the Persian King Jamshed. The Zoroastrians, who mainly lived in Persia, were forced to leave their motherland when the Islamic armies invaded about 3,500 years ago. This led to the displacement and resettlement of the community across the world. In India, the community is known as Parsi, which is a literal translation of Persian. With them, the Zoroastrians brought their culture and harmoniously co-existed for centuries.
Parsi New Year is a special event for the Parsis in India. While Navroz is celebrated in the month of March every year, Pateti is based on the Shahenshahi calendar, which does not account for leap years. The calendar is reconstructed from the Denkard, a set of Zoroastrian beliefs and customs belonging to the 10th century. It is thus celebrated in July or August of the Gregorian calendar as Jamshed-i-Navroz, a festival named after the Persian King.
How Parsi New Year Is Celebrated
Parsi New Year is the day to forget all the hurt from the past and begin life anew. Navroz celebrations across India involve cleaning and decorating the house, cooking scrumptious meals, inviting loved ones over, and visiting the Fire Temple. The day is also considered auspicious for beginning new ventures and starting new relationships. Some also take it a notch higher by donating to the charity of their choice. In a nutshell, the day is celebrated to help others and bring festive cheer to everyone's lives.
Parsi New Year Wishes, Quotes, and Messages
You know, you don't have to belong to the community to celebrate their festivals. These occasions are celebrated so that people can come together and live in harmony. Send some of these Navroz mubarak quotes, wishes, or messages to your loved ones this Parsi New Year!
Like birds, let us leave behind what we don't need to carry. May our lives be an example for many. Wishing you a year filled with joy and happiness! Happy Navroz!
May the glory of the King spread all over. May Lord praise us in galore. Let's pray for happiness and prosperity. May this Parsi New Year give us Happiness, lasting ever and ever!
May the day bring you good fortune and success! May God bless you today and forever. Navroz Mubarak!
In harmony with the new and fresh birth of the motherland and nature, we, the Zoroastrians, wish and greet each and every one Navroz Mubarak!
Memories of moments celebrated together are very close to my heart. They make me miss you, even more, this Navroz. May this New Year bring in good fortune and abounding happiness for you!
I pray for your and your family's happiness and well-being. May you all have an amazing year ahead. Happy Parsi New Year!
As the New Year begins, let us pray that it will be a year full of peace, happiness, and an abundance of new things. May God bless you throughout the New Year. Wishing a very Happy Navroz to you!
May love, bravery, wisdom, contentment, health, patience, and purity be by your side. Happy New Year!
May this Navroz bring along brighter days for you. May you enjoy this occasion with memorable celebrations. Navroz Mubarak!
Wishing that the new dawn brings you a new way to success and happiness! Happy Navroz!
Sending you warm wishes and good luck on the new year! Navroz Mubarak!!!
Let's pray for peace, happiness, and prosperity. Sending my warm wishes for a happy Navroz!
May this year be the beginning of many new things for you to make it a memorable one! Wishing you a very Happy and blessed Parsi New Year!
May God paint the canvas of your life with the most beautiful colours, peace, luck, success, and joy. Wish you and your family a very Happy Navroz!
May this Parsi New Year give us Happiness, lasting ever and ever! Happy New Year!

I wish each and every day of your life is a new opportunity. For you to smile, be successful and happy in life. Best wishes on Parsi New Year to you!
Delicious Recipes to Enjoy During Parsi New Year
Special days call for special food! It's quite common for the Parsis to cook an array of traditional recipes on this occasion, but anyone can bring a little bit of Parsi New Year into their lives by whipping up something special. Here are some recipes that are sure to make their way into your recipe books!
1. Jardalu Na Marghi
Jardalu Na Marghi is a scrumptious preparation of chicken cooked in apricot juice. This recipe is a must-try if you love chicken and apricots but have never tried them together!
Ingredients
Chicken thighs – 1 kg bone-in, with the skin on
Potatoes – 0.5 kg, peeled and finely julienned
Dried apricots – 2 cups
Unsweetened apple juice – 2 cups
Canola oil – About 5 tbsp
Yellow onion – 1 large, sliced
Garlic – 4 cloves, peeled
Ginger – 2-inch piece, peeled and thinly sliced
Stemmed spicy chillies – 5 to 6
Cumin seeds – 1⁄2 tsp
Green cardamom pods – 3 to 4
Whole cloves – 5
Cinnamon – 2 sticks, halved
Kosher salt, to taste
Madeira – 1⁄4 cup (optional; you can add some chicken stock instead)
Instructions
Take a big bowl of water to soak the julienned potatoes. Add some salt and soak the potatoes in it for an hour. Then, drain the potatoes and pat them dry using a clean kitchen towel.
In a saucepan, heat some oil to deep-fry the potatoes. Fry them in batches until they are crisp and cooked properly. Transfer them to a plate lined with paper towels to drain excess oil. Season with salt while they are still warm.
In another pan, take the apple juice and add the apricots to it. Heat it till it boils. Then, simmer it on medium-high heat to cook the apricots until they are plump. Transfer the apricots and the leftover juice to a bowl.
Take half the juice from this in a food processor. Add chiles, garlic, and ginger and process it till you get a puree.
Then, wipe the same pan clean with some paper towels. Add 2 tbsp oil and heat over medium-high heat.
While the oil heats, season the chicken with salt.
Cook the chicken in the pan, flipping once, until skin is crisp. This takes about 6–8 minutes. Then, transfer to a plate.
In the same pan, add cumin seeds, cardamom, cloves, and cinnamon and cook until the seeds pop.
Add the sliced onion and cook until it is caramelized.
Add the puree we made earlier to the pan and cook for 2-3 minutes, until it turns golden.
Add the apricots and juice, and about 1⁄4 cup water. Add salt and boil on medium-low flame.
Once it boils properly, return the chicken to this pan. Cover the pan and cook for 18–20 minutes until the chicken is cooked through.
Then, add the Madeira or chicken stock and cook for 2 minutes.
Present it in a beautiful serving platter, garnished with the fried potatoes.
2. Chicken Farcha
Chicken Farcha or fried chicken can make for a delicious snack or entrée on any special occasion.
Ingredients
Chicken drumsticks or wings – 1 kg (if using drumsticks, remove the skin)
Vegetable oil – 4 to 5 cups or more, if needed for deep frying
Marinade:
Lemon juice – 2 tbsp
Garlic paste – 1 tbsp
Ginger paste – 1 tbsp
Black pepper – 1/2 tsp, freshly ground
Red chilli powder – 1/2 tsp
Garam masala – 1/2 tsp
Salt to taste
Coating:
Breadcrumbs – 1 cup
Eggs – 2
Red chilli powder – a pinch
Black pepper – 1/2 tsp, freshly ground
Salt to taste
Instructions:
Take the chicken in a large mixing bowl.
Add the lemon juice, garlic and ginger paste, red chilli powder, garam masala powder, salt, and pepper.
Mix well to ensure the chicken is thoroughly coated with these ingredients. Use cling wrap to cover the bowl and refrigerate it for at least 30 minutes. For better results, marinate it in the fridge overnight.
When the chicken is ready to be fried, prepare the coating ingredients by laying them all out.
Start by laying the breadcrumbs out on a flat plate.
Then, beat the eggs in a bowl. Add salt to taste, freshly ground black pepper and a pinch of red chilli powder. Mix well.
Then, on medium heat, heat the oil in a deep pan. Ensure the flame is on medium to let the chicken cook properly on the inside without it burning on the outside.
Once the oil is hot, roll each piece of chicken in the breadcrumbs, ensuring to coat it well. Then, dip it in the whisked egg mixture and gently drop it into the hot oil.
Fry as many pieces as your pan can accommodate at a time.
Use a slotted spoon to turn the chicken pieces occasionally. When the chicken is golden on the outside, it is done. Remove one piece to check if it is cooked on the inside.
Once done, remove all the pieces from the oil and drain them on paper towels.
3. Lagan Nu Custard
This custard recipe is a perfect way to end a scrumptious Parsi New Year meal!
Ingredients:
Eggs – 5
Milk – 1.5 litres
Condensed milk – 1/3rd tin
Sugar – 300 gm
Cardamom – 1/2 tsp
Nutmeg – 1/2 tsp
Vanilla essence – 1 tsp
Boiled and sliced almonds and pistachios – 2 to 3 tbsp
Instructions:
Take the milk in a large non-stick pan and bring it to a boil. Using a non-stick pan will ensure the milk doesn't get burnt.
Once the milk boils, remove it from the heat. Then, add the condensed milk and sugar. Mix it well, and then cook it again on a low flame. Keep stirring for 12-15 minutes until the sugar melts, and the milk changes colour and becomes thick. Then, turn off the flame and let it cool.
Then, beat the eggs in a bowl and add the vanilla, nutmeg and cardamom. Keep whisking it until it is frothy.
Once the milk has cooled down completely, stir the egg mixture into it. Ensure the milk is cool, or else the egg mixture will get scrambled.
Then, grease a large baking dish with some oil and pour the mixture in.
Bake the custard in a pre-heated oven until it turns golden. Bake at least for an hour at about 220 degrees Celsius.
Then, take the baking dish out and garnish it with almonds and pistachios. Put it back in the switched-off oven to slightly roast the nuts.
Once done, remove and let it cool. You can even refrigerate it as it is best when eaten chilled.
They say life is a celebration; being alive on this planet is a celebration. When we forget to enjoy these precious moments because we're busy making a living, our calendars pop a festival date, which we can use to remember the importance of our culture, our history, and our people. This Pateti, send some wonderful wishes, whip up a tasty treat, and spend a day in the company of your loved ones. Happy Parsi New Year!