Holi Art and Craft Ideas for Your Kids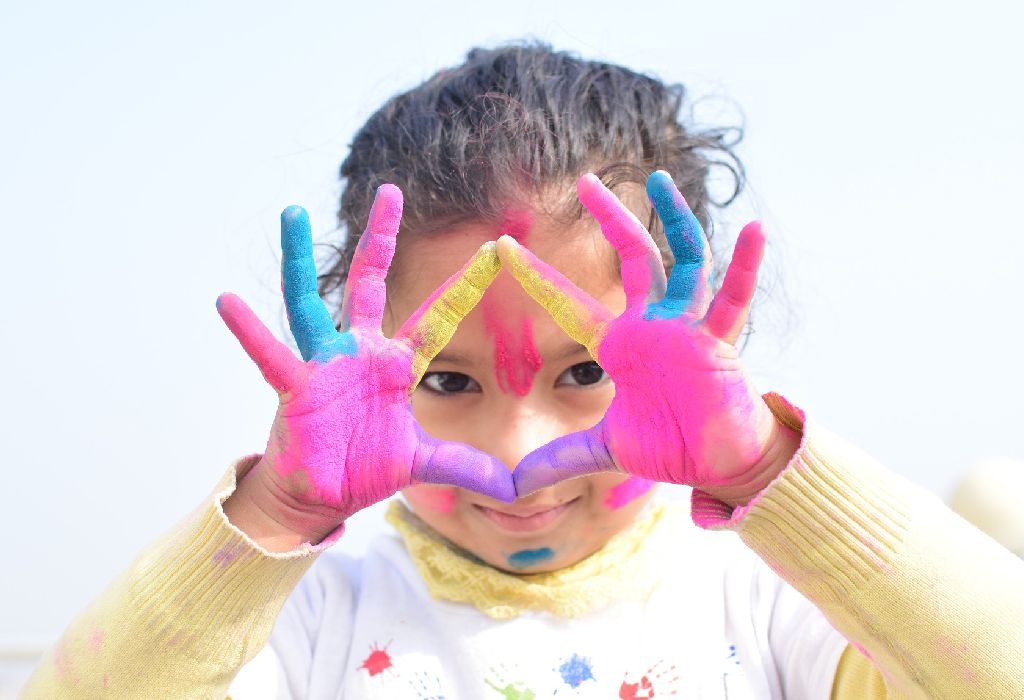 In this Article
Kids love art, kids love colours, kids love water, kids love to get messy, and that is why kids love the festival of Holi. Holi is all about happiness. So, here comes your chance to relish the festival of joy with your children. Be it frolicking in colours and water outdoors or indoor Holi fun in the form of games or art and craft activities for kids, this festival will always have a touch of artistry to it, given the use of colours.
We say, why not use this angle of the festive spirit to your advantage and encourage your kids to engage in some cool art and craft gigs. We have compiled a few Holi activities for preschoolers. Don't fret! Even your pre-teen or teen can try these out.
Holi Art and Crafts Ideas for Preschoolers
1. Handmade Holi Cards

Holi marks the arrival of the Spring in India. It's such a perfect idea to combine the two, the elements that signify the Spring and the vivaciousness of Holi. Let's get to know how to make Holi cards with leaves, flowers, cut vegetables and anything that can come off a plant.
Things You Will Need
Craft papers, oil paints, water, a few plates for mixing the colours, leaves and flower petals of delicate plants, cut slices of the vegetables and fruits like- okra, beetroot, onion, star fruit, etc.
Method
Cut out as many greeting cards your kids would like to make, from the craft papers. They can be of different sizes and shapes.
Take out different colours into different plates and dilute them with just a little bit of water.
Dip the petals of the flowers, leaves and the cut vegetables/fruit pieces into various colours and let your child print those in any fashion, on the greeting cards. It'd be more helpful, if you help them come up with some design ideas they can imprint on the cards, rather than starting off randomly.
Petal prints can be arranged to form a flower. Use the leaves and stems to design a tree. Prints of the cut vegetable and fruit slices can form abstract art or can be added as random, fun elements to make the card more attractive.
2. Decoupage of Leaves and Petals

This Holi art idea can be used to make both, a greeting card and a wall-hung art. It also has the flavour of the spring and needs pretty much the same things as above.
Things You Will Need
Craft papers, leaves and flower petals of delicate plants, glue mixed with water in 1:1 proportion, paintbrush, and (optional) colours and glitter powder
Method
Cut out the craft paper in a size of a greeting card, or in the A4 paper size, if making a picture frame.
Try different arrangements of petals, leaves and stems and finalise the one that your child likes the best. Let your kid take the lead.
Arrange the petals, leaves and stems according to the design and coat them all over with the mixture of glue and water, evenly. Make sure that all the leaves and petals are firmly pasted. Let the art dry.
Optionally, ask your preschooler to draw a border with paints. Also, let her sprinkle some glitter over the finished piece before it dries if she likes. We guarantee, this one will hang proudly on your wall.
3. Hand Print Cut-Out Art

Another one from our Holi art and craft box is this easy and fun to do art with the cut-outs of the tiny hand-prints.
Things You Will Need
Big sheets of white craft paper, oil paints, water, glue, and plates for mixing the colours
Method
Mix different paints with little water, on separate plates.
Let your kid dip the palms of her hands in the colours and print them on the white craft paper. Make sure to wipe her palm clean after every imprint and then go for the next colour. You will need at least 10-15 prints of her tiny palms. In fact, it's a great activity to do in a group. Let her friends join in as well.
After you have enough handprints, cut them all out. Then arrange and paste them together to make different shapes and designs. You can make flowers, butterflies, a paper sun, a rainbow, a Christmas tree, a peacock or anything you can think of. You can simply join all the hands together in a string and hang it on the wall of your child's room. Have her friends write their names on their respective hand-prints. It will be great memorabilia too.
4. Holi Wall Hanging
Children feel extra happy and special when their parents are appreciative of their artwork. One great way to do this make Holi-themed wall hangings. It could be a banner or a big cardboard cutout of the words 'Happy Holi'.
Things You Will Need
Big sheets of white cardboard paper, a used discarded toothbrush, oil paints, water, glue, glitter and plates for mixing the colours
Method
Let your child dip the discarded toothbrush in different plates of colours.
Instruct your child to rub the bristles of the toothbrush on the paper such that paint makes beautiful spray patterns on the paper. Make sure to wipe the toothbrush clean after every colour used and then go for the next colour. You will have a wonderful splash of colours to go with the festivity and colours in the air.
Attach some paper hoops at the ends of the banner so that you will be able to hang it up on the wall.
5. Permanent Holi Rangoli

Children are often interested in making rangoli, and they want rangoli to stay forever. Fortunately, now you can do so!
Things You Will Need
Big sheets of white cardboard paper, Holi colours, glue, brush, glitter
Method
Let your child paint a design with glue all over the paper.
Instruct your child to carefully drizzle her favourite Holi colour on the paper such that the parts that have glue on them get completely covered.
Let it sit for about 2-3 minutes and carefully, help your child to blow the extra rangoli off the paper. Now you have a permanent textured rangoli design!
6. Happy Holi Garland
It will be incomplete if you are inviting over your kid's friends for a Holi party and the decoration is not there. This rainbow-themed Holi garland is perfect for this season's decoration.
Things You Will Need
Colourful cardstock, scissors, ribbon, colour pens or markers.
Method
Cut out 9 circles or inverted triangles from colourful cardstock of similar sizes. The nine cut-outs will be for H-A-P-P-Y-H-O-L-I.
You can make one template and use this for cutting others.
Write the alphabets of H-A-P-P-Y-H-O-L-I, each letter in each cut-out with colourful markers.
Assemble all in order. Glue the back of the cutouts onto a long strip of ribbon.
Let it dry. Voila! Your rainbow-themed Holi banner is ready!
7. Blow Painting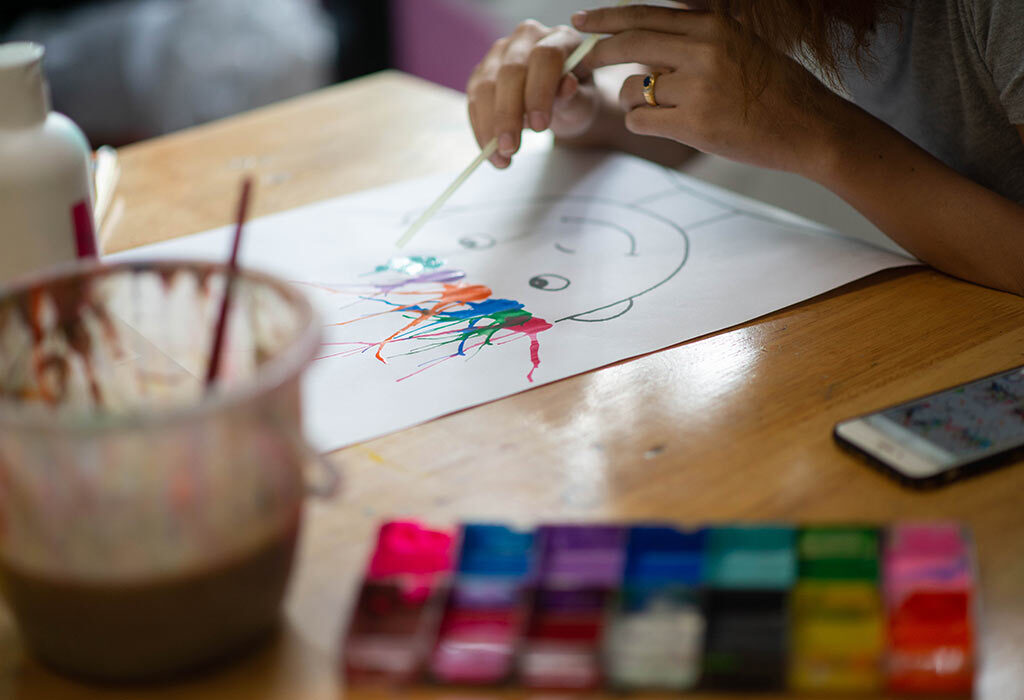 Blow painting is a classic form of art which is enjoyed by both children and adults. You can use a variety of different tools to do this form of art. It will get a little messy but isn't that the whole point of Holi!
Things You Will Need
Sheets of paper, straws, watercolours
Method
Place a sheet of paper.
Cut the straws in half.
Transfer one or more droplets of liquid watercolour onto the paper using a dropper or paintbrush.
Blow at the paint drops using the straws.
Repeat the above steps with more paint colours.
Once you are pleased with your design, set it aside to dry!
8. Balloon Painting
Water balloons are known to be painful when they are hit against your skin. But, did you consider the fact that you can actually make a beautiful painting out of them too?
Things You Will Need
A canvas of any size, balloons, acrylic paint, tape, a pin or dart to burst the balloons.
Method
Insert a little bit of the acrylic colour in the balloon.
Blow the balloons a little bit and tie the ends on each.
Tape the balloons onto the canvas using tape.
Pop the balloons using a pin or dart. The colours will splash on the canvas, and you will get a beautiful paint-splatter piece of art!
Holi games and Holi art and craft ideas are a great way to keep your kids indoors if you want to protect them from the disorderly street Holi celebrations. Do you have any Holi craft projects planned for your kids? Care to share with other mommies? Please do it here.
Also Read:
Colourful Holi Party Ideas For Kids
Thoughtful Holi Gifts for Your Loved Ones
Best Quotes, Wishes & Messages for Your Dear Ones