Pomegranate and Watermelon Juice Recipe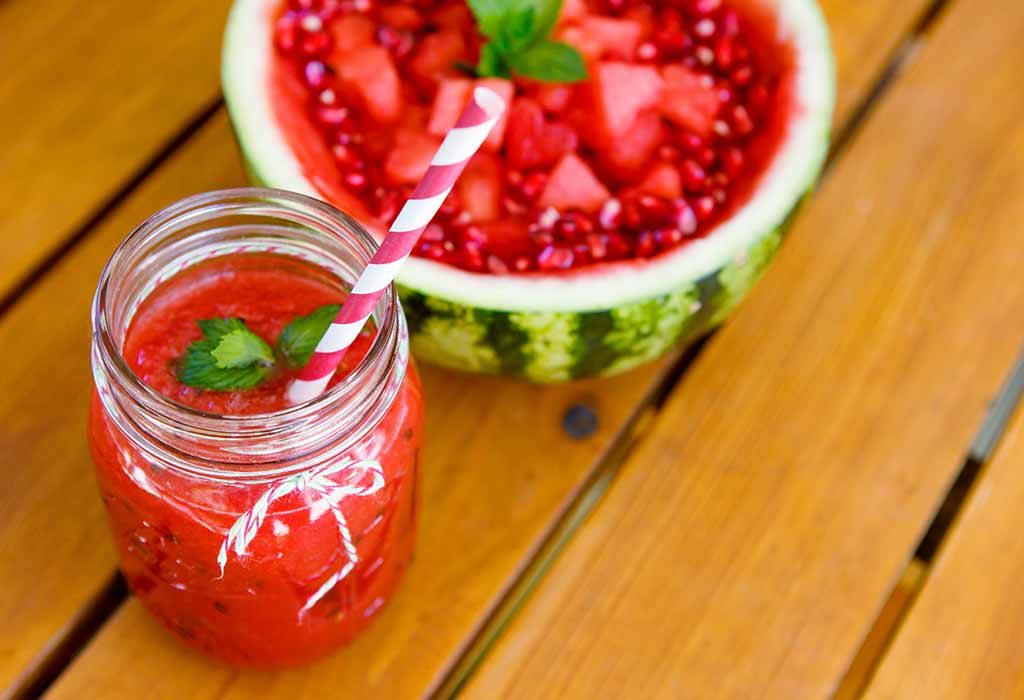 In this Article
Juices are healthy and can be easily fed to kids. During the initial years, babies find it difficult to chew. So to provide them with correct nutrition with ease, juices are the best option!
Today, I'll be sharing the recipe of pomegranate and watermelon juice. It will appeal the child with its sparkling red colour and is delicious too! Do include this juice in your child's daily diet, especially during the summers. It is because this juice serves as a great hydrating agent due to the presence of high quantities of potassium in it.
There are many advantages of feeding this juice to your little one. For now let us start with the easy pomegranate and watermelon juice recipe requirements, cooking time, instructions etc.
Cooking Time
| | |
| --- | --- |
| Type | Time (hh:mm:ss) |
| Preparation Time | 00:10:00 |
| Cook Time | 00:05:00 |
| Total Time | 00:15:00 |
Cooking Method
Blender/Mixer
Type of Meal
Vegetarian
Suitable For
Toddlers above 18 months of age
Meal Schedule
Breakfast, Mid Morning Snack or Evening Snack.
Recipe Type
Side Dish
Ingredients
| | |
| --- | --- |
| Ingredient | Quantity |
| Watermelon(medium-sized, diced) | 6 cups |
| Pomegranate | 1 cup |
| Chaat Masala | 1 tsp |
| Black Salt | 1 tsp |
| Black pepper(optional) | A pinch |
| Lemon Juice | 1 tsp |
| Salt | As per taste |
| Ice cubes(optional) | 5 to 6 in number |
Instructions
Below, you will find the step-by-step procedure to prepare this rejuvenating juice for your kid.
Put the diced watermelon and pomegranate seeds in the blender jar.
Add the chaat masala, black salt, black pepper, ice cubes and lemon juice. Black pepper and ice-cubes are entirely optional.
Puree out everything in the blender.
Pass the puree through a sieve to get rid of the solids. Press the solids with a spoon to get as much juice as possible.
Serve this glass of nutrition to your baby!
Recipe Tips
These tips are of utmost importance for this homemade pomegranate and watermelon juice baby food recipe:
Please avoid adding sugar to this recipe. The juice must be sweet naturally. But if adding sugar cannot be avoided, add in small quantity.
Serve the juice fresh, else the taste might get spoiled.
Please wash your hands before you prepare this recipe.
These juices should be given in small quantity to kids less than one year of age. It is because they might reduce the intake of breast milk then. Breast milk has a proper mix of nutrition for kids below this age.
Nutrition Information (Per 100 Grams)
| | |
| --- | --- |
| Type | Quantity |
| Energy | 75 kCal |
| Carbohydrates | 15.4 grams |
| Protein | 2 grams |
| Fat | 0.3 grams |
| Dietary Fiber | 3.5 grams |
| Vitamin C | 25.8 mg |
| Calcium | 15.8 mg |
| Iron | 0.6 mg |
| Potassium | 330 mg |
| Sodium | 4 mg |
Health Benefits
Pomegranate and Watermelon juice for toddlers is an easy to prepare recipe and is loaded with many benefits.
This juice combination helps in the development of muscles. It also helps in relieving muscle soreness.
The juice serves as an excellent anti-oxidant. These antioxidants help in the removal of free radicals from your body.
Pomegranate helps in thinning of the blood. By this, it prevents platelets from clot formation.
The juice is an excellent immunity booster and, hence, keeps your child away from chronic infections.
The juice also helps in regulating bowel movement in kids and, hence, resolves indigestion.
This juice is a fantastic hydrating agent because of the presence of watermelon.
Buying Guide
Buying the right ingredients solves half the purpose of this recipe and eases answer to how to make pomegranate and watermelon juice recipe question.
Buy the fruits from organic stores to avoid unsafe ways of farming. This ensures that your child does not consume food that might contain harmful chemicals like pesticides.
Buy watermelon, which has a dark green outer cover. It is because they are very sugary and, hence, you will not need to add sugar to the juice.
Avoid giving canned fruit juices available in the market to your kids. It is because these juices contain added sugar and preservatives, which are not good for their health.
Try this hydrating juice for your kids at home. They will get so much nutrition just by mixing a few ingredients in a blending jar. Cheers!