Peanut Butter and Jam French Toast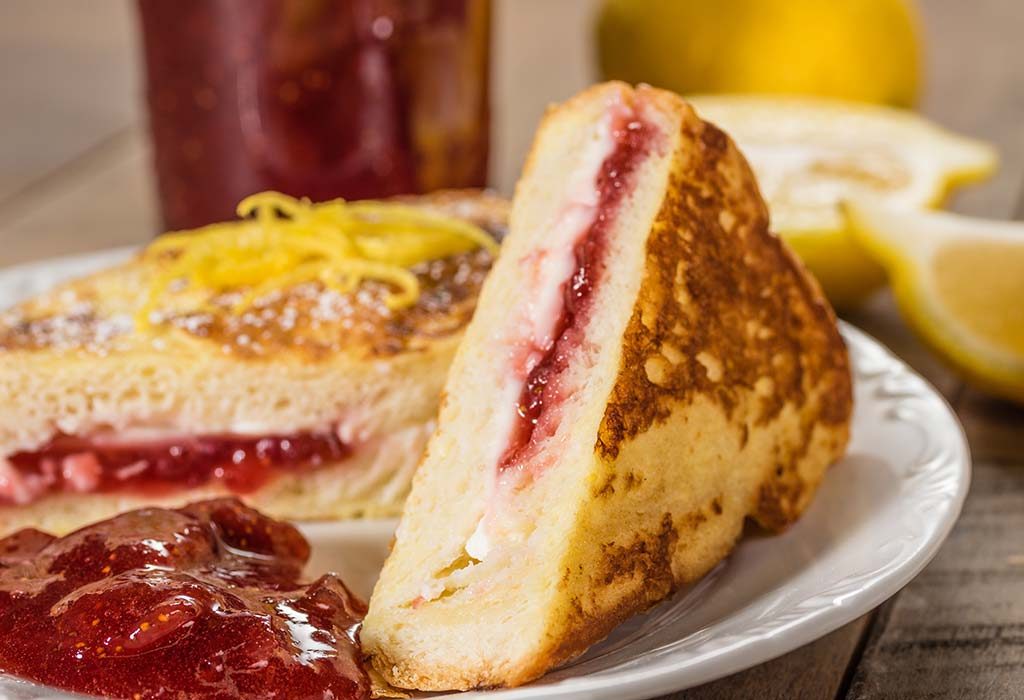 In this Article
This usual french toast with a slight twist is so easy to make, that you can involve your kids in its preparation. Nutritionally, this dish is calorie and protein-rich. Secondly, it's high in B complex vitamins, which helps in supporting the immune system and is required for the normal functioning of muscles, nerves and the heart.
| | | |
| --- | --- | --- |
| Serves | Preparation Time | Cooking Time |
| 2 People | 10-15 Minutes | 25-30 Minutes |
Ingredients
4 slices whole-wheat bread
20 g peanut butter
2 tbsp (tablespoon) jam
2 eggs
50 g heavy cream
3 tbsp butter
Method
Step 1
Apply peanut butter on two slices of bread, and jam on the other two, and put one slice of each together to form a sandwich. You can engage your kid for this activity.
Step 2
Ask your kid to take a mixing bowl, in which they have to lightly beat the eggs and cream together.
Step 3
Next, take a large skillet and place it over medium heat. Add butter and melt it.
Step 4
Ask your kid to dip the sandwiches in the egg mixture, make sure that it coats the bread sandwich properly.
Step 5
Place the coated sandwiches in the skillet and brown both sides. Serve immediately.
Nutritional Information
| | |
| --- | --- |
| Calories | 555 K cal |
| Proteins | 16.1 g |
| Total Fat | 37.8 g |
| Total Carbohydrates | 39.9 g |
| Cholesterol | 244 mg |
| Sodium | 510 mg |
| Potassium | 302 mg |