Mix-Veg Paratha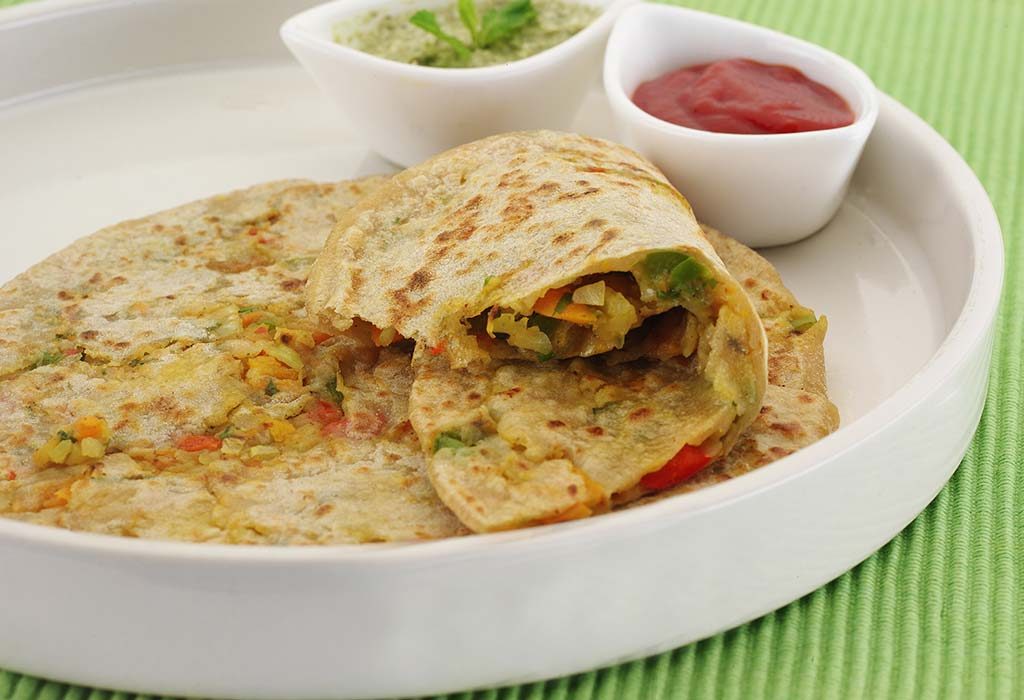 In this Article
The humble paratha needs no introduction. This shallow fried stuffed bread is popular across the length and breadth of India. One reason that makes it crowd-pleasing is the ease of preparing it with the basic ingredients found in every Indian kitchen. So the next time you crave for a plate of parathas, you know where to head … your kitchen chum!
| | | |
| --- | --- | --- |
| Serves | Preparation Time | Cooking Time |
| 3 People | 10-15 Minutes | 20 -25 Minutes |
Ingredients
150 g Wheat Flour
2 medium Potatoes, boiled and peeled
1 carrot, shredded and boiled
½ cup cabbage, shredded and boiled
4 tbsp finely chopped Coriander Leaves
1 tsp Lemon Juice
1 tsp Sugar
2 Green Chilli, finely chopped
1 tsp Garam Masala
1 tsp Red Chilli Powder
1 tsp dry mango powder
1 tsp grated Ginger
2 tsp Oil
Salt as per taste
Method
Step 1
Knead the dough by mixing wheat flour, 1 teaspoon oil and salt in a small bowl. Add water in small batches as and when required and keep kneading to make the dough soft and smooth.
Step 2
After the dough is ready, grease its surface with 1/2 teaspoon oil, and keep it covered with a clean muslin cloth, and set aside for 15-20 minutes to settle at room temperature.
Step 3
Next, prepare the stuffing by mixing mashed potatoes, other boiled vegetables, chopped green chillies, red chilli powder, grated ginger, garam masala, dry lemon powder, sugar, lemon juice and salt in small/medium size bowl. Mix all ingredients properly.
Step 4
Divide this stuffing into 6 equal parts and roll them into the shape of a ball. Divide prepared dough into 6 equal parts, and roll them a round shape. Press a little with the palm to flatten it like a pattie.
Step 5
Take one dough pattie and coat it with a little dry wheat flour on both sides. Put it on rolling board and roll it out into a circle of approx. 4-5 inch diameter using a rolling pin. Put one portion of stuffing in the center of it.
Step 6
Wrap this stuffed ball by lifting all sides of rolled circle towards top, seal the edges and again give it a round ball shape with your fingers.
Step 7
Gently press this stuffed ball on rolling board and dust some dry flour over it.
Step 8
Keep rolling it lightly until it flattens into a circle of 6-7 inch diameter (like roti or chapati). Ensure that you do not make it very thin.
Step 9
Place it on a hot tava/griddle and cook over medium flame. When tiny bubbles starts to rise on the surface, flip it and reduce the heat.
Step 10
Drizzle 1/2 teaspoon oil around its edge with the help of spatula and cook for approx a min.
Step 11
Flip it again and spread 1/2 teaspoon oil around its edge again. Press it with spatula and cook for 30-40 seconds over medium flame. Keep flipping and pressing the paratha, until golden brown spots appear on both sides of the paratha.
Step 12
Transfer it to a plate and spread a teaspoon of butter on it. Serve it hot with tomato raita and pickle.
Nutritional Information
| | |
| --- | --- |
| Calories | 368 Kcal |
| Proteins | 7.7 g |
| Fat | 9.8 g |
| Carbohydrates | 62.3 g |
| Cholesterol | 0 mg |
| Sodium | 838 mg |
| Potassium | 649 mg |
Tip: For a soft dough and eventually softer parathas, knead the dough with milk. This would also help to increase the nutritional value of the parathas.