Kesari Malai Peda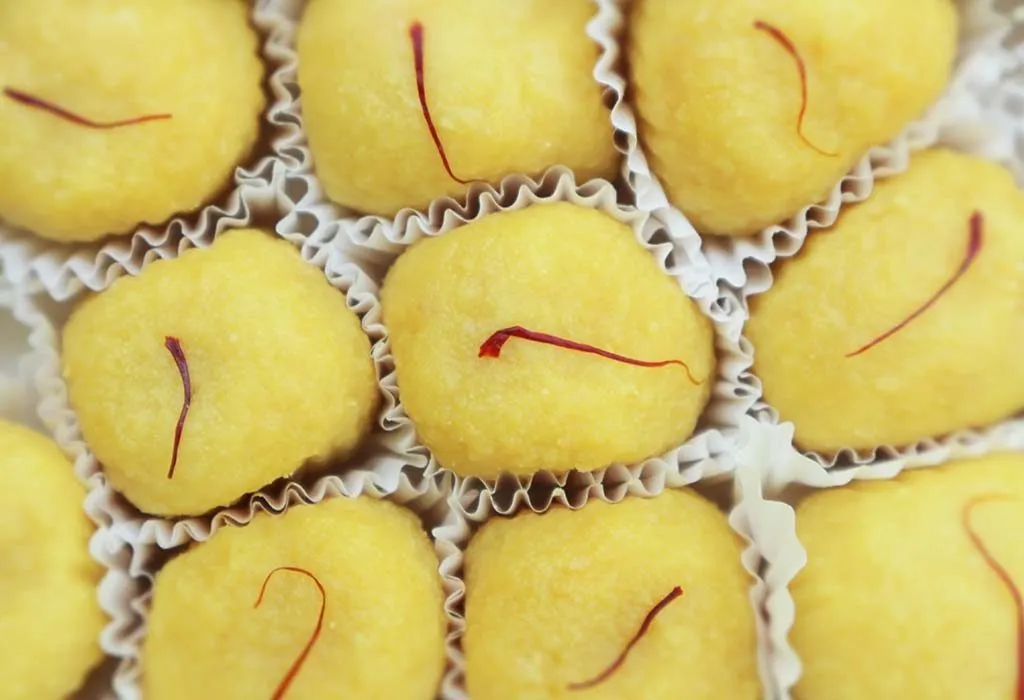 In this Article
Malai Peda is a popular variety among the various types of pedas famous throughout the Indian subcontinent. Peda is generally prepared in thick semi soft pieces using khoa, sugar, saffrons etc. Curdling condensed milk turns it into richly textured khoa, which when flavoured with cardamom and saffron becomes an aromatic dessert that's irresistible. The amazing texture and succulent mouth-feel make it popular among kids too.
| | | |
| --- | --- | --- |
| Serves | Preparation Time | Cooking Time |
| 16 People | 30 Minutes | 10 Minutes |
Ingredients
4 cups milk
A few strands of saffron
A pinch of citric acid
2 tsp (teaspoons) cornflour, dissolved in 2 tbsp(tablespoons) of milk
¼ tsp green cardamom powder
10 tsps artificial sweetener powder
8 almonds, chopped
Method
Step 1
Bring milk to a boil in a deep pan and simmer till it reduces to half its original quantity. Add saffron and mix well.
Step 2
Mix citric acid in two teaspoons of water and add to the thickened milk.
Step 3
Add dissolved cornflour and stir continuously till the mixture thickens.
Step 4
Add green cardamom powder and mix well.
Step 5
Take pan off the heat and stir in artificial sweetener powder and set aside to cool.
Step 6
Divide the mixture into eight equal portions and shape them into round pedas.
Step 7
Sprinkle almonds over the pedas and serve.
Nutritional Information
Serving Size 2 no
| | | | |
| --- | --- | --- | --- |
| Calories | 135 | Calories from Fat | 45 |
| Total Fat | 5g 11% | Sodium | 65mg 3% |
| Total Carbohydrate | 27g 8% | Protein | 5g |
| Vitamin A | 3% | Calcium | 24% |
*Percent Daily Values are based on a 2,000 calorie diet.
Your daily values may be higher or lower depending upon your daily needs