Super Dancer 4 Voting: How to Vote Online Using the FirstCry App & Website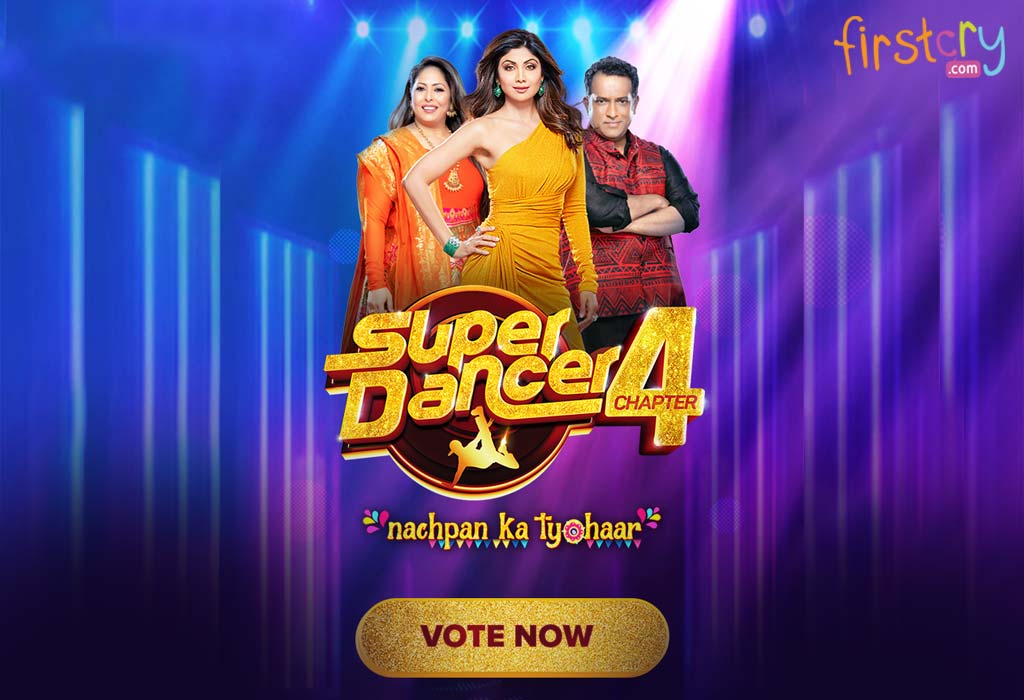 Reality shows have been some of the most in-demand shows in the country. A program that promises a punch of entertainment on Indian television is the famous dance reality show, Super Dancer. The show is in its fourth season, and as usual, the viewers can expect to get awestruck with the amazing performances the selected contestants are putting up! However, the entertainment will go on only when the best contestants get enough votes to continue performing for their fans. Viewers can now vote for their favourite dancers through the FirstCry app or FirstCry website. But, before you learn how to do that, let's know who these gifted contestants are!
List of Super Dancer Chapter 4 Contestants and Their Gurus
Here is the list of the fabulous dancers and their Super Gurus, who will be creating magic on the stage this season.
| | | |
| --- | --- | --- |
| Sr.No | Contestant Name | Super Guru |
| 1. | Amit Kumar | Amardeep Singh Natt |
| 2. | Aneesh Tattikota | Akash Shetty |
| 3. | Anshika Rajput | Aryan Patra |
| 4. | Arshiya Sharma | Anuradha Iyenagar |
| 5. | Esha Mishra | Ashish Patil/Sonali Kar |
| 6. | Florina Gogoi | Tushar Shetty |
| 7. | Nirja Tiwari | Bhawna Khanduja |
| 8. | Pari Tamang | Pankaj Thapa |
| 9. | Pratiti Das | Shweta Warrier |
| 10. | Pruthviraj Kongari | Shubranil Paul |
| 11. | Sanchit Channa | Vartika Jha |
| 12. | Soumit Barman | Vaibhav Ghuge |
| 13. | Spriha Kashyap | Sanam Johar |
Who Are the Judges and the Hosts of Super Dancer Chapter 4?
The judges for chapter 4 are none other than Geeta Kapoor, Shilpa Shetty, and Anurag Basu. The season will be hosted by the same pair that hosted the last season – Paritosh Tripathi and Rithvik Dhanjani. With this combination of brilliant hosts, gracious judges, and gifted contestants and Super Gurus, the viewers are in for an enjoyable ride with heart-melting moments and full-on entertainment!
How to Vote for Super Dancer Chapter 4 Contestants Online on FirstCry
Here's how you can vote using the FirstCry app and FirstCry website.
Voting Through FirstCry's App:
For those who prefer using the FirstCry app, this is how it can be done:
Download the FirstCry app via the App Store or Google Play Store. You can also use one of the download options given on the webpage.
Sign up/Login to the FirstCry app.
Vote for your favourite Super Dancer Chapter 4 contestants.
Voting Through FirstCry's Website
To vote for your favourite Super Dancer Chapter 4 contestant on the website, this is what you can do:
Go to the FirstCry website and sign up.
Log in with your credentials.
Click on the picture of your favourite contestants to vote for them.
Important Points to Remember Before Voting
Remember these things to vote wisely for your favourite contestants to make your vote count.
You must sign up on the FirstCry app and the FirstCry website to vote for your favourite Super Dancer Chapter 4 contestants.
You get a maximum of 50 votes, so vote wisely.
Voting is accepted only when the lines are open.
Winners of Super Dancer in Previous Chapters/Seasons
Super Dancer Chapter 1 – Ditya Bhande (Mumbai, Maharashtra); Super Guru – Ruel Varindani Dausan
Super Dancer Chapter 2 – Bishal Sharma (Jorhat, Assam); Super Guru – Vaibhav Ghuge
Super Dancer Chapter 3 – Rupsa Batabyal (Kolkata, West Bengal); Super Guru – Nishant Bhat
Super Dancer Voting on FirstCry: Terms & Conditions
Terms and conditions are applicable when voting for the Super Dancer Chapter 4 contestants on the FirstCry website and the FirstCry app.
Now that you know how to vote for the Super Dancer Chapter 4 contestants, head straight to the FirstCry website or FirstCry app and vote when the voting lines open. Your time and votes can help the best dancer win the prestigious Super Dancer Chapter 4 title!