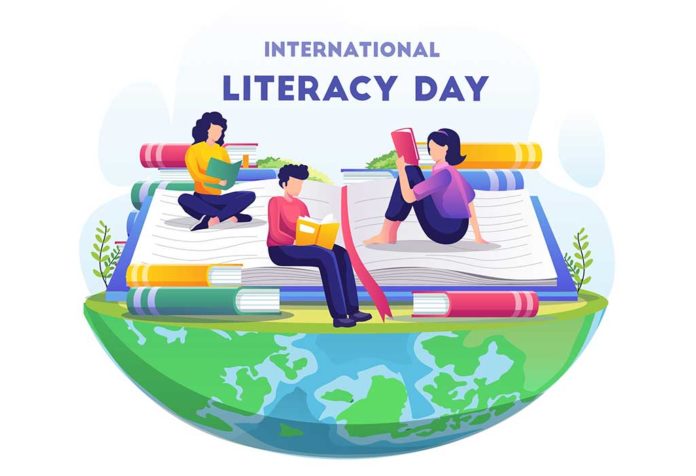 Last Updated on
Did you know that four countries reported a 100% literacy rate in 2021? That's quite an achievement, isn't it? We also had over thirty nations reporting over 99% literacy rates; however, several developing and underdeveloped countries continue to struggle in this arena. The world literacy rate is a constant reminder that the education system across the world needs attention. To re-emphasise this and highlight the current factors that affect world literacy, UNESCO established the International Literacy Day in the 1960s. Read on to know more!
When Is International Literacy Day Celebrated?
International Literacy Day is celebrated on the 8th of September every year.
History of International Literacy Day
Literacy is a fundamental human right, and as strange as it may seem, everyone doesn't know this. To remind people of this and the importance of literacy, UNESCO established the International Literacy Day in 1966. The day has been observed every year since the 8th of September, 1967, to promote the literacy agenda towards a literate and sustainable society.
Why Is International Literacy Day Celebrated?
Education is a fundamental human right, yet many are not given the opportunity to study, and some have to drop out of school. Most developing and underdeveloped countries face substantial challenges when it comes to literacy, despite there being improvements in basic education.
Other factors, such as population, socioeconomic status, gender inequality, poverty, corruption, emigration, etc., also affect school enrolment and/or dropout rates. Thus, a large number of the adult and youth population struggle through reading, writing, and comprehending the current events that are shaping the world today.
Literacy is essential for human and social development. It helps us develop the ability to learn new concepts and gain different skills, which are extremely useful in improving standards of living. Literacy has a direct impact on health and income, helps create jobs, improves the economy of the country, and promotes equality, democracy, and peace. It also helps individuals gain confidence, develop self-esteem, and work towards enhancing their quality of life. These are some of the primary reasons why Literacy Day is important, and why it is celebrated every year.
What Is the Scale of Literacy in the World?
According to UNESCO, over 770 million adults, most of whom are women, cannot read and write, even though the world's literacy rate has improved over the past 50 years. According to worldpopulationreview, the world literacy rate for the global population over 15 years of age is a little over 86%.
What is the Theme of International Literacy Day?
This year, the theme of International Literacy Day is "Literacy for a human-centred recovery: Narrowing the digital divide".
The theme aims to bring people's focus to the shift that learning and education had to take during the COVID-19 pandemic, and the digital divide that persists in terms of infrastructure, connectivity, and technology. This year, the spotlight is on the interaction between literacy and digital skills, and making technology-enabled learning meaningful and inclusive for all.
Activities to Do on International Literacy Day
You can celebrate International Literacy Day in so many creative ways! Here are some of them:
1. Attending Fun Reading and Writing Workshops
These can be highly beneficial to encourage the youth as well as non-literate adults to read and write. You may choose to have a theme, or let the participants explore anything under the sun as their subject and share their knowledge through poetry, essays, stories, etc.
2. Playing Games and Puzzles
Games can add a fun element to learning! For small kids, educational toys are well-recommended as they are engaging, and kids may not even realise that they're learning something in the process. For older kids and adults, games such as Scrabble, hangman, Sudoku, crosswords, Pictionary, brainteasers, chess, cryptic and logic puzzles, trivia, riddles, etc., can make them rattle their brains and revisit their books.
3. Journaling
This activity is perfect for people from any age group who can write and read. It is a great way to vent your feelings and thoughts to relieve stress and anxiety. It's also a fabulous tool for self-reflection, keeping thoughts organised, and meeting goals. It comes in handy when making notes or setting reminders; thus, it can help you lead an organised life.
4. Joining a Book Club
Joining a reading club can help you connect with other people who share your interests. Book clubs facilitate continual learning through discussions, and a deeper understanding of the topics.
5. Enrolling at the Nearest Library
You can get yourself a membership at your local library and get unlimited access to the wealth of knowledge hidden in all the books they have! Nowadays, some libraries even provide access to the internet. It's the number-one place to form study groups as well.
There are many more ways to celebrate International Literacy Day. These ideas are great for beginners, and when you're ready to explore further, you can try taking weekend classes, volunteering as a teacher, tutoring adults, etc. Encourage everyone to read and write, as it provides the foundation of life.
Also Read:
Best Books to Read in Rainy Days
Best Self-help Books to Bring Change in Your Life
Life-Changing Inspirational Books for Empowering Women