Watch These Bengaluru Moms and Their Babies Dance Together Like Never Before!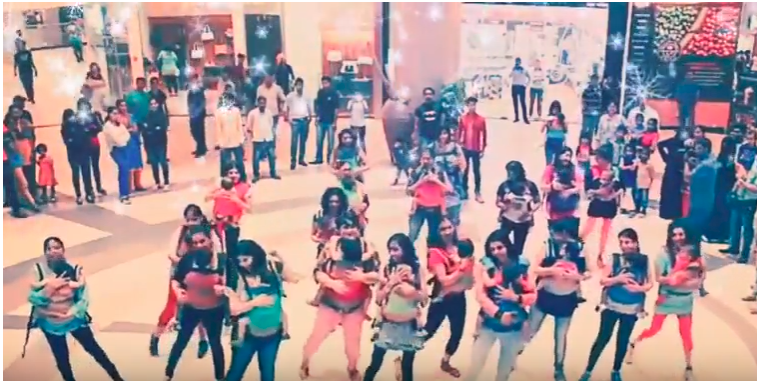 What all do you do with your baby? As moms, we love to cuddle our little bundles of joy, sing lullabies to them, make funny faces and sounds, and rock them to sleep. But what if we told you there is one terrific activity you can do with your baby that is great not just for bonding but also for exercise? At a recent event, Bengaluru moms showed us a brilliant example that we haven't been able to get over…
And then, suddenly, they were in for a big surprise.
More than 35 moms, wearing their babies, came together for a flash mob and put up one of the most spectacular dance performances we have ever seen! Who says breastfeeding and motherhood restrict you from doing things you enjoy? While many of us may not be comfortable with baby-wearing, these moms definitely showed us that it can be liberating and comforting at the same time. Nothing like holding your baby so close to you, right?
The event was organised by Breastfeeding Support for Indian Moms (BSIM), a mommy support Facebook group started in 2013 by Pune Mom Adhunika Prakash. For the last three years, BSIM has helped new moms address their queries about breastfeeding and baby-wearing, and settle down into the challenging role of motherhood.
Through this event, BSIM also built a strong case for baby-wearing – something that even experts recommend to aid cognitive development in infants. Not just that, it seems baby-wearing can even support breastfeeding moms by increasing milk-production. This is the magic of skin-to-skin contact with your moppet.
That aside. we are completely in awe of the ease and confidence of these new moms. They inspire us to take the challenges of motherhood in our stride and remember that come what may, your baby is going to put everything right. Your baby doesn't restrict you; instead, he is your source of strength.
Hats off, Bengaluru Moms. This is one dance we'd love to see more often!