5 Unique Marriage Problems Indian Moms Face After Childbirth – and How To Fix Them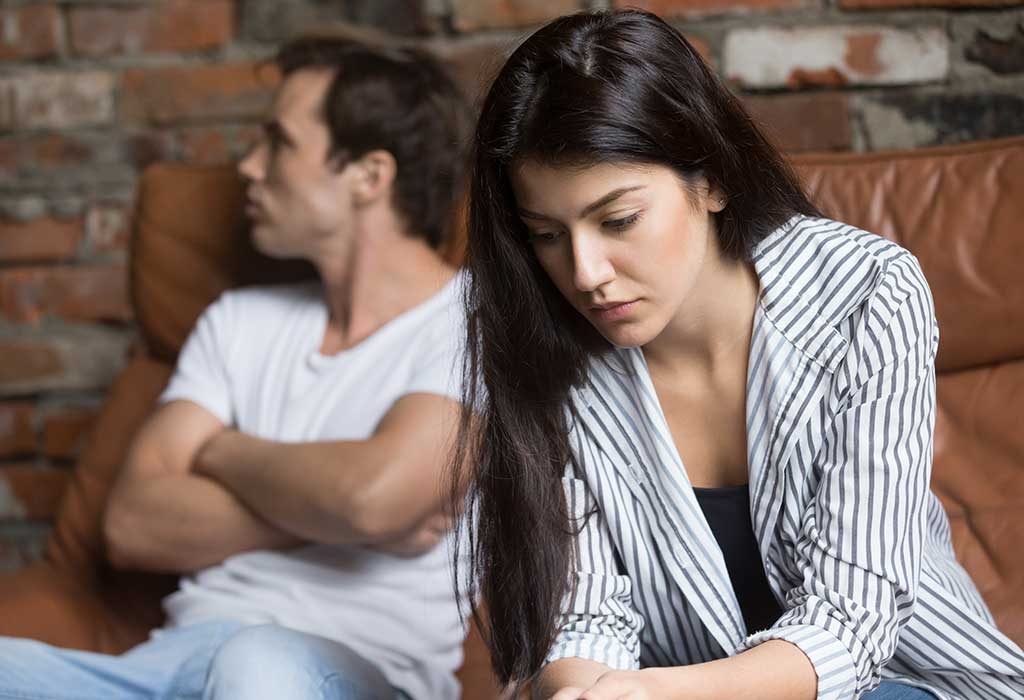 The transition from being a couple to becoming a family is something you will always cherish. However, the experience can also leave you more than a bit surprised, especially in your married life. The husband-wife relationship after a baby often suffers as you both adjust to your new responsibilities as parents. There's not much time for each other and this can hit you hard. The good news is that there are some effective ways to help you deal with these marriage problems after your baby is born…
What Changes Really?
The addition of a new member to the family brings added responsibilities and the need to divide your time. Adjusting to the sleeping schedule of your newborn, changing diapers on time, nursing the baby, and getting the usual household chores done becomes part of everyday life. Almost all relationships after childbirth take a back-seat. But new moms and dads can face a particularly difficult time adjusting to the new routine. Add to that the lack of sleep and it's only natural that personal relationships suffer!
But other than the usual things that you do expect after marriage, there are some very challenging problems that Indian women face in particular. These can take a little getting used to and need you to work at resolving them before they become all-consuming.
1. Interference by In-laws
If you live in a joint-family after marriage, it is likely that your in-laws play a part in your decisions as a family. It is all very well in the beginning but some days you just wish you were back home with your own parents, with the liberty to be grumpy about invasion! With your in-laws, you know that's not going to work in your favour. And now especially after your baby, your in-laws may want to shower your baby with all the love possible but also shower you with advice (the unwanted kind). How do you politely say no?
The fix: Speak to your husband. Tell him you love if your baby could be raised by the two of you alone. Tell him you know that his parents mean well and that you are OK with the occasional advice from them. Let him gently speak to his parents so that it doesn't get too ugly.
2. Judgement If You And Hubby Spend Some Time Alone
There is no dearth of opinions when there's a new baby in an Indian household. The list of do's and don'ts is exhaustive and honestly you are quite exhausted already. So, when you decide to keep baby with in-laws or your parents, watch out of the odd aunty who may gasp at how selfish you are being.
The fix: Ignore. You know what's best for your baby. A lot of relationships go through strain after a baby just because you do not spend enough time together. If the two of you have been smart enough to work on yourselves, by all means go for it. Your baby gets time to bond with the grandparents and other family members too, so everybody is happy.
3. Expectation to Handle the Baby By Yourself
While there is no shortage of advice, the actual execution of all the baby care is expected by the mother alone. Your husband is meant to provide financially and you are meant to be the caregiver. This atrocious norm leads to an exhausted mother and a lack of bonding between father and child.
The fix: Hopefully, your husband too disagrees with this general view and you can both raise your baby equally. In fact, we would suggest you educate people by example. A union of mother and father is beautiful and more so when your baby can equally depend on both of you for comfort and care.
4. Being Considered Unfit to Handle Finances
Have you been repeatedly told to let your husband handle the money while you should just relax? What if you don't want to? A lot of new mothers find it very crippling to have to depend on someone else financially, especially if they have worked before. But an Indian mom returning to work after motherhood has to face all kinds of criticism, including how she doesn't care a bit about leaving her baby all day!
The fix: Do not take offence to anyone you says woman can't handle finances but continue to find ways to support yourself. It doesn't matter what anyone thinks as long as you believe you are fit to take care of your needs.
5. Marriage Takes a Backseat
While some couples realise the importance of bonding even after a baby, some may get overwhelmed with responsibility and put their roles as parents before their roles as spouses. Understand that romance isn't dead once you are done making babies and that intimacy only strengthens your communion as parents, eventually helping your child too.
The fix: No matter how drained you both are, take the time to discuss your day with each other. Talk about things other than your baby even if it's just a 10-minute discussion over dinner. It can make a world of difference. Divide the household chores between yourselves and try to take frequent naps to keep your energy up. As things begin settling into a routine and your baby is a few months old, make plans to go out as a family. Being away from home for even a couple of hours can be refreshing and stimulating. Once your child is old enough to be left in the care of a trusted family member or a sitter, go out as a couple. Rekindle your romance over a candlelit dinner, a movie or even just a long walk.
With a new baby around it may be difficult to fit in time for romance and intimacy. But, with a little planning and good time management, there's no reason you can't make things work. Ask your parents to play babysitters if you're planning a date. They'll be only too eager to pamper your little darling!
So moms, know that your marriage will surely change after your baby is born, but it's all a part of life. Be patient and give each other time. Remind yourself that things will get much easier as you cross the first few tough months.