10 Best Amusement and Theme Parks You Should Take Your Kids To
It is that time of the year when both the scorching heat and your free-spirited children take their toll on you. Parents can only think of so many ideas to curb the rampage that their children go on. An outing to an amusement park will amuse your children and also give you a much-needed break. Here is a list of the biggest amusement parks in India so that you can decide where to head for this summer.
Top Amusement and Theme Parks in India You Should Visit With Family
Check if you have these ones on your travel checklist.
1. Wonderla, Bangalore
If you are looking for a quick getaway from Bangalore, this amusement park located 28 kilometres from the city is just what you want. With state-of-the-art amenities and rides, Wonderla is one of the best amusement parks. There are some nearly heart-stopping rides like Insanity, Mixer, Maverick, Y-Scream, and Babma which will thrill your senses. There are tons of rides to entertain children. The place also has a fully equipped, electronically controlled rain-shower dance floor. Wonderla has a water park with locker facilities and showers. It has 5 different restaurants and well-placed restrooms.
Timings:
Normal Season – Land Rides
Weekdays: 11 am – 6 pm
Weekends: 11 am – 7 pm
Normal Season – Water Rides
Weekdays: 12.30 pm – 5 pm
Weekends/ Holidays: 12 pm – 6 pm
Peak Season- All days
Land rides: 11 am – 7 pm
Water rides: 12 pm – 6 pm
2. Adlabs Imagica, Mumbai
If you live in Mumbai or Pune, Imagica is a must visit. Strategically placed between the two cities, this theme park will surely keep your kids' spirits high this summer. It is spread over approximately 300 acres of land and has a variety of entertainment options. Not only does it have exciting rides and scrumptious meals, but it also has a snow park and a water park. This is one of the largest amusement parks in India with roller coasters and simulation rides.
Timings:
Park Timings: 10 am – 8 pm
Ride Timings: 11 am – 7 pm
3. Wonderla, Kochi
Kochi is one of the new entrants to the cities with exciting amusement parks. Wonderla opened itself to the people of Kochi and has been much loved since. Located in Pallikara Hills, it is a perfect weekend getaway. There are amazing rides for adults as well as little tots. The amusement park is well equipped with restrooms, restaurants, locker and shower facilities. Your children will surely enjoy the water rides and the toddler's pool.
Timings:
Normal Season- Land Rides
Weekdays: 11 am – 6 pm
Weekends: 11 am – 7 pm
Normal Season- Water Rides
Weekdays: 12.30 pm – 5 pm
Weekends/ Holidays: 12 pm – 6 pm
Peak Season- All days
Land rides: 11 am – 7 pm
Water rides: 12 pm – 6 pm
4. World of Wonders, Noida
If you're visiting Noida with your kids in tow, don't skip World of Wonders. It has fabulous rides, superb food, and a specially designated area for hosting private parties, corporate events, and seminars. The place also houses one of the best dance floors. So put on your dancing shoes and head out for some fun.
Timings:
All days: 11.30 am – 8 pm
5. Appu Ghar, Delhi
Appu Ghar is the first theme park that India has ever had, and it is still open to the public. It is a one-of-a-kind place with water parks, Wet N Wild Park, Adventure Island, and the Kingdom of Dreams, all housed under one roof.
Timings: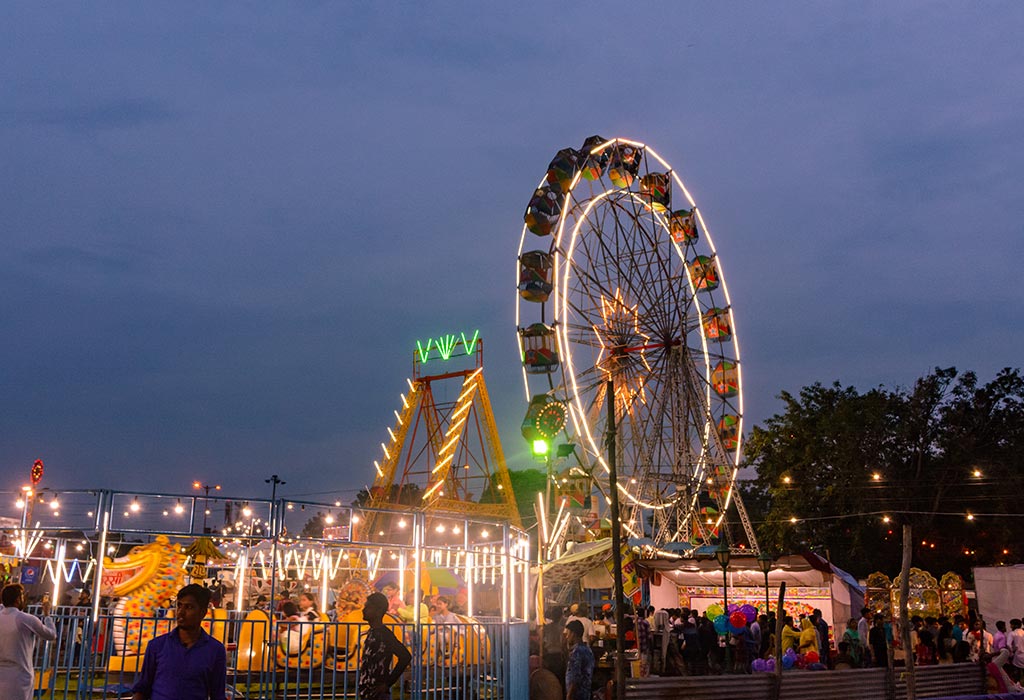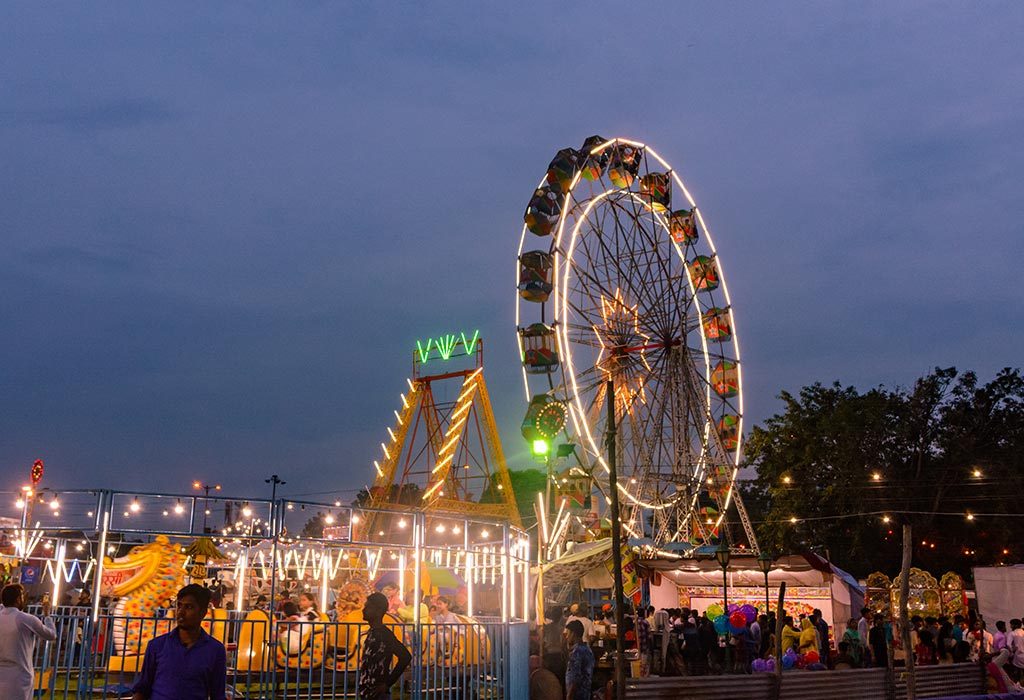 6. Ramoji Film City
Located in Secunderabad, Ramoji Film City was built for filming. It is an enthralling and magical space filled with surprises at every nook and cranny. It is a wonderful theme park too with places like Fundustan, Timberland, Wonderville, and Thrillville which are designated as play areas. Spread over 1600 acres of land, Ramoji Film City will surely entertain any age group.
Timings:
7. Queens Land
Queens Land is a great place to hang out with your family if you live in Chennai. Rides such as the Free-fall Tower, the Fairy Train, and roller coasters certainly bring out the child even in parents.
Timings:
Weekdays: 9.30 am – 6.30 pm
Weekends/ Holidays: 9.30 am – 7 pm
8. Maniar Wonderland
This amusement park in Ahmedabad is everything that your children dream of. Located at Sarkhej, it houses one of the best snow parks in the state of Gujarat. Your children will scream themselves hoarse because from all the thrill. Splash around in the pool or take respite in a restaurant; the fun never ends at Maniar.
Timings:
All days: 10 am – 7 pm
9. Essel World
Essel World is undoubtedly one of the finest amusement parks in India. Your holiday to Mumbai would be complete if you were to skip this place. This amusement park will amaze you with a multitude of rides like the Crazy Cups, Monster Ride, Road Train, Fuji Aqua Drive, and many others. The Rainbow, Zyclone, and Thunder are some rides that adults can enjoy as well. Get a respite from the summer heat by resting your legs at the many restaurants and eateries around. Whether you are after a bit of thrill or just some family time, Essel World does not disappoint.
Timings:
All days: 10 am – 7 pm
10. Nicco Park, Kolkata
Known as the 'Disney Land Of West-Bengal', Nicco Park is a must-visit if you are in Kolkata. It is India's most environmentally efficient park as it runs on solar power. You will find that the park educates its patrons about every ride with clear signboards and instructions about who should ride. With a host of fun and thrilling rides, this is a great place for a family to spend time together.
Timings:
All days: 10.30 am – 7 pm
Beat the heat and your kids' tantrums by taking them to any of the listed amusement parks. But be sure to keep their safety and security in mind. As these parks are large and crowded spaces during summer break, keep your children close. Ensure that you follow age-restrictions, safety guidelines and other rules while you are in an amusement park so that you can have maximum fun.
Also Read:
Best Places to Travel With Infants in India
Essential Things to Consider While Flying With Kids
Amazing Places to Visit in Mumbai with Children