National Vaccination Day – History, Significance, and Slogans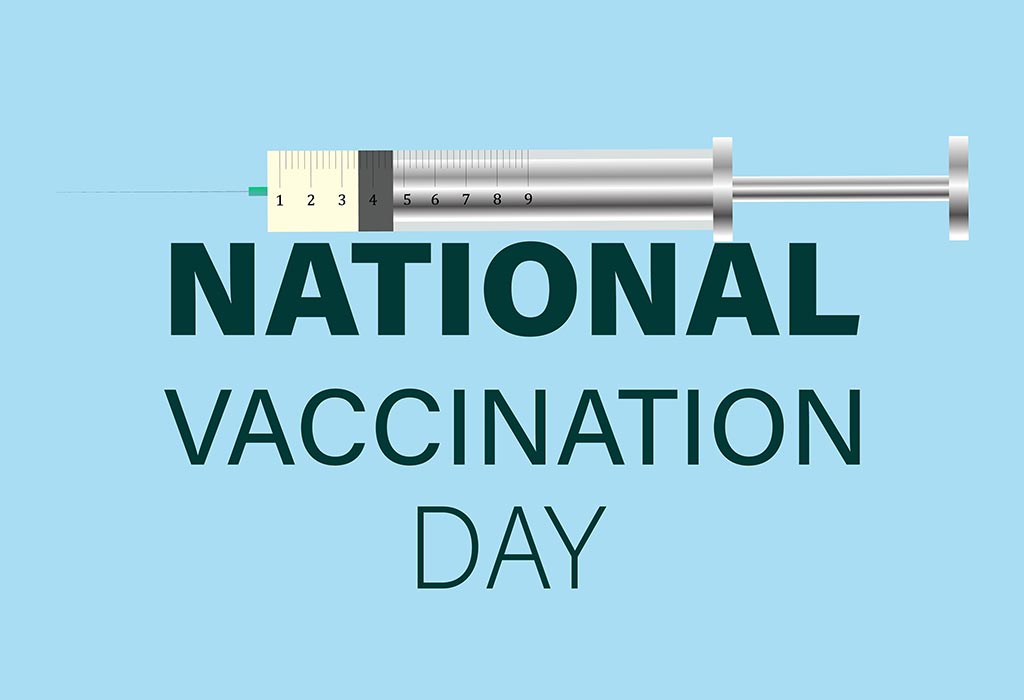 Vaccines are vital to contain the spread of an infectious disease. Decades ago, polio, a condition that attacks the nervous system and can cause paralysis, had no cure in India. Today, we have successfully eradicated polio and liberated little ones from this disease, courtesy of the polio vaccination and the massive campaigns organised to spread awareness about immunisation against this debilitating disease.
To convey the importance of vaccinations, National Vaccination Day is observed annually on 16th March in India. It is also known as National Immunisation Day. In this article, we bring you information about vaccination, National Vaccination Day, types of polio vaccines, the history of this day, and more.
What Is a Vaccination?
A healthy immune system keeps the harmful microorganisms out of our body or fights them. The immune system fights against pathogens that cause infections. But some pathogens, especially infectious viruses, can be hard to fight. This is where vaccines or vaccinations come in. Vaccinations stimulate the immune system against a particular microbe and thereby preventing disease.
Vaccinations offer primary prevention from an infectious disease. Many vaccines invented over the decades have helped us control several diseases, such as polio, measles, and tetanus.
When Is National Vaccination Day Celebrated?
National Vaccination Day is observed in India on 16th March every year.
What Is National Vaccination Day?
National Vaccination Day is the day to raise awareness about polio and its eradication from the world. Every year, on this day, millions of children in India are given the oral polio vaccine to prevent the risk of contracting polio.
Why Is National Vaccination Day Celebrated?
The Pulse Polio Program started in India in the year 1995. On 16th March, 1995, the first dose of the oral polio vaccine was given. Hence, this day was selected to observe National Vaccination Day. This day is important in India's history, and it was just the beginning of our fight against polio.
National Vaccination Day is also celebrated to make people aware of arming themselves and their children against polio, and eradicating this disease from the world. It is due to the Pulse Polio Program and the campaigns to raise awareness about immunisation against polio that our country is free of this disease today.
Different Types of Polio Vaccines
There are two different types of polio vaccines administered in India. They are:
Inactivated Polio Vaccine (IPV)
Oral Polio Vaccine (OPV)
Inactivated Polio Vaccine: The inactivated polio vaccine is an injectable vaccine that can be given by itself or along with other vaccines like Hepatitis, Diptheria, Tetanus, Pertussis, OPV, or Haemophilus influenzae.
Oral Polio Vaccine: The oral polio vaccine is a live but weakened form of the virus that helps the body produce antibodies against it without it developing into a disease. The OPV is given orally, and the complete dosage of OPV can help protect a child from polio.
History of National Vaccination Day
Polio was a nightmare for our country once upon a time. But today, India has successfully eradicated it. As mentioned above, our country started the Pulse Polio Program on 16th March 1995. It was the first step towards the eradication of polio. The first dose of the oral polio vaccine was administered on 16th March in 1995, and the last polio case was reported on 13th January 2011.
India was certified as a polio-free nation by the World Health Organisation on 27th March 2014.
National Immunisation Day – Slogans
Here are some slogans for National Immunisation Day.
Don't wait, vaccinate!
Stop polio, save lives!
Roll up your sleeve for the vaccine.
Vaccination for polio, to eradicate polio.
Vaccination is a MUST for a polio-free nation.
You know you are safe when you are vaccinated.
The best defence is vaccination. Get your child vaccinated today!
Train the body to fight polio and flu. Getting vaccinated is right for you!
Vaccines are like hugs. You don't want to miss one.
Quotes and Sayings on National Immunisation Day
Listed below are some quotes by famous people on the importance of vaccination.
Vaccines save lives; fear endangers them. It's a simple message parents need to keep hearing. — Jeffrey Kluger
Universal vaccination may well be the greatest success story in medical history. — Michael Specter
Vaccines are the most cost-effective health care interventions there are. A dollar spent on a childhood vaccination not only helps save a life, but greatly reduces spending on future health care. — Ezekiel Emanuel
Vaccines are the tugboats of preventive health. — William Foege
We believe unbelievable progress can be made, in both inventing new vaccines and making sure they get out to all the children who need them. — Bill Gates
Immunization has been a great public health success story. The lives of millions of children have been saved, millions have the chance of a longer healthier life, a greater chance to learn, to play, to read and write, to move around freely without suffering." — Nelson Mandela
"No country is safe until every country is safe." — Luis Almagro
Vaccines are the tugboats of preventive health. – William Foege
Vaccines are a miracle cure. Eight out of 10 children are getting vaccines. – Melinda Gates
National Immunisation Day and the launch of the Pulse Polio Program have helped our country become polio-free, but it's not eradicated from the world yet. Polio vaccine is a must, so be informed, and get children vaccinated on schedule to protect them. Also, educate other parents and families all over the world, in whatever way possible, for a polio-free world.
Also Read:
Understanding Medical Abbreviations and Acronyms for Vaccines On Your Child's Immunization Record
Child Immunization & Baby Growth Tracker
Child Immunization & Vaccination Schedule