What Does Baby Skin Need in Summer? Five Essentials to Protect Your Baby!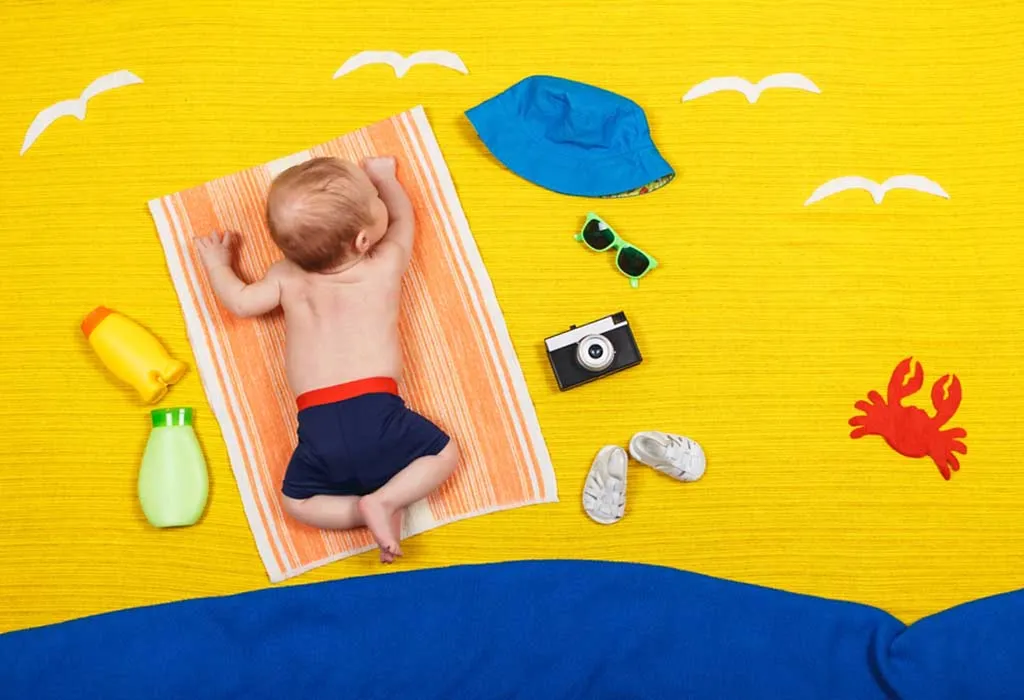 In this Article
Summer is around the corner, and everyone will soon prep to deal with the heat. All the light cotton clothing will come out, and your shopping list will soon have extra sunscreen lotion and cooling beverages. However, when there's a baby in the house, the list of essentials needs to be carefully made and revisited several times to ensure nothing that the baby needs is missed out. This article aims at providing you with some essentials your baby's soft, delicate skin will need during summer to keep it cool and nourished. What are we waiting for then? Read on to find out what these essentials are!
Five Essentials to Protect Your Baby's Skin During Summer
1. Cotton Clothing
Baby Cotton Clothing, without a doubt, is essential for your baby's delicate skin needs during summers. As the mercury level rises, you will expect sweating and dampness all through the season. These are the primary causes of skin irritation and infections in babies. Therefore, you must have enough super-soft, absorbent, breathable, cotton baby clothing, such as cotton onesies, cotton caps, gloves, and mittens, shorts, tops/t-shirts, or tiny little cotton dresses to ensure your munchkin remains covered yet dry and fresh at all times.
2. Super Soft, Breathable Diapers
Diapers are another essential your tiny tot will be wearing every day of her life. Well, until she is potty trained, we mean. But while she needs them, you will have to ensure you get the best ones that are apt for summers and help you prevent diaper rashes and skin irritation. There is a wide range of diapers available in the market. Look for the ones that wouldn't cause discomfort around the waist and the crotch area, and are super-absorbent and breathable, too. Good quality, moisture-wicking, breathable diapers will ensure your little one's skin that is covered by the diaper remains dry and free from any skin irritation.
3. Sunscreens, Cooling Gels, and Moisturisers
Contrary to what many parents believe, babies need a gentle, hypoallergenic baby moisturiser to keep their skin hydrated and supple even during summers. Sunburns are common during the season. Therefore, sunscreen lotions, cooling gels, such as Aloe Vera, and mild moisturisers are needed for most babies. If it's your first time using the Aloe Vera gel, a sunscreen or a moisturiser for your baby, we suggest you check with your paediatrician and use a one that suits your baby the most.
4. Bodywashes and Shampoos
A gentle body wash for babies and a no-tears baby shampoo that suits your little one's delicate skin and scalp are needed to ensure your baby's hygiene and wellbeing during the season. Nothing can be more rejuvenating than a refreshing bath on a hot summer day! Your baby will especially like those extra minutes of splishing and splashing in her bathtub. If purchasing any baby body wash or baby shampoo concerns you, you must consult your paediatrician to know which product is likely to suit your munchkin's needs.
5. Baby Talcum Powder
Baby Talcum Powder is another essential product you must have to prevent skin issues that may pop up due to sweating. It is perfect for absorbing moisture and keeping your little one's skin dry. It also prevents friction, especially skin-on-skin friction, that may lead to redness, rashes, and burning sensation. Sprinkle some baby talcum powder and dab it gently on your baby after every bath, focusing mainly on the folds to get rid of any moisture that may go unnoticed.
Your baby deserves all the love and care in the world. These essentials will come to your rescue to take care of your little one's skin when the harsh summer strikes. Then, all you need to do is enjoy the season along with your little one without any qualms and make happy memories!
Also Read:
Summer Themed Baby Photo-shoot Ideas
How to Take Care of Newborn Baby in Summer
How to Dress Up a Baby in Summer?