Maawa Pedha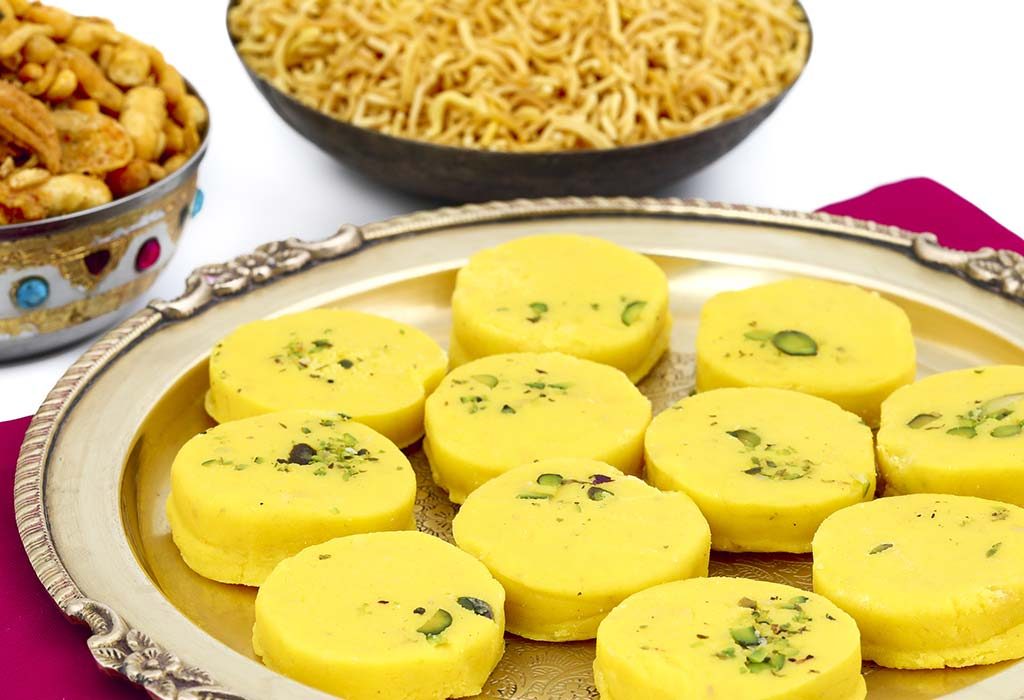 In this Article
Maawa pedha is an Indian sweet prepared from evaporated milk called maawa or khoa. Milk is reduced to one fourth of its quantity by cooking on a low flame. This reduced milk, maawa, is further simmered on low flame with milk, sugar, cardamom and saffron to give you those luscious pedhas. We reckon, you'll find it really difficult to keep yourself away from this sweet course dish.
| | | |
| --- | --- | --- |
| Serves | Preparation Time | Cooking Time |
| 6 People | 5 – 10 Minutes | 15 – 20 Minutes |
Ingredients
1 cup mawa, crumbled
3 tbsp milk
¼ cup sugar
½ tsp saffron
1 & ½ tbsp ghee
¼ tsp cardamom powder
6 pistachios
Method
Step 1
Add saffron in warm milk and allow it to dissolve.
Step 2
Heat ghee in a heavy bottom pan. Add the crumbled mawa and keep stirring it on low flame for about 2 – 3 minutes.
Step 3
Add milk and sugar to mawa. Stir continuously.
Step 4
Add cardamom powder and keep mixing.
Step 5
Mawa will start to thicken and would start leaving the sides of the pan.
Step 6
When it forms a large lump, switch off the flame.
Step 7
Let the mixture cool to room temperature.
Step 8
Grease your hands with ghee or oil and make small balls out of the maawa mix. Slightly flatten the balls to get the perfect shape of pedha or imprint some designs of your choice. You would approximately get about 14 – 15 pedhas.
Step 9
Place a pistachio at the center of each of the pedhas and serve.
Nutritional Information
| | |
| --- | --- |
| Calories | 144 K cal |
| Proteins | 5.2 g |
| Fats | 7.5 g |
| Carbohydrates | 14.8 g |
| Cholesterol | 24 mg |
| Sodium | 71 mg |
| Potassium | 259 mg |