How to Maintain a Pregnancy Journal to Capture All Important Memories?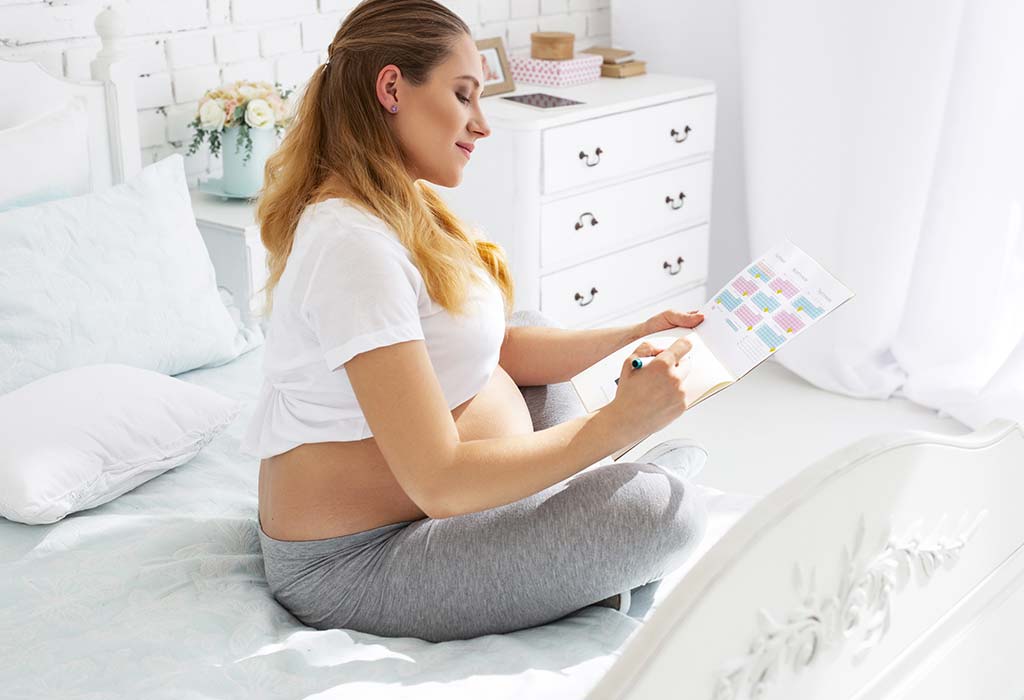 After becoming a parent, you will inevitably want to go down memory lane and remember the beautiful journey of nine months. So, maintaining a pregnancy journal is certainly a good idea, a way to remember what it felt like the first time you saw the baby in a sonogram, the first time your baby kicked, the moment you picked a name, etc. Keep reading to know how to maintain the perfect journal!
What Is a Pregnancy Journal?
A pregnancy journal is a keepsake of your very special memories throughout the journey of becoming a mother. It is a special book that not only preserves your memories to reminisce on later but also helps you better handle stress, keep track of your baby's health and its growth, and help you form a special bond with your baby.
Importance of a Pregnancy Journal
Pregnancy is a time when you enjoy every moment, regardless of being annoyed by the symptoms you are struggling with. The excitement of announcing your pregnancy, choosing the name, the first ultrasound, the heartbeat, the first kick, and everything you have felt during those times. A pregnancy journal is a great way of remembering all of the moments.
When you write down your thoughts, the process helps in developing an attachment with the baby. As a bonus, when the baby grows up, you'll be able to share all the details. Pregnancy can sometimes feel like it's going on forever, thanks to the several uncomfortable symptoms you may be experiencing when you are going through it.
But it's not going to last forever, and it's going to feel like a blurry memory once you experience the excitement the baby brings with birth. That's the reason maintaining a pregnancy journal is a wise idea. Besides, numerous studies find journaling to be beneficial for your mental health.
How to Pick the Best Pregnancy Journal?
With thousands of options available in stores and on the internet, it can be quite overwhelming to try and choose one pregnancy journal. So, here are some tips on what to look for in the journal you pick.
1. Size
Some days you might want to write just a couple of short sentences in your journal, but other days you might want to write a long letter to your future self or your baby. You might want to stick to a collection of photos or stickers. You might even want to doodle or sketch a lot. Therefore, it is good to choose a pregnancy journal that is substantially sized in terms of dimensions and the number of pages.
2. Sturdiness
The pregnancy journal is something you will use through your 9 months of pregnancy and then preserve for possibly the rest of your life. This warrants the book to be put together well and with good quality components. So, pick a journal that'll last.
3. Prompts
There is a range of options, from a journal with lots of prompts to a journal with little to no prompts. Whether it is your first pregnancy and your first pregnancy journal, or if you have already maintained one in the past, you should choose a journal that provides the right amount of guidance for your documentation. This guidance could include writing prompts, checklists, activities, places to insert photos, etc.
4. Information
Most pregnancy journals offer prompts, guides, and activities to some level. Some of them go as far as giving you all the information you'll need as a first-timer, such as expected milestones, nutritional advice, what to expect from your newborn baby, tips to handle sleep deprivation, etc.
Keeping the above factors in mind might help buy the right journal for you. Alternatively, you could make your pregnancy journal using a black notebook. The same factors discussed above help with how to create a pregnancy journal.
What to Write in the Pregnancy Journal?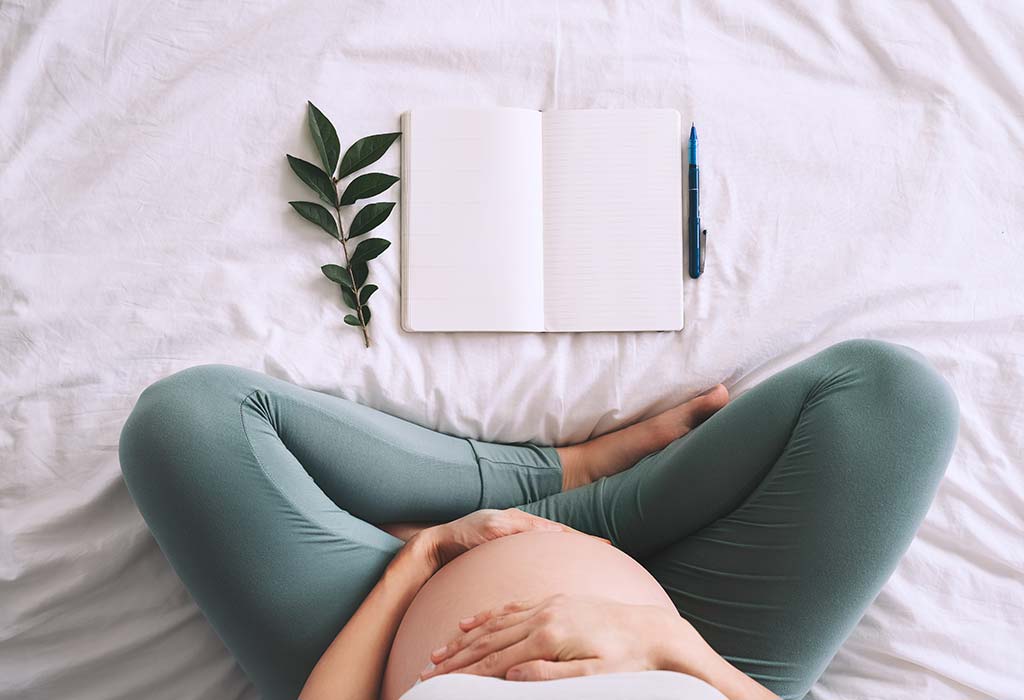 What you write in your pregnancy journal is completely up to you. Each mother fills up the pregnancy journal in her way. There are plenty of moments, emotions, and landmarks you're going to want to remember. The following points might help with letting the writing come naturally.
1. Don't Shy Away From Details
Weekly updates on what you've been doing, a possible surprise birthday shower, or about the song that makes your baby kick, work, family functions – write it all. You don't have to focus on just the pregnancy. Try to capture what your life is like during this period of pregnancy.
2. Doctor's Appointments
Every doctor's appointment is high in emotions for the to-be mother and father. Make a note of what you felt during these times – like when you first heard the baby's heartbeat, the first time you watched the baby move. You can even add details of medical reports or pictures of parts of them.
3. Write About Your Symptoms
Whether you had morning sickness before leaving to work, you had been falling asleep at odd hours, or experiencing indigestion after certain meals, write everything down in the journal. One day, you might read it with your pregnant daughter, who might find it interesting to compare her experiences with yours.
4. Write Honestly
It's important to write from the heart. The pregnancy journal should be a reflection of all your experiences, both positive and negative. Excitement and joy are part of the experiences, but so are doubts and fears. Writing about your negative experiences or feelings could help you deal with them and get past them easier.
5. Be Yourself
Write the way you think – honestly and friendly. It doesn't matter if it's not neat or grammatically correct. Just remember that this pregnancy memory book is one that you might often look back into in the years to come to relive the story of your pregnancy.
6. Save Things Within The Book
Sticking things such as scan photos, receipts for baby outfits, cards or notes you received, etc., is a great way to document more about the pregnancy. Every time you think of a little keepsake, stick it in the journal.
Best Pregnancy Journal Prompts and Ideas
A great pregnancy journal would help you learn, reflect, vent, and remember the transformational experience you went through during pregnancy. Here are some prompts and ideas to get you through times you might experience a writer's block.
Discovery: Every person has their own story about the time they found out they were pregnant. Planned pregnancy or not, write down all the details. Write how you found out, where you were when you found out, how you told your partner, etc.
Special Milestones: Pregnancy is full of big moments like when you heard the baby's heartbeat for the first time when you found out if it was a boy or a girl or your parents' reaction to finding out you were pregnant. Make a note of these moments, along with the dates, so you can one day reminisce about these moments with your partner or your child.
Self-realization: Every mother inevitably learns things about herself and what she needs as she prepares for the baby's arrival. Be sure to write down these learnings.
Symptoms: Whether you have a good memory or not, it is usually difficult to remember the details of symptoms you experience and the time and date of their occurrence. Writing these down in your journal will be useful the next time you visit your doctor, as you can easily fill him in by referring to your notes.
Gratitude: Write regularly about things and people you are grateful for and why you are grateful for them. A weekly pregnancy journal entry is a good habit to develop.
Unwarranted Feelings: Sometimes, during pregnancy, you feel a flood of emotions for no apparent reason. Whether they are happy emotions or sad, writing these down might help you feel lighter about them.
Books: It is great to list names of books you read during pregnancy. You may even want to write down little passages or quotes that moved you.
Music: Music is known to have a profound effect on a baby in the womb. The baby listens to the music you listen to and feels the way you feel. Several mothers claim that their newborn baby recognizes music they listened to while in their mother's womb. So, it's good to keep track of the music you listen to often.
Ultrasound: Photos from your ultrasounds are precious keepsakes that you can insert or glue to your pregnancy journal.
Bump Photos: Save regular photos of your growing pregnancy bump in your journal. It might even be interesting to stick them alongside the corresponding ultrasound scan image so you can see the external and internal growth side-by-side.
Doctor's Appointments: It is almost essential to write down your doctor's appointments and what you learned at each one. The feelings experienced during doctor's appointments are usually strong but partly forgotten because they are not written down.
Baby Names: Starting with your first shortlist of names, all the way until you decide on the final one, write down the process. You might find it interesting or even funny when you look back at it.
Doodle: Feelings can be expressed through art as much as they can through words, if not more. So, irrespective of whether you consider yourself a good artist or not, draw, sketch or doodle what you feel like in your journal.
Advice: Throughout pregnancy, and in fact throughout motherhood, you will receive a lot of advice from friends and family. Note down a few of the best and worst advice you receive.
Make It Your Own: Personalize your journal as much as possible by coloring things in, using stickers, etc.
Maintaining a pregnancy journal is a wonderful experience for a pregnant mother, and there are many ways to go about it. From choosing the right kind of journal for you to what you fill it with, your options are plenty. Irrespective of how you choose to do it, it's going to be the most special collection of feelings and memories that you are going to cherish for the rest of your life.
Also Read:
How to Write a Birth Plan
How to Make a Baby Scrapbook
Best Books on Parenting and Motherhood
?>