Best Giraffe-themed Baby Shower Ideas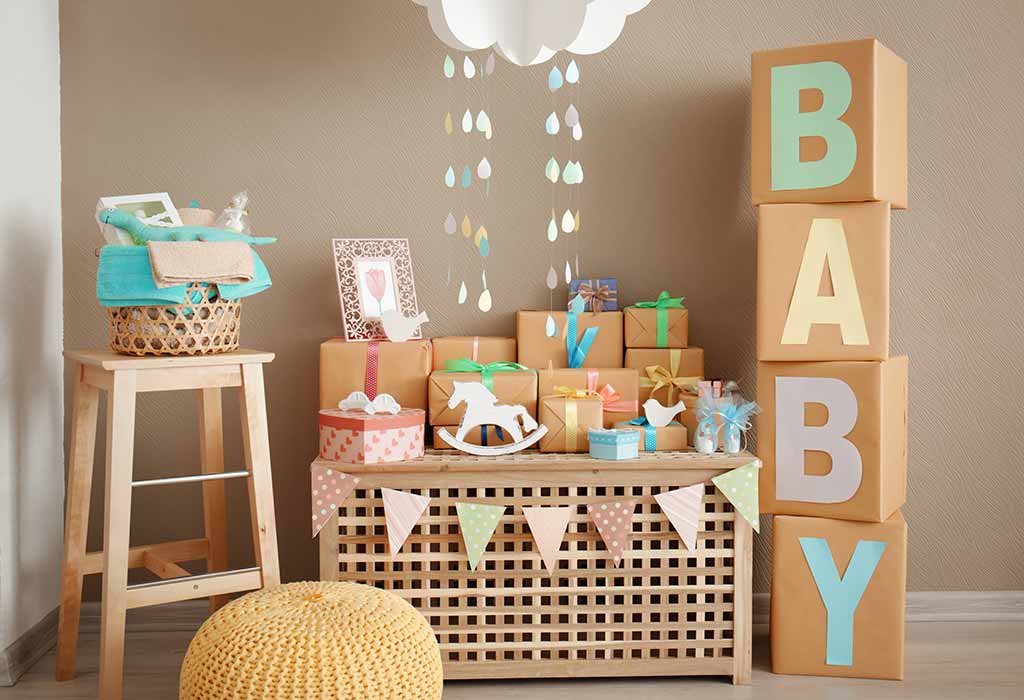 In this Article
Baby showers are the start of the celebrations for the soon-to-be baby. Family and friends of the soon-to-be parents gather to congratulate and advise the about-to-be parents. This event marks the first step towards parenthood for the couple and their first celebration for their baby. So, it's not surprising every couple wants their baby shower to be unique and memorable. Using a giraffe theme is a sure shot way to ensure the baby shower will be enjoyable and suitable for both a baby boy and a girl.
Ideas to Celebrate a Giraffe Baby Shower
A giraffe theme with its tan and brown color scheme is easy to incorporate other colors, to personalize everything from invitations to food. There are many choices available for you while planning your giraffe-themed baby shower.
Giraffe Baby Shower Invitation Ideas
Invitations are the first peeks you give your guests get of your baby shower. Having a giraffe-inspired invite is a fun idea to give them a preview of your unique giraffe-themed baby shower.
Some giraffe themed baby shower invitation ideas to consider are:
1. Pink Flower Giraffe Invitation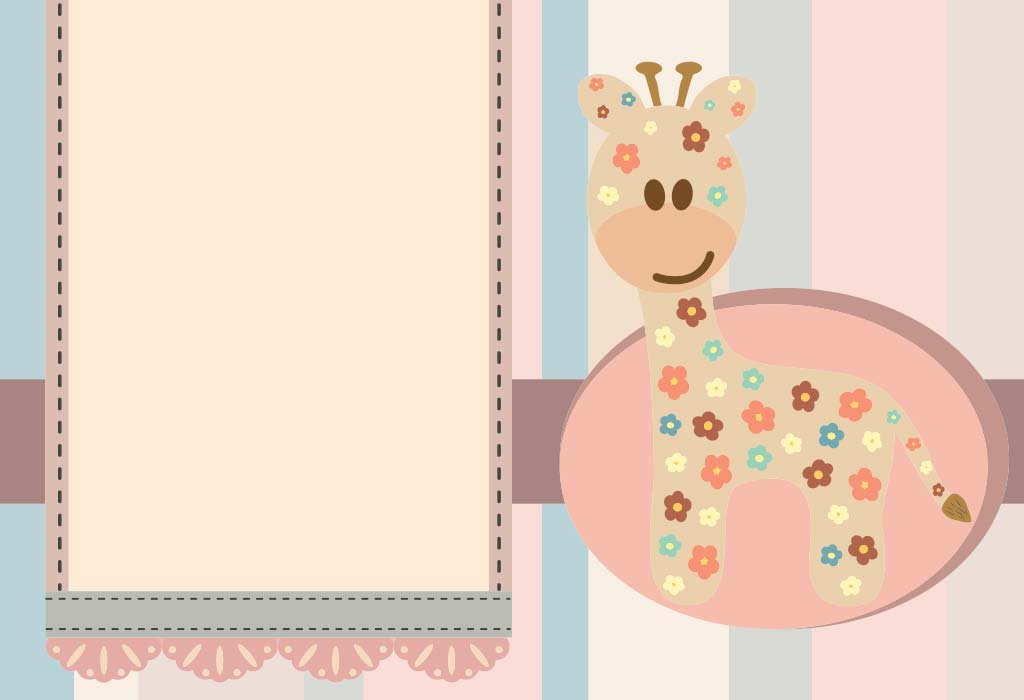 Typical giraffe prints may not suit the girl Giraffe baby shower invitations. You can consider this flower-printed cute little giraffe-themed invitation for a baby girl shower.
2. Giraffe With Blue Invitation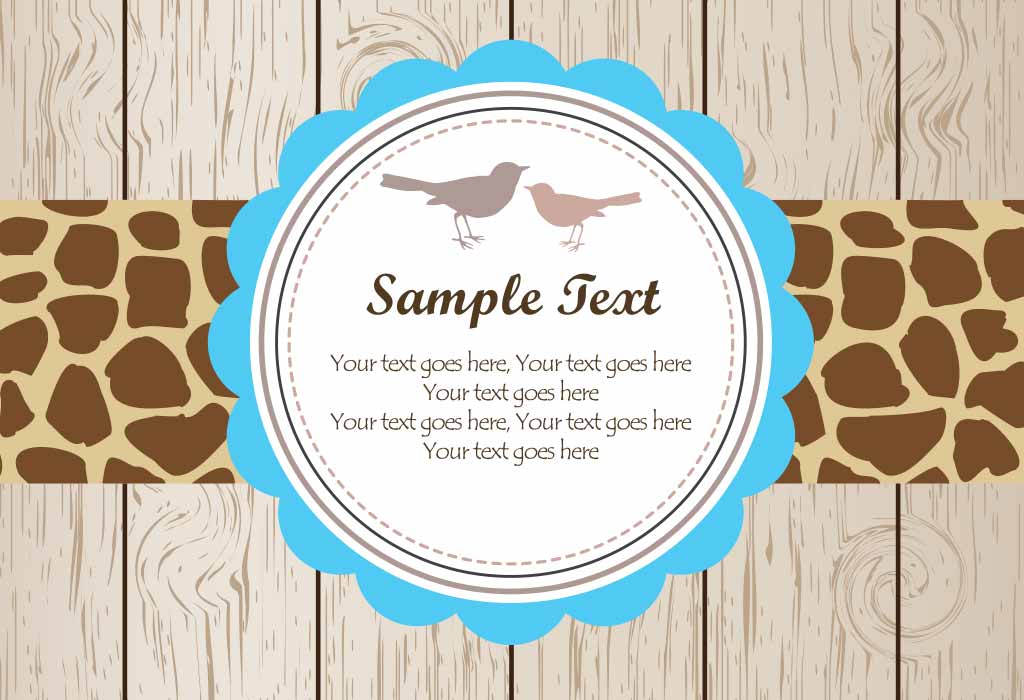 Incorporating blue color in baby boy shower invitations Giraffe-inspired design is a good way to tell your guests the gender of your baby.
3. Mama and Baby Giraffe Baby Shower Invitation
When you don't know or want to disclose the gender of your baby, then going with a neutral color scheme invitation is a good idea.
Giraffe Baby Shower Decoration Ideas
Most people think giraffe-themed baby shower decorations will be cut and dry with tan and brown colors. However, depending on the gender of the baby, you can incorporate other colors too.
Some ideas for giraffe baby shower decorations are:
1. Jungle Theme Baby Shower Decoration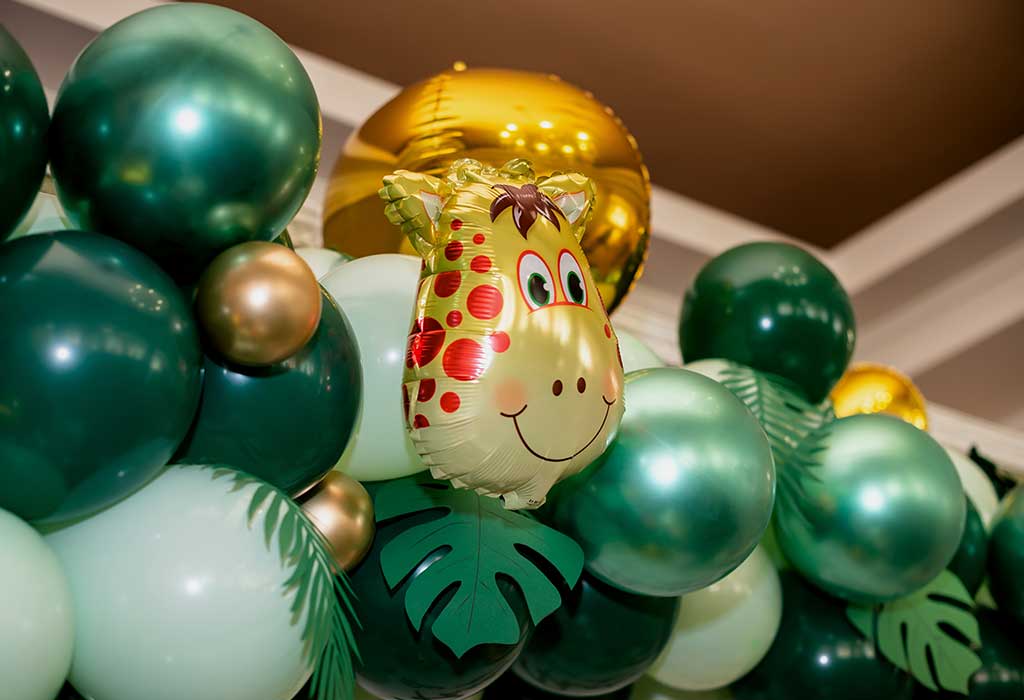 Instead of typical tan and brown Giraffe balloon decorations, opt for jungle colors to highlight the different shades of jungle.
2. Unisex Purple Baby Shower
When you don't know the gender of the baby or don't want to go for a gender-specific color decoration, then a purple giraffe baby shower decoration is a good choice. Hang purple Chinese paper lanterns with string lights to literally light up your baby shower.
3. Rustic Giraffe Baby Shower Decoration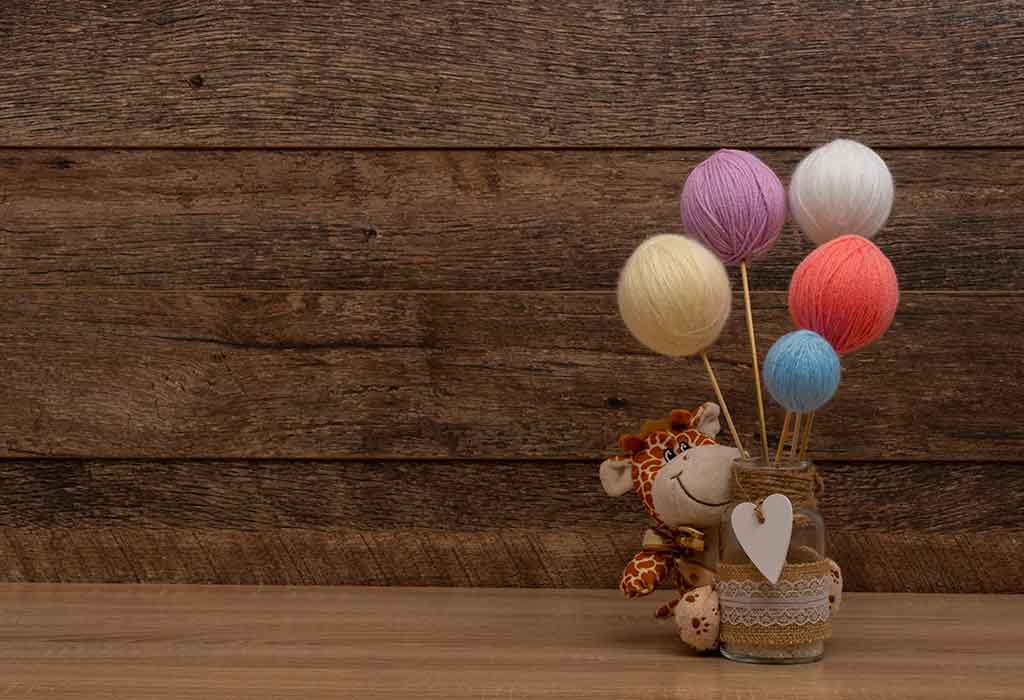 For a rustic giraffe habitat as your baby shower theme, use raffia to wrap tables. Place Giraffe plushes/soft toys on the table runners or food tables as baby shower Giraffe centerpieces to further enhance your giraffe theme.
Giraffe Baby Shower Food Ideas
Food choices are important to emphasize your giraffe theme baby shower.
1. Giraffe-shaped Pancakes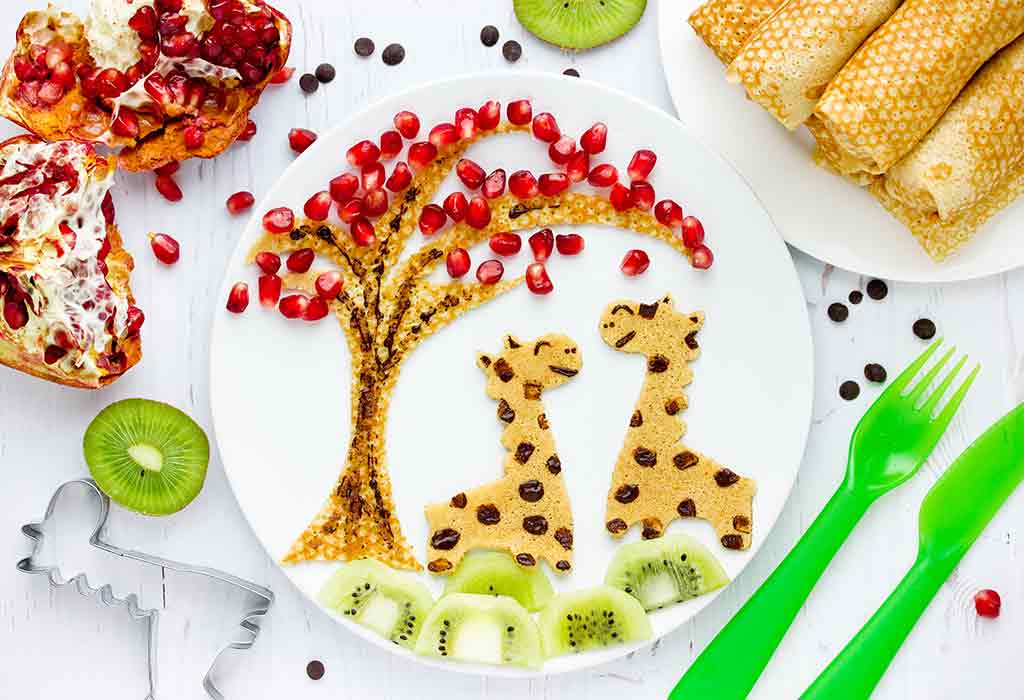 Make fun giraffe-shaped pancakes decorated with cut kiwis and pomegranates to emphasize your party theme.
2. Spotty Cupcakes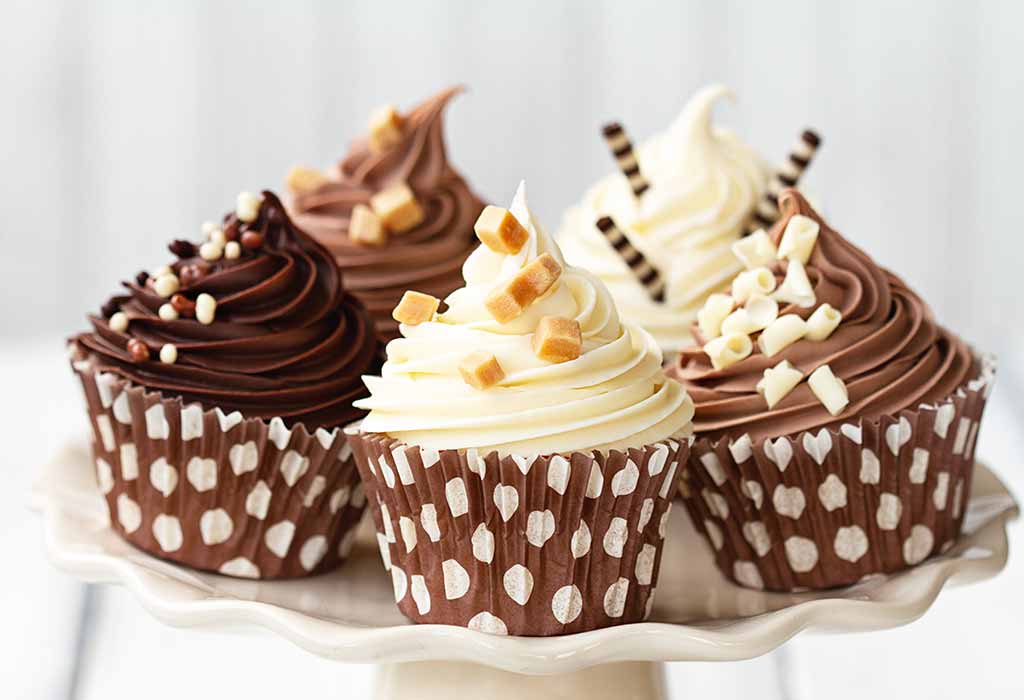 Keep different flavored cupcakes dressed up with chocolate flakes to represent the spots of the Giraffe or with the cupcake paper in giraffe print.
3. Safari Sandwiches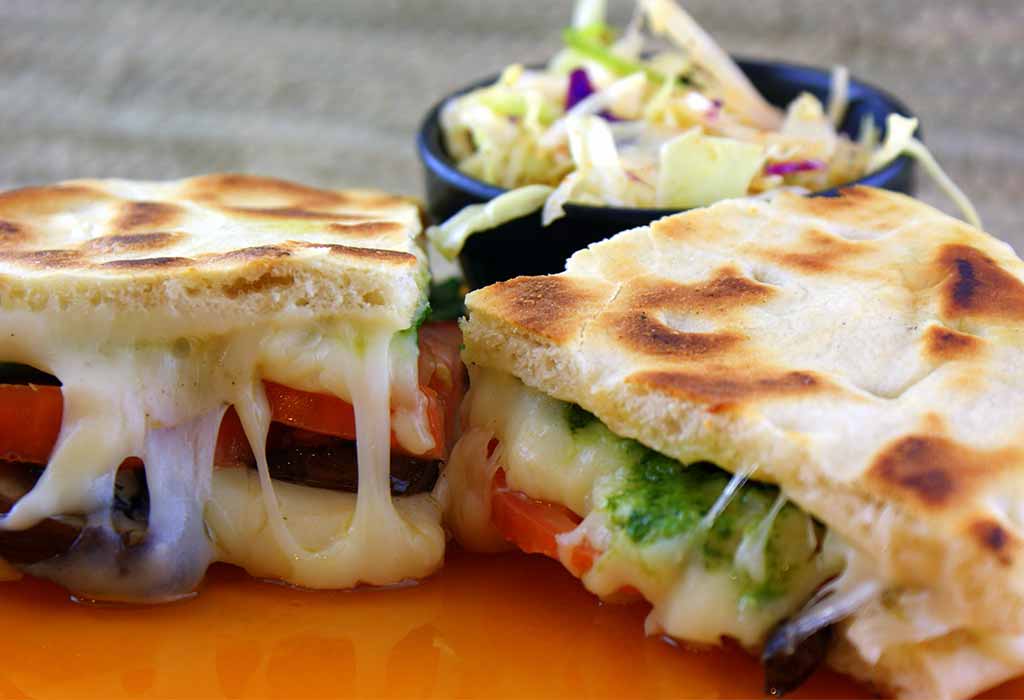 Treat your guests with delicious grilled sandwiches filled with assorted fillings with lots of cheese. The grilled bread with dark spots will resemble the giraffe spots.
Giraffe Baby Shower Cake Ideas
Your Giraffe themed baby shower cake will be the showcase of your party. It will emphasize the theme as the centerpiece of your party.
Some ideas for giraffe baby shower cake are:
1. Fun Giraffe Cake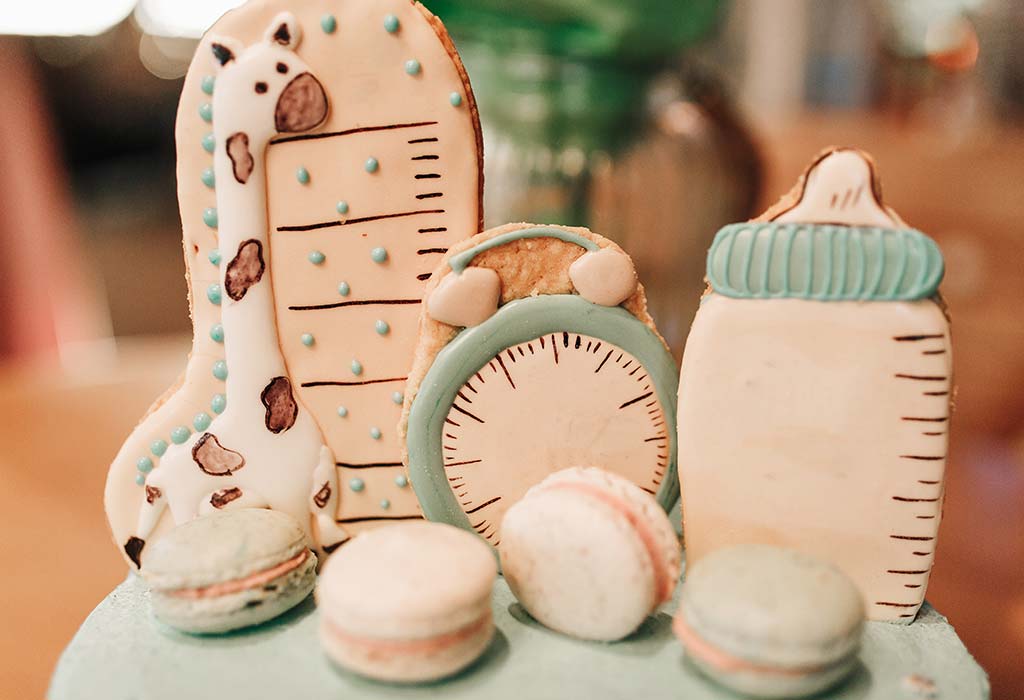 Get a fun cake with a quirky giraffe measuring scale, baby feeding bottle, muffins, and other assorted baby items as cake toppers.
2. Tiered Safari Theme Cake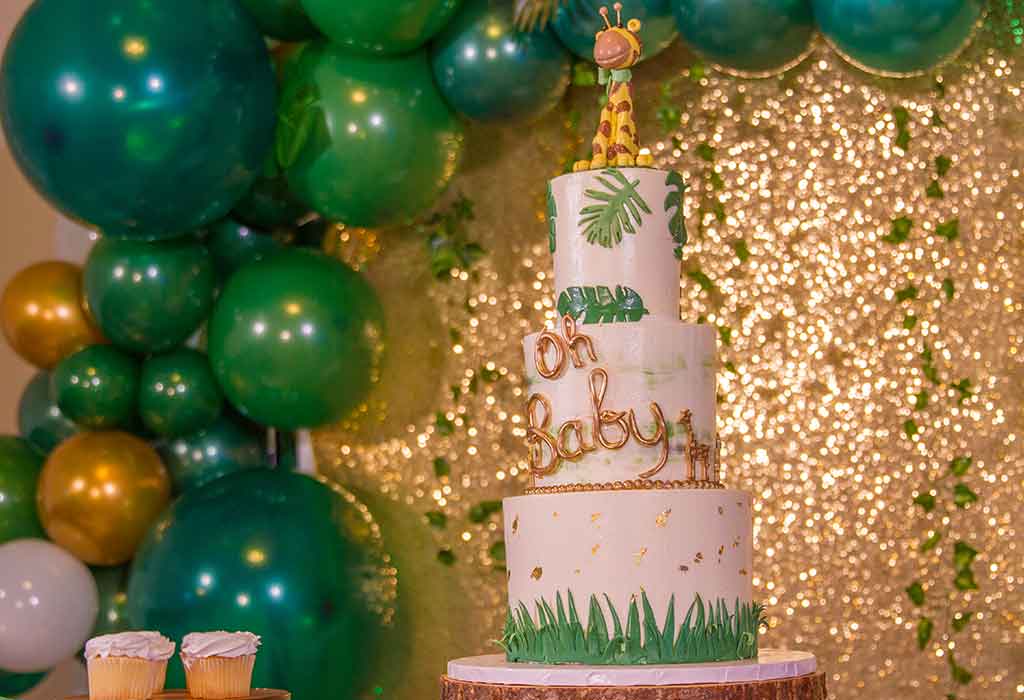 An adorable safari-themed tiered cake with a giraffe as the cake topper will delight your guests with its looks and taste.
3. Cute Giraffe Head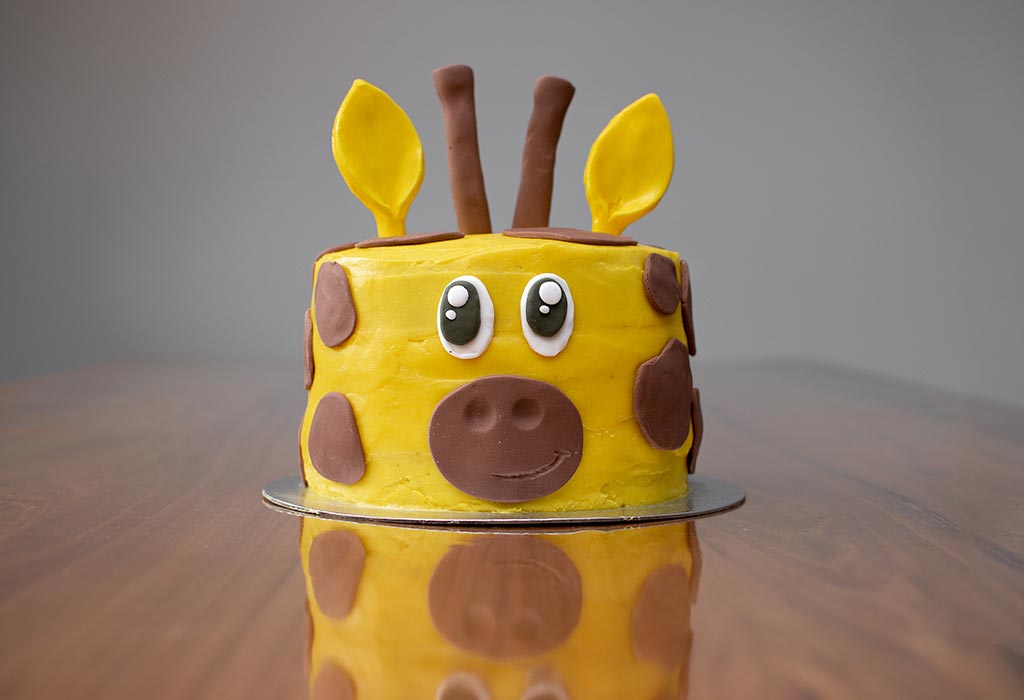 When you want a simple cake but still want to maintain the party's theme, go for this cute giraffe head cake.
Giraffe Baby Shower Games and Activities
Baby shower games and activities are essential to make your party entertaining. Here are some engaging games and activities to make your party lively:
1. Diaper the Giraffe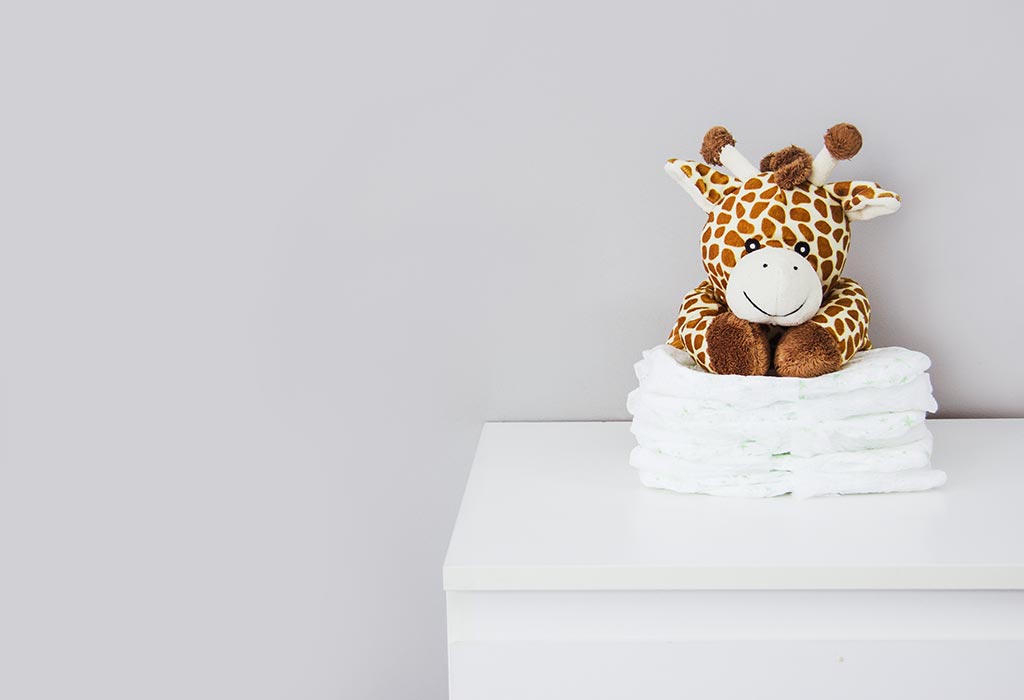 Use a toy giraffe and ask the guests to put the diaper on for your giraffe-themed event. The fastest one wins; however, all your participants get to take the giraffe toy home.
2. Balloon Giraffe Contest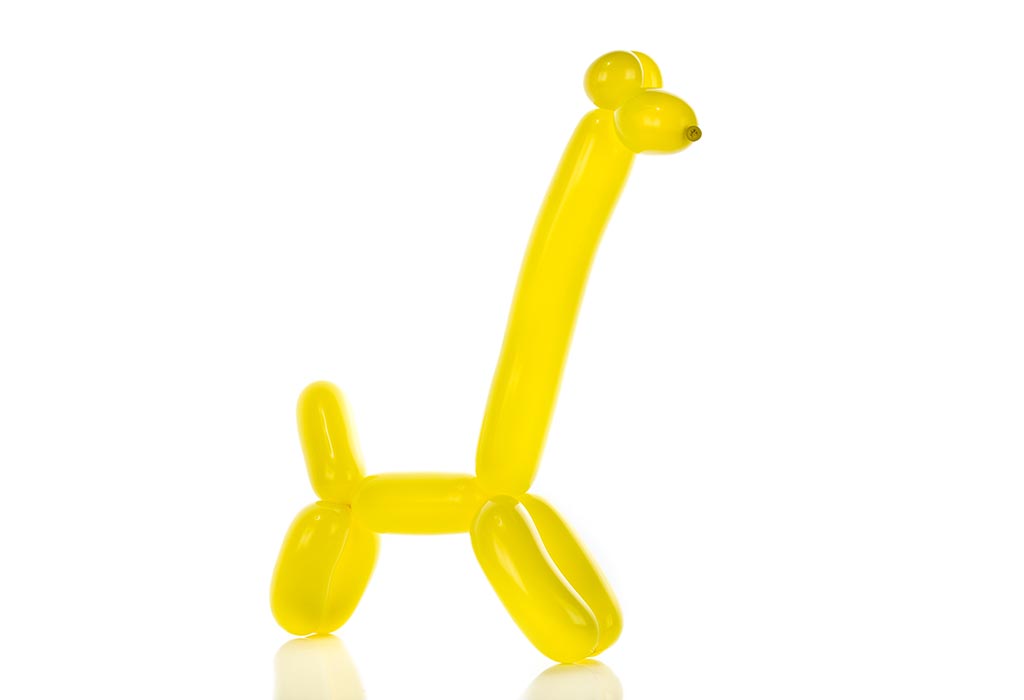 Let your guests try making a balloon Giraffe. The mama-to-be will be the judge to decide who made the best Giraffe.
3. Giraffe Jigsaw Puzzle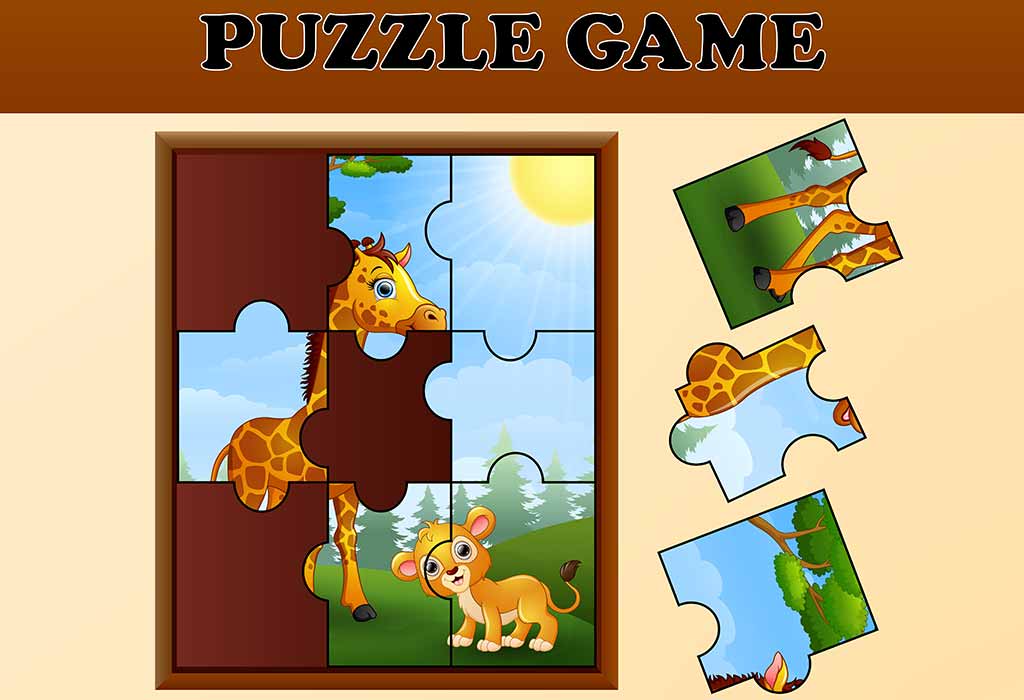 Give each of your guests' Giraffe jigsaw puzzles. The first one to complete it will be the winner.
Giraffe Baby Shower Favors
A shower favor expresses more than words and is the best way to thank your guests for coming. Here are some ideas for giraffe baby shower favors:
1. Coffee Mugs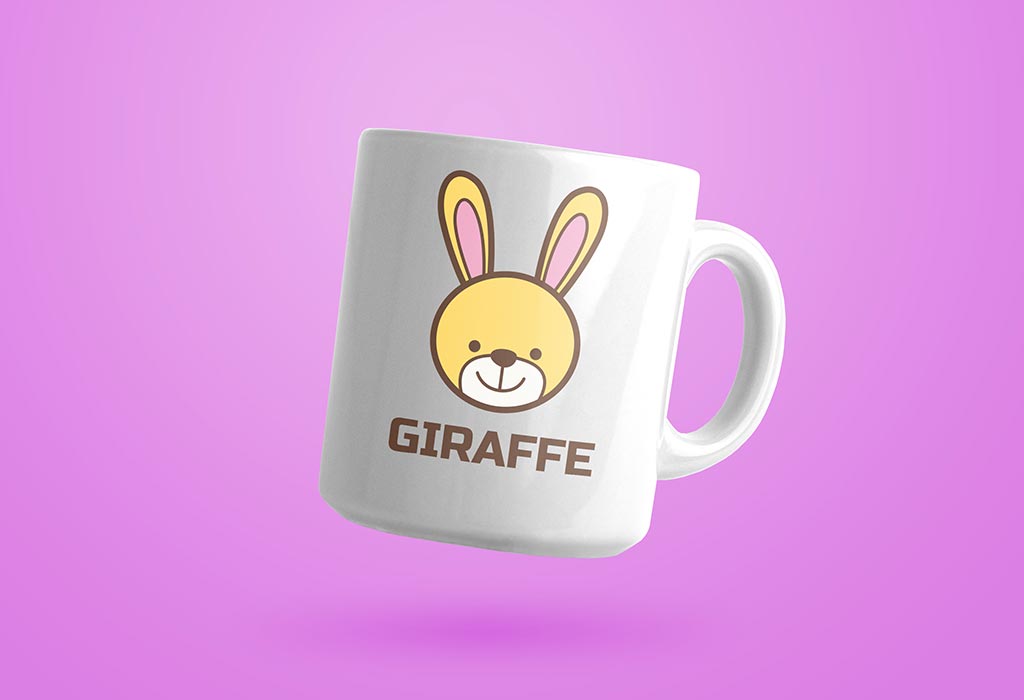 A Giraffe printed coffee mug is a good idea for a thank-you souvenir for your guests. It is a useful gift, and the cute giraffe print will remind them of your party.
2. Goodies Basket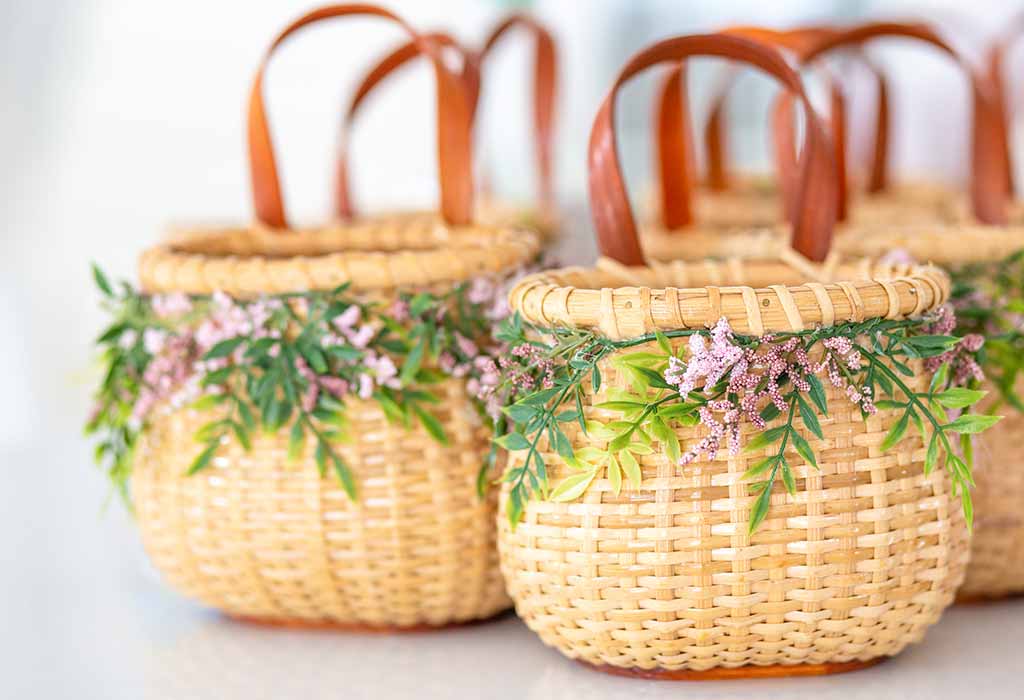 In tune with the giraffe habitat, gift your guests a goodies wicker/cane basket. Add leaves and a flower skirt around them to enhance the look.
3. Miniature Giraffe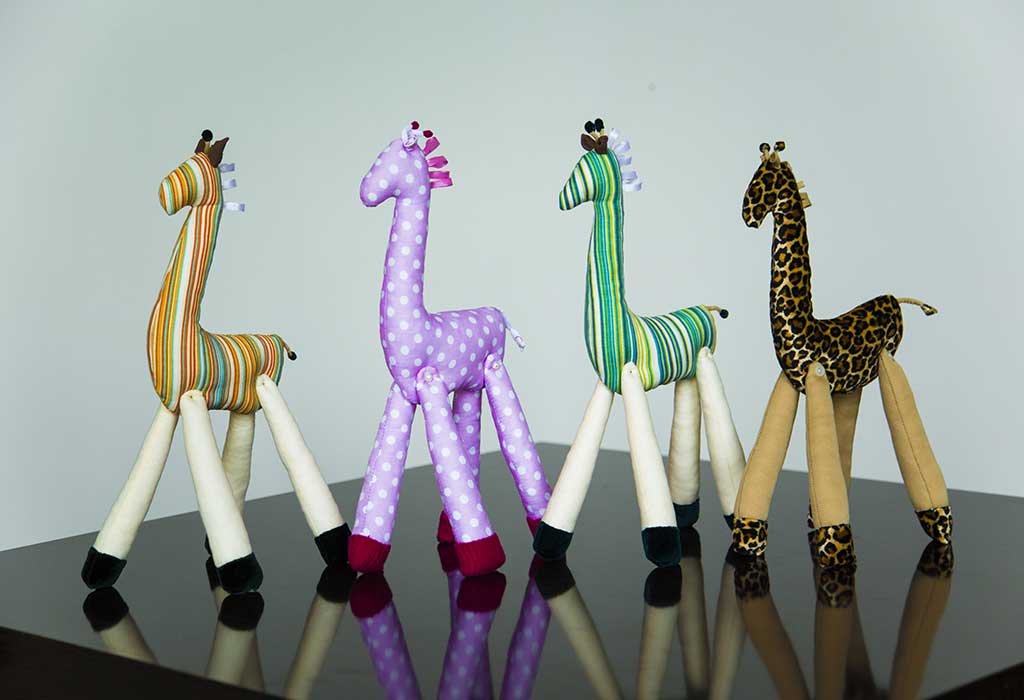 A miniature giraffe decorative is the best thank you souvenir to remind your guests of your party.
Your giraffe theme baby shower is sure to delight your guests with its uniqueness. Your guests will fondly remember their enjoyable time celebrating your baby-to-be with this unique theme.
Also Read:
Cute Rainbow Themed Baby Shower Ideas
Amazing Dinosaur Themed Baby Shower Ideas
Creative Unicorn Baby Shower Ideas