How to Apply for a US Passport for a Newborn Baby – An Easy Step By Step Guide for Parents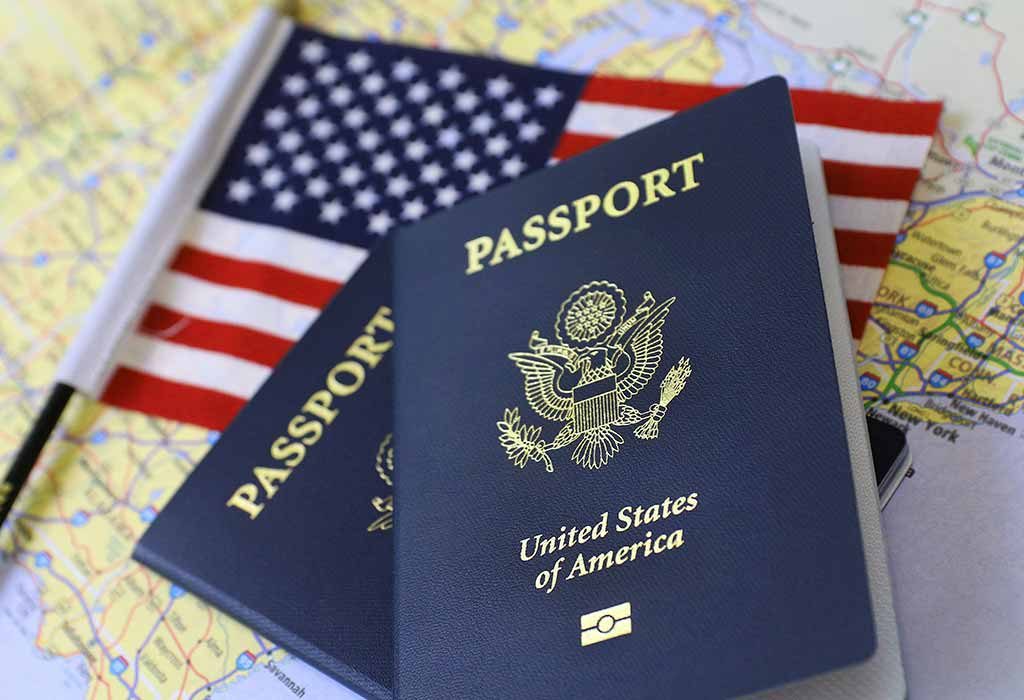 Everybody requires a passport in order to fly to different countries. Your newborn is no exception. A passport can be acquired by applying in person at a passport agency or passport application acceptance facility but it's a lot faster to apply online and fill-up the form by printing it out. Granted, it may take a few weeks for filing and getting new applications approved but the wait is worth it.
Once your newborn gets a new passport, it will stay valid for 5 years. This also applies to applications for a new passport for minors under the age of 16 as well. We've outlined the process of filing new applications step-by-step below. Follow them for a seamless experience.
Steps to Obtain a US Passport for a Baby
If you're a new parent and have a busy work life, we're sure you've got a lot going on your plate. Filing a passport is one of the most important things to remember and sometimes when we're in a hurry, we forget. But before you book those plane tickets and head for your vacation or business trip with your newborn, it's crucial you apply for a US passport for your newborn. By the time your child turns 16 according to U.S. law, they'll be having 5 new passports!
But despite this being your first time, you don't have to worry. The process is fairly straightforward and there's not much involved. You'll have to get an appointment at the passport application acceptance facility by booking one online through travel.state.gov. There are rare cases where parents book appointments directly through the regional passport agency but that requires furnishing proof of imminent travel documents.
For steps regarding the application process, we've outlined them below and detailed more on how to go about it.
Filling Form DS- 11
Filing Form DS-11 is the first step when it comes to applying for a U.S. Passport for a newborn. You can download the form by clicking here. Here's what you have to do:
Download Form DS-11 from the main U.S. Department of State Website and print it out.

Bring your newborn with you to the passport application agency.

Carry any required supporting documents like social security number, birth certificate, newborn's full name, and legal information, etc.

Sign the application and submit only after you've been instructed by the agency in person once they have verified the details.
Providing Evidence for US Citizenship
Providing proof of U.S. Citizenship is a must when applying for a newborn's passport. Only original documents are accepted and photocopies or notarised copies won't be.
You have to submit any one of the following documents for providing proof of your U.S. Citizenship:
A valid up-to-date passport (must be undamaged and not expired).

U.S. Birth Certificate that has the registrar's signature, the seal of issuing authorities, parents' full names, and the applicant (newborn's) name.

Consular Report of Birth Abroad and Certificate of U.S. Citizenship.
Proving Evidence of Your Relationship With the Baby
You have to provide evidence of your relationship with your baby by bringing relevant documentation. Be sure to:
Bring a certified birth certificate. If your timeline is tight, contact the local government and the hospital and enquire about expediting the process

Show proof of the baby's social security number. If your newborn hasn't yet received a social security number, you can get it done quick by writing this letter to the Social Security Administration: "I declare under penalty of perjury under the laws of the United States of America that the following is true and correct: (Child's full name) has never been issued a Social Security number by the Social Security Administration."

If your child is born abroad, you will need to show a Certified Foreign Birth Certificate. Both you and your spouse's name has to be mentioned on the birth certificates along with the registrar's seal.

For parents who are divorced, furnishing documents that show proof of sole custody is required. Old U.S. passports are not accepted as proof of evidence of relationship with the newborn.
Providing Identification Documents of Parents
During the application process, you/the guardian will be interviewed and asked questions. Forms of photo ID along with relevant documentation showing proof of identification will be necessary during this.
You will be required to submit any 3 of the following documents for parent identification proof:
Valid U.S. passport or any previously expired U.S. passport.

Certificate of Citizenship/Naturalization for immigrants.

U.S. military ID.

Matricula Consular document (for parents who are married).

Government employee ID.

Native American Photo Identification documents or enhanced tribal cards.

Valid foreign passport.

U.S. Permanent Resident Card (Green Card).

Global Entry, FAST, NEXUS, and SENTRI cards or any similar authentic Travel ID.
Note: The issuing passport authority may ask for an additional document while furnishing any of these three verification ID documents.
If there's a reason you cannot furnish the above identification documentation, there's still hope. The regional passport agency also accepts secondary identification documents which are listed below (you can furnish any two of these instead):
Out-of-state Driver's License.

Non-driver ID (Out-of-state).

Voter Registration Card.

Employee Work ID.

Student ID.

Temporary driver's license (no photo needed).

Expired driver's license.

Medicare card.

Any school yearbook with identifiable photos of you in it.

Social Security ID.

In-state Driver ID (must be fully valid and without a photo in it).

Learner's permit or temporary driver's permit.
Submitting Photocopy of The Above Documents
You will have to provide photocopies of the above documents when filing for your passport application. Here are a few things to keep in mind when submitting photocopies of identification:
Photocopies must be printed on a plain white 8 ½ X 11" standard paper stock and display both the front and back of the ID. Both sides of the paper cannot be used for the photocopy and each side should be dedicated to one page.

You can enlarge the photo on your ID but you cannot decrease the size of the image.

Secondary identification photocopies must be attached along with your primary ID proof. If you're disabled or require assistance in filing, the assistant must also furnish photocopies of his/her ID on your behalf. The identifying witness has to furnish a photocopy of Form DS-71

For parents having twins, triplets or quadruplets, a photocopy of the required. documentation for each guardian must be presented for every child. Combined applications aren't accepted and each application for every newborn has to be filed separately.
Providing Passport Size Photos
After you've decided which documents you'll be bringing along with your newborn for the passport application, you'll have to consider your passport size photos. It is best recommended to adhere to the following points when it comes to getting your passport-size photos printed for the application:
Make sure the photo is printed with a plain white background and on matte or glossy photo paper.

Should be 2 X 2 inches.

Must be a colour photo and should be taken recently (within the last 6 months or more recent).
No filters or enhancements should be done to the photos.
You can get creative when photographing newborns but be sure the subject in the photos is just your baby and nobody else in it. Getting your baby to sit still for the photos is the real challenge, however. Some passport acceptance facilities offer photo services too, which is good to know since they take photos that meet U.S. passport for infants' requirements guidelines.
Paying Fees
Newborn passports aren't free and yes, they charge a fee. You can expect to pay up to USD 115 for a new passport book. The acceptance fee is $35 while the passport book itself for your newborn will cost you $80.
If you want a passport card for your newborn that permits land border crossings at regions like the Caribbean and Bermuda, you can get that by paying an additional fee of $15. The passport agency accepts different payment methods as well when you go to apply for us passport for the baby.
Here are the paying fees based on the application type:
| | | | |
| --- | --- | --- | --- |
| Application Type | Application Fee | Form Needed | Fee charged for execution of the application |
| Minor/Newborn Passport Book and Card | USD 95 | DS-11 | USD 35 |
| Minor/Newborn Passport Book | USD 80 | DS-11 | USD 35 |
| Minor Passport Card | USD 15 | DS-11 | USD 35 |
Credit and debit card payments are not accepted directly. However, checks drafted in favour of the U.S. Department of State are. Cash is accepted only at specific locations while money orders are accepted at all locations. In case you're planning to apply through U.S. postal services, you can pay via credit card, however, the facility might ask to cover an additional surcharge fee for credit card payments. It is best you contact the passport acceptance facility before sending any checks or paying for the application to verify their accepted payment modes and fees. You can browse for your nearest passport application acceptance facility by clicking here.
To track your application, you can dial 877-487-2778 and mention the last four digits of your social security number along with your DOB and last name. To track your application status online, click here, log in to the portal, and be sure to sign up for email updates before logging out.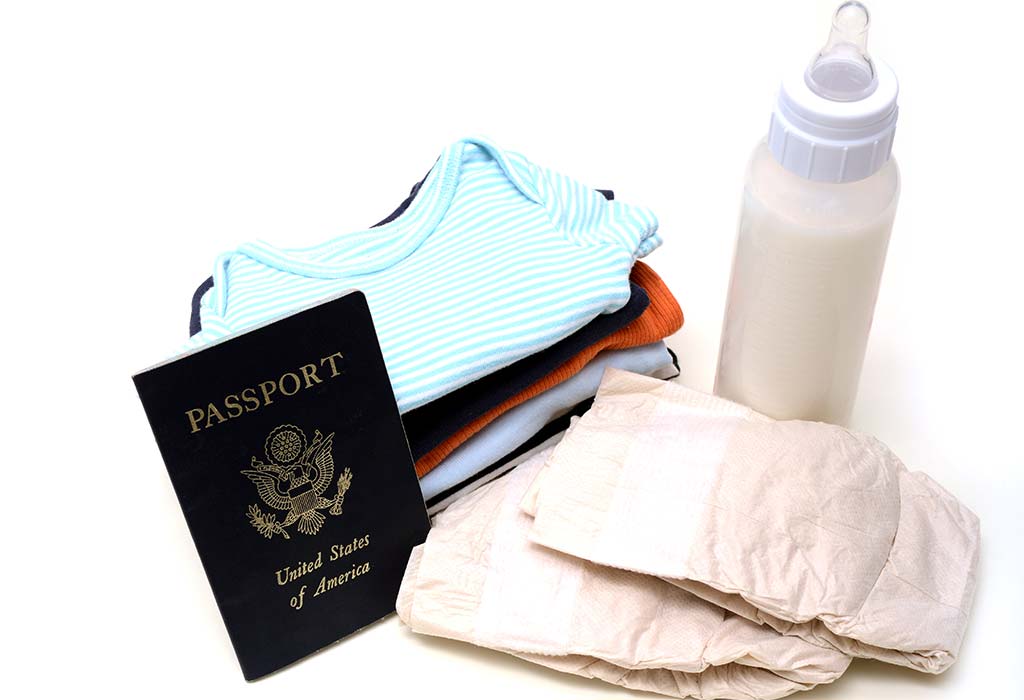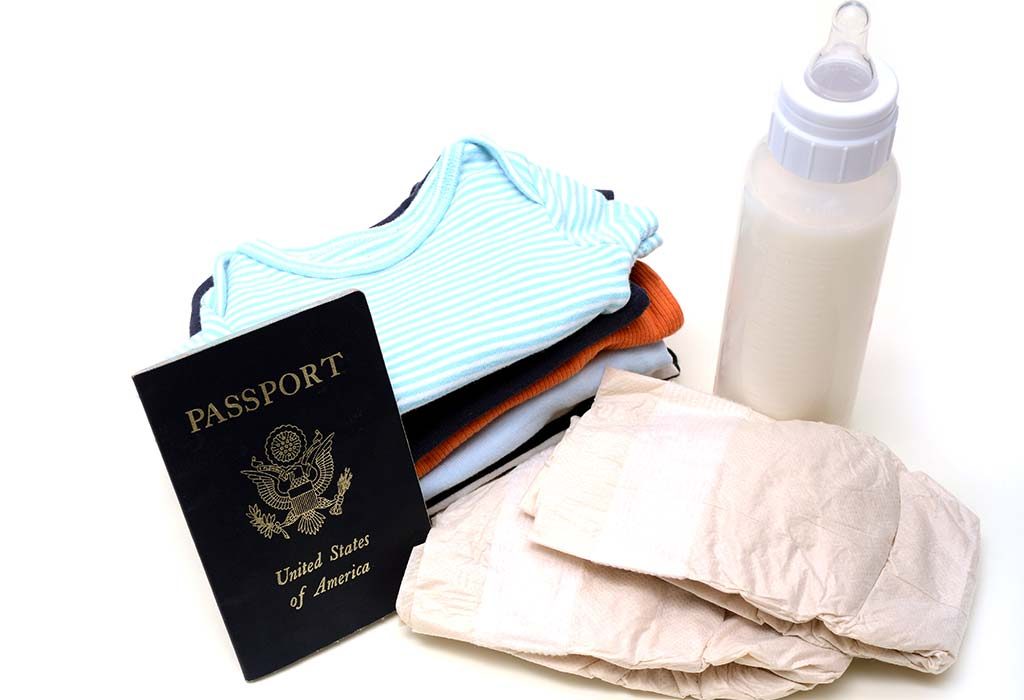 What Happens in Case One or Both Parents Are Absent?
In case both parents are absent, here's what to do:
A third-party person can apply as a guardian for the newborn's passport application. He/she must have a letter of consent from both the parents along with photocopies of the parents' identification. In the event only one parent can provide a letter of consent, the

secondary identification

person or

identification witness

must furnish proof of evidence of sole custody of the newborn.

If the parents can't be located for some reason, you have to fill up

Form DS-5525

and providing additional documentation such as a custody order, incarceration order or documents related to restraining orders that protect the newborn from international parental child abduction and threats.

In case either of the parents has a military background or occupation, a notarized Form DS-3053 will suffice.
How Long Does the Entire Application Procedure Take?
The entire process regarding applying for a new passport takes anywhere between 4 to 8 weeks. Expedited processing has a turnaround time of 3 weeks and you can even get a newborn passport in as little as 8 days if you go through an agency.
Additional Points to Remember
Before you head over to the passport office, it's important that you make sure you have the required documents. Visit the Department of State website to learn about what you need and to see if you're on track. The fastest and easiest way to get a passport ready for your newborn is to visit a passport application acceptance facility.
Here are some additional tips:
Take your newborn's birth certificate, social security number, and your own proof of identification and citizenship documents before heading to an agency.

Bring your newborn with you and make sure both the parents are present at the time of filing an application.

You can also apply for a newborn's passport by visiting your nearest

USPS post office

and sending a prepaid envelope to the passport agency along with the notarized documents.
And that's it! These are the steps needed to apply for a newborn passport. Good luck and have a safe journey.
Also Read:
Tips for Traveling With a Baby
Checklist for Vacationing Abroad With Children
Food Ideas for Baby and Toddlers While Travelling