Homemade Batata/Potato Vada Recipe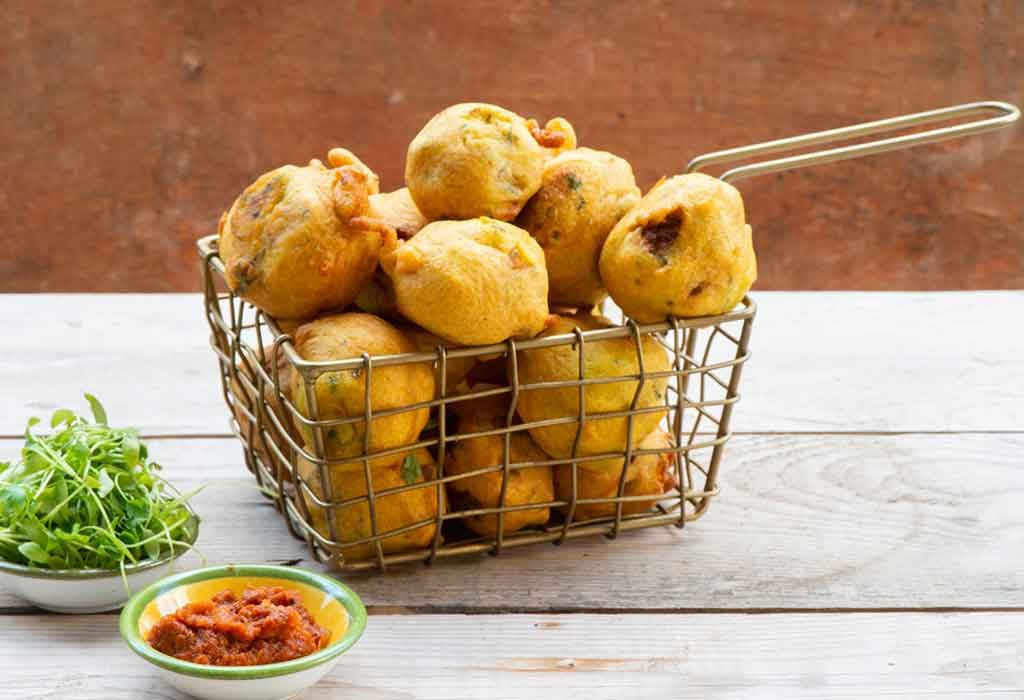 In this Article
Batata vada is a famous Maharashtrian street food that is loved by all! This mashed potatoes and gram flour dish is a delicious snacking option for kids too. Well, what if we told you that you can make this recipe for your toddler too! If you wish to know this simple Homemade batata /potato vada recipe, we recommend reading this post for the same!
Cooking Time
The table below shows the amount of time that you may need to invest to make this yummy snack for your munchkin:
| | |
| --- | --- |
| Type | Time |
| Preparation Time | 00:05:00 |
| Cook Time | 00:25:00 |
| Total Time | 00:30:00 |
Cooking Method
Gas Stove, Frying
Type of Meal
Vegetarian
Suitable For
Toddlers over 20 months of age.
Meal Schedule
Mid Morning Snack or Evening Snack
Recipe Type
Appetizers
Ingredients
You need the following ingredients to make Homemade batata/potato vada baby food recipe:
| | |
| --- | --- |
| Type | Quantity/Volume |
| Potatoes | 4-5 medium-sized |
| Ginger (finely chopped) | ½ an inch |
| Garlic (finely chopped) | 4 to 5 cloves |
| Curry leaves | 5-6 |
| Mustard seeds | ½ teaspoon |
| Turmeric powder | 1 teaspoon |
| Coriander leaves (finely chopped) | 1 tablespoon |
| Gram flour | 1 cup |
| Cumin powder | 1 teaspoon |
| Lemon juice | 1 tablespoon |
| Water | As required |
| Oil for frying | As required |
| Salt | As required |
Instructions
Here are the step by step directions for making batata vada:
Boil potatoes in a pressure cooker for 2 whistles or until they turn soft and tender. Keep them aside to cool. Once cooled down, peel and mash them coarsely.
Heat one tablespoon oil in a pan.
Add mustard seeds and sauté them until they start spluttering.
Add curry leaves and cook them until they turn crisp.
Add chopped ginger and garlic and cook for a minute or two.
Add ½ teaspoon turmeric powder and mix well.
Slowly add coarsely mashed potatoes and salt. Mix well with the rest of the ingredients. Cook on low flame for a few minutes.
Put lemon juice, mix well and remove from the heat. Let it cool.
Mix gram flour, cumin powder, ½ teaspoon turmeric powder, and salt in a deep bowl.
Slowly add water to the flour mixture by whisking it continuously.
Heat oil in a wok for frying.
Scoop out small ball sized potato mix and dip it in gram flour batter. Slowly release the vadas in hot oil. Cook on medium flame until they turn crispy.
Place the vadas on a paper towel to remove excess oil. Serve at room temperature with homemade chutney or dip!
Recipe Tips
To master the correct way of how to make homemade batata /potato vada recipe, keep in mind some of the following tips too:
Make sure the potatoes are not over boiled or else it may spoil the texture of the recipe. You need firm boiled potatoes for the recipe.
The gram flour batter should neither be too thick nor too watery or else the vadas may not turn out well.
You can add a tablespoon of rice flour or cornflour to make crispier vadas.
Nutrition Information (Serving Per 100 Grams)
The following table indicates the nutritional information present in batata vadas:
| | |
| --- | --- |
| Type | Value |
| Energy | 250 Calories |
| Carbohydrates | 20 grams |
| Protein | 5 grams |
| Fat | 15 grams |
| Potassium | 385 milligrams |
| Sodium | 750 milligrams |
| Vitamin A | 800 IU |
| Vitamin C | 35 milligrams |
| Calcium | 25 milligrams |
| Magnesium | 15 milligrams |
| Phosphorus | 23 milligrams |
Health Benefits
Here are some benefits of Homemade batata /potato vada for toddlers:
The presence of Folate in potatoes helps in the synthesis and repair of DNA, which proves beneficial in keeping various kinds of cancers at bay.
Potatoes are power-packed with calcium, iron, magnesium, and phosphorus, and all these nutrients help in strengthening bones.
The presence of several nutrients such as potassium, vitamin B6, vitamin C, etc is beneficial for maintaining good heart health.
Loaded with starch, enzymes and vitamin C, regular intake of potatoes help in nourishing and protecting the baby's delicate skin.
Gram flour or besan does not contain gluten, thus it proves to be a healthy alternative for babies with gluten sensitivity.
Buying Guide
Keep in mind the following tips while buying ingredients for the recipe:
Buy fresh and firm potatoes that do not have any marks on them. If possible, buy organic vegetables for the recipe.
Do not buy loose gram flour. Buy pre-packed gram flour from any renowned brand.
Your search for a yummy snacking option ends with this easy to make batata vada recipe! Do try this recipe and bring a big smile on your munchkin's face!