8 Delicious (and Healthy!) Recipes for a Guilt-Free Diwali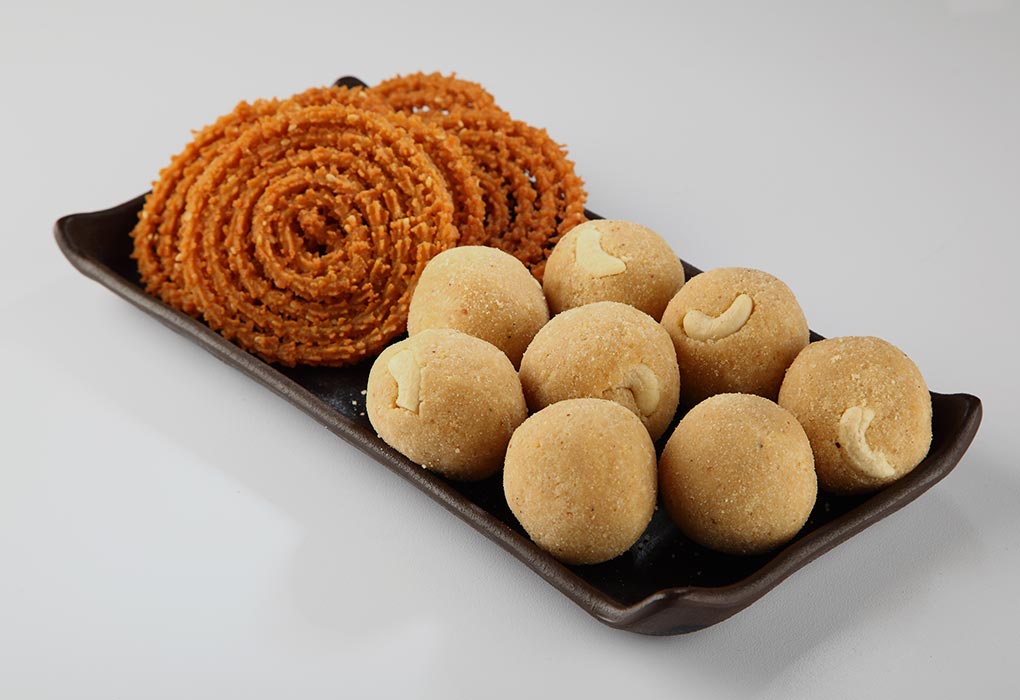 In this Article
Diwali is that time of the year when your diet plan and exercise schedule go for a toss. Being the most-awaited festival of the year, you cut yourself some slack and indulge in your favourite Diwali sweets while enjoying with your family, friends, and relatives. And we don't blame you, the desserts made during Diwali are so rich and tasty that it is just impossible to let them go while everyone in your family eats mouthfuls.
In India, Diwali or any other festival is incomplete without family, fun, and lots of delicious snacks and sweets. But however delicious these snacks and sweets might be, once the bright rangoli fades away and the Diwali lights are taken off, you know you will regret the amount of weight you gained in mere five days, won't you? Diwali comes once a year, and there is no wrong in enjoying Diwali sweets, but if you don't want to mourn over your failed diet plan, make and eat healthier snacks and sweets. You can still enjoy your favourite Diwali sweets and savoury items and have a healthy Diwali. Here are a few healthy Diwali recipes that you should surely try this Diwali.
8 Diwali Sweets and Snacks
Try these healthy versions of the famous Diwali sweets and snacks and have a healthy and guilt-free Diwali. We know it is hard to digest when you hear healthy sweets and snacks, but these healthy Diwali recipes mentioned below are worth a shot if you don't want to compromise on your diet.
1. Kaju Katli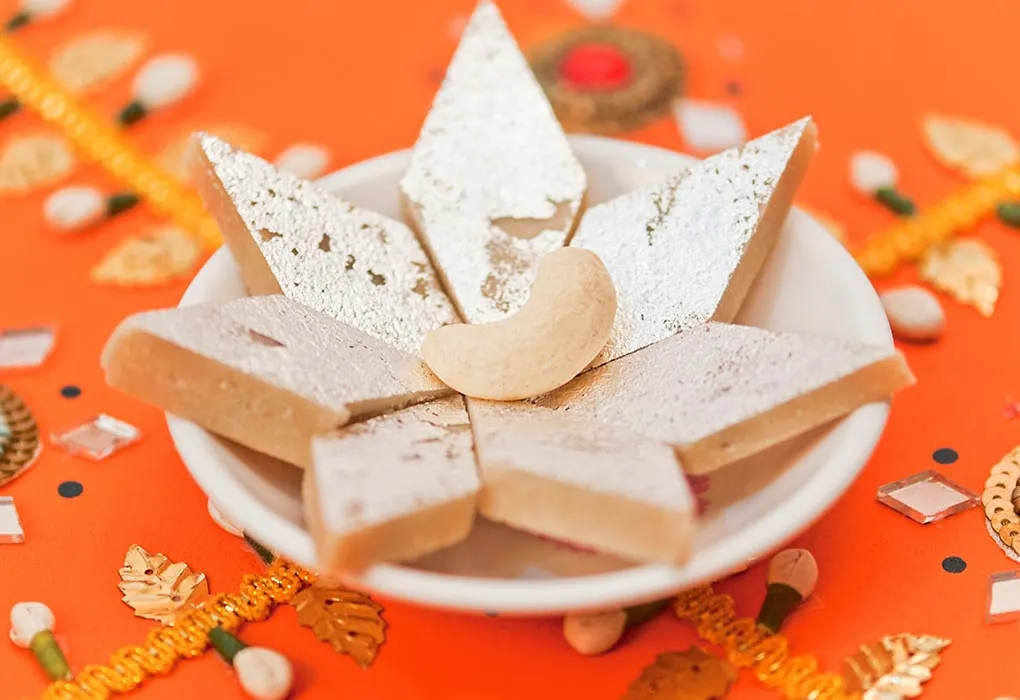 Kaju katli is a favourite sweet relished by Indians, and it remains a safe 'gift option' for many. But instead of gifting store-bought Kaju katli, gift homemade and healthy kaju katlis to your relatives. The secret ingredient that you need to use to make a healthier version of this sweet is honey. Replace sugar with honey in this recipe.
Ingredients
Cashew nuts – 2 cups
Honey – 1 cup
Water
How to Make
Dry roast the cashew nuts in a skillet or a frying pan for about 5 minutes, stirring continuously to prevent them from burning.
Once you see a slight change in the colour of cashew nuts, turn off the heat and transfer them to a plate, and allow them to cool at room temperature.
Now, transfer the roasted cashew nuts to a food processor and grind them to get a coarse powder.
Heat a non-stick pan and add some water and honey to it. Heat it till you see the bubbles.
Add the roasted cashew powder to it and stir continuously using a spatula. Once, you get a thick mixture, turn off the flame.
Place parchment paper in a large tray or on the kitchen counter, then dump the entire cashew mixture on it and flatten it with a rolling pin.
Place the tray in the refrigerator for an hour. Once the flattened mixture turns firm, place silver foil on it.
Cut it in diamond shapes and your healthy kaju katlis will be ready to serve.
2. Baked Chaklis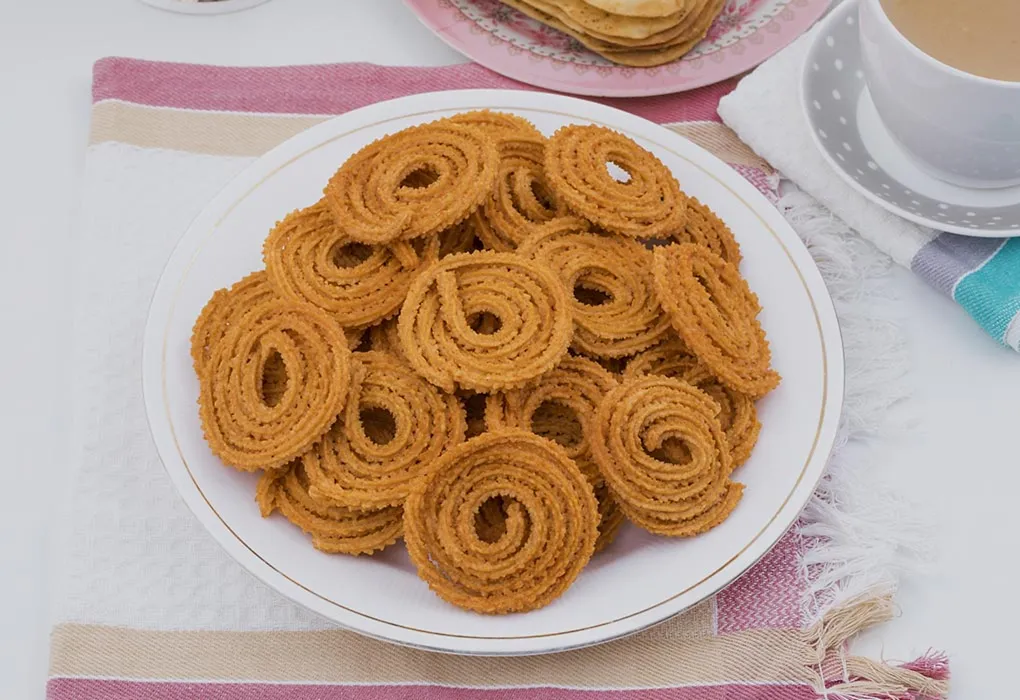 Chakli is one of the snacks that is associated with Diwali, so it is a must-include in our delicious Diwali recipe list. If you are watching your weight, deep fried chaklis are best avoided, but you don't have to give up on chaklis entirely. You can always make a healthier version of chaklis. Here is the recipe of baked chaklis, try it and enjoy!
Ingredients
Rice flour – 1 cup
Low-fat curd – 1/2 cup
Sesame seeds – 2 tsp
Chilli powder – 1 tsp
Oil – 1 tsp
A pinch of asafoetida
Salt to taste
How to Make
In a large bowl, mix all the ingredients to make semi-soft dough.
Line a baking tray with baking paper and grease it slightly with a tsp of oil.
Add the kneaded dough to a chakli press and press out round swirls or spiral shapes on the greased baking paper.
Then bake these chaklis in a pre-heated oven at 180°c for about 20-25 minutes or till golden brown.
Let the chaklis cool and munch on with a cup of tea.
3. Dry Fruit Ladoos
If you like munching dry fruits, then you will also love devouring dry fruit ladoos. These ladoos are healthier than other ladoos that are soaked in ghee and sugar. If you have been looking for a sugar-free sweet recipe for Diwali, then make these dry fruit ladoos.
Ingredients
Chopped dates – 1 cup
Almonds – 1/4th cup
Cashew nuts – 1/4th cup
Figs – 1/4th cup
Pistachios – 1/4th cup
Raisins – 1/4th cup
Desiccated coconut
Cardamom powder – 1/2 tsp
Ghee – 1 tbsp
How to Make
Grind the dates in a blender for 4-5 pulses and keep aside.
Now, finely chop the cashew nuts, almonds, figs, pistachios, and raisins.
Heat the ghee in a wok on low flame, then add in the chopped dry fruits and sauté for 4-5 minutes.
Add the coarsely blended dates to the above mix and give it a nice stir, mashing the dates well.
Add in the cardamom powder and mix it well.
Turn off the flame and let the mixture cool for 2 minutes.
Transfer the mixture to a large dish and make the ladoos.
Store them in an airtight container.
4. Roasted Poha Chivda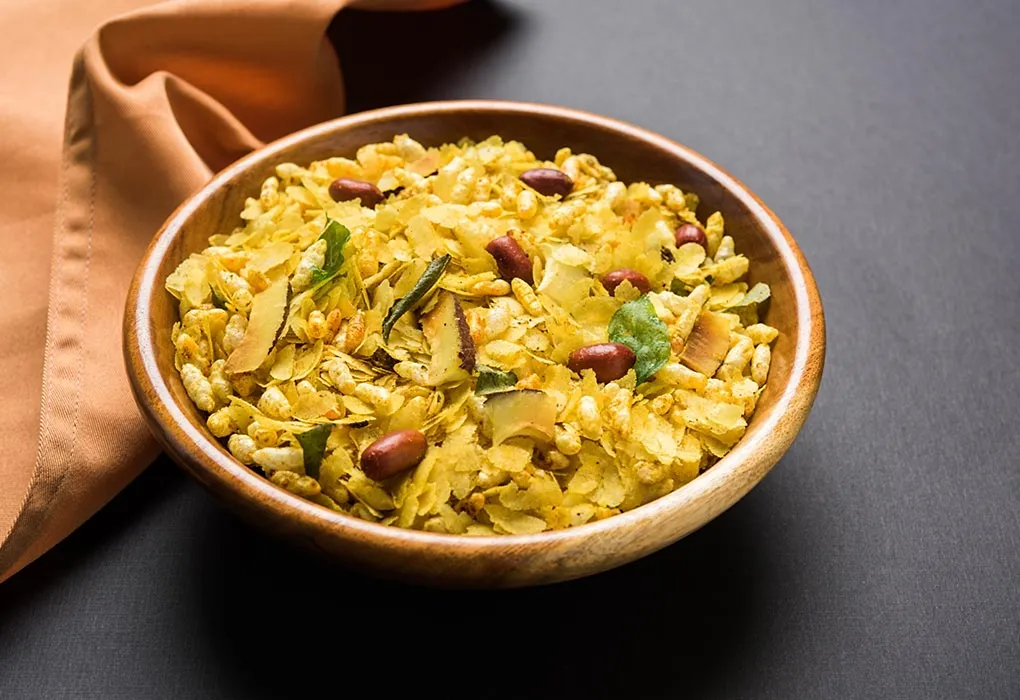 Poha chivda is another namkeen which is made in almost every Indian household during Diwali. The amount of oil used in making this appetizing snack is very less, so don't worry because your diet plan will not be ruined. It is a healthy snack, so don't wait, try this healthy Diwali snacks recipe now!
Ingredients
Thin poha – 3 cups
Oil – 1 tbsp
Mustard seeds – 1/2 tsp
Finely chopped green chilli – 1
Curry leaves – 1
Roasted split Bengal gram (chana dal) – 2 tbsp
Peanuts – 2 tbsp
Dried coconut slices – 1 tsp
Turmeric powder – 1/2 tsp
Sugar – 1 tsp
Salt to taste
A pinch of citric acid or lemon juice
How to Make
Heat a pan on medium flame and roast the poha for 5 minutes stirring continuously.
Once the poha turns crispy (not too much, though!), turn off the flame and transfer it on to a large platter.
Heat some oil in the pan on medium flame; once hot, add the mustard seeds and allow them to splutter.
Next, add in the green chillies and curry leaves, and sauté.
Once the green chillies and curry leaves turn crispy, add the dried coconut slices, chana dal, and peanuts, and mix them well.
Once these ingredients turn crispy and light brown, add in the turmeric powder, sugar, salt, and citric acid.
Lastly, add the roasted poha and mix all the ingredients.
Turn off the flame and allow the chivda to cool.
Transfer it to an airtight container and enjoy this healthy snack with tea.
5. Baked Shakkarpare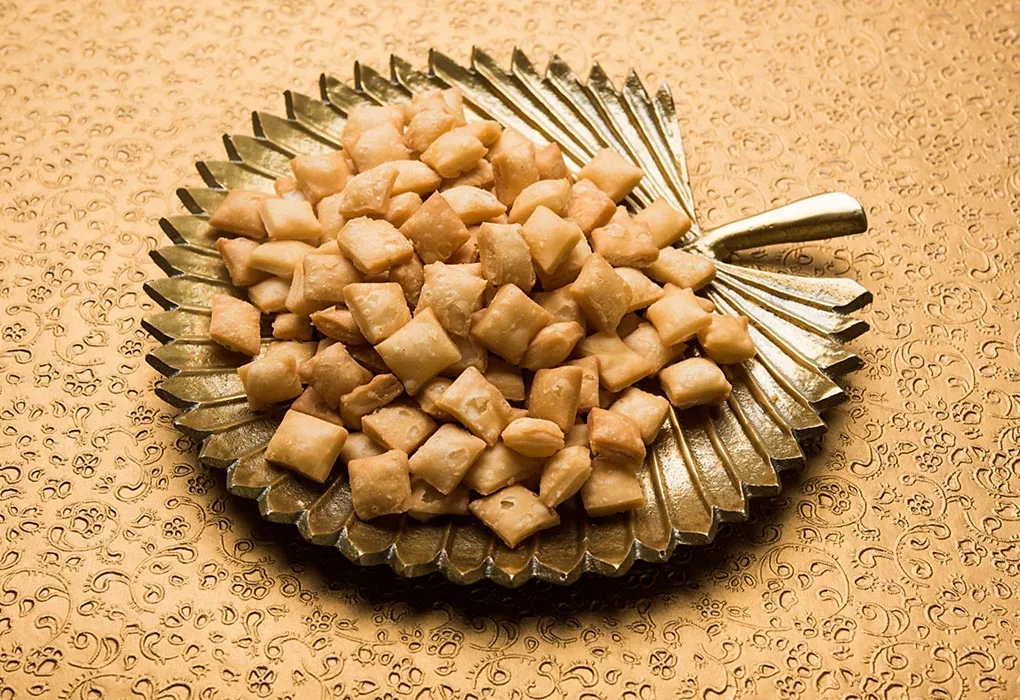 Shakkarpare is a favourite jar snack which is consumed widely in North India. It is usually made during Diwali and Holi. While the traditional recipe makes use of refined flour and ghee to fry, we suggest you a healthier alternative to your favourite 'sweet and crispy' snack. Try this baked version of shakkarpare that are made with whole wheat flour. If you are not much of a sweet tooth, you can also make savoury, crunchy, and healthy namak pare using whole wheat flour.
Ingredients
Wheat flour – 3/4th cup
Ghee – 1 tbsp
Milk – 5 tbsp
Sugar – 2 tbsp
A pinch of salt
How to Make
In a deep pan, take the milk, ghee, and sugar and cook on a low flame for 2-3 minutes or till the sugar dissolve.
Sieve the whole wheat flour and salt through a sieve in a bowl.
Add the milk-sugar-and-ghee mixture to the wheat flour and knead a soft dough.
Roll out a portion of the dough with a rolling pin and cut diamond shapes out of it.
Place them on a greased baking tray.
Bake them in a pre-heated oven at 180°c for 8-10 minutes.
Allow the shakkarpare to cool and enjoy while watching your favourite TV show.
6. Coconut Ladoos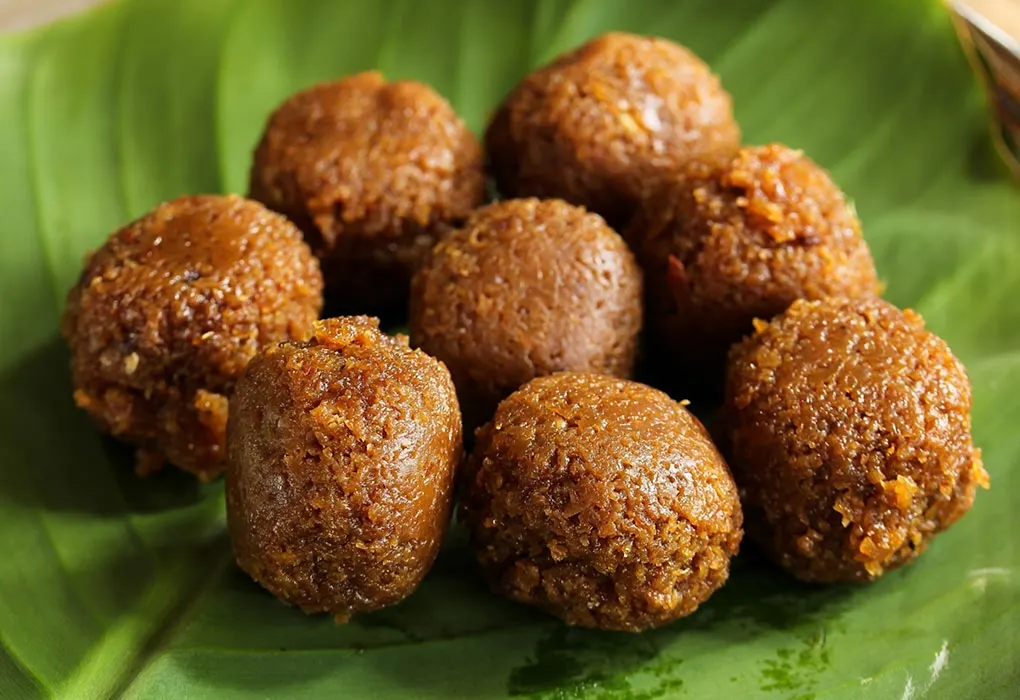 Coconut ladoos are extremely popular in South India. Although these ladoos are not a Diwali sweet, you can still make it if you want to try something different. It is suggested that you use freshly grated coconut to enjoy the most of it and to make a healthier version of these, use jaggery instead of sugar. Here goes the recipe.
Ingredients
Grated coconut -1 and a half cups
Jaggery – 3/4th cup
Cardamom powder – 1/4th tsp
Ghee – 1 tsp
Water
How to Make
Take some water in a pan, add the jaggery to it and melt on a low flame. Once it melts completely, turn off the flame and let it cool.
Filter it through a sieve in a bowl.
Heat the ghee in another heavy-bottomed, non-stick pan on a low flame, then add in the grated coconut, and sauté for about 2-3 minutes.
Add the jaggery syrup to the coconut and mix well, then add the cardamom powder and give it a stir.
Let it cook till the moisture evaporates and you see the jaggery-coconut mixture drying up.
Turn off the flame and allow the mixture to cool.
Grease your palms with half a tsp. of oil and roll the ladoos.
7. Whole Wheat Papdi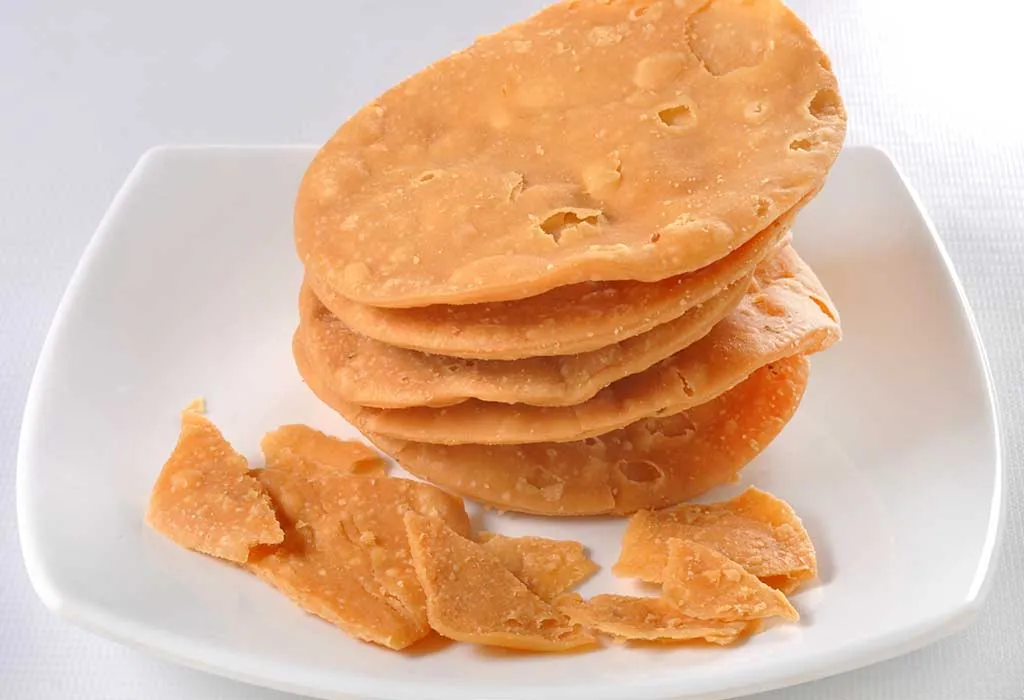 Whole wheat papdi is one healthy Diwali snack which you'd like to make and eat if you are not much of a sweet tooth. For a healthier version, bake the papdis!
Ingredients
Whole wheat flour – 1 cup
All-purpose flour – 1 cup
Carom seeds – 1 tsp
Cumin seeds – 1 tsp
Ghee – 2 tbsp
Water as required
Salt to taste
How to Make
Mix the whole wheat flour, all-purpose flour, carom seeds, cumin seeds, and salt in a bowl.
Add half a tsp. of ghee to the above mixture and mix well.
Slowly add some water to the mixture and knead firm dough. Keep the dough aside for about 30 minutes.
Then knead the dough again and make 4-5 equal balls of the dough.
Take 1 ball and roll it using a rolling pin. The rolled ball should be the size of a chapati now.
Using a cookie cutter cut round shapes from the rolled dough.
Roll other balls too and cut the rolled dough into round shapes.
Prick the cut out papdis with fork.
Line a baking tray with parchment paper. If you don't have parchment paper, grease the tray with some ghee.
Preheat an oven at 180° C for about 15 minutes. And place the papdis in the baking tray.
Bake the papdis in the oven for 20 to 25 minutes or till they turn golden.
8. Whole Wheat Nankhatai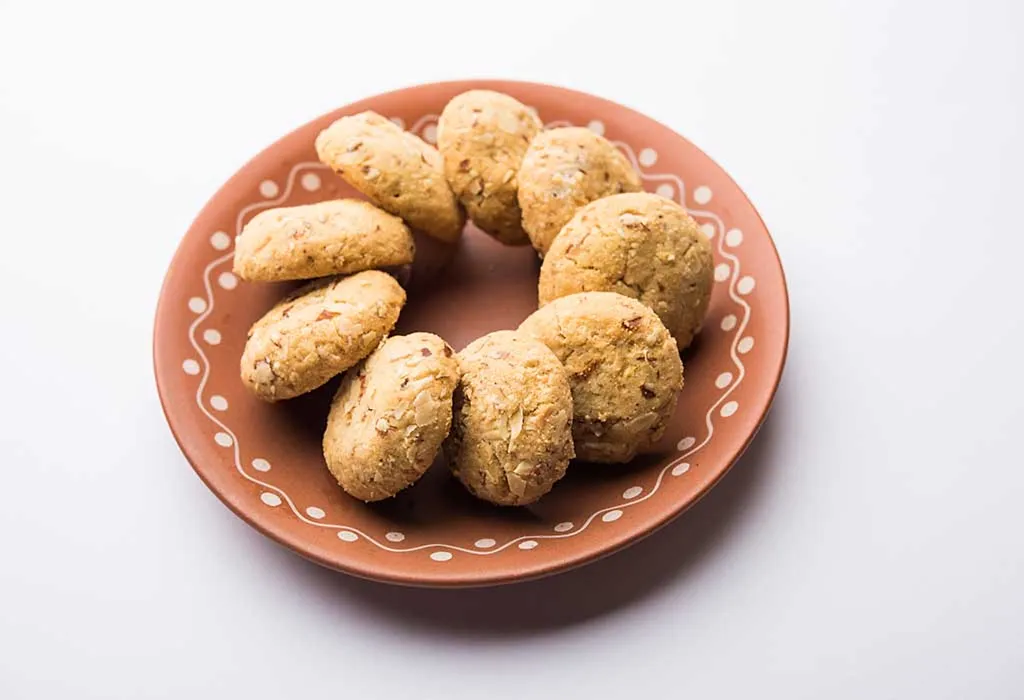 Nankhatai is usually made with all-purpose flour but to make a healthier version of it, use whole wheat flour. Yes, you will have to add in some sugar for sweetness, but that's okay! You can always walk that extra mile or run for 10 more minutes on the treadmill to burn those extra calories. Check the recipe below and make crunchy and delicious nankhatai.
Ingredients
Whole wheat flour – 1 cup
Gram flour – 1/4th cup
Powdered sugar – 1/2 cup
Cardamom powder – 1/2 tsp
Ghee – 1/3 cup
Milk – 1 – 2 tsp
How to Make
Preheat an oven at 180° C for about 15 minutes.
Line a baking tray with parchment paper. If you don't have parchment paper, grease the tray with some ghee. Keep aside.
Sieve the flours, powdered sugar, and cardamom powder together in a deep bowl. Mix them well.
Slowly add some ghee to the bowl containing the flour mixture and mix it well to make stiff dough. Use little amount of ghee to bring the flour together. Do not knead the dough. You can also add a tablespoon of milk if required.
Now make small balls out of the dough.
Gently press them to flatten them. Make a design on them using a fork or toothpick.
Place them on the baking tray and bake in the preheated oven for 20-25 minutes.
Serve warm. You can also store the nankhatai in an airtight container for 2-3 weeks.
These are some of the most enjoyed Diwali sweets and snacks, which you can now make and enjoy! Don't give up on your favourite sweets, prepare them in the healthiest way possible and soothe your aching sweet tooth. And to save yourself from last minute rush, we suggest that you make these dishes in advance and have a wonderful time with your family and friends. Have a healthy, safe, and guilt-free Diwali!
Also Read:
Fun-Filled Diwali Activities and Games for Kids
Tips for Celebrating Eco Friendly Diwali
Pre Diwali Home Cleaning Hacks You Must Know