Creative Book Character Dress Up Ideas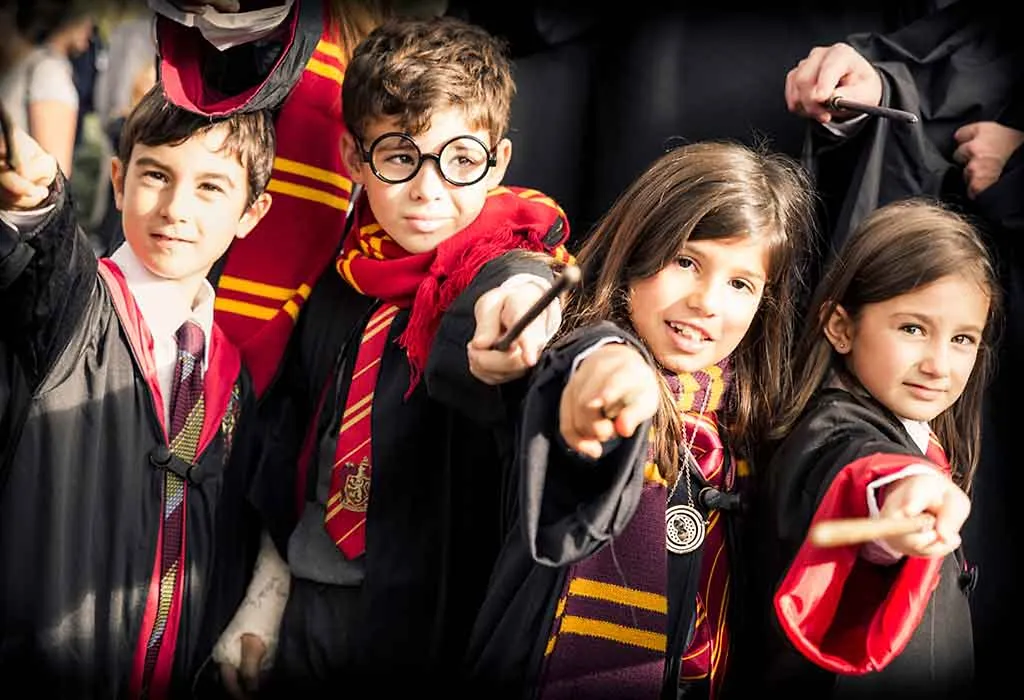 In this Article
Playing dress-up is a fun activity that promotes cognitive, analytical, and emotional growth in children. Though Halloween is everybody's favourite dress-up festival, no time is the wrong time for your children to show their creativity. Through books, children create enchanting worlds of angels, fairies, wizards, witches, and superheroes in their imaginations. Playing dress-up gives them a chance to live in their make-believe world, where they have similar powers and lives as their favourite book characters. A child's imagination can run like a wild horse. Making their own costumes or expressing how they want it encourages decision-making and leadership qualities in them. Executing well-thought ideas and designing costumes with material available at home can be a far better experience for the entire family rather than purchasing a ready-made outfit. That way, kids get to collaborate with their parents bringing much-needed validation to their ideas. Playing dress-up is more fun with company, and costume parties are always a hit, Halloween or not. Here are 20 fantastic ideas for book character costumes for kids.
Fantastic Book Character Costumes Ideas
Most storybook costumes can be constructed using clothes and materials available at home or easily found in a store. It is not always necessary to invest in an expensive costume. Bring your children's favourite literary characters to life with these 20 easy storybook character costumes:
1. Hogwarts Student, the Harry Potter Series
Harry Potter and his friends remain, to date, few of the most popular book characters ever. The two most prominent articles of clothing in their Hogwarts uniform are the different-coloured house-ties and scarfs. For instance, if your children want to fashion themselves after Hermione, Ron, or Harry, they'll need maroon and gold accessories. They'll also need a white shirt, maroon sweater vest, skirt or pants, socks, shoes, and a black robe. Last but not least, they will need a wand made out of a long pencil or a stick to finish their look.
2. Queen of Hearts, Alice in Wonderland
The Queen of Hearts' red costume from this classic children's book is easy to make. All you need is a red dress, red lipstick, playing cards, and a crown. You can make the collar by layering the playing cards and sticking them on a large piece of paper that can be wrapped around your neck. Remember to wear your lipstick in the shape of a heart.
3. Olivia Calaban, Series of Unfortunate Events
Librarian Olivia Caliban is a striking and chic character who serves as a guardian to the Baudelaire kids. Her style is simple to recreate but recognisable. All you'll need is a Tweed skirt, cat-eye spectacles, and a polka dot collared shirt.
4. The Giving Tree
Shel Silverstein's The Giving Tree is one of the most fun homemade storybook costumes to recreate and requires minimum to no sewing skills. You will need green felt, green glue, green pants, and a full-sleeved green shirt. You can cut out the leaves from the green felt and glue them onto the shirt. You can even pin some to your hair.
5. Zero and Caveman, Holes
To recreate Louis Sachar's Zero and Caveman, you will need an orange jumpsuit, a white tank top that you can make a little muddy, and a couple of jugs of water and shovels.
6. White Rabbit, Alice in Wonderland
The White Rabbit in Lewis Carroll's Alice in Wonderland is an iconic character that you can recreate with a white dress, red coat and some hair accessories. You can wear a bunny headband, a blue bow collar, and blue heels with white socks.
7. Mary Poppins
Mary Poppins is one of the most iconic and beloved literary and cinematic children's characters. To dress up as Mary Poppins, you will need a top hat, white blouse, black skirt, shoes, gloves, a duffel bag and of course, an umbrella!
8. Tinker Bell, Peter Pan
Tinker Bell from J.M. Barrie's Peter Pan is one of the most adorable shiny costumes for kids. You will need a green dress and green ballerinas, which you can accessorise with fur pom-poms. You can either buy or make a pair of sparkly wings using cardboard and glitter and use some as Pixie Dust.
9. Peter Pan
This classic children's character is so distinct that you wouldn't need much to dress as Peter Pan. All you need are – an oversised green shirt, brown belt, and pants along with a green hat with a red feather glued on it. You can complete the look with a plastic dagger.
10. Curious George and the Man in the Yellow Hat
If you have a duo at home, this is probably a great costume idea for your children. You will need a yellow shirt, pants, a hat, and a pair of black rain boots. Add a yellow tie with black polka dots and a black belt to your attire. For the curious George costume, you can wear a brown shirt and pants with monkey ears and a tail.
11. Waldo, Where's Waldo
If your children love finding Waldo, they can play Where's Waldo by dressing up as the titular character. Simple yet distinct, Waldo's classic red and white striped full-sleeve t-shirt, blue jeans, and shoes aren't difficult to get your hands on. Remember to wear his iconic round spectacles and carry a red and white beanie.
12. Madeleine
If you are a fan of Ludwig Bemelmans' Madeleine, you can dress up as the chic seven-year-old. You will need a navy dress with white-collar, white socks, black Mary Jane shoes, and her signature yellow hat.
13. Junie B. Jones
To make it more exciting for your children, you can pair up with them and dress up as Junie B. Jones and Humphrey the Hamster. For Junie's costume, you will need a bright pink cardigan, skirt, patterned tights, shoes, a bow, and spectacles. Your children can wear hamster onesies, paint their noses, and add whiskers to their faces.
14. Eloise
If your little one is fond of Kay Thompson's children's book series Eloise, you can dress her up as the young girl who lives in the Plaza Hotel in New York. You will need a white button-down shirt, a black skirt with black suspenders, and a red bow. This is an effortless costume to make at home.
15. Arthur
Marc Brown's Arthur book series is really popular among children. Arthur's costume is easy to assemble and comprises a white button-down shirt, jeans, a yellow sweater, and round glasses. Finish up the look with red sneakers.
16. Clark Kent, Superman
Superheroes are an eternal craze among growing kids, and if you are looking for comic book character Halloween costumes, Clark Kent becomes an obvious choice for many. All you need is a suit, shirt, glasses, and a steno pad. You can look more like Superman by wearing a Superman t-shirt inside the suit instead of a button-down shirt.
17. Sherlock Holmes
Arthur Conan Doyle's Sherlock Holmes is a classic literary personality with a distinct style. You can put together a signature Sherlock Holmes look with pants, a shirt, a dark-coloured tweed coat, and the essentials of the ensemble – the hat, pipe, and a magnifying glass.
18. Amelia Bedelia
Amelia Bedelia's fun and chaotic life can be enjoyable for your kids to play-pretend. For the costume, you will need a long-sleeve black dress that is worn over a white button-down shirt and a white apron.
19. Hedwig, Harry Potter Series
The Harry Potter series is full of magical and mystical creatures like Harry Potter's pet owl, Hedwig. You can put together a Hedwig costume with white leggings, a shirt, brown shoes, and an owl eye mask. Add feathers or even wings to the shirt for a more realistic finish. You can either add white feathers or white felt cut-outs.
20. Katniss Everdeen, The Hunger Games
The Hunger Games series is a favourite among older kids who like action-packed stories. You will need brown pants, a black t-shirt, a black bomber leather jacket, and the signature Mockingjay pin for a Katniss Everdeen costume. A braid is characteristic of Katniss, and you can complete the ensemble with a bow and quiver of arrows.
Try out these easy and fun book character costumes and have a memorable time with your kids. These costume projects can be an excellent opportunity for parents to understand their young kids and their perspectives. You can even use these ideas for themed birthday parties or Halloween.
Also Read:
Dress Up Play for Children
Best Fancy Dress Costume Ideas for Children
Halloween Costume Ideas for Twins