Best Father's Day Puns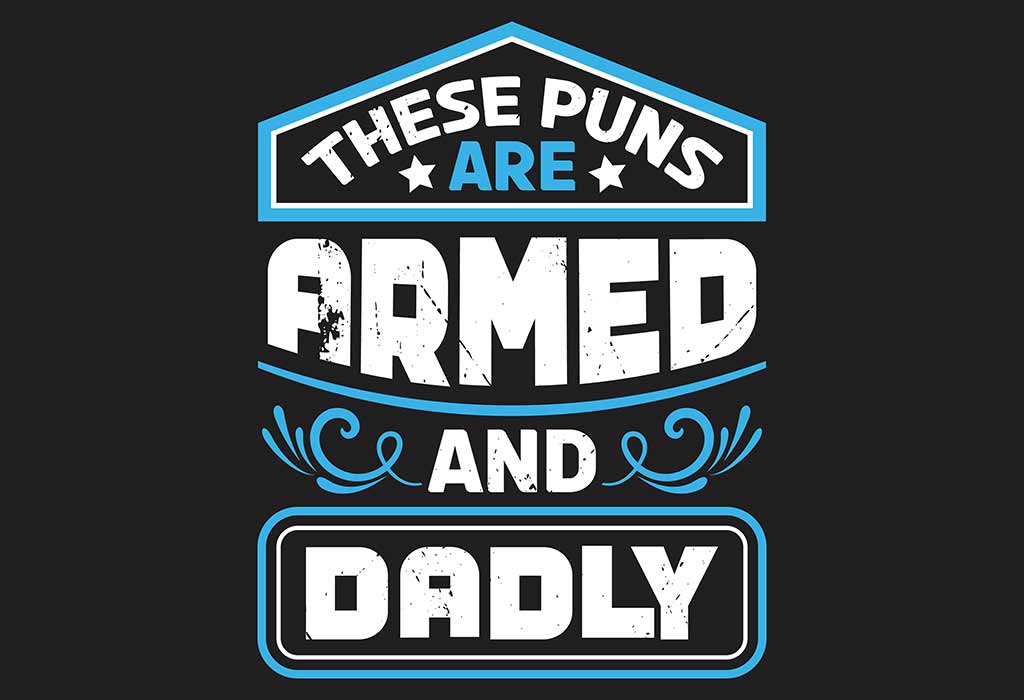 In this Article
Fathers are the pillars of their families. They are the providers, the caregivers and even the friends their kids can confide in. Most children have memories of the time they spent with their fathers, and these memories are bound to include some light moments. It could be their father cracking a silly joke or a comedy of errors, some things fathers do, never fail to surprise and delight their kids. Sometimes, it's the humour that makes you smile; sometimes, it's just the light-hearted antics. They fill life into the relationship and make sweet memories for everyone to cherish. This Father's Day, appreciate your dear father with one of these quirky Father's Day puns!
Funny Puns That Will Enhance Your Father's Day Greeting Card
Maybe your father sets the bar high when it comes to dad jokes, or low, depending on how you feel about puns and cornball humour. But you can't let Father's Day slip without at least attempting to outwit him with some clever wordplay of your own. Father's Day humorous puns will be a great addition to your amusing Father's Day card. Consider these hilarious ideas for funny Father's Day puns and grilling dad jokes for dads of all sorts, whether you're looking for the perfect greeting card wish, social media caption, or in-person zinger. These pun-tastic Father's Day one-liners can be perfect for sending a loving tribute to your dad. In every case, your father would adore them all, whether they are golf puns, Father's Day fish puns, and everything in between. He might just borrow some of them as his new favourite jokes (expect to hear these jokes on repeat). They're the ideal puns to show him that the apple doesn't fall far from the tree and that he has raisin' you in style!
Dad, you are my favourite grill master because you're flippin' awesome.
Hive, I told you this, that you're un-bee-lievably awesome.
You are a real pizza of work, and though you bacon us crazy sometimes, still we love you lots.
Yeast I should do for an un-beer-lievably loving dad like you is to make a beautiful card.
I can't beaver-lieve how fortunate I am to get a dam good dad like you!
Dad, you are my biggest fan. I can't thank you enough for pudding up with me.
I wished to give a comb to you for this father's Day, but I was not able to part with it.
The biggest difference between dad jokes and bad jokes is just their first letter.
Let's enjoy s'more quality time on this Father's Day Dad.
Dad, I want 50% of your Father's Day gifts. After all, if it weren't for me, you wouldn't be a father.
To the best dad in the game – Happy Father's Day
I wondered a lot what to gift you, Dad, this Father's Day. Then I thought of this pheasant. Happy Father's Day, Dad!
Dad, have I ever told you that you're a fan-stache-tic father?
You are the best Dad in the World, and I love you beer-y much!
Dad, I love you watts, and watts as you're the brightest light of my world.
Dad, you're the punniest dad in the world.
Dad, you always helped me blossom. I'm honoured to be y'orchid.
Dad, you are the best. Olive, you dad!
This Father's Day to shore you, my love Dad, we have a party to shella-brate.
Dad, you are the reel deal!
Let me share a secret with you, Dad (don't tell Mom) – you are my favourite parent. It was knot, even a close tie.
Dad, you are a loving dad to the bone.
Dad, I have always loved you from my head, to-ma-toes. No one can beet your awesomeness.
Dad, without your love and care, I doughnut know how to survive.
Dad, I was never able to espresso what you mean to me. Love you, latte Dad!
You sea-riously drive me crazy, Dad.
I am not a kitten, Dad. I love you litter-ly.
You have never been a nacho-average father. Let's taco 'bout your awesomeness.
Thank you, Dad, for being a tee-riffic father.
Dad, I turned out well. All thanks to your regular chicken on me. Well done!
Dad, you always putt me on the right path in life. Thanks!
You are always fish-ing me, Dad, still, I love you.
Your sense of humerus is eggcellent, dad. Your yolks always crack everyone up.
Dad, it is not pasta-ible to be any more cooler.
Pho-real, I love you, Dad!

Dad, you're a-maize-ing! Corn-gratulations on being the best father!

You're the anchor of our family, Dad. We're knot sure what we'd do without you!

Dad, you're a hole-in-one! Thanks for always keeping us on par.

You're the grill-iant dad who knows how to turn up the heat and make the best memories.

Dad, you're brew-tiful inside and out! Thanks for always percolating love and joy in our lives.
Whether you're looking for some laugh-out-loud jokes for your Father's Day card or a witty Instagram caption on Father's Day, any of these hilarious Father's Day jokes are perfect for all occasions. Just choose the ones that best suit your dad's style and make his Father's Dad more special.
Also Read:
Ways to Honour Dads on Father's Day
Gifts You Should Avoid on Father's Day
Last Minute Gift Ideas and Celebrations for Father's Day