Get Ready for Winter With This Beauty Hamper by The Moms Co.!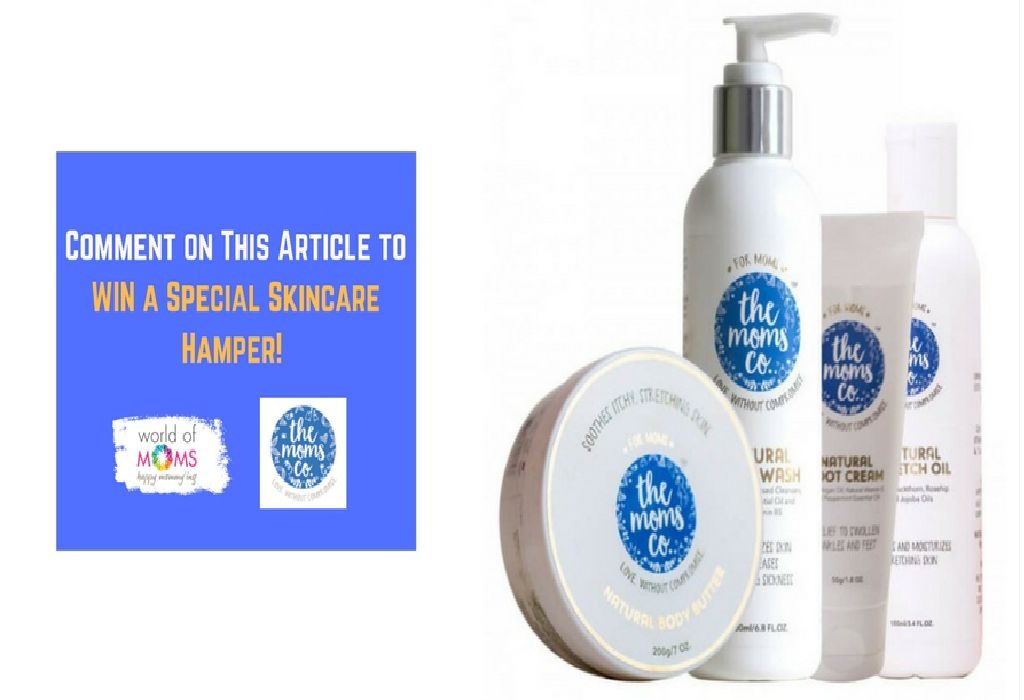 Winter is coming, ladies! October is drawing to a close and there is now a very slight nip in the air. Very soon,the days will get shorter, the winds will get chilly, and you will don sweaters and scarves!This changing season can take a toll on your skin, leading to dullness and dryness.To brighten up your winter, we are giving away a very special Winter Skincare Hamper by The Moms Co. to lucky moms!!!
When winter arrives, life gets even busier for mothers. Children to be dressed in warm clothes, seasonal infections to keep away, hot treats to cook in the kitchen…Amidst all this rush, a majority of mothers forget to attend to one very important thing for themselves. Don't believe us?
This winter, we want to treat moms to a very special gift, something to make them feel pampered and revive something that gets lost amidst the chaos of everyday chores.
We spoke to many mothers on World Of Moms to find out what they think gets the most neglected in their day-to-day life. One of the main things that came up is, surprisingly, skin care!
Fellow Moms Tell Us: 7 Reasons Mothers Are Prone to Skin Troubles
Digging deeper, we asked moms to share what they think are the reasons behind this neglect toward skincare in mothers.Turns out, the problem starts right in the pregnancy days. During pregnancy, your body undergoes several hormonal changes.While some of these have uncomfortable side effects, such as morning sickness and nausea, others have very welcome results – glowing skin and strong hair!When we say a mom-to-be is glowing, it is not just a casual compliment but actually true.However, the bubble bursts after delivery.
Post-delivery, as the hormonal surge subsides and the body tries to slowly recover from the pressure of childbirth, skin usually goes for a toss.
Many mothers experience dull skin after delivery as well as problems like dryness, patchiness and acne. Here are the main reasons moms tend to ignore skin care – straight from the horse's mouth:

Pregnancy skin is already glowing – why do anything special?
Unwillingness to use topical creams, lotions, etc., during pregnancy
Post-partum stress and fatigue
Lack of time to focus on oneself
Doubtful about using any skincare products as a new mom, fearing it might affect the breastfeeding baby
Belief that skin changes after baby are permanent
Unavailability of natural and toxin-free products for skincare
These reasons tend to pre-dispose moms to not taking enough care of their skin. As a result, many women struggle with skin problems as early as in their 30s.
The problems only get aggravated when winter arrives.
Expert Advice on Essential Skin Care for Pregnant & New Moms
Do not ignore skincare during pregnancy. During the winter months, you might struggle with dryness and itchiness, especially in the abdominal area. Stick to organic and natural skincare products such as The Moms Co.'s Natural Body Butter,
Natural Stretch Oil, Natural Body Wash and Natural Foot Cream. These products are Natural, certified toxin-free and clinically tested.
Expert Advice on Skincare for Pregnant Moms

Dr. Neharika Malhotra, M.D., FICMCH, FMAS
Keep in mind that your skin is more sensitive while pregnant, therefore some products may cause skin irritations, or you may get burnt more easily.
You can indulge yourself at a spa, get a massage, a facial, get a manicure or pedicure.
There are certain things, though, that you should avoid while visiting a spa – saunas, steam rooms, tanning beds, hot springs, whirlpools, hot tubs and spa baths.
Use an effective stretch oil/cream to enhance your skin's elasticity during pregnancy. This will reduce your risk of developing stretch marks. The Moms Co. Natural Body Stretch Oil is a good option and can be safely used on the belly, hips and breasts.
Remember to moisturise your skin in the post-partum stage with a natural body butter. Use a relaxing foot cream to give relief to tired and swollen feet. This will also alleviate the problem of cracked heels, a common winter skin concern.
Stick to lukewarm showers as far as possible. Hot showers may feel wonderful in the winter but they can aggravate skin dryness.
Eat a balanced, wholesome and natural diet that's rich in vitamins and minerals. Some good foods for new mom skin care are strawberries, prunes and apples. Do not miss out on hydration even though you may not feel as thirsty in the winter.
Quick Tip to Ready Your Skin for Winter!

As the weather changes, skin tends to become dry and dull. To prep up for winter, cleanse your skin daily with the Natural Body Wash by the Moms Co.
It has coconut-based cleansers that will restore your skin's natural balance and essential oils to lift your spirits.
Follow up by moisturising your skin with the Natural Body Butter. You will be able to see more nourished, healthy-looking skin within a few days.
How to Win The Moms Co. Winter Skincare Hamper!
The winter beauty hamper we have waiting for you has some of these awesome products we just told you about, and many more.
The Moms Co. is dedicated to creating natural, safe and effective offerings for moms and babies so that mothers can have another thing they seriously need more of – peace of mind!
This winter hamper has also been designed with love and without compromise. It has some incredibly gentle and pure treats for your skin to keep you glowing as the weather changes.
#Giveaway
POST a COMMENT on this article, telling us your Daily Skincare Tip!
It could be anything – from moisturising at bed-time to eating a skin-friendly diet.
DATES: Oct 16 – 31, 2017
One lucky mom from the commenters will win The Moms Co. special Winter Skincare Hamper!
(Click on the image to view hamper contents)
It could be anything – from moisturising at bed-time to eating a skin-friendly diet.
All the best, ladies! 🙂