Losing Post-Pregnancy Weight at Home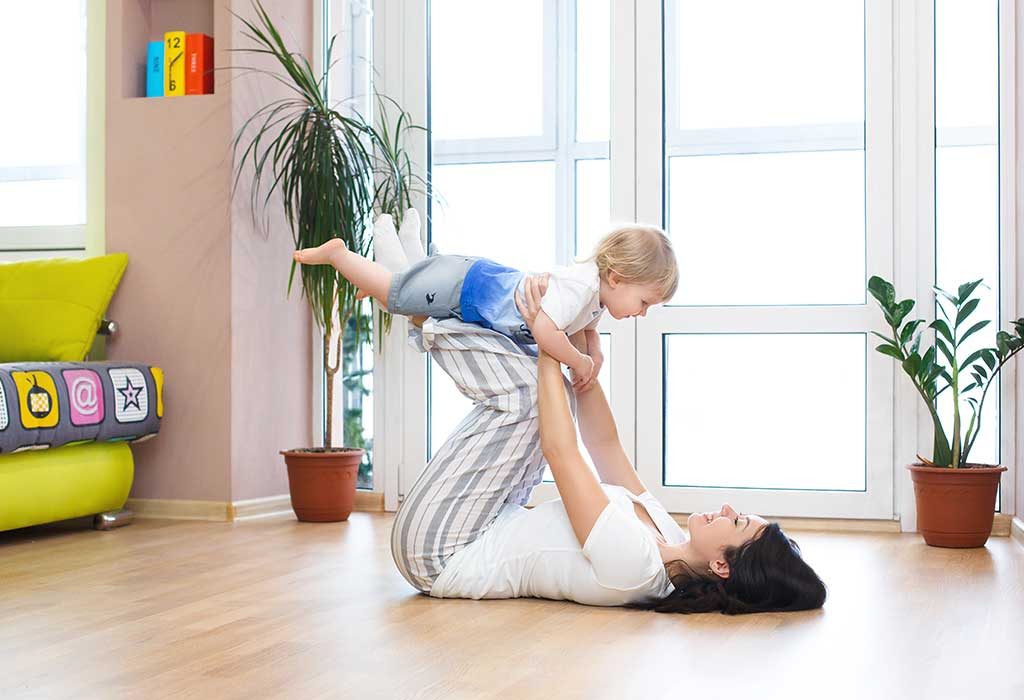 The day T was born (our first child), I was 91 kgs. Yes, I was overweight. I was not sure how I will lose the excess pounds. My so-called well-wishers told me that I will never get my pre-pregnancy weight.
But I didn't believe their words. I didn't want my motherhood phase to fade away in my journey of weight loss. I didn't want T to take the blame of my weight gain. I was 55 kgs on the day T turned 2! I was bought a pair of jeans that was 2 size smaller than the ones that I wore even before my pregnancy. I couldn't contain my joy – imagine when you go for buying a size 10 but end up buying size 6 – how good it feels!
We all struggle with pregnancy weight. It is good to gain up to 12 kgs during normal pregnancy. And I gained too. Before pregnancy, I was 75 kgs but during pregnancy, I gained 16 kgs. And I was overweight. I wanted to lose some weight. And I knew it would take time and patience. I don't believe in crash diets. To me, the secret to losing weight has been the healthy way, i.e., following a balanced diet and exercising.
I started with a brisk walk. When T was almost a year old, we got her an umbrella stroller and I used to take her out for a walk every morning and afternoon. It worked like a miracle. Within a month I could feel the difference as the size of my clothes changes. At that time, I didn't have the time for any other form of exercise. As far my diet was concerned I was never into a crash diet. I never believed in fasting. To me, a satisfied stomach leads to a happy soul. If my soul is happy I can achieve just anything.
My diet included
Breakfast – Soy milk/lactose-free milk and cereals
Lunch – Rice, dal, sabji, fish/egg/chicken
Evening snack – Masala oats, murmure, tea
Dinner – Rice, daal, sabji, fish/egg/chicken
Night – Bed tea
On the days I used to drive T to her daycare centre, I ate salads instead of rice. Not for any diet purpose but only to stay awake while driving as rice makes me dizzy while driving. In salads, I usually included moong sprouts, chopped onions, cucumber slices, lettuce, and boiled eggs. I tossed a few drops of oil over it.
I found out that at that point of time my body needed at least 1800 kcal through foods and that I should burn at least 500 kcal a day. Now the common mistake that we usually do is subtracting the calories. It was not wise to believe that 1300 kcal (1800-500=1300 kcal) is enough to reach the goal. But it's a big "No". 1800 kcal is the nourishment that we require and 500 kcal should be burned through exercise. If we take only 1300 kcal we will always remain undernourished. And when we starve, we always end up eating more and gaining more weight. So the trick is to eat healthy food to meet our calorie requirements and exercise to burn 500 Kcal. As I settled with T and she started going to daycare, I started with aerobics at home. It helped me lose weight. When I was expecting my second child, I exercised all along my pregnancy and practised prenatal yoga.
Everyone around me was scared that it might harm the unborn baby, but it helped. I was much prepared this time. I was running errands even the day before my delivery. My blood pressure was normal every moment, even in the operation theatre. I ate my heart out and gained about 10 kgs. I still have 6 kgs of the pregnancy weight, and I am in no hurry to lose. I lost 36 kg in a span of 2 years and I am glad that I achieved my goal while taking care of my children. To all those out there who are trying to lose weight, eat healthy and stay healthy. And also exercise, because exercise is the key to lose weight!
Disclaimer: The views, opinions and positions (including content in any form) expressed within this post are those of the author alone. The accuracy, completeness and validity of any statements made within this article are not guaranteed. We accept no liability for any errors, omissions or representations. The responsibility for intellectual property rights of this content rests with the author and any liability with regards to infringement of intellectual property rights remains with him/her.