How Does Speech Develop in Babies and How It Is Changing Overtime?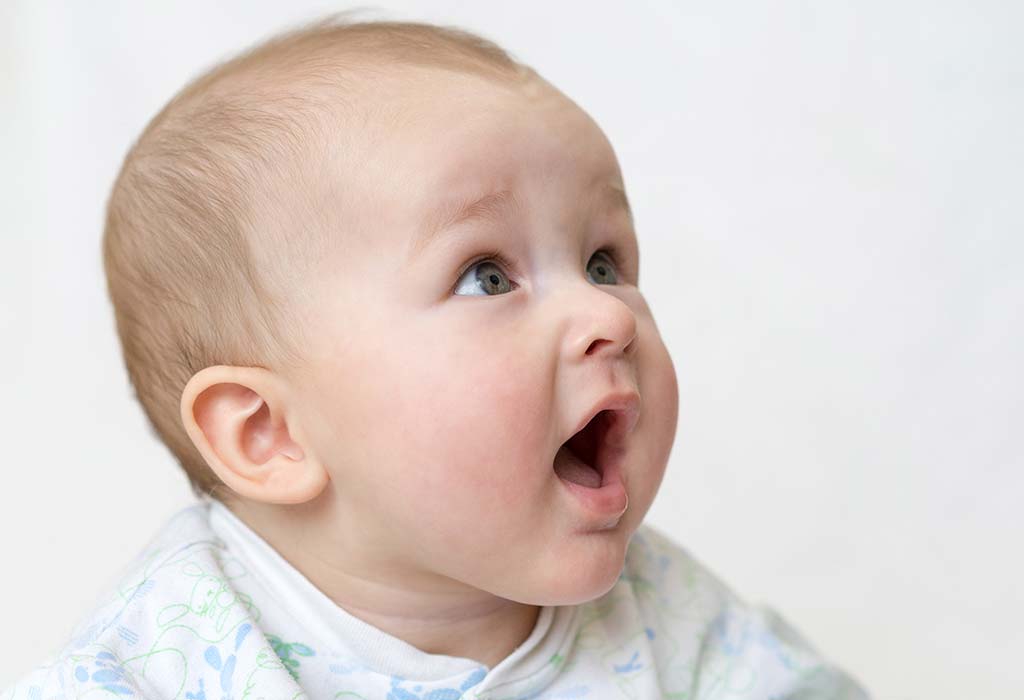 All parents look forward to the joys of seeing their little ones talk! Before babies learn to speak a real language (Hindi, English or any other), they go through different stages of expression. From crying, smiling, cooing, gooing, gurgling and babbling to saying the first words, a baby's speech development journey is a mix of interactions with the enviornment and the caregivers. Babies tend to learn language skills in natural succession, and some milestones may be identified as a general guide to normal growth. The first words are like music to a parent's ears. But how can you know if your child's language and speech development journey are on track?
While each baby develops at its speed, general milestones can guide typical
speech and language development
. These milestones help doctors, and other healthcare providers determine when a kid may require further assistance.
How does the speech of a child change over time?
Before they can learn to speak, babies must first learn how the language sounds. Although each child develops at their own pace, there are some general patterns:
Babies cry and coo between the ages of one and three months.

Babies between the ages of 4 and 6 months sigh, grunt, gurgle, squeal, laugh and make various crying sounds.

Babies babble in syllables and begin imitating tones and speech sounds between 6 and 9 months.

A baby's first words usually appear by 12 months, and by 18 months to 2 years, children use around 50 words and begin putting two words together into short sentences.

Sentences lengthen to four or five words between two and three. Almost all common items and imagery, as well as pronouns (I, me, he, she) and some plurals, are recognised and identified by children. The majority of words are understandable to strangers.

Conversations become longer, more abstract, and complicated after 3-5 years.

By the age of five, most children have a 2,500-word vocabulary and can speak in entire, grammatically accurate phrases. They frequently ask, "why?" "what?" and "who?" questions.
There are some critical red flags for speech development. Speech screening tools can help parents check if their child needs professional help.
Tips for parents to boost babies' speech development at home
1. Speech Development Through Fun Movement Activities
Activities for speech development, moving, crawling, sitting, and standing are all important aspects of a child's development. These abilities aid a child's exploration of his surroundings. The variety of movements in a child's environment will aid their development.
According to the American Academy of Pediatrics, play is "children's lab hour." Children learn the majority of their information through play. These games help them discover their passions. Play helps develop cognitive, physical, speech, language, and social-emotional skills.
2. Motor movements in playtime boost speech development
Getting children involved in everyday play and games that require a lot of movement will encourage them to use their speech and language skills in a fun and engaging way. Youngsters can also learn new words and use their newly-acquired language skills. A youngster plays these interactive motor movement activities with a communication partner or peer group.
3. Sensory Activities for speech development
Sensory exploration engages all of the senses at once. These experiences can include all seven senses of touch, hearing, seeing, tasting, smelling, equilibrium and pressure. Sensory exploration has a significant impact on a child's language and speaking development.
Include a variety of home activities for the child to interact with.
Playing with kitchen utensils

Holding things in the bathroom

Walking barefoot on grass and soil in the garden

Smelling flowers

Playing with cushions in the bedroom

Feeling different vegetables and fruits

Picking colourful boxes from the cupboard

Jumping on a pile of laundry clothes

Playing with soap and water
All the above lead to long-lasting experiences of learning new words. These activities stimulate the brain and aid in speech and language development.
4. Reading books helps
Reading to babies and toddlers can boost language development and also aid in fostering many other important skills like sound-word awareness, joint attention, concentration, early literacy, imagination, and empathy.
Tips to remember when choosing books for babies. Think about book reading time as a time to engage your little one and talk about new words. Hence a wide variety is recommended. Choose:
Black and white books with a single image on each page

High contrasting images

Different texture books – cloth, vinyl, waterproof etc.

Books with hidden surprises or lift the flaps, peek-a-boo books, pop up books etc.
There are numerous activities where you and your baby can collaborate and develop language throughout the day. You and your child have access to all the raw materials required for language learning. Encourage genuine relationships and tender moments with your child.
Disclaimer: The views, opinions and positions (including content in any form) expressed within this post are those of the author alone. The accuracy, completeness and validity of any statements made within this article are not guaranteed. We accept no liability for any errors, omissions or representations. The responsibility for intellectual property rights of this content rests with the author and any liability with regards to infringement of intellectual property rights remains with him/her.