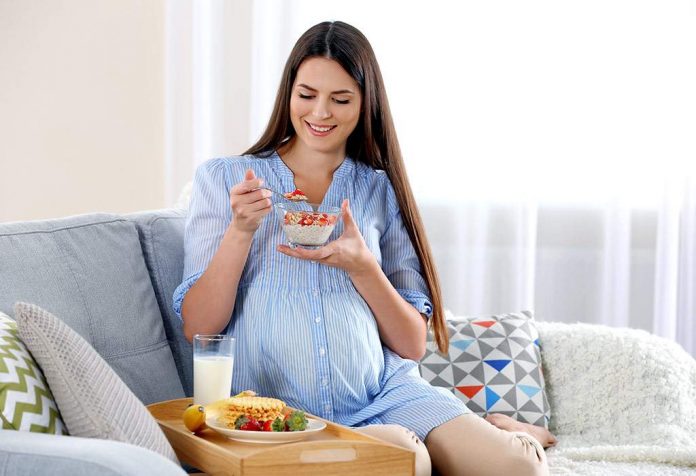 Last Updated on
We often hear people say "Eat all you want it's the time to enjoy", well anything is good as far as it's not overdone. Pregnant women are often told to eat more and eat a lot of sweets and carbs in the Indian household. We forget how our lifestyle in India has changed over the years and we fail to adapt our diet accordingly. Indian women used to be the most active in pregnancy doing all the household chores and hence eating more to sustain the energy. Also, remember the Indian diet had minimal empty calories. Modern India eats a lot of junk and has a lot of dishes inspired by other cuisines. To add to this we are no longer as active physically.
It's important for us to understand this change and make sure we are wise in what we eat even during pregnancy. Obesity in pregnancy is related to a variety of complications, to name a few, high BP, diabetes, umbilical hernia and complications in the baby's growth as well. This doesn't mean you have to follow diets and try to not gain weight. You just have to be cautious of not overeating in the name of pregnancy and gain a healthy amount of weight. The body needs extra calories. What constitutes the calories matters, you need to get them from nutritious foods rather than a bag of chips or a tub of icecream.
It's quite easy and most doctors advise you on how to eat. Eat a lot of fresh fruits and vegetables, do not increase the portion of rice, rather increase the portion of veggies and pulses, eat more frequent meals and make sure you have healthy snacks handy. It's completely alright to give in to your cravings but portion control is important. Do not let anyone in the family tell you otherwise because they might have not updated themselves to eat for modern times. They mean well but could be ignorant. Tell yourself that you do not need to eat for 2, you just need to eat more and enough to provide the right nutrition for the baby to grow well. The baby gets the nutrition out of your food and not the food itself. Eating more is also not going to make your baby chubby. If you gain within the recommended range of weight gain then your chances of having a chubby baby are higher (mind you, I am not talking about an overweight baby).
To add to the above please do exercise. You don't have to go to the gym. But do yoga and walk. You are not sick. Unless advised by the doctor you should continue to be physically active. Resting is necessary and avoiding a certain type of vigorous activity is important. But if you are not going to move around much and just keep lying down with minimal physical activity, you are only making it worse for you and your baby. Physical activity helps the body tone up and cope with pregnancy. Eventually, you need all the strength to go through your delivery and it's not going to miraculously happen unless you work through it. Talk to your grandmothers they would have squatted and swept the house, walked a lot doing household chores and going about the daily routine with very fewer changes. That's what the body needs. You don't have to suddenly increase the physical activity which also is bad. Try to maintain the level of activity as it normally would be and gradually increase if necessary. Talk to your doctors and consult a physiotherapist to figure out what is best for you. Don't wait till the last trimester to do this. Please don't treat pregnancy as a terminal illness. There will be some neighbours who will stare and pass comments, ignore them. They are not going to push for you in labour or help you when you have complications.
Enjoy your pregnancy wisely and remember that anything you do now will impact you in the long run too. You should be able to enjoy the delivery and postnatal period as well. Use the help available, which is now plenty in the healthcare sector.
Disclaimer: The views, opinions and positions (including content in any form) expressed within this post are those of the author alone. The accuracy, completeness and validity of any statements made within this article are not guaranteed. We accept no liability for any errors, omissions or representations. The responsibility for intellectual property rights of this content rests with the author and any liability with regards to infringement of intellectual property rights remains with him/her.