Boys Can Cook- God Has Chosen Me to Help Break This Stereotype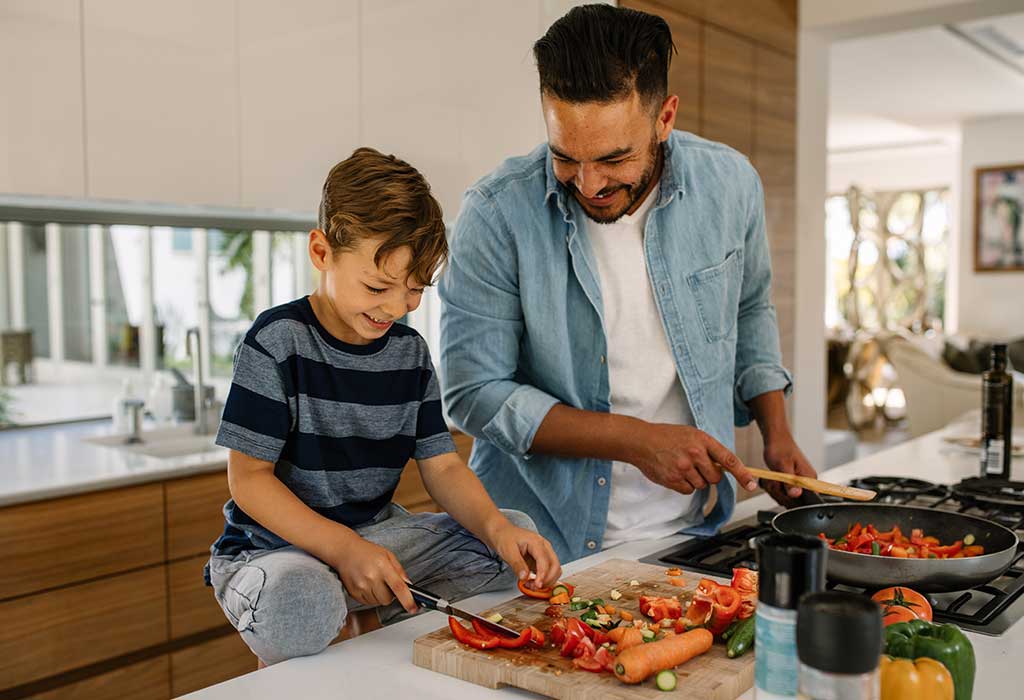 Cooking is a life skill that is not gender-specific. Why is it that a capable man expects the women in his life to feed him? Can't he cook to save his life? Does the man lose his manliness if he cooked for his loved ones? No, right? Then why not? Why not start when they are young?
So here I m breaking the stereotype that says, "Boys should not cook" and "boys can't cook." This stereotype is unique because it is practised by the same gender, which is being stereotyped. So, I am so proud of myself and thankful to God that he chose me to bring the change, atleast in my home.
I always used to say if I have a son, the first thing I will teach him is cooking, and I will make him learn the importance of it, if not for someone else but himself first; because I have seen many boys who stay in the hostels/abroad for their studies and could not make a single meal for themselves and are entirely reliant on outside food or tiffin services.
About My Master Chef
Thankfully or I will say, "God accepted my prayers;" when my son completed his first year, he started showing interest in cooking and kitchen stuff. At first, I thought he was like any other kid who loves to play with utensils, but I was wrong and was glad at the same time that he is a different kid.
You might not believe it, but my son knew all the tea ingredients at the age of one year and three months. We just used to measure and give him the authority to assist us in making tea, so he used to put the materials in the teapot himself.
He was always enthusiastic about cooking (vegetables or curries), stirring them nicely. We received numerous reprimands from our parents for allowing him to enter the kitchen and play near the stove, but believe me when I say that we were exceedingly cautious every time he was there. We never allowed him to touch the knobs on the stove. He is still not allowed to touch them at the age of two years and eight months. He also understands his limitations.
As soon as he completed two years, he started helping me do the dishes too, and you can imagine my "Me time" now. I frankly don't have any because you will always find my son in the kitchen along with me. And now, he knows which pan I use to prepare what kind of meals and what meals we make at what time of the day.
What do Our Families say?
I receive orders from the family to stop him since he is supposed to be an officer one day, and boys don't look nice in the kitchen. I never respond since I am aware of the generation gap and that they will not understand. But, my question is, "Cant an officer be a good cook too?"
Even if he doesn't want to be a professional chef one day, he should regularly cook for himself and his family. He should at the very least know how to cook, as being in the kitchen is just as crucial as doing other jobs.
Since you are a parent yourself, you may read many blogs that say, 'develop your child's interest in cooking.' Do these blogs mention only girls? No, right? Then why don't we start involving boys too?
Top-level chefs such as Ranveer Brar, Sanjyot Keer, Sanjeev Kapoor, Vikas Khanna, and many other male chefs have taken over all food channels in recent years. But, even after all of this, why does the misogynistic attitude still persist that only women should be able to cook?
Today 90% of men or maybe 80% (that too educated one) in relationships want their partners to cook, and some of those want their wives to serve them. Even when a man does something as simple as taking water himself, he is praised, and people start saying to the girl, that you are lucky that your man helps you by carrying water for himself from the kitchen, wow!
What did I do To Keep Him Involved?
When I prepare the meals, I always call my son to involve him in everything I do, including washing clothes, doing dishes, and other household chores, even if he is busy playing or doing something else. This way, he will know how challenging these simple-looking chores can sometimes be. And in the future, he doesn't have a mindset that cooking is the easiest task and homemakers do nothing apart from cooking.
How It Will End?
Who will stop it, and when is it going to end? The answer is that women must end it themselves, with the help of men who must begin to be compassionate and adjust their attitudes about their culture and traditions. If men keep helping their wives without their parents but not while they are present, it will not change. Here, I am not saying to start arguing with the parents, atleast try to make them understand the importance of learning how to cook for the boys.
We are also trying to change the mindset of our parents, and we will keep trying till we get success because this is not just a change; this is a "Good Change," because cooking is not meant for a particular gender and should be equally distributed. So, do you guys agree with me? If not, I would like to hear you out!
Disclaimer: The views, opinions and positions (including content in any form) expressed within this post are those of the author alone. The accuracy, completeness and validity of any statements made within this article are not guaranteed. We accept no liability for any errors, omissions or representations. The responsibility for intellectual property rights of this content rests with the author and any liability with regards to infringement of intellectual property rights remains with him/her.