A Healthy and Hearty Day in the Life of a Fussy Eater's Mom
Every morning I wake up to the tiny fingers of a 16-month-old playing with my hair and the sweetest voice ever waking me up in what we call 'the baby's language'. This is perhaps the best start any mother can have to her day.
Well, not always – I thought as I looked sleepily at the wall clock. 6 AM, it showed. Every day the clock shows a different time. Sometimes the day starts as early as 4 AM and if I am lucky, I get to sleep till 9 (which is rare). My sleep schedule is now ruled by my 16-month-old princess, Pearl. But today, being a holiday, and a Sunday, I can easily sleep for another two, no three, no several hours. I slept at 2 last night, so only four hours of sleep. How will I possibly drag through the day, I wonder.
As I breastfed her, I hoped that she falls asleep again and I steal a few more minutes of sleep. Pearl fiddled with both my breasts for several minutes and all I could do was adjust my body position accordingly. My attempt went down the drain when she suddenly stood up and said "Mamma" and looked for her sipper around the room. Yeah, mamma is her word for water. What does she call me? By some alien name. But of course, she says "Daddy" since ages. And her daddy was snoring away right next to me.
By then, Pearl had found the TV remote and brought it to me saying "T…T..T". At last, I had to leave the bed unwillingly, of course. While Pearl was busy watching her favourite baby TV (also disturbing her beloved daddy), I did my cleaning up and brushing routine and made several trips to the room in between to check on her. On one such visit, I gave her a cookie and left her dancing in front of the TV. Continuing the trips to the bedroom, I finished making poha for breakfast.
At 7: 30, I brought Pearl her breakfast (which was a bowl of Cerelac). She was busy dancing to Guru Randhawa songs and rejected her food immediately. I danced along with her and tried to distract her for five long minutes, after which she suddenly opened her mouth and tasted a bite. She found a friendly taste maybe because after that she ate the rest of it without any interruptions and zero tantrums. The finished bowl made me happy. Her dad woke up by then and joined her in her dancing.
After her breakfast, she started playing with her five-year-old cousin, Armaan. After an hour or so, my little Pearl came looking for me, calling me by the alien name. I was cleaning the room, she didn't bother, she just pulled me by the hand took me to the dining table climbed up a chair and pointed towards the fruit basket and then put her finger in her mouth and said "Aa.. aa". This is her special technique of asking for anything edible.
Princess Pearl wanted a banana. I peeled one half and gave it to her and she trotted away to her tricycle. After five minutes, she came back for the other half. I smiled and asked her for a kiss. She happily hugged me and landed a few banana flavoured 'mmuuaah' 'mmuuaah's on my cheeks. I gave her the second half which she finished soon after and walked towards me, zombie-style, to get her hands cleaned.
After playing football, watching some more TV, scattering all her toys around with Armaan and after going from room-to-room hunting for something of interesting, like a book or a toy, Princess Pearl finally got tired and slept for a few hours.
She woke up just before lunch-time. I had prepared Sunday Special rajma chawal for lunch. Pearl has been trying all the family foods for a while now. Some dishes she likes and most she rejects outright. She eats a miniature amount of a few foods, which cannot be even termed a meal, so have to follow up with preferred foods like dal chawal or dal roti, mostly.
As she was going to try rajma for the first time, I soaked little dal chawal mix for khichidi as an alternative for her, in case she rejects it, too. As it was a holiday, the family was at the dining table for lunch, together and I thought I'll wait a while longer because she had woken up just minutes back. As she played with a dancing robot nearby, I joined the table. As I took my first bite from my plate, she noticed me, used her 'aa…aa' pointing technique and looked at me.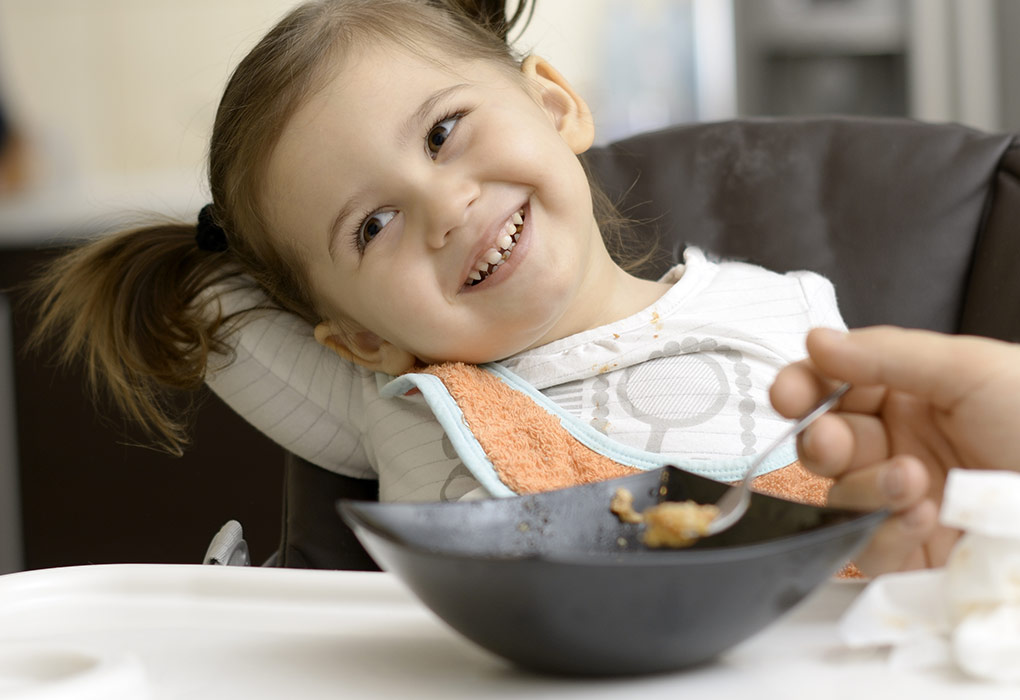 Princess Pearl was on my lap and everyone teased me for keeping my child hungry because it isn't such a common sight for a usually fussy eater to ask for food herself. I challenged them that she won't eat even a bite and her daddy who had just finished eating his lunch backed me and went to put the khichdi on the stove.
But today, something strange happened, my husband and I were taken aback by the sight of it as we were expecting her to reject it outright but she ate her rajma rice heartily, clapping her hands after every bite! She even moved around the dining table asking for more from everyone with the 'aa… aa' technique of hers. I lost my own challenge and was gladly embarrassed. When she was done, she ran to her daddy who was as embarrassed as me, but didn't mind it at all!
I am scared to even write much. Kahi meri najar na lag jaye, because such days are so rare. Following the happy lunch moment, she also drank her milk to the last drop in the afternoon. She also slurped a few cornflakes spoons from Armaan's bowl in the evening, which he shared after rolling his eyes at me.
By the time I finished my other household chores, it was already dinner-time. Pearl was blabbering in the kitchen holding her minion bowl and spoon. She was asking for food again, I couldn't be happier. Remember the khichdi which apparently we didn't need to cook for lunch, now became her dinner. Pearl sat atop the dining table and was happy thinking she got to eat by herself with her little fingers. She was struggling to put the spoon into to her mouth the right way and ignored the fact that when her mouth opened, another spoon full of khichdi came out of nowhere and found its way inside too.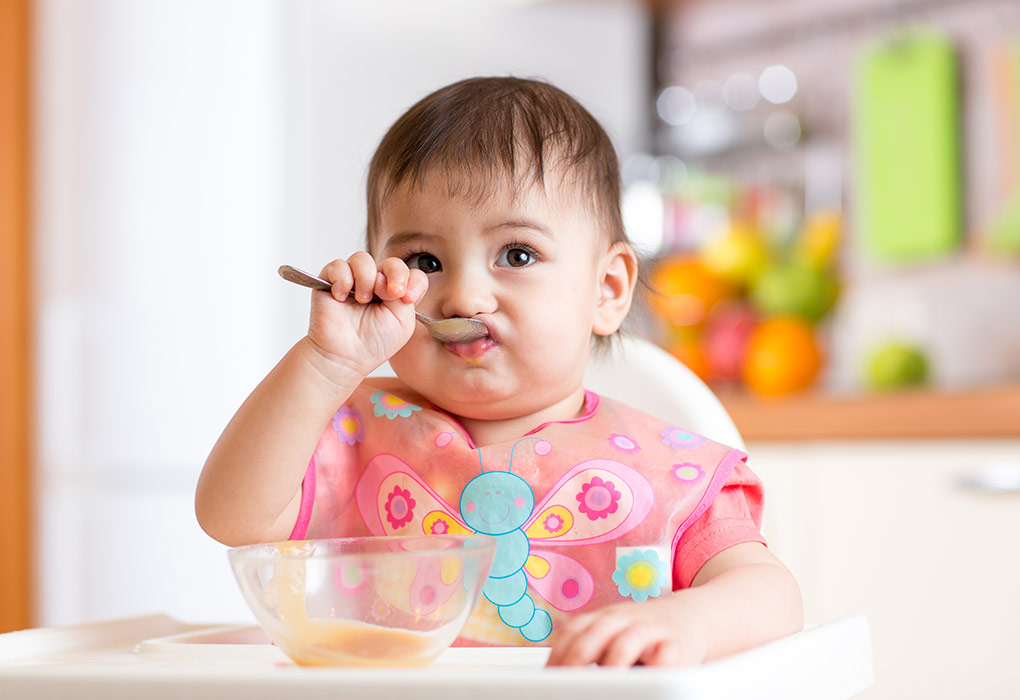 These kind of days are special and very, very rare. Most days one meal would go untouched and most days I am left confused about what to feed her, what she will like. Every other day, I am googling about tasty foods for toddlers. And this is why this Sunday is extra special. What more does a mother want than her child eating healthy food happily! I would wake up every day at 4 a.m and do dishes till midnight if I have to if it means a perfect eating kind of day for my child.
A day when a child finishes all her meals is that perfect day any mother would wish for. Princess Pearl is now asleep. She deserves a million kisses but she hates it. So, I have to do with just one "Goodnight Love".
Disclaimer: The views, opinions and positions (including content in any form) expressed within this post are those of the author alone. The accuracy, completeness and validity of any statements made within this article are not guaranteed. We accept no liability for any errors, omissions or representations. The responsibility for intellectual property rights of this content rests with the author and any liability with regards to infringement of intellectual property rights remains with him/her.