Chicken soup with veggies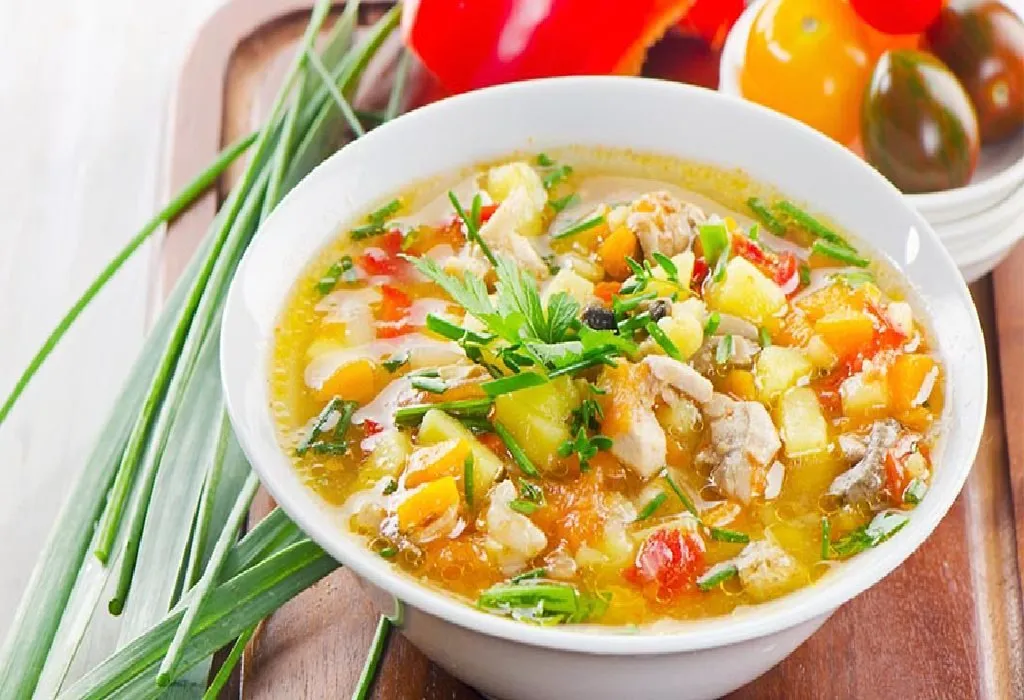 In this Article
Oh, chicken soup! They call it food for the soul, so correct indeed! This chicken soup is full of goodness and flavor, and it's super filling too. This gluten-free, dairy-free, chicken vegetable soup is a great winter meal. It has a low glycemic index and is high in proteins, so will fit easily into your wellness plan. It is useful for anyone trying to lose weight since it's a low-carb, low-fat meal.
| | | |
| --- | --- | --- |
| Serves | Preparation Time | Cooking Time |
| 4 People | 5-10 Minutes | `10 to 15 Minutes. |
Ingredients
4 cups water
1 3/4 cups chicken broth
1 lb skinless, boneless chicken breasts
1 medium onion, chopped
2 tbsp(tablespoons) olive oil
1 garlic clove, minced
4 medium carrots, cut diagonally into 1/3-inch-thick slices
2 celery ribs, cut crosswise into 1/3-inch-thick slices
2 red bell peppers
1 tsp(teaspoon) salt
1/4 tsp black pepper
3 tbsp finely chopped fresh parsley
Method
Step 1
Add water and broth to a simmer in a saucepan.
Step 2
Add chicken and simmer, uncovered for 6 minutes.
Step 3
Turn off the flame and cover the pan.
Step 4
Let it stand for about 15 minutes until chicken is cooked through.
Step 5
Transfer chicken to a plate and allow to cool for 10 minutes.
Step 6
Reserve poaching liquid, uncovered.
Step 7
Heat oil in a pot.
Step 8
Cook onion heavy pot, covered, over moderate heat, occasionally stirring, until softened but not browned, for about 6 minutes.
Step 9
Add garlic and stir, until fragrant, about 1 minute.
Step 10
Add carrots, red bell pepper, celery, salt, and pepper and cook, covered, occasionally stirring, until softened or for about 8 to 10 minutes.
Step 11
Add poaching liquid kept aside and simmer, covered, until vegetables are tender, about 10 minutes. Remove from heat.
Step 12
While vegetables are cooking, shred chicken into 1/4-inch-wide strips (about 1 inch long). When vegetables simmer enough, add chicken into the soup. Garnish with parsley.
Nutritional Information
Calories
75
Calories from Fat
26
Total Fat
2.8 g 4%
Saturated Fat
0.8 g 4%
Polyunsaturated Fat
0.6 g
Monounsaturated Fat
1.3 g
Cholesterol
10 mg 3%
Sodium
945 mg 39%
Potassium
154.24 mg 4%
Carbohydrates
8.6 g 3%
Dietary Fiber
1 g 4%
Sugars
1.3 g
Protein
3.6 g
Vitamin A
37%
Calcium
2%
Vitamin C
2%
Iron
5%
*Based on a 2000 calorie diet