Dahi Bhalle Chaat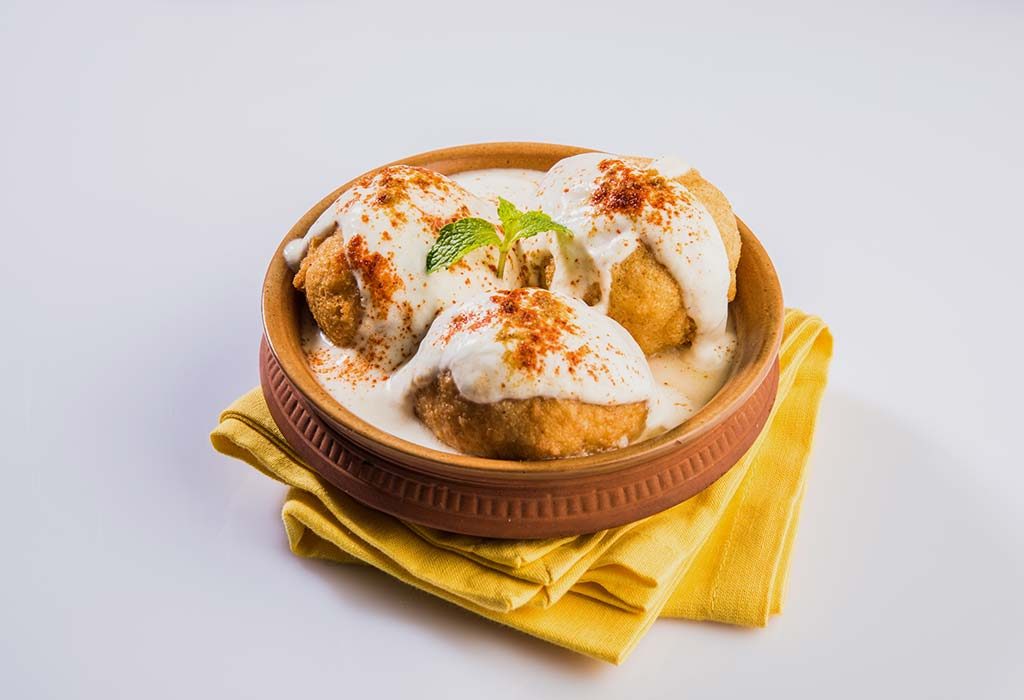 In this Article
The famous Indian Dahi Bhalle Chaat needs no introduction. It is known by different names in parts of India. Whether you call it Dahi Vada, 'Dahi Bhalle', 'Doi Bora' or by any other name, you know that it is one bowl of deliciousness. It is one of those special Holi dishes, which is a favorite among kids and adults alike. Soft, succulent fried dumplings in thick, beaten yogurt garnished with Indian chutneys and spices. You can't help but say –'bring it on'.
| | | |
| --- | --- | --- |
| Serves | Preparation Time | Cooking Time |
| 8 People | 10-15 Minutes + Soaking Time | 25-30 Minutes |
Ingredients
1 cup washed split Urad Dal (Black gram)
1 tsp salt or to taste
Oil to Deep Fry
1000 ml yogurt
1/4 cup water
4 tbsp sugar
Salt to taste
For garnishing
Tamarind Chutney
Green chutney
Dahi Bhalla Masala
Nylon Sev
Chopped Coriander
Method
Step 1
For the dahi bhalla masala, just combine 2 tbsp roasted crushed cumin seeds, 1 tbsp of red chilli powder and 1 tsp of salt. Set aside. You can also make it in a large quantity and store it in an air tight container.
Step 2
Washed the Urad Dal 2-3 times, till the water runs clean. Soak it in fresh water for 3-4 hours. Once soaked, drain off all the water and churn it in a mixer grinder to a fine paste. Use as little water as possible.
Step 3
Ideally the consistency of the vada batter must be thick. Add salt and whisk the batter to incorporate air. Do not let the batter sit for long after you have added the salt.
Step 4
Heat oil for frying. Once the oil is hot, turn the heat to medium and drop spoonful of the prepared batter in the oil. You can fry 4-5 vadas at a time
Step 5
Fry them such that they are light golden brown in color. Once done transfer them on tissue paper so that the excess oil is soaked out. Repeat the process till all the batter is finished.
Step 6
Fill water in a bowl that large enough to fit all the vadas. Keep them soaked for at least 30 mins.
Step 7
While they are soaking, beat the yoghurt with water, sugar and salt till it is smooth and creamy.
Step 8
To serve, squeeze out excess water from the vada by placing it between the palms. In a serving bowl, place the 3-4 vadas; pour the prepared beaten yogurt.
Step 9
Garnish with a teaspoon of tamarind chutney, green chutney, a generous pinch the prepared masala, some nylon sev and little chopped coriander.
Nutritional Information
| | |
| --- | --- |
| Calories | 199 K cal |
| Proteins | 13.6 g |
| Total Fat | 1.8 g |
| Total Carbohydrates | 29.5 g |
| Cholesterol | 8 mg |
| Sodium | 673 mg |
| Potassium | 532 mg |
Tip: The vadas should never be fried at high heat as they will turn golden quickly, but the inside will remain uncooked.