Best Songs to Help Kids Brush Their Teeth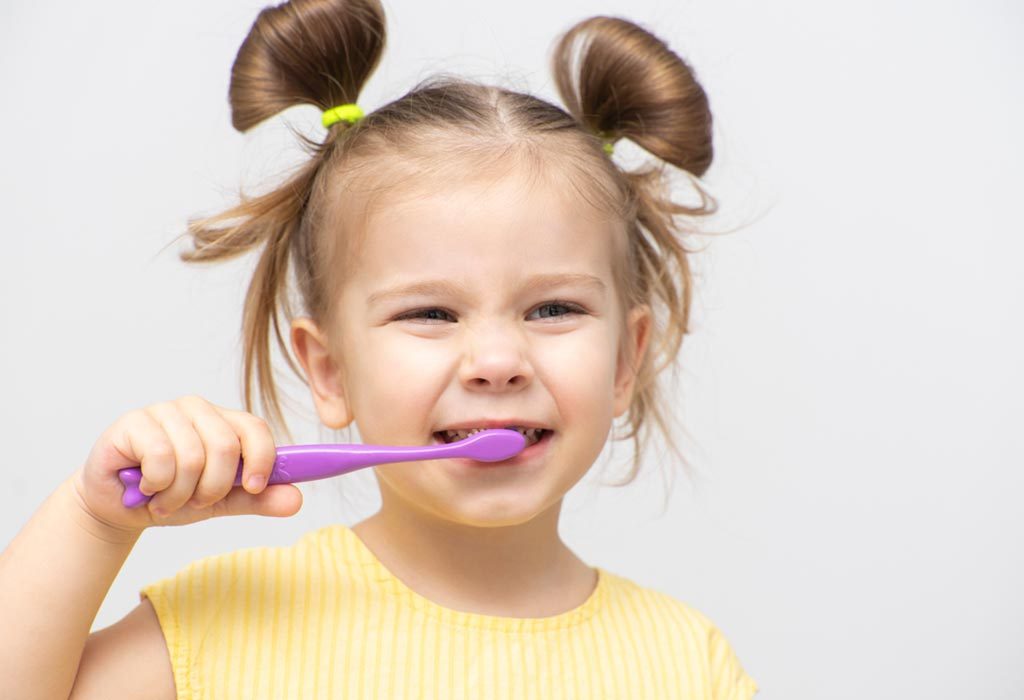 Many kids may resist brushing their teeth, as it gets boring. They feel sleepy in the morning or get too tired to brush before bed-time. However, it is important to encourage kids to brush their teeth twice a day to establish a routine early and save them from nasty toothaches and visits to the dentist. Music ignites mental development and enhances intellectual, social and emotional skills that allow self-expression for kids. Hence, these super simple songs about brushing teeth can introduce new concepts, enrich your child's vocabulary, speed up speech development, increase memory power and ensure a lifetime of healthy smiles.
Amazing Teeth Brushing Songs for Kids to Make Brushing Time Fun
Playing the right brushing teeth songs for children can not only motivate your kid to mimic characters from the music videos but become more cooperative and focused on their schoolwork and other age-appropriate activities with improved dental health.
1. 'Brush Your Teeth' By Super Simple Songs
About the Song: When some friendly animated monsters and a bunch of colourful toothbrushes take the spotlight to dance to teach your kid how to brush in the correct way, then they are bound to get excited enough to pick that brush up!
2. 'Healthy Teeth, Healthy Me' By Sesame Street, Featuring Elmo
About the Song: This disco take on a tooth-brushing song sounds peppy and energising for sleepy heads. It gets even more fun when the one and only furry red Elmo of Sesame Street teaches the importance of brushing and points out the safety hazards while undertaking this day and night ritual.
3. 'Stop Zombie Mouth' By Plants vs. Zombies
About the Song: If you're worried that your kid might gorge on sugary treats, then switch on this music video that raises awareness on oral health. Kids of all ages must learn that the Zombies would have a gala party in their mouth, inviting gingivitis and halitosis if brushing is not made a part of their daily regime.
4. 'Kids Just Love to Brush' By Sesame Street
About the Song: A group of muppets of Sesame Street get together to explain how kids just love to brush by dancing to the tunes of Cyndi Lauper's "Girls Just Wanna Have Fun".
5. 'Brushing My Teeth' By Barney
About the Song: The world of Barney is full of sharing, caring and learning educational messages. Join every kid's favourite purple dinosaur to help your kid understand how brushing can be accompanied by tons of music, laughs and fun!
6. 'This Is the Way We Brush Our Teeth' By Little Baby Bum
About the Song: What does your child's morning look like? This catchy song has used the tunes of nursery rhymes for little ones to learn healthy dental habits that need to be followed every morning and night.
7. 'Brush And Floss' From The American Dental Association
About the Song: Your kid would surely react to this music video in a positive way when they see Dudley the dinosaur dancing with friends to teach the goodness of brushing and flossing their teeth every day.
8. 'Tooth Brushing Song' By Blippi
About the Song: This two-minute song teaches the right brushing duration and techniques to kids, reinforcing dental hygiene instructions in a fun way.
9. 'Brush 'Em Up' By Laurie Berkner
About the Song: This readily hummable song brings music to your bathroom sink. Watch how your child stops fussing and picks up the right brushing skills from this video.
10. 'Tooth Brushing Song' By EZTales.com
About the Song: The harmonic music of this rock and roll tooth brushing song is sure to appeal to all kids. So, get your family together for a fun brushing activity and spread the smiles all around.
Good brushing techniques can keep tooth decay, cavities and gum disease at bay while reinforcing healthy eating and dental hygiene. Every parent would like their child to have sparkly teeth and an infectious smile. This compilation of entertaining tooth brushing videos can help kids master the art of brushing their teeth through fun songs!
Also Read:
Counting Songs for Kids
Party Songs for Children
Rainbow Songs for Children