Best Mermaid-themed Birthday Party Ideas for Kids
In this Article
Most parents find planning a birthday party for their child a daunting task. While some are starved of ideas, others find the cost of throwing a birthday party a deterrent. Families who enjoy an under-the-sea extravaganza or have kids who are fascinated with Ariel, the fictional character in the animated film The Little Mermaid, can opt for a Mermaid-themed birthday party. Read on to find some of the most creative ideas that would take your celebration to the next level.
Mermaid Party Ideas for Your Child's Birthday Celebration
Children are mesmerized by the marine world and the mythical sea-dwelling creatures as the mermaids. Folk tales about these magical maidens date back to around 1000 B.C and span cultures worldwide. No wonder their fantastic fables have not just captured the minds of children but inspired parents to consider a mermaid-themed birthday party celebration. Fun DIY mermaid birthday party ideas offer an insight into showcasing your love for the underwater world and throwing a pocket-friendly bash. For those interested in adding an underwater twist to your child's birthday celebration, all you need is some imagination and a little daydreaming to work with a little mermaid theme for your child's next birthday party. Exotic mermaid-themed decorations, mermaid-themed party favor ideas, games, dresses, invitations, cakes, and food can bring happiness to and cheer every guest. Here we list down a few ideas that may offer a creative outlet to bring this theme to life.
1. Invitations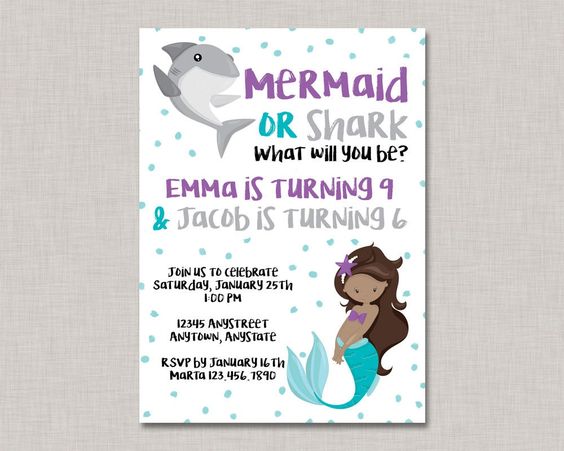 Mermaid invitations can set a magical tone for your under the sea party. Your mermaid birthday party invitations must feature a colorful mermaid-themed design that can be customized with your special event wording. Add cute little fishy friends, shimmering sparkle, delightful turtles, and shark pals for mermaids with flowing tails highlighted by gold-foil pressed printing to fit the theme.
2. Decorations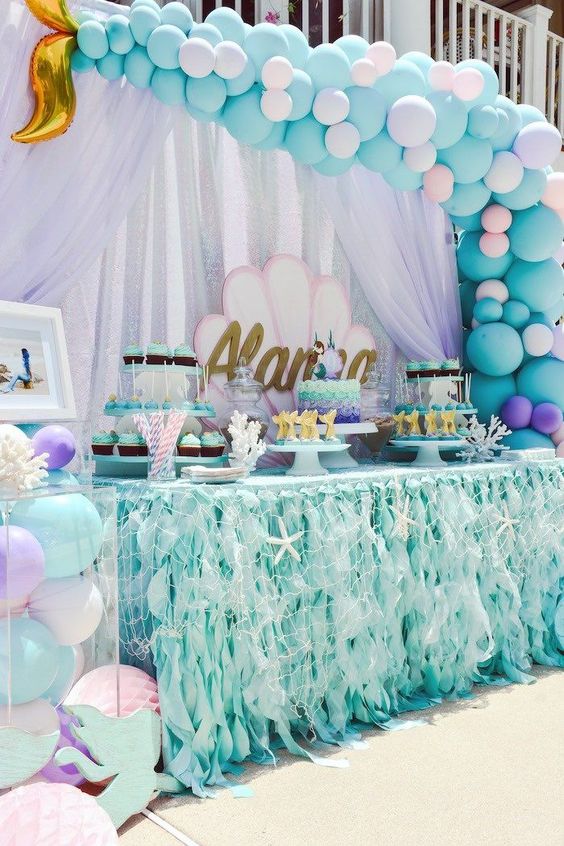 Mermaid birthday party decorations can provide the perfect photo op by jazzing up the party venue. Purple and teal bushels, Jellyfish lanterns, tea lights in the dark, twisted paper streamers, and fish cutouts in-between the "seaweed" can all make for the perfect mermaid-inspired party palette. Add a table skirt to incorporate waves as a 3D effect.
3. Centerpieces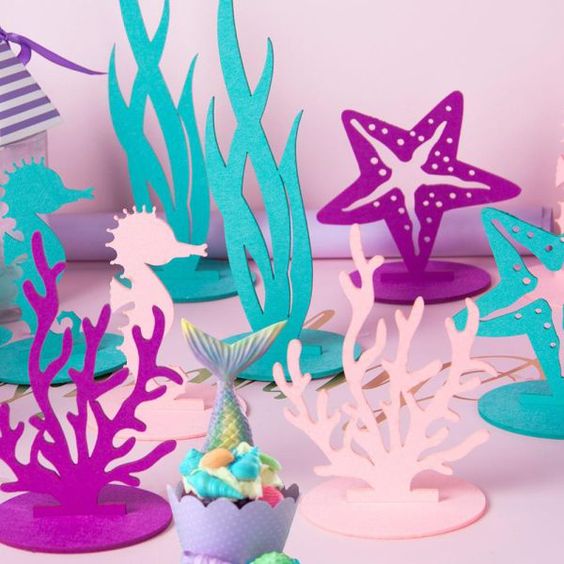 Make your child's special celebration a splash with Mermaid birthday party centerpieces that help draw instant attention to the party table. A vibrantly colored mermaid fin decoration with its cute design or felt seagrass, starfish, sea horse, and coral offers a quick way to top any party table with extra flair.
4. Party Dress Code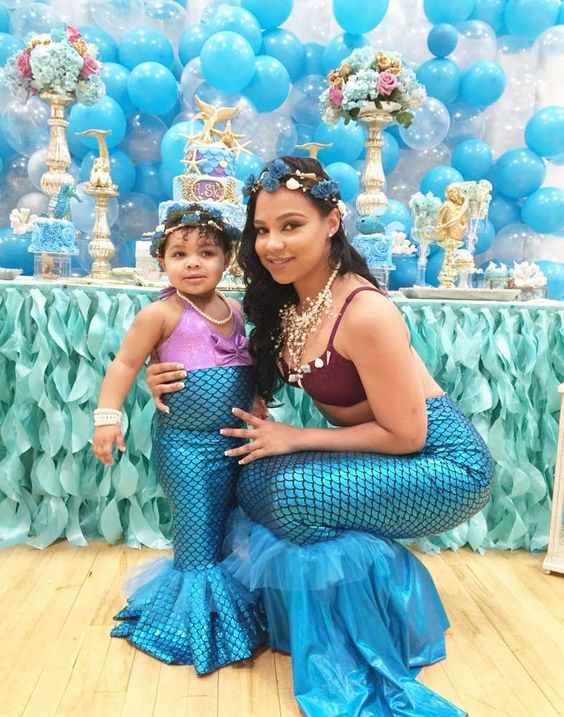 The best girl mermaid-themed birthday party ideas should include under the sea dress code. You can ask your guests to join in their mermaid birthday party dress to recreate the perfect mermaid look, including a bright tutu or a DIY tail. Mermaid costumes can be supplied, and a dress-up station can be set up at the party for convenience.
5. Cakes & Cupcakes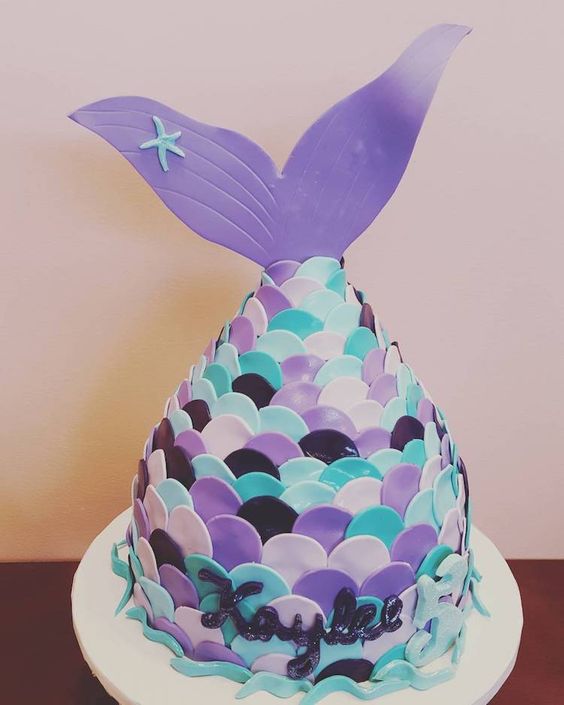 Every birthday guest of honor deserves a gorgeous mermaid birthday party, cupcakes, and cakes. A creative mermaid tail decoration can add a tasty touch of fantasy to any store-bought or homemade cake. You may also choose a fancy, tiered mermaid cake or dreamy mermaid cake that pops with watercolor details and seashell accents. Choose colors for cupcakes that match your party theme or your birthday girl's or boy's favorite colors.
6. Party Food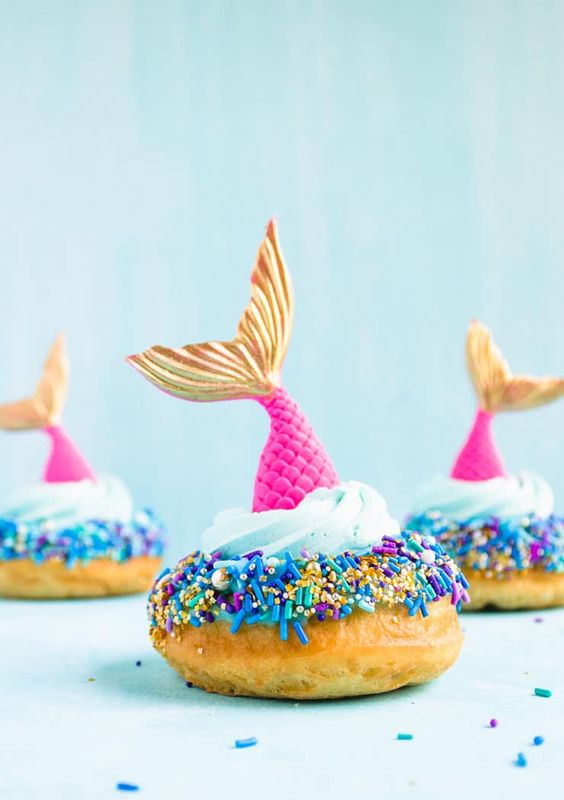 The most brilliant mermaid-themed birthday party food ideas can either spice things up or cool you off on a hot summer day. If your child loves doughnuts, consider these extra-iced mermaid doughnut holes. Cookie pizzas are always a good idea, especially when mermaid-inspired toppings are part of the mix. Melt white chocolate wafers and mix in the food coloring of your choice to make Chocolate-covered pretzels. Introduce a new drink colored with teal, green, and purple sanding sugar to exude magical mermaid vibes.
7. Party Snacks

These mermaid birthday party snacks will delight every mermaid and merman at your party! Fun mermaid tail scale cookies made with your favorite sugar cookie dough, buttercream icing, and fondant. Lightly sprinkled with cinnamon sugar and with a slivered almond design on top, sand dollar cookies can be 100 percent edible and 100 percent delicious. Quick and one ingredient mermaid tail lollipops or Mermaid rice crispy treats can be served as starters to whet the appetite of your little guests.
8. Party Games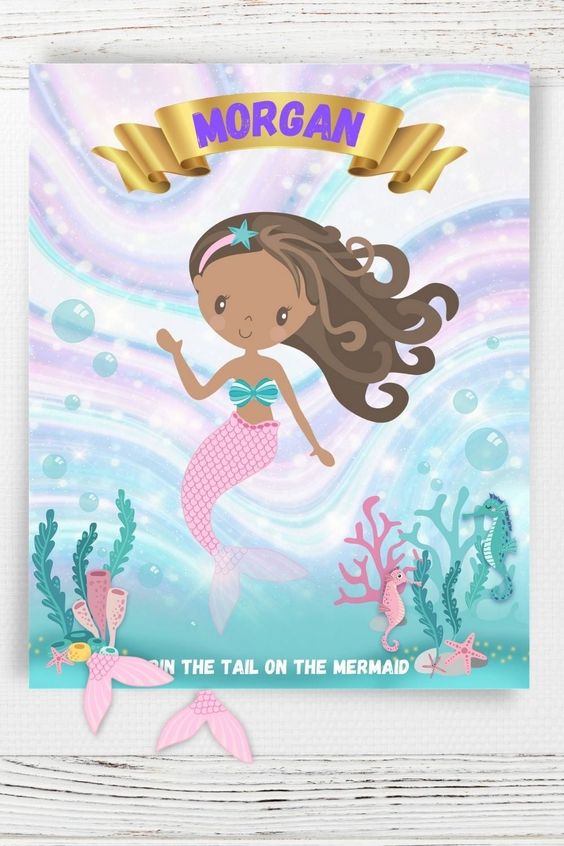 Mermaid birthday party games can act as icebreakers for starting conversations and socializing. You can download pin the tail on the mermaid printable, draw a large fish on a piece of the artboard and cut out the mouth area to throw bean bags into it. Each child can take turns to throw three bean bags. They can also toss gold pirate coins or plastic jewels into a treasure chest. You can also give each child gold pirate coins to throw into a fishbowl. Hunting for a piñata that's shaped like a mermaid, fish, or treasure chest is another mermaid-themed party game in which you'll need a child's fishing pole with a clothespin on the line instead of a fishing hook. You have to "Fish" behind a sheet, where a prize can be put on the line. Create a bounty of treasure like chocolate coins or colorful costume jewelry to find treasures hidden somewhere at your party venue guided by a DIY treasure map.
9. Party Goodie Bags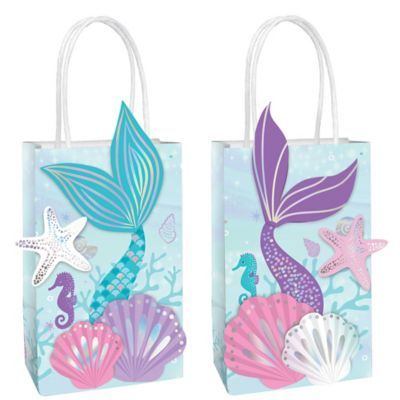 Although it's hard to leave a birthday party that's so much fun, mermaid-themed birthday party goodie bags can always remind one of the good times spent with friends. The best mermaid birthday party gifts can include a themed bag or box filled with chocolate coins, bubbles, a mermaid coloring pack, themed stickers, jewelry, a seashell keychain, or even items like a bubble bath solution that will keep the celebration going.
10. Party Activities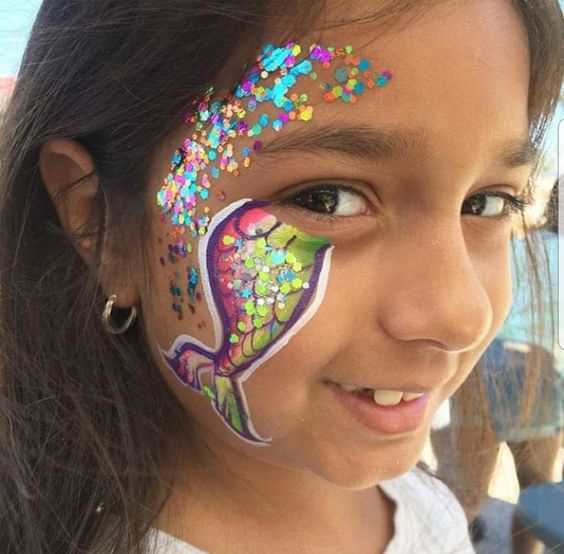 Hire a face painter to paint the faces of little guests with their favorite marine animal or mermaid character. They may even sit down together to create pretty DIY shell jewelry with kid-friendly materials like paper, foam, or even real shells. Crowns can be made with real shells, paper decorations, stick-on gems, and other fun accessories like shiny blue scales and attractive purple accents to complete your mermaid dress ensemble.
Just as the ocean is one of the most beautiful and mysterious parts of our world, mermaids hold a special place in the hearts of kids too. Thus, a birthday party based on a mermaid theme is sure to make wonderful memories of childhood, provide an opportunity to socialize with friends, explore the ocean floor, learn about marine life and the dangers of pollution in a fun and interesting way.
Also Read:
Unique Birthday Party Ideas for Children
Places to Host Birthday Party for Kids
How to Plan a Virtual Birthday Party for Children
?>