How to Plan a Virtual Birthday Party for Kids?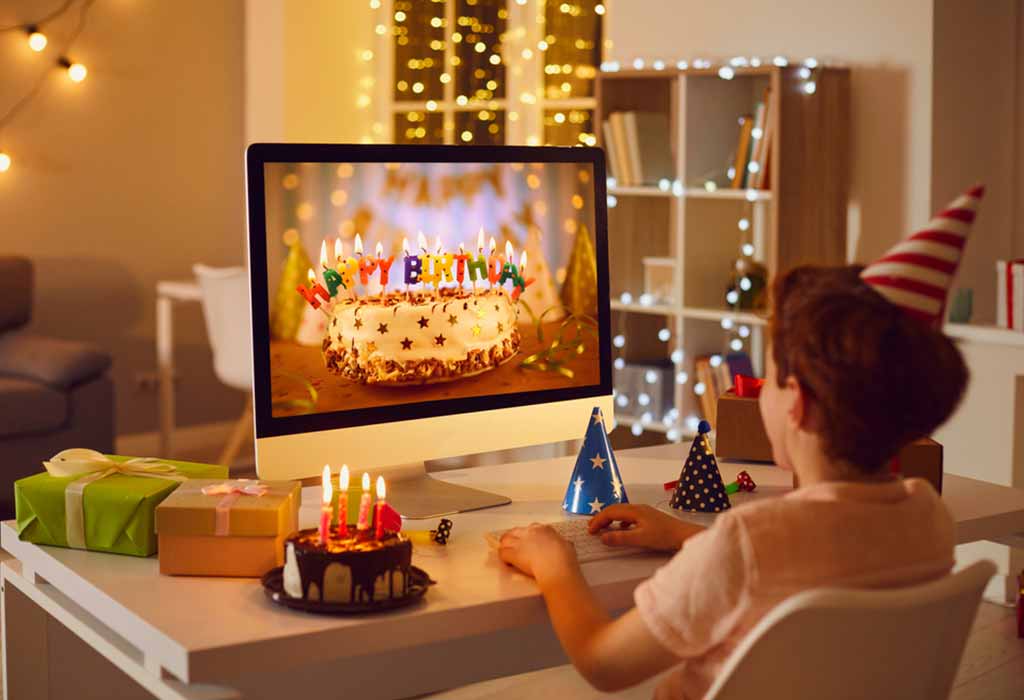 Birthdays are always special, especially for kids! Thanks to the pandemic, everything, including celebrations, is taking place indoors! So, does that mean no more fun birthday parties for your kid? Well, how about planning a virtual birthday party! Read this post to know how to plan a virtual birthday party for your child to make the special day ultra-special.
Is a Virtual Birthday Party More Than Just Face Time?
The first thought that pops up in your mind when you hear the word 'party' is face-timing with friends. However, virtual birthday parties are hosted on video chat platforms. These parties have all the elements of a party but are hosted online instead of your home, club, or other such physical locations. A virtual birthday party is much more than just a usual video call, as it would include themes, games, favors, and many more.
How to Prepare a Virtual Birthday Party for Children?
With the right preparations and perfect planning, you can make virtual birthday parties extremely fun and exciting for everyone involved. Your kiddo can feel special on their special day even when their friends and extended family members are not by their side. Here are some things that you need to take care of for an online party:
Making a guest list
Fixing on the platform
Finalizing the theme
Invitations
Décor
Games
Food or drinks
Favors or gifts
1. Planning Your Guest List
The most important part of any party is to finalize the guest list. Well, the best part about hosting a virtual party is that you can invite more guests. However, the idea is not to overwhelm the child with so many people attending the party in one go. You can divide the guest list into two or more groups, where you can have parties hosted for friends and family members separately. If the list is long, you can have a birthday celebration week for your child with few guests at every online party.
2. Virtual Birthday Party Invitations Ideas
Though it's a virtual celebration, invitations still hold great importance. Therefore, make sure that an invite is as interesting as the party you plan to host to give the guests a little peek into the party to know what they might expect. You can send the invite via message or mail. Here are some invitation ideas that you can try:
A DIY invite: Nothing can be as special and personal as making an invite and sending it to the guests. You can print your kiddo's picture on paper, write the invite, and send it to the guests. You can even design e-invites and send them via email or message.
Buy the Invite: If you are short of time or lack adequate skills to make a beautiful invite for the guests, many online boutiques will happily do that for you. It would be best to explain your theme and budget and leave the rest to them.
3. Which Platform to Use to Host a Virtual Birthday Party?
Online birthday parties are way more than just a video call and the right kind of software does a lot in making it a success. Here are some options in the software that you can use:
Zoom: This platform allows as many as 100 people together on a free call for 40 minutes. If you wish to extend anything beyond this, you will be required to download the paid version of the app.
WhatsApp: Though one of the most common platforms for video calls, it allows just a few people at a time.
Google Hangouts: This platform allows up to 25 participants at a time.
Skype: Great for calling via phones, laptops, and tablets, this medium is great to host up to 50 people.
Houseparty: It is a great video call app that allows as many as 50 people and lets them enjoy virtual games too.
Facebook Live-Messenger: This platform allows you to have a video call with up to 6 people.
Group FaceTime: You can host as many as 32 participants with this call. However, this app is not available for android users.
4. Virtual Birthday Party Theme Ideas
Though it is a virtual celebration, you can always work it around a theme and even request the guests to dress or participate with full enthusiasm and zeal. Here are some themes that you can consider:
Movie Night Theme: Dress your kid like a movie star and have posters of famous actors, movies, or scenes in the backdrop. The icing on the cake can be a camera on a tripod as a backdrop for the real movie feel!
Dinosaur Theme: This is a great party theme for kids who love dinosaurs. All you require is a printed dinosaur. You can hang matching streamers and balloons on the backdrop.
Outer Space Theme: A birthday theme for kids who love exploring facts about outer space. You can have a black backdrop and stick cutouts of the galaxy.
5. Virtual Birthday Party Decoration Ideas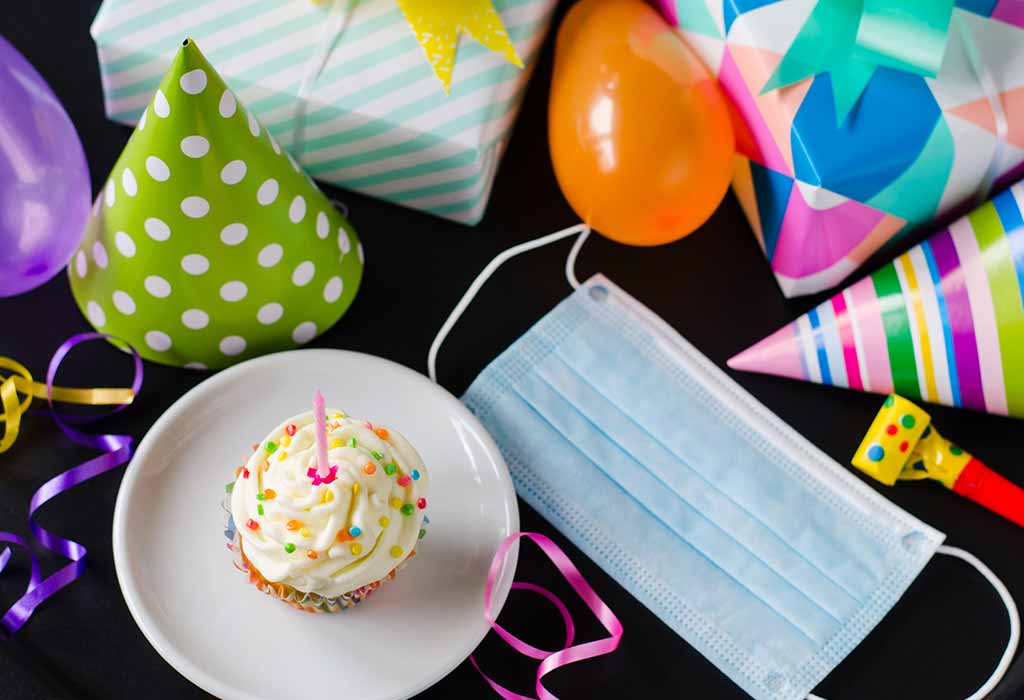 Virtual or not, a party is incomplete without a proper décor. An interesting decoration cannot be missed when it comes to a virtual birthday party; however, the only difference would be setting a backdrop rather than doing up the entire room or place. You can decide on a theme and then work on the decorations around that theme. You can buy decorations according to the theme, or if you are good at the DIY craft, go creative with your decoration ideas. Here are some backdrop options that you can try:
A fringed backdrop: You have umpteen options online to shop from or make one yourself if you have time in hand.
Balloons: One thing that can instantly perk up party décor is balloons; in an online party, virtual birthday balloons. You can get hold of those that align well with the party theme, and half of your décor worries are taken care of.
Photography backdrop: Posters or pictures in sync with the theme are highly recommended as a backdrop. The idea is great for having a photoshoot after you are done with the virtual party.
6. Virtual Birthday Party Foods/Treats/Cake Ideas
You cannot treat your kid's friends at home but can ensure they have some yummy treats together. Here are some ideas that you can try:
You can deliver treats to your kid's friends' houses if they live close. You can choose cupcakes, popcorns, candies, and other confectionaries assembled in a food hamper.
If they stay far, you can get food delivered at their doorsteps from your favorite restaurant.
Another interesting idea is talking to their parents and requesting them to arrange some treats for their kids so that all the little ones can enjoy their favorite food during the virtual birthday celebration.
7. Virtual Birthday Party Game Ideas
Here are some fun games to make a virtual party more interesting for the kids:
Who Knows It All: Prepare a fun quiz on your kid and ask the questions to the guests. You can check who knows the birthday baby the best? To make it funnier, add some quirky facts to amuse the guests.
Have Singing or Dancing Games: You can plan singing or dancing games for the kids to add more rollicking fun to the party.
Bingo: Bingo is one game that we can never get bored of! Send printable tickets to the guests before the party and have some crazy fun playing bingo.
Online Games: If the guest list is small, kids can play online games such as Minecraft. However, make sure such games sessions have a time limit.
Pictionary: Another entertaining option that can be considered for a virtual birthday party is Pictionary. You can decide and write a few words for the game and ask the birthday baby to draw. Alternatively, you can also include parents of the kids to help their kids draw.
8. Virtual Birthday Party Favors Ideas
You can have virtual birthday gifts or favors planned for the party and get them delivered to the invitees before or after the party. Here are some options for virtual birthday presents that you can consider:
Set of pens
Note pads
Groovy party-themed keychains
DIY bracelets
9. Other Third-party Apps and Organization to Host Virtual Birthday Parties
If you plan to make your celebrations funnier and interesting, you can use some of these third-party apps and organizations to add uniqueness and zing to your kiddo's birthday celebrations. Here are some interesting apps that you can try:
Marco Polo: This is a fun app that can record and share funny messages with some quirky and interesting filters, such as the helium effect.
Vidhug: Another fun app that can be used to record and make videos for the birthday boy or girl is Vidhug. You can pool in your kid's friends too to make a surprise video for your child!
Sky Zone: This is a virtual party option that you can try if you want the experts to do their bit for your child's special day. This organization offers party options for as many as ten people for approximately 25 minutes for free. In this period, they plan options that include dancing, singing, games, etc., for the kids!
Important Tips for a Perfect Virtual Birthday Party
Here are some important points to host a perfect virtual birthday party for your kid:
Make sure the invite, log-in details, platform, and time are mentioned to everyone to ensure the celebrations are on time.
Have a clear structure for the party as online celebrations may lead to a lot of confusion and chaos if not planned properly. You can emcee the celebrations and talk to everyone about what to expect in due course of time.
Have a game or two to give a more party-like feel to the celebrations, and make sure you plan for the same in advance.
Do not forget to cut the cake and blow the candles, or, if you may call it, virtual birthday candles! Well, your guests can enjoy the snacks or drinks you have delivered to them while your kiddo cuts the cake.
Whether due to the recent pandemic or any other reason that prevents you from hosting face time parties for your kid, you can choose to have virtual birthday celebrations, and we hope this blog helps you plan one for your child!
Also Read:

Menu Plan and Foods to Serve in Kid's Birthday Party
Places to Host Kids Birthday Party
Creative Birthday Party Ideas for Children