Easy DIY Games for Kids That They Will Love to Play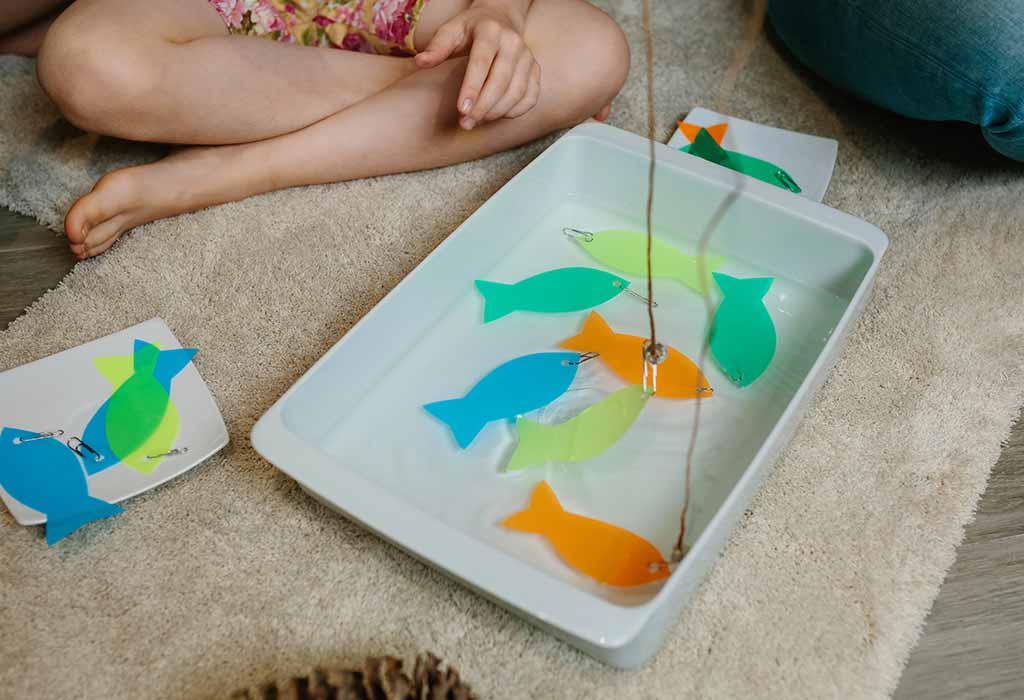 In this Article
Everyone has their own childhood game, and every generation loves classic games. Games help kids to utilize their creativity while nurturing their imagination physical, cognitive, and emotional strength. It also offers a positive way to spend time, which helps deal with temper tantrums and enhance cognitive skills. Moreover, improving our body and mind acts as a resistance to many diseases. Games to play at home with family or friends can perk up game nights or kill boredom on a rainy or bone-chilling day. Those looking to save money and protect the environment can look for fun DIY games that you can easily make from objects you already own. They do not help kids develop their creative muscles and motor skills but boost their confidence and resiliency, which are required to face new challenges in life. Read on to find some easy homemade games to try and recreate happy memories of childhood.
Fun Homemade Games for Kids
Creative activities for engaging, encouraging, and interactive kids help develop their vital skills. Creating games and then playing with them is one of the ways of having fun at all times. Also, DIY game ideas involve many different materials that provide different learning opportunities for kids of all ages. Educational baby toys can be expensive, and babies tend to outgrow them quickly. Moreover, commercially manufactured toys can be harmful and contain chemicals that aren't safe for your little one. Simple DIY games for 2-year-olds are guaranteed to keep little hands busy. New textures help stimulate babies' senses and fulfill their need for exploration. Regardless of the time of year, backyard games play a crucial role in developing the healthy body and brainpower of the child. You can make super fun homemade DIY outdoor games with materials that can be upcycled and promise unlimited outdoor fun for family members and friends during weekends and summer vacations. Carnival games are a hit at any given time. And although they are incredibly fun, homemade carnival games are easy to make and easy to win and can be made inexpensively. Here are some varieties of homemade games that offer a hands-on learning experience for kids:
1. Paper Plate Ring Toss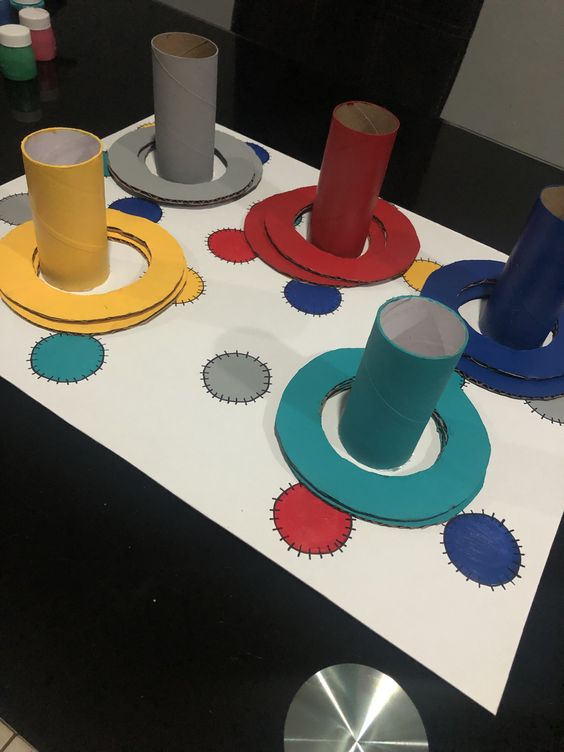 It is a modern version of the traditional ring toss game. You can make it with super simple household items. Kids can spend hours practicing their tossing skills after a painting session on a lazy afternoon.
What You Will Need
Paper Plates
Paper Towel Tube
Brush
Tape
Paint
Instructions
Stand paper towel roll upright in the middle of the plate.
Trace and cut out the circle outline by creating a small hole in the plate.
Paint a paper towel roll and leave it to dry for 1–2 hours.
Cut small slits about half-inch long in the bottom of the paper towel roll with a 1" gap in between.
Lightly fan out slits and tape down in the middle of the new paper plate.
Slide paper plate with a small hole below paper towel roll to make the ring toss base.
Cut large holes in 4–5 additional paper plates and paint with different patterns and colors. Leave to dry for 1–2 hours.
After the painted plates are dried, it's time to finish the tossing rings by cutting out the center of the plates.
Toss paper plate rings toward the base, trying to land the plates around the paper towel roll.
2. Spinning Bottle Cap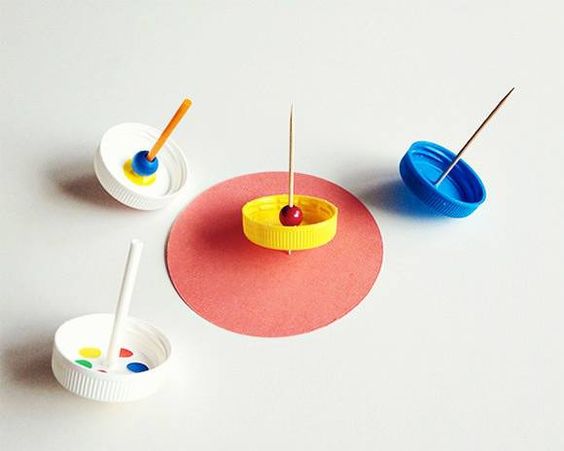 Bottle caps can be collected and used to play this incredibly easy game with preschoolers. It is one of the simplest DIY party games. It helps keep them entertained and work on a few fine motor skills needed in functional grasp patterns.
What You Will Need
Instructions
Holding with one finger, place the bottle cap on edge.

Flick the edge to set it spinning using the other hand.

The child whose bottle cap spins the longest or spins more than 2 seconds consecutively wins.
3. Grab & Pull Letter Load
This particular game is a fun outdoor activity for kids and helps with letter identification.
What You Will Need
Rope
Basket with holes
Alphabets (foam, fabric, or magnetic letters)
Index Cards
Marker
Instructions
Tie the rope to the basket.
Spread the alphabet letters on the lawn.

Make a "load list" on each index card.

Write 2-6 letters on each card.

Hand the "load list" to your child. Ask them to find the letters on the list.

Drag the basket, add the letters to it, and pull them back to the designated place.
4. Knock the Balls Down Nerf Target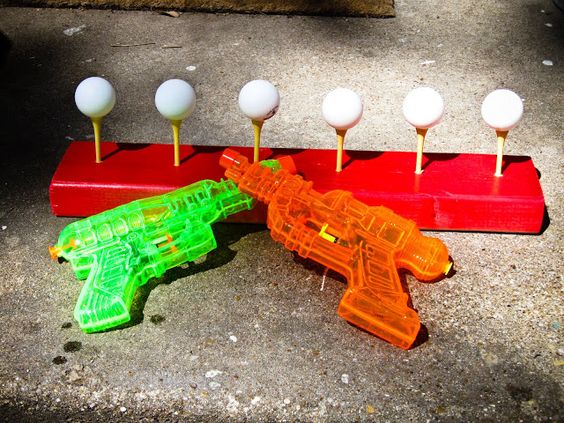 This simple game can be put together in 5 minutes from items in the recycling bin.
What You Will Need
Cardboard box
Lightweight plastic ball pit balls
Instructions
Cut paper towel rolls into different sizes.

Add point values to the tubes with index cards and tape.
Use hot glue to attach the paper rolls to the box.

Shoot the balls of the cardboard tubes.
5. Q-tip Blow Dart Game
This game helps foster independence, solve problems and build the brain through play.
What You Will Need
Narrow Straws
Q-tips (Handful)
Plastic Cups
Instructions
Build a tower with cups.
Put a Q-tip inside the straw and blow the straw at the wall of cups.
The wall made with cups needs to be close enough with minimum gaps to stabilize the tower. With bigger gaps, the cups will fall as the darts hit them.
6. Racing Paper Caterpillar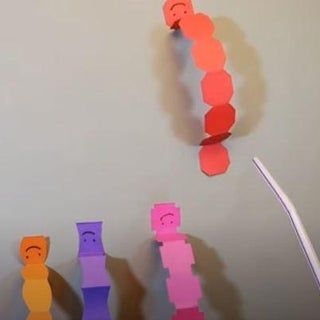 It is one of the easiest DIY fun games for kids.
What You Will Need
Colored Paper or Origami Paper
Scissors
Pen or Marker
Straws
Instructions
Cut the paper keeping 1.25 inches in width and 6-8 inches in length.

Fold the cut strip in half to form a crease in the center.

Fold the paper towards the crease in the middle.

Fold the other side of the paper strip.

Now, fold the paper strip from the outside to the crease in the middle.

Repeat the process on the other side.

Fold the two halves together.
Trim all 4 edges round using a scissor.
Unfold the strip.

Draw little

caterpillar

eyes and mouth on the head using a pen or marker.

Turn the caterpillar around; count three sections up from the tail.

Using a pen or marker, mark the third segment with a heart or any other shape.

Use a drinking straw to blow at heart to make the caterpillar crawl gently.
7. The Giant Kerplunk Outdoor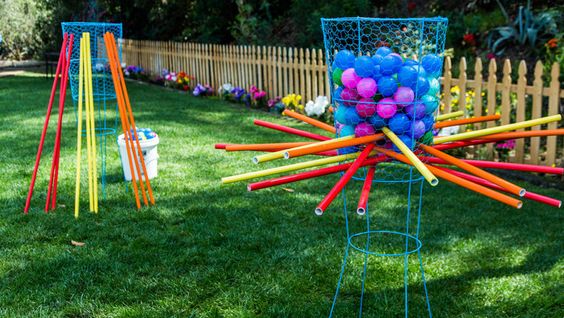 This game is sure to help you kick your backyard bash up a notch and entertain kids of all ages for hours together.
What You Will Need
Sturdy Metal Side Table – 1
Wire Fencing
Gloves-1 Pair
Measuring Tape
Wire Cutters
Solid Wire
Wooden Dowels
Spray Paint
Plastic Play Balls
Instructions
Turn the metal table upside-down, and measure the circumference of the table base.
Wear safety gloves and cut wire fencing to the necessary length to wrap around the base and create a basket-like shape.
After cutting the wire fencing piece, roll it around the table base, and attach it to the base with solid wire. It can be done by looping a piece around the fencing wire basket and the base and twisting it until it is secured tightly against the two separate pieces. Cut out the excess wire.

Repeat the process along the side of the wire basket so that the fencing is secured to itself and the base.

Paint around fifteen wooden dowels in three bright colors to make game pieces.
Insert the wooden dowels randomly into the fencing wire to set up the game. Intricately woven dowels make the game more interesting. Once all the dowels have been inserted into the basket, pour plastic play balls over the top. Players can take turns to remove pieces until all the balls fall off.
8. Cold Potato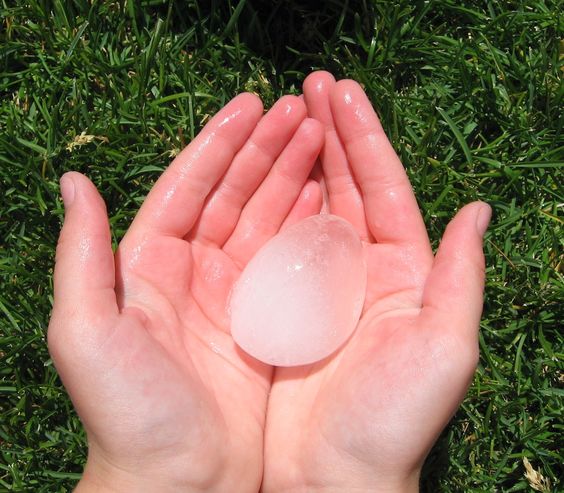 This fun Carnival game offers a twist to the Hot Potato game, except that the "potato" is an egg-shaped ball of ice made by freezing water inside small balloons. Just note that these hard frozen balloons are not for throwing at each other.
What You Will Need
Instructions
Pour a bunch of ice cubes inside the balloon.

Put the balloon back in the freezer for a few days.

Then, burst the balloon and remove its skin from the ice, which will take the shape of a potato.

Divide the kids into teams of five.

Each team gets an ice cube. Each player from a team has to rub the ice cube on their palms and pass it to another player in the team.

The team to first melt the ice cube will be declared the winner.
9. Homemade Angry Birds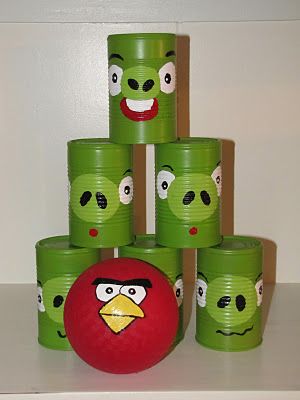 This adorable game helps bring your child's favorite cartoon character to life and get them interested in playing it with friends.
What You Will Need
Toilet Paper Tubes-7
Scissors
Paint
Q-tip
Sharpie
Fuzzy Elastic Hair Bands
Instructions
Cut one of the toilet paper rolls into three equal parts. Paint them green, inside and out. After they dry, add the noses.
Use a Q-tip to make white paint circles on either side of the nose.
Once the paint dries, add pupils, eyebrows, and a mouth.
Paint the remaining tubes brown, inside and out. After they dry, use a brown sharpie to draw wood grain onto them. Flatten them carefully, first in one direction, then the other, so that the tubes can have four flat sides and can easily be stacked.
Set up a challenge for each participant to play by arranging the pigs and logs on a chair. The shooter sits about 3 feet away and uses soft, fuzzy hairbands to send the pigs down crashing.
10. Tic-Tac-Toe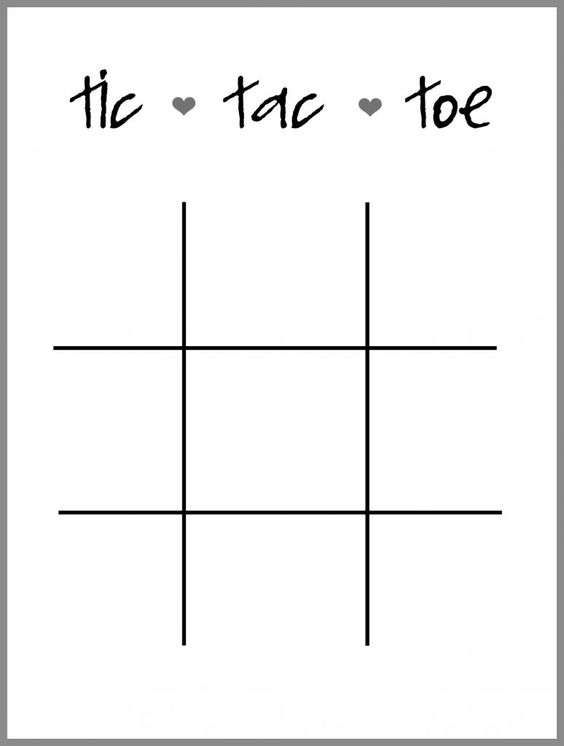 It is one of the most well-known indoor games that can be played with stationery items easily available at home. This game helps to improve fine motor and reflex skills.
What You Will Need
Instructions
Draw a grid of two horizontal lines intersecting two vertical lines.

Select a box and place the letter "O" or "X" to mark the box.
Fill three pieces of the same mark in a row or stop your opponent from doing it to win the game.
In this modern world of technology, it is important to get kids off their overload of screen time and play games together by playing games that they create by themselves. Quieter or more active games provide an alternative source of entertainment and act as a teaching tool that shapes a well-rounded personality for a child.
Also Read:
Memory Games for Children
Easy One Minute Games for Children
Superhero Games and Activities for Kids